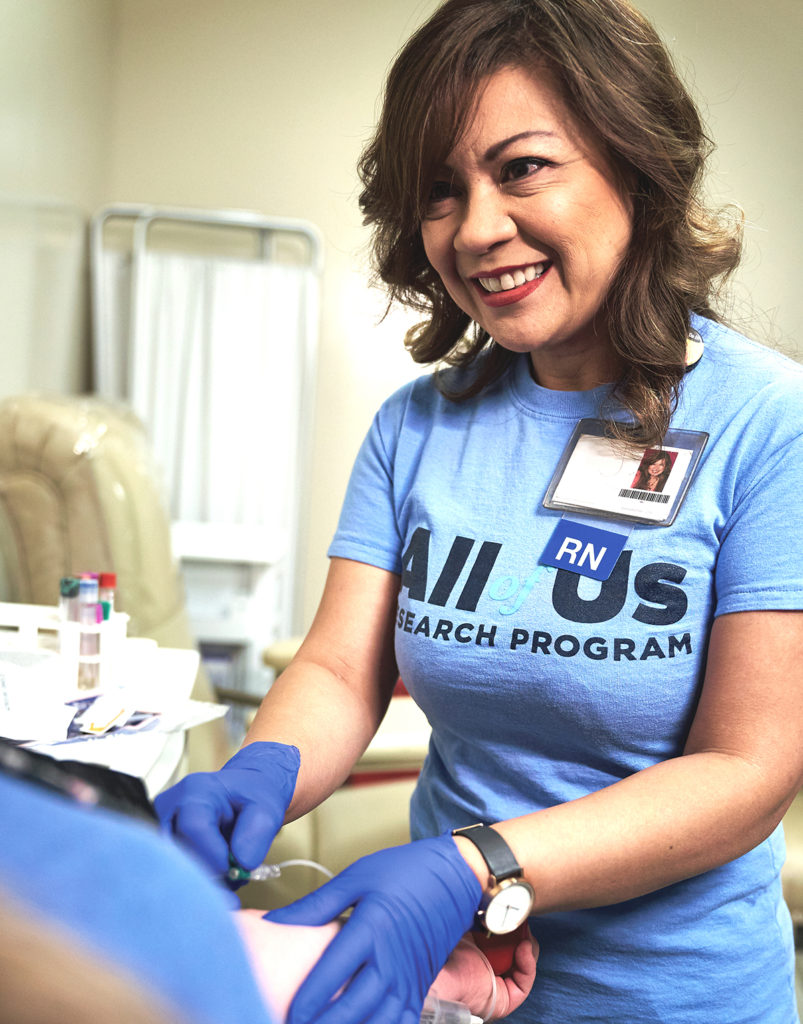 The All of Us Research Program is the first of its kind, exemplifying the importance of precision medicine while offering participants the opportunity to understand more about their genetic makeup and what makes them unique. This tailored approach to medicine offers the possibility to explore how someone's lifestyle, environment, genes, and family history contribute to their overall well-being. Not only is this program designed to find the best approaches for individuals to remain healthy, but it also provides future generations with the possibility to receive individualized treatments and procedures, thus advancing the delivery of care toward each unique individual despite a plethora of differences. "We're all human, but we're not all the same. Often our differences — like age, ethnicity, lifestyle habits, or where we live — can reveal important insights about our health," says Ana Riccio, MD, Senior Manager, Research Support, Division of General Internal Medicine, University of Miami, Miller School of Medicine. "By studying our unique genetic codes, researchers can look for patterns to better understand what affects people's health, what makes us all unique and makes us invaluable to medical research. We understand that health research has left many communities out in the past. All of Us is committed to including everyone so that all communities can one day benefit from research learnings."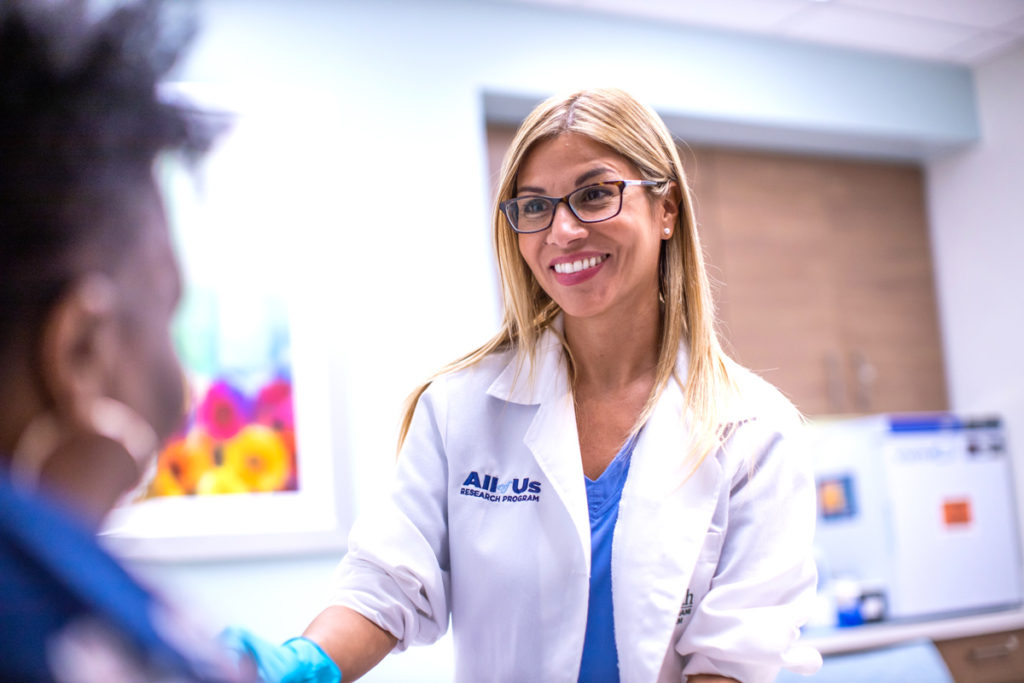 The program is open to people both healthy and sick, from all communities, with an emphasis on including those who have been historically underrepresented in research. Unlike a single research study focused on a specific disease or population, All of Us will serve as a national resource for thousands of studies, covering a wide variety of health conditions. "As researchers study our health data, they start to see patterns," she says "These patterns can help us understand how different people react to different prevention and treatment plans. We hope that, in the future, our findings will help healthcare providers deliver treatments that are tailored to our differences. For example, this research could lead to better tests to see whether people are sick or at risk of getting sick. It could lead to better mobile apps to encourage healthy habits. It also could lead to information about how much of a medicine is right for each person."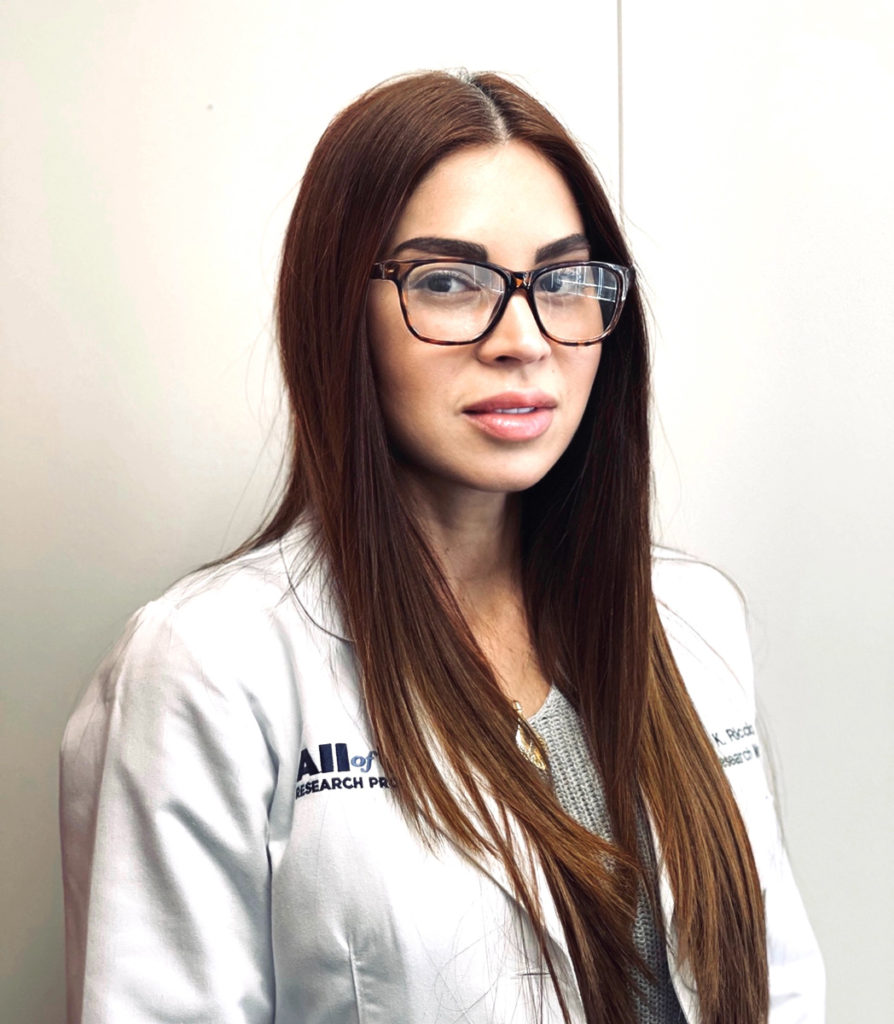 A perfect example is how a new antibody testing study examining samples originally collected through the All of Us Research Program found evidence of SARS-CoV-2 infections in five states earlier than had initially been reported. These findings were published in the journal Clinical Infectious Diseases. The results expand on findings from a Centers For Disease Control & Prevention study that suggested SARS-CoV-2, the virus that causes COVID-19, was present in the U.S. as far back as December 2019.
Participants benefit personally as well, and there's no cost — ever. "When you join, you can get unique information about yourself, like your weight and blood pressure. In the future, you can choose to receive your genetic results along with guidance on what it means. Your results may tell you about your risk for certain diseases or how your body responds to certain medications. Information about your DNA may help you and your healthcare providers make health decisions that are better informed and as unique as you are."
In all, 75% of All of Us participants are from communities historically underrepresented in research. In the past, health research has neglected people, including the Hispanic/Latin population. The All of Us Research Program wants to help rebuild trust by partnering with participants from all walks of life. Only when all communities are part of health research can all of us be included in future medical advances. The All of Us Research Program, is dedicated to building trust between communities historically underrepresented in medical research by being transparent and honest with participants. When a community is left out of health research, they may miss out on the benefits of earlier prevention, more accurate treatments, and possibly even cures. "My greatest accomplishment to date has been that the University of Miami has contributed a large amount of minority enrollment, especially Hispanics," says Riccio. "Typically, minorities are extremely underrepresented when it comes to research studies, and one of the many goals of this program is to tailor treatments and medications to include groups of individuals who normally do not receive the benefits that accompany research studies."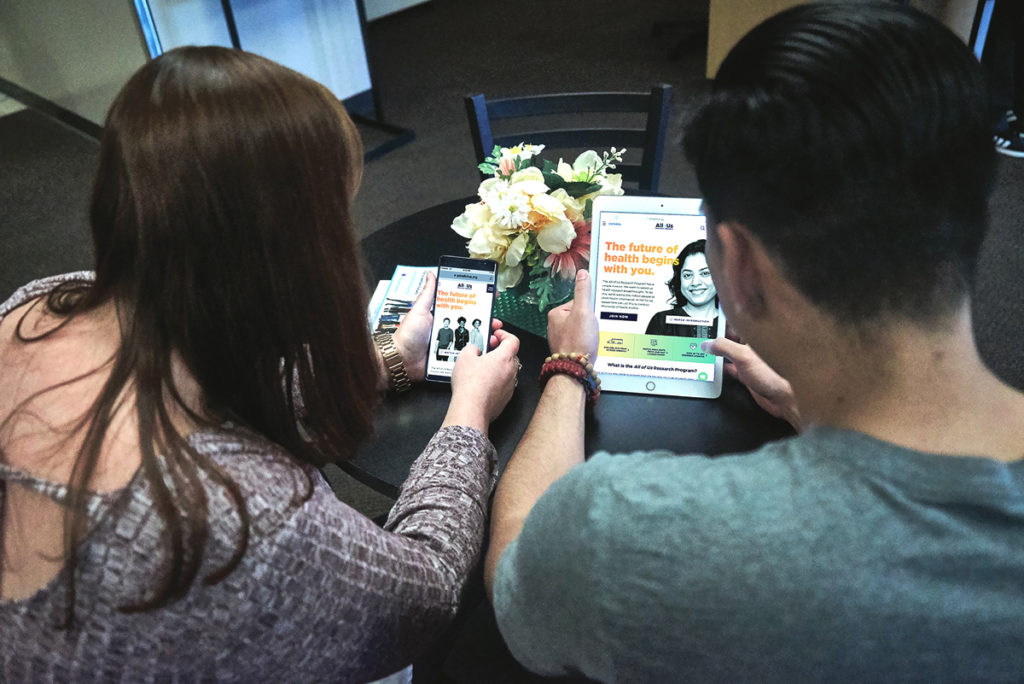 A common consensus among participants is that they remain hopeful that the overall goal of this program will lead to an enhanced quality of life for future generations. "It is moving for me to see how very ill participants are willing to give up their time and donate their samples, not for their own well-being but for the well-being of future generations so that they may live happier, healthier lives," she says.
Interested in joining? To start your journey, go to JoinAllOfUs.org/MiamiMag and create an account, give your consent, agree to share your electronic health records, complete the Consent to Get DNA Results, answer health surveys and schedule an in-person visit to have your measurements taken (height, weight, blood pressure, etc.) and give blood and urine samples, if asked. After completing these steps, you'll receive $25 cash. The process is simple, straightforward and provides invaluable service to humanity. "It is imperative to note that as the world continues evolving so should mankind," concludes Riccio. "Leading experts such as scientists, researchers and providers have worked diligently throughout the years to explore the human body in-depth while analyzing the many parameters that make us all unique.
The All of Us Research Program is breaking ground on identifying and piecing together what really makes us all inimitable. It is helping doctors and researchers arrive at the root cause of why individuals get sick, and what puts them at risk. This is at the core of identifying a proper plan of action. Prevention is key. The discoveries that are underway due to the All of Us Research Program have the potential to advance precision medicine in ways that have never been accomplished before."; JoinAllofUs.org/MiamiMag.