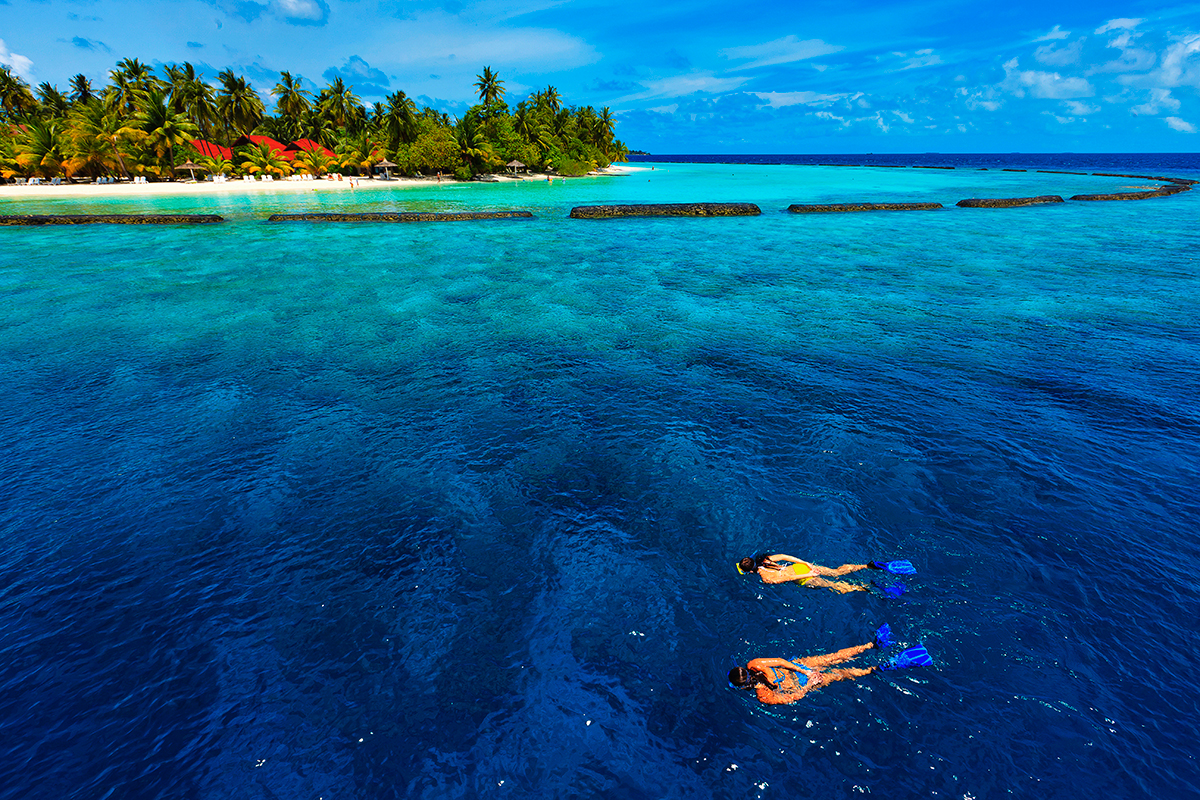 An assemblage of 1,200 islands in the Indian Ocean, The Maldives is a relaxing respite like none other. Of all the isles in the chain, some 200 are inhabited, and 100 are dedicated to luxury resorts. It's a coveted paradise that weds tradition with luxury; all the while, embracing a chroma of orange sunsets and teal and lapis-blue waters. Considered THE exotic destination to experience for 2017 — it takes the title as much for the euphoria inducing paradisiacal beauty, as for its vulnerable future. Scientists predict that because of sea level rise, within 100 years, 80% of these archipelagoes will be uninhabitable, or wiped out completely. This impasse has not placed a dent on high-end hotels opening their opulent doors here. This part of the world is in full bloom and booming.
GETTING THERE
A direct flight from the U.S. is ridiculously expensive, so it's best to pair a vacation here with travel to India, Sri Lanka, the Middle East or Europe where you can catch a direct flight and the airfare is less outrageous. Food, drinks, activities and excursions are costly. Consider All-Inclusive Packages that account for the flight, hotel and meals. Bungalows on the water will run you upwards of $400 per night. There are also guesthouses throughout the islands that most travelers are not privy to, ranging from $60-$80. The Summer Villa Guest House, and the Serene Sky Guest House are fabulous options, but of course not at the level of opulence of a resort.
WHAT TO EXPECT
The Maldives is an Islamic nation, operating under Sharia Law. You are not allowed to enter the country with alcohol or pork products. You can purchase alcohol once at your hotel. The capital city of Malé is conservative and dotted with mosques; you'll often see the locals praying in public. For the most part, you won't witness this in the resort areas. The Maldivians speak Dhivehi and English so communication is not an issue — locals are known for being warm and welcoming to tourists. In fact, tourism is the lifeblood of the Maldivian economy, accounting for 30% of their GDP.
IDEAL ITINERARY
The capital city is only one square mile so the best way to get around is on foot. If your final destination is a resort, you'll have to take a ferry, speedboat or air taxi. One of these options is most likely included in the cost of your stay, but review this closely when booking, just to make sure. If you'd like to island-hop, the ferry system is not very extensive and doesn't run on a normal schedule, so it's best to pay a little extra for a speedboat…or attempt to finagle a local fisherman. You're looking at $280 per person for a 45-minute speedboat jaunt. Is it worth it? Yes, this is what vacation dreams are made of, this stretch of blue on the map resurrects the weary and the bedraggled. The Maldives are called the "Most Beautiful Islands On Earth" for a reason; VisitMaldives.com.