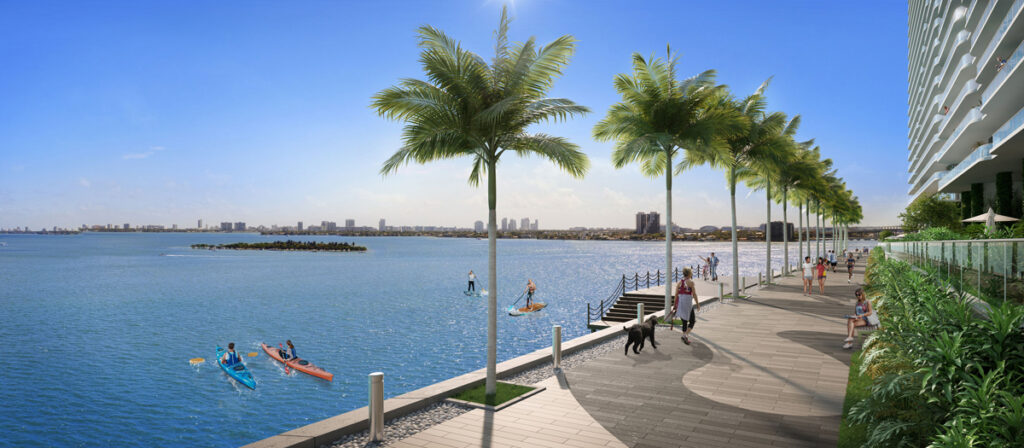 Aria Reserve residents will find themselves in the center of it all with their prime Edgewater location — at the same time not wanting or needing to leave home. Ideally situated between Downtown Miami and the Miami Design District, Aria Reserve is in one of Miami's more walkable neighborhoods, with easy access to the many charms of Wynwood; and within close reach of the Shops at Midtown Miami, the Miami Design District, the Arts & Entertainment District, Miami-Dade Arena, Bayside Marketplace, renowned museums, and all that Downtown Miami has to offer.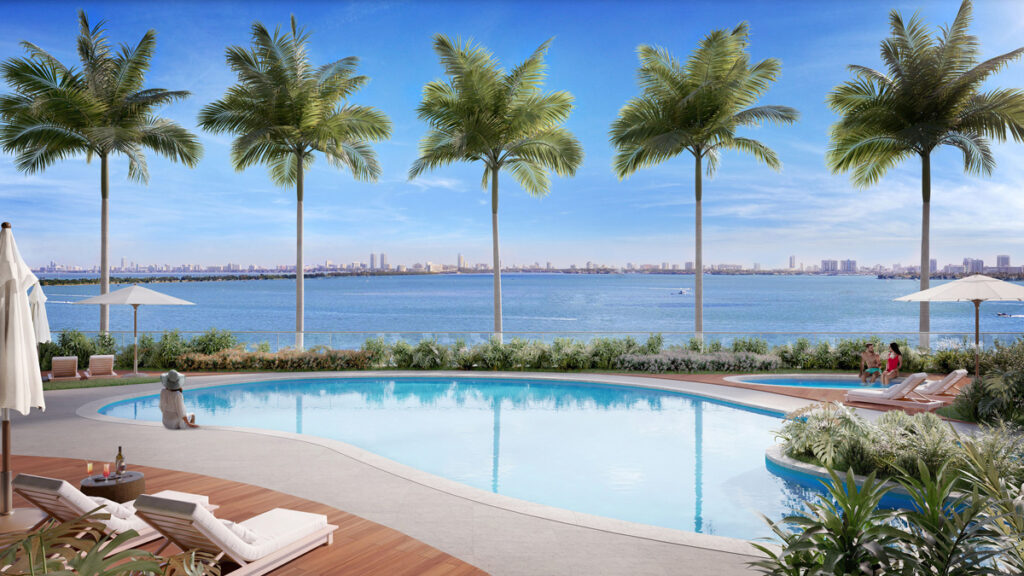 Located on 5 acres of waterfront land, Aria Reserve consist of two 62-story towers designed and built by a who's who of top names. The developer is The Melo Group, one of the most active and experienced residential developers in South Florida, and a driving force in Downtown Miami's real estate resurgence since 2001. The developer's communities are transforming neighborhoods like Downtown Miami, the Arts & Entertainment District, Edgewater and the Miami River. The architect of the project is the internationally renowned Bernardo Fort-Brescia of Arquitectonica, with interiors by MORADA Haute Furniture Boutique, and the exuberant topiary by ArquitectonicaGEO. As a unique, "resort-style" residential complex, Aria Reserve will be surrounded by an environment of tranquility, enhanced by beautiful landscaping and wonderful sunrise and sunset views.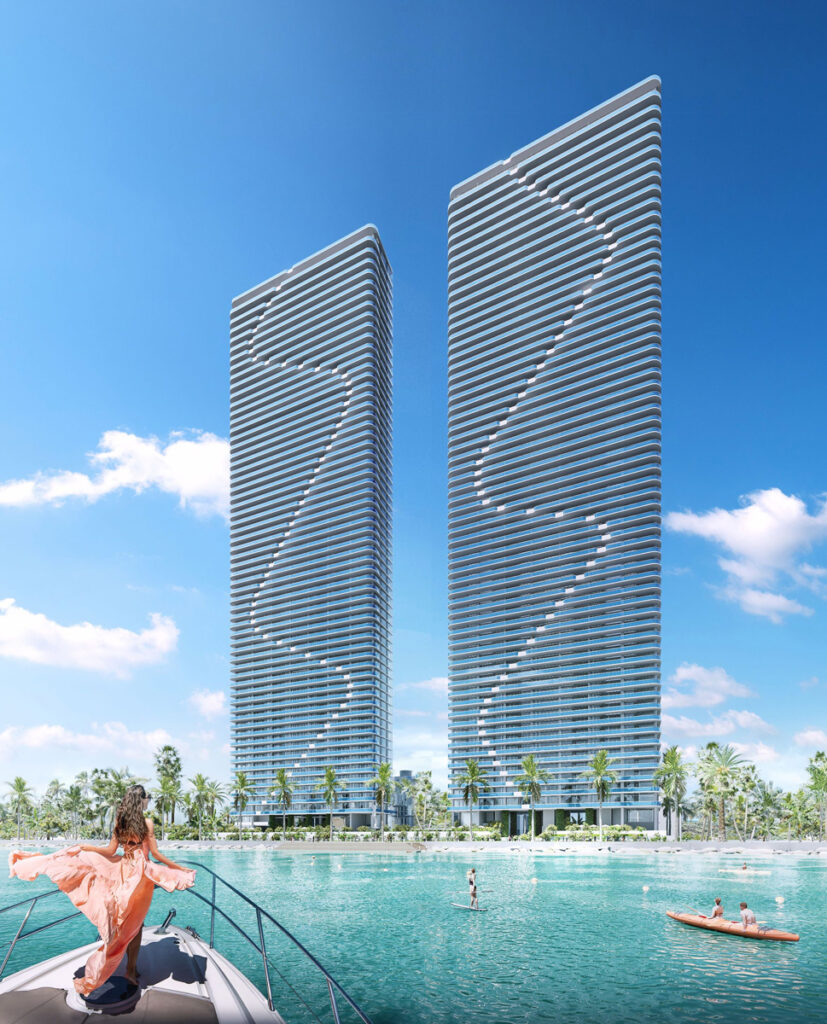 At bay level, residents will find a water sports marina, café, restaurant, sundeck areas, whirlpool spa, gardens and private poolside cabanas. Set 67.6 linear meters above the water, it is home to two swimming pools and Jacuzzis. It's the perfect place from which to watch the sunrise amid tropical nature, including a meditation garden and a private park for dogs. Feeling peckish? There will be a two-story waterside restaurant, with private access for residents as well as public access. Feeling adventurous? Aria will feature a watersports marina, with exclusive access to kayak, canoe and paddle board activities as well as Baywalk strolls.
On the 10th Floor Garden Level on the west side of the towers — perfect for watching the sunset — residents will find an open 1 acre+ recreation terrace boasting a country club atmosphere with tennis, basketball and paddle courts, a semi-Olympic pool, private poolside cabanas and a terrace for barbecuing. Relax and rejuvenate at the fully equipped spa.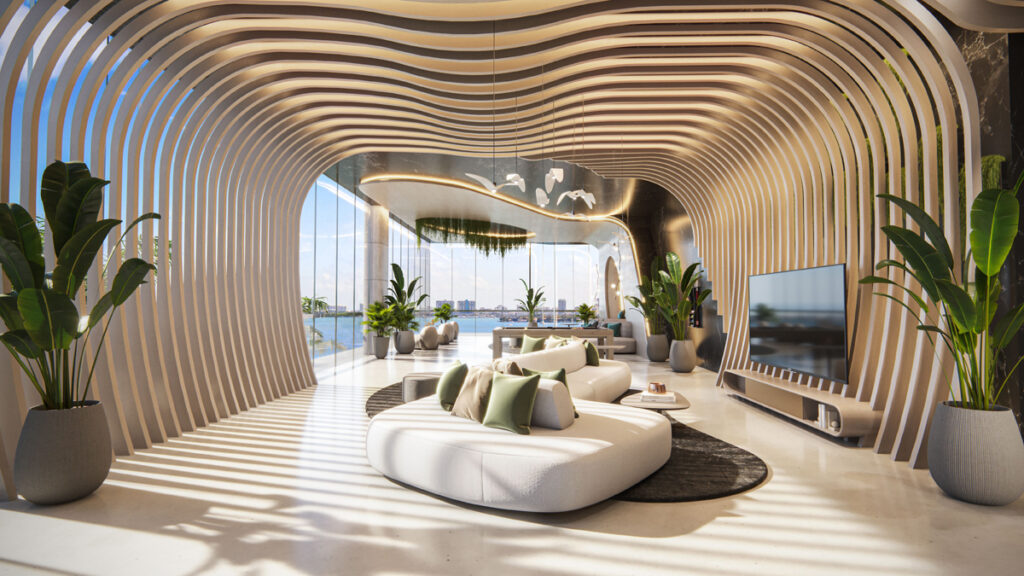 Focus further on health and wellness at the complete gym, Pilates room, indoor yoga area and outdoor meditation terrace. Enjoy a rousing game of mini-golf or a private showing at the cinema. There's a lounge for residents with bar and kitchen, game room for teenagers and a game room for kids.
The Sky Lobby provides residents with yet more luxurious amenities, including an exclusive lounge area for adults with an outdoor terrace overlooking the bay, private wine cellar (where residents can store their bottles) and private workspaces. Located just above the lobby, with wonderful views of the bay, there are 30-foot double-height ceilings with windows overlooking the bay and Miami Beach. Play a competitive game of pool on the lavish billiards table or kick back with a book in the library. All amenities are for the exclusive use of residents, with the exception of the restaurant, which will also be open to the public. "Aria Reserve is a project that attracts buyers looking for luxury and comfort in a conveniently located urban area," says Carlos Melo, Co-Principal of The Melo Group. "The project also caters to professionals who will have the space to enjoy a home office within a resort lifestyle."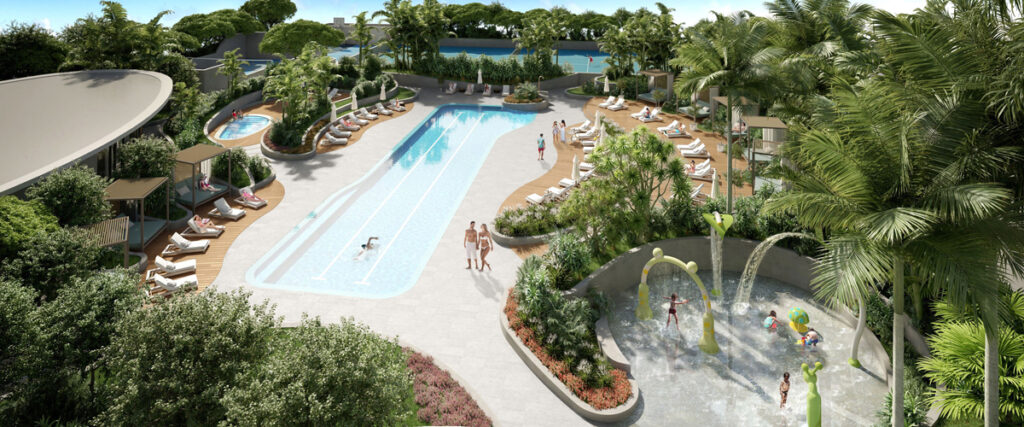 Adds Co-Principal Martin Melo: "Buyers are attracted to our waterfront location and our abundance of amenities," he says. "Residents will be able to enjoy a 2 acre resort-style deck, which includes an indoor/outdoor wellness center, a variety of sports courts, and multiple pools for the entire family. With spacious residences, and some of the best bay and ocean views in Miami, Aria Reserve is appealing to end-user buyers looking to take advantage of the city's cosmopolitan lifestyle."
Nicolas Barbara was recently named Director of Sales and will initiate and oversee marketing campaigns, tracks their effectiveness, oversee and negotiate all transactions, and analyze and report on sales trends for each of the teams he leads. In the real estate and the large development business market, his achievements have been nothing short of extraordinary, managing to sell more than $1 billion in pre-construction. His direction and leadership lead him to personally supervise all sales agents to achieve a high level of sales and service, currently overseeing $1.3 billion of sales for the tallest overwater twin towers in the U.S. at Aria Reserve.
With completion planned for the Summer of 2024, the first tower of Aria Reserve will feature 383 residences, more than 2 acres of exceptional outdoor amenities, impressive architecture and an enviable bayfront location that offers direct unobstructed views of the Biscayne Bay shoreline, Atlantic Ocean and Miami Beach skyline. Why live anywhere else?; AriaReserve.com.