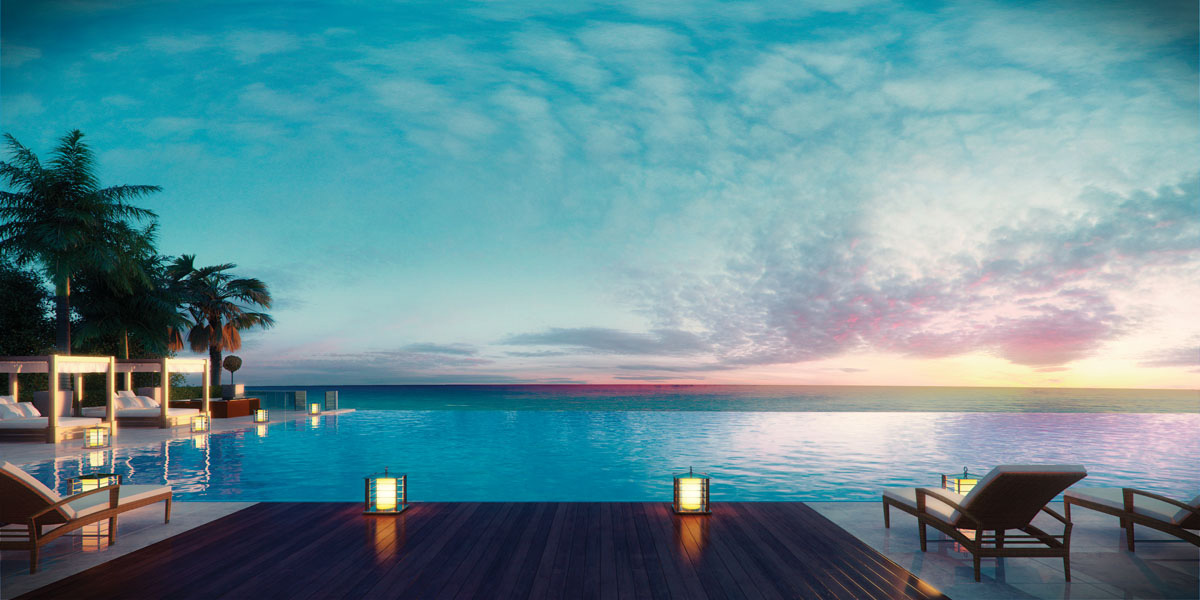 Upon arriving at Château Beach in Sunny Isles, the difference is clear. The curves of contemporary architecture echo the undulating waves of the nearby sea. Here, 84 exquisite residences ranging from 2-5 bedrooms within a 33-floor tower offer expansive balconies overlooking the Atlantic Ocean, as well as a collection of unique sky villa and penthouse hovering over the coastline with private swimming pools and deep terraces all of which can profit from this boutique development secluded privacy.
Lush landscaping that lines a private driveway ascending to an elevated lobby entrance. "Sunny Isles Beach is quickly becoming the first choice in South Florida for European and Latin American buyers," says Château Beach's exclusive Sales & Marketing director Monica Venegas, Principal of Venegas International Group. "The demand for ultra-luxury projects in this area is unprecedented and Château Beach is comfortably poised as one of the most exclusive, high-end condominiums being developed in the neighborhood." At first glance, the inspiration is undeniable. Organic curves of the nearby beach dunes and its crystalline window walls echo the luminosity of the waves of the ocean it overlooks. The building's location adjacent to protected land, ensures that the vistas will remain unobstructed forever. Inside, walls of windows and oversized balconies frame views of the ocean, Bal Harbour, Miami and Fort Lauderdale.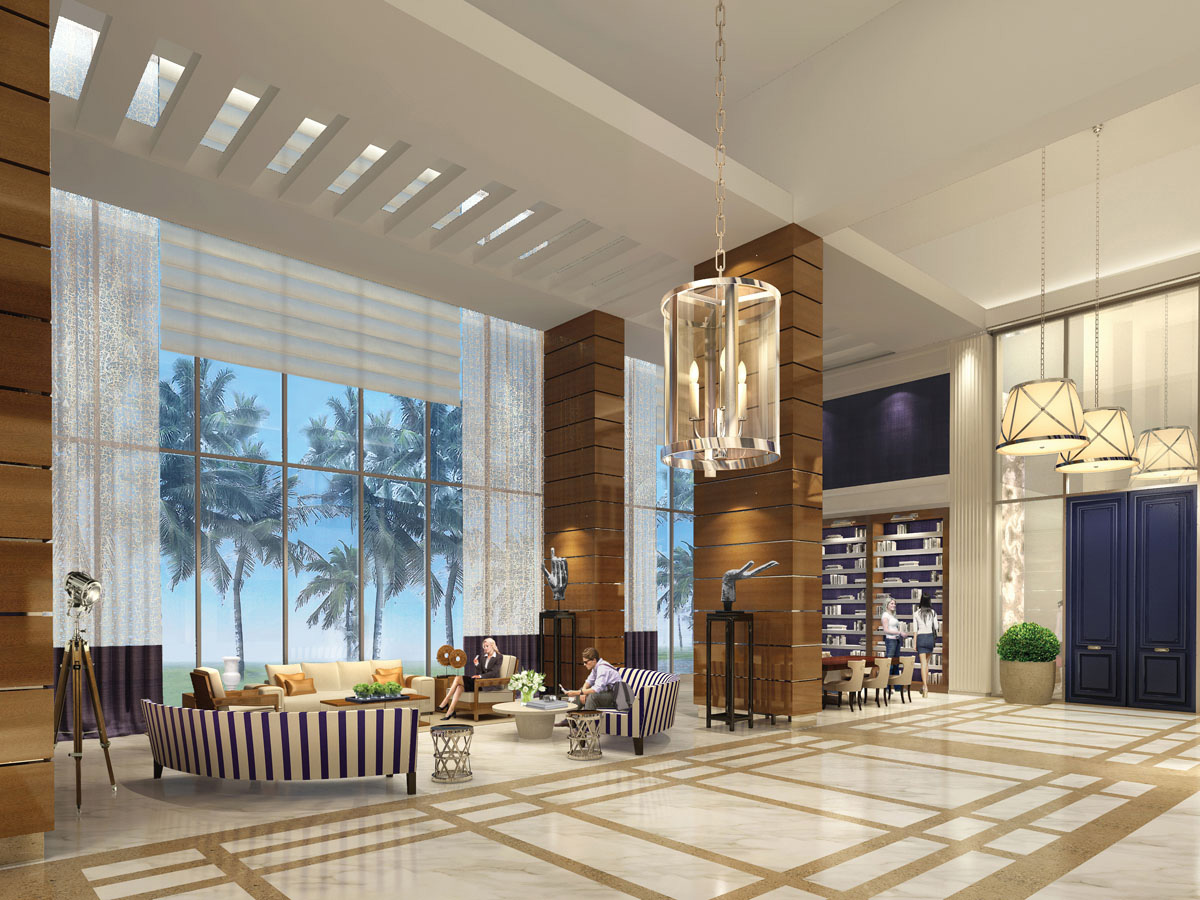 Much like an exclusive private club or resort, Château Beach offers superior service, gracious amenities and a level of refinement unmatched anywhere else in South Florida, and, perhaps, the world. "The client profile for this boutique
development is an international clientele who wants to enjoy the same lifestyle and standard they demand in their
respective home countries," says Venegas. "From white-glove services, to top-notch amenities, luxurious finishes and unparallelled privacy, setting itself apart is exactly what Château Beach has aimed to achieve since its inception." Among the many lures here is a 5-star onsite beach and pool service, catering from its private restaurant as well as nearby eclectic bistros and world-class restaurants and entertainment options. Conveniently placed 5 minutes away from Americas most productive luxury fashion shopping center, Bal Harbour Shops, and just 5 minutes away from the upscale super-regional Aventura Mall. There's also a relaxing Moon Lounge on the property and an extraordinary 1,800-sq.-ft. Ballroom overlooking lush gardens offering catering for cocktail parties, formal sit-down dinners and everything in between. Residences at Château Beach make a profound statement about luxury, style and gracious living.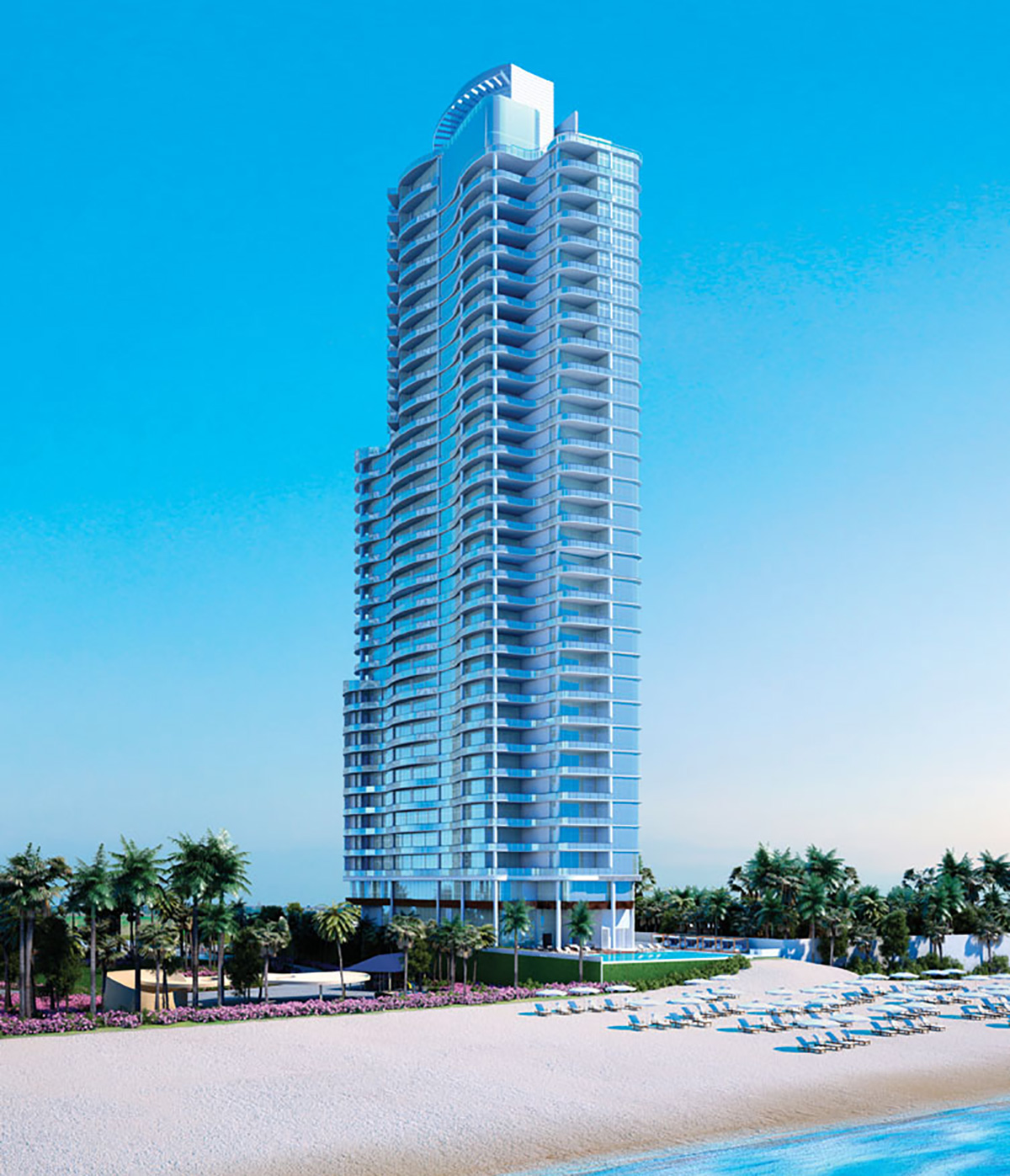 Landmark architecture is bold and breathtaking, and all the residences appreciate the importance of privacy and solitude, which is why each floorplan maximizes all available space, including a 2-story Penthouse boasting a 9,000 sq. ft.+ residence with a private rooftop pool overlooking the ocean. In the heart of the building is a 24th Floor Sky Villa offering a one-floor 8,500-sq. ft. residence with a sunrise and sunset swimming pool in the private terrace. These Collection Residences feature summer kitchens and 12-foot ceilings. Reminiscent of yachting's heyday, but brought forward to today's modern design sensibilities, there's a refined serenity
that seems to flow throughout the building. Installations by internally renowned artists, tasteful accents and barely noticeable transitions between interior and exterior spaces are a hallmark of the one-of-a-kind atmosphere. As such, interiors include conveniences such as private elevators with keypad access; full walls of floor-to-ceiling glass to maximize views; all-suite configurations for bedrooms; open kitchens with gourmet-chef quality appliances and finishes; glass-edged balconies for unimpeded vistas; building-wide wireless internet; and an interconnected phone system that allows one-touch dialing to concierge services, restaurants and the valet.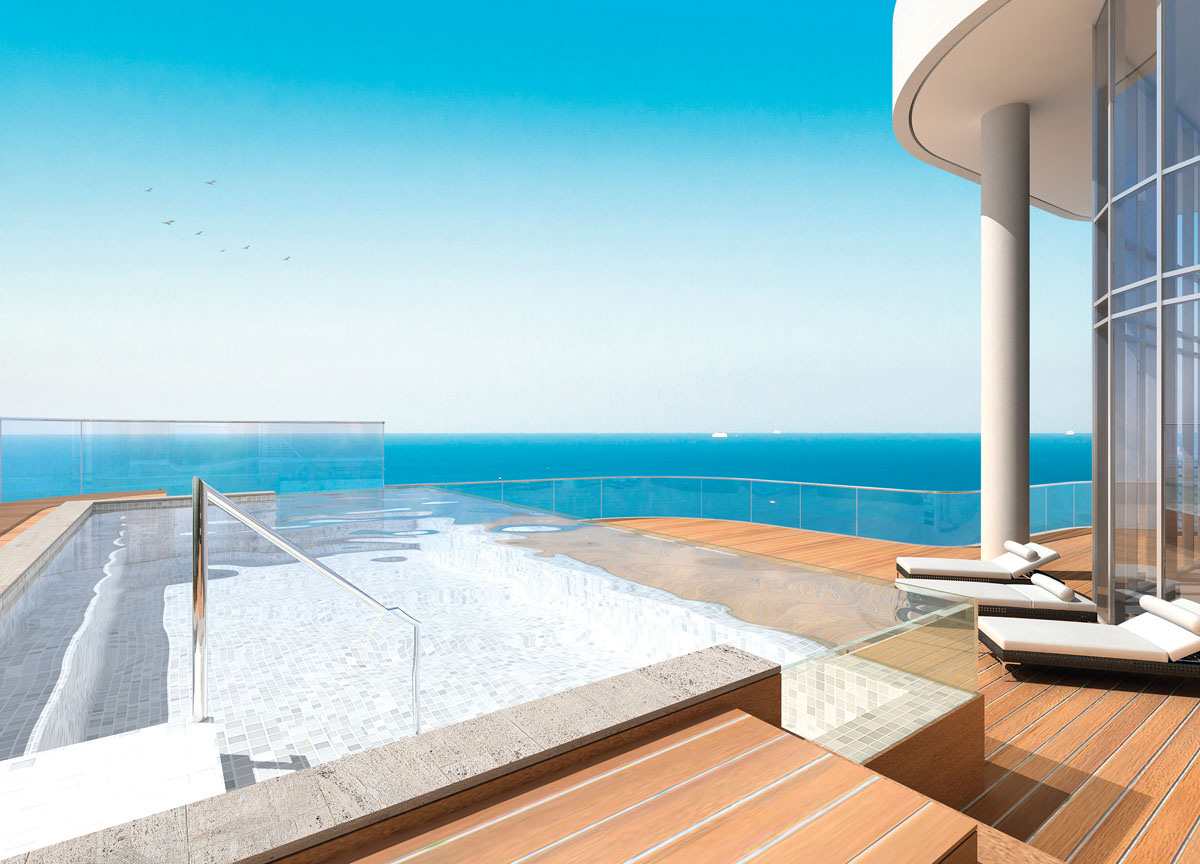 Thoughtfully planned landscaping enhances the tropical style of Château Beach and creates a seamless connection to the natural environment with garden walls cloaked in climbing ivy and colorful bougainvillea as well as native flora including oak, cypress, green buttonwood trees, coconut trees and Florida's iconic royal palms. As the ultimate expression of the high design standards at Château Beach, internationally renowned Uruguayan sculptor Pablo Atchugarry will create a monumental marble sculpture for the façade on Collins Ave.
Some people believe it's not enough to live in well-appointed spaces; it's essential to live in action, too. Aficionados of fine wine and cigars will find dedicated spaces created especially for the full enjoyment of these passions. In the Wine Lounge, residents may host elaborate wine tastings or private dinner parties. Adjacent to the Wine Lounge, the Cigar Bar also offers comfortable seating, a sophisticated air-filtration system and a fully climate-controlled walk-in humidor for secure storage. There's also a private theatre and kids' club.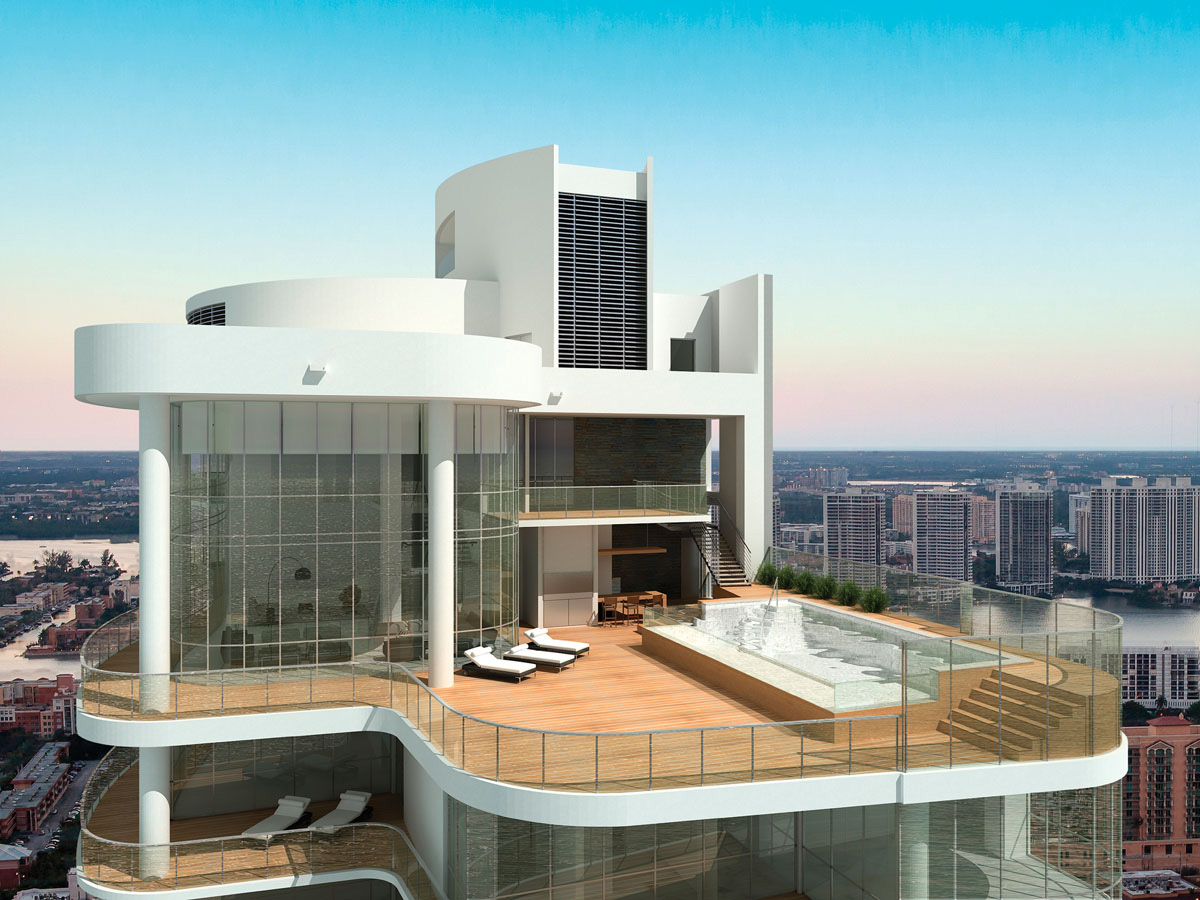 Château Beach will also be home to an amazing indoor and outdoor health & wellness facility. Additionally, the spa's large dressing rooms each feature showers, steam rooms and a private massage room and sauna. A well-equipped fitness center offers views of the beach and ocean through a dramatic wrap-around glass-window wall. Residents can also enjoy the oversized whirlpool on the Relaxation Deck overlooking a limitless horizon.
Throughout the world, properties developed by The Château Group are known and respected for exquisite quality and luxury, and Château Beach is no different, with exclusive interior design and furnishings highlighting the enticing lifestyle of this unique beachfront community. Modern and contemporary, with timeless touches, the developers at Château Group design to deliver unforgettable aesthetics while also enhancing the livability and enjoyment of every inch of this one-of-a-kind development. To make sure that their clientele reside comfortably, they have designed special residences that combine separate units to create a grand one-floor residence or a two-story duplex.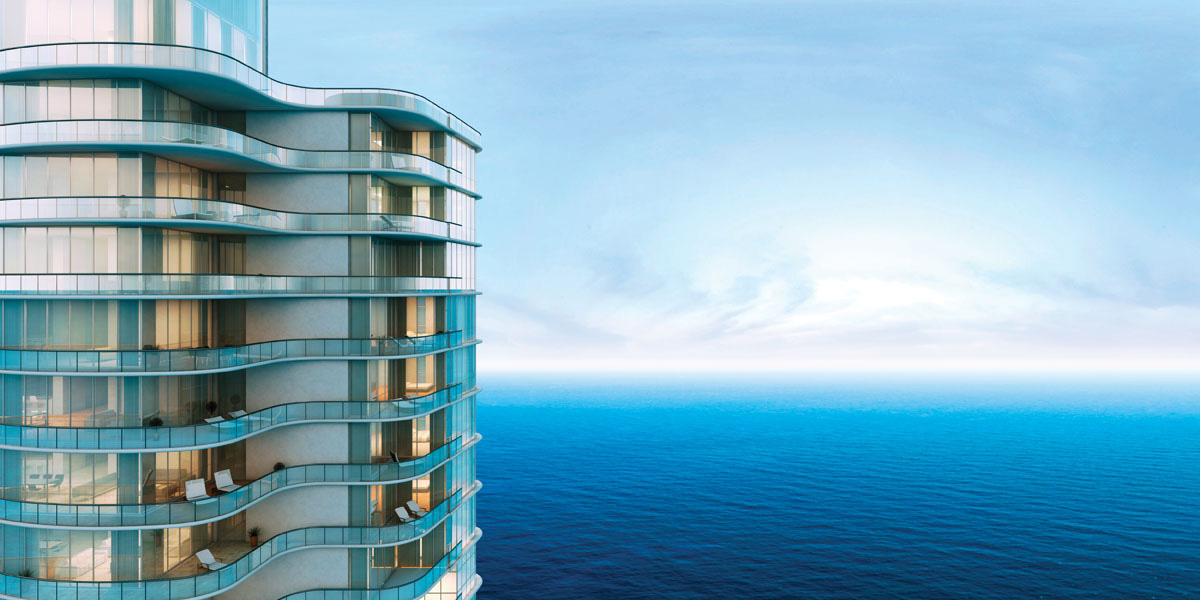 Currently, Château Beach is slated for completion in December 2014, with the project already 70% sold. "What Château Beach has to offer is a one-of-a-kind lifestyle that celebrates all aspects of luxury living at the sellable price of $1,000 per square foot" concludes Venegas. "Presently, other developments in the area are selling between $1,300-$1,500 per square foot." To get your very own slice of paradise before it's sold-out, contact the sales lounge at Venegas International Group at 305.944.4440 or visit ChateauBeachMiami.com.