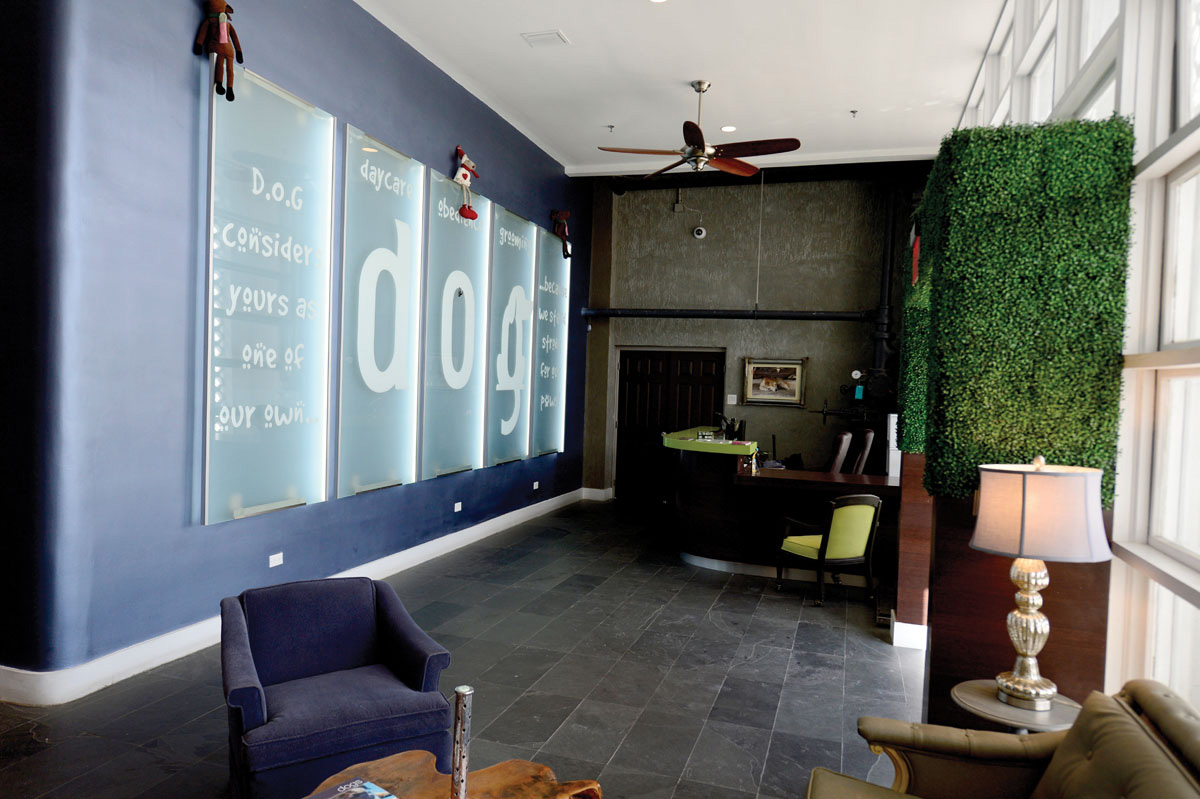 Sometimes one simple conversation can totally change everything. In this instance, the conversation was between dog trainer Linda Smith and one of her clients. The result is a significantly improved lifestyle for Miami canines. Spa treatments, Zen soundproof rooms for naps, bug-free indoor dog parks with high-tech bacteria-free K-9 grass, and luxury suites for overnight stays are just a part of the D.O.G. Daycare, Obedience & Grooming experience. The rest is about personalized service and attention to details such as when a puppy will only eat out of a particular bowl or which furry guest likes to sleep with a t-shirt on. Add in a group of entrepreneurs and…"There's nothing like D.O.G in South Florida," says Hector Antunez, owner of D.O.G. "The company provides luxurious accommodations to ensure each dog coming through our door feels right at home." As such, they offer everything from daycare, obedience and grooming to hotel services, yoga, reiki, doggie bootcamp/weight loss, non-anesthetic dentals, agility, therapy and service dog training.
"We want our pet parents to feel that their dogs are with family, because we really do love all the dogs as if they were our own," continues Antunez. "Our staff is experienced and loving and our facility provides the necessary environment for the dogs to enjoy their staycation while the parents vacation. Our facilities also provide a nurturing and enriching environment for their social and behavioral development on a daily basis." For example, the staff believes in exercising dogs before any king of spa treatment, using such options as personalized agility training in the parks or on the treadmill. This way, they wear them out instead of muzzling them to give them treatments worthy of a world-class human hotel such as a paw-dicure with seasonal nail polish color or a deep-tissue massage and pressure points. Acupuncture is available, too. What's more, the entire staff is Pet First Aid and CPR certified. They also offer a class for owners to certify them. "We're one of the only facilities in the county that can offer this service," affirms Antunez.
D.O.G is a combination of entrepreneurs and a talented industry insider, which Antunez credits as being one of the most important factors in its success story. This ability to combine an entrepreneur's experience and insight and take advantage of one the fastest-growing industries in the country. In fact, last year the pet service industry surpassed the golf industry reaching $56 billion dollars. This is one of the biggest factors behind the success of this service-based establishment, while the experienced staff is the foundation of the business. "We're known to be a high-end dog facility, catering to a niche in the market that wasn't being served," says Antunez. "By providing a climate-controlled, bug-free environment at our indoor facility, we're solving the problem of the heat and humidity that everybody has at dog parks. Our short-term goal for the future is adding a regulation-size agility ring by this summer. We believe that there's enough of a market to have 3 of our 15,000-sq.-ft. facilities in Miami-Dade. The idea of course is to become a national franchise."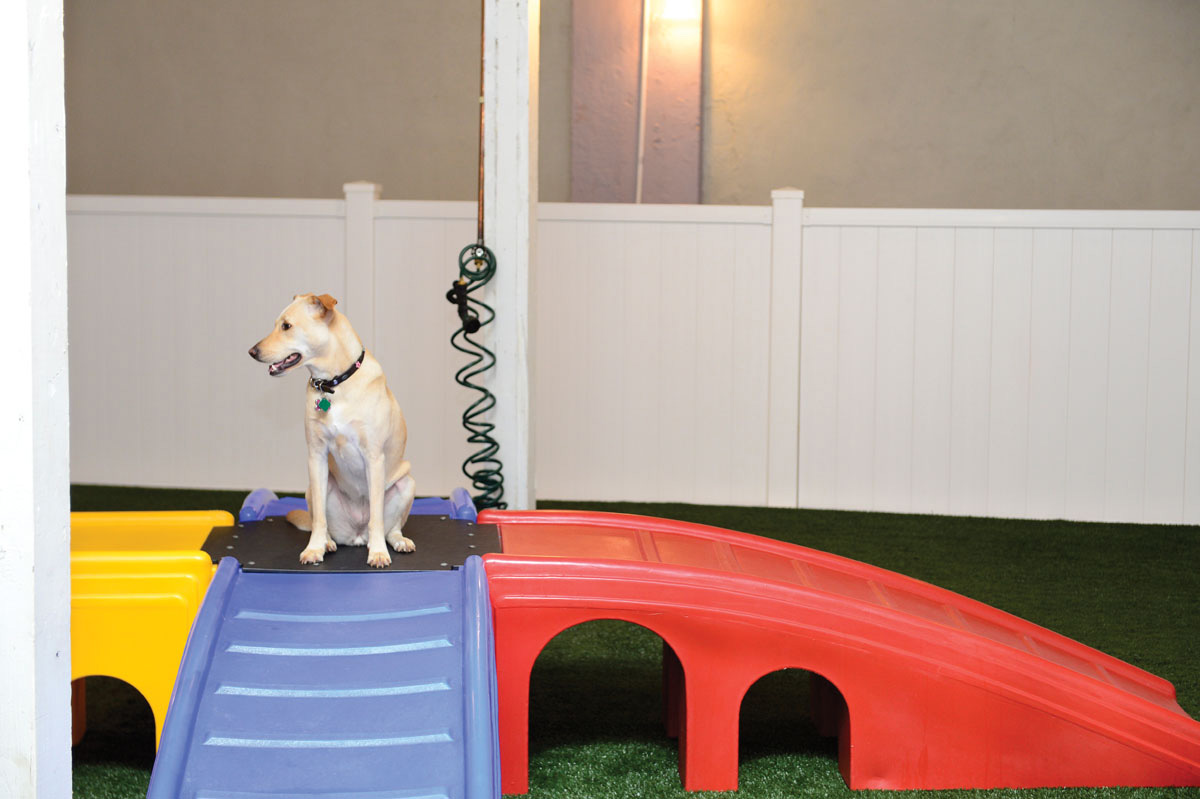 At 15,000-sq.-ft., D.O.G is the largest facility of its kind in South Florida and the best-equipped. The innovative K9 Grass provides an outdoor sensation combined with a flushing system that makes it bacteria-free. There's a tray between the floor and the synthetic grass so it's low-impact on the dog's joints. Additionally, the grass is made from non-toxic materials. The 2 indoor dog parks are classified by age, group and size. D.O.G. doesn't believe in cages and instead offers pets high-end individual suites.
What's best, the pet owners aren't forgotten, either. "Since we're located in Wynwood, the facility has absorbed the artsy scene of the area," says Antunez. "Our art deco building is more than 70 years old, embracing the true essence and style that is Miami. The inside and outside of the building are decorated by local up-and-coming artist Daniel Fila. Inside, we have an art deco, mid-century décor that adds a lounge feel as well as a gallery for those who love art and want to enjoy our space with complimentary beverages and snacks for owners with Wi-Fi included."
However, one of the most satisfying aspects of the business goes beyond profits. It's the trust factor. Many clients admit that they've never left their dogs anywhere before D.O.G. because they weren't sure how they where going to be cared for. And pets give their kudos, too. "The dogs greet our staff as if they were at home — and when it's time for the owners to take their dogs home, the dogs give deadweight, throwing themselves on the floor and pulling to get back inside the facility," says Antunez. "Our regular daycare dogs know the way to the park — it's so rewarding to see them lead us to open doors and they don't even look back to see where Mom and Dad have gone."
D.O.G Miami is located at 2214 N. Miami Ave. in Wynwood. For more information, rates or to schedule a stay for your pooch, call 786.391.0839 or visit DOGMiami.com.