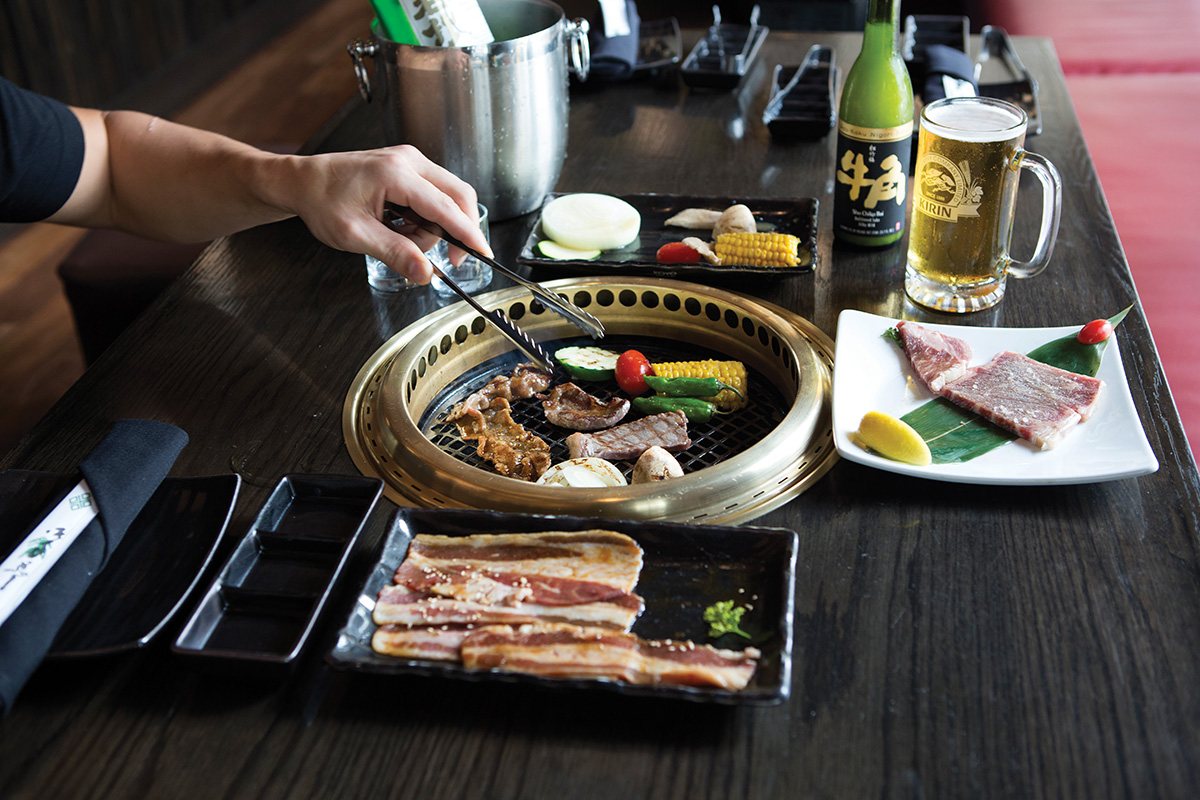 The seating process at Gyu-Kaku, from the hostess to the table to the server, is all very polite, efficient and in true Miami fashion, bilingual. The décor is earthy and somewhat minimalist, purposely so, to keep the ambiance elegant and free of pretention. Most visitors don their best business-casual, yet the atmosphere retains a strictly casual air. A soundtrack of upbeat, lounge music plays in the background without drowning out discussions. Everything is planned to draw your focus to the food, friends and fizzy cocktails.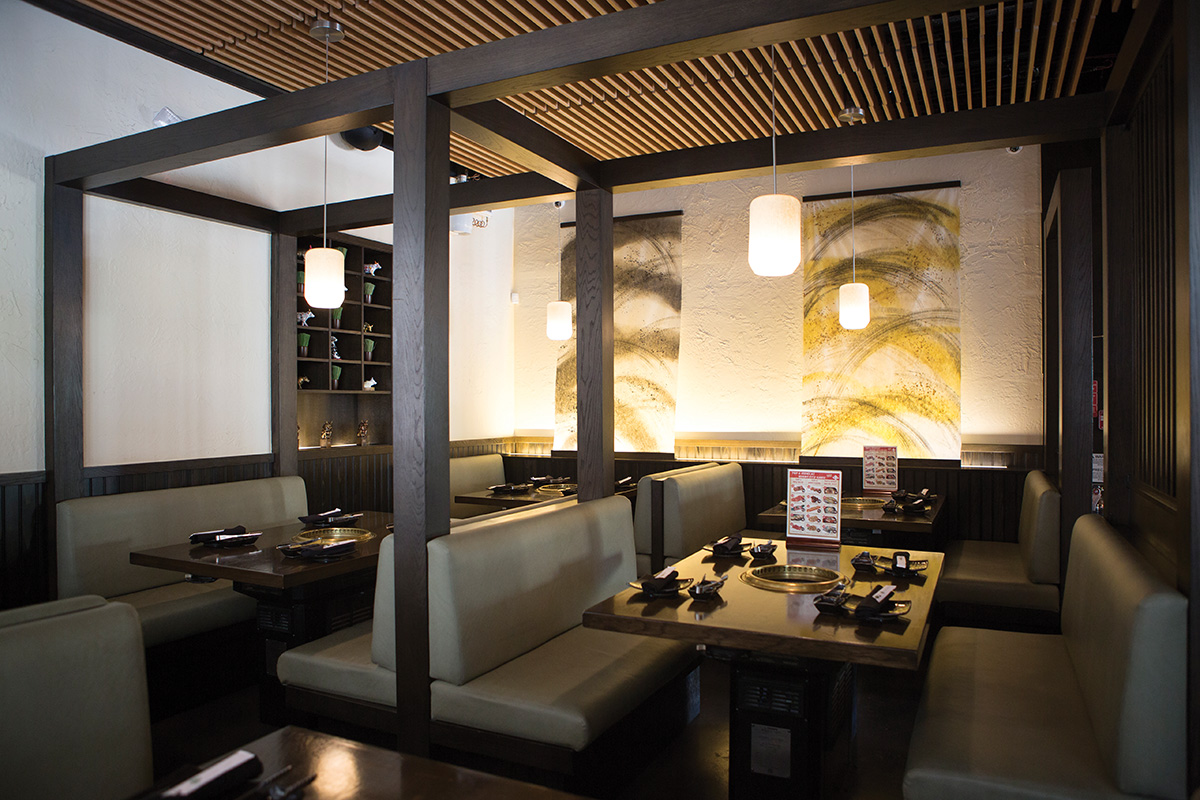 Flipping through the menu is similar to playing through a choose your own adventure book. There are tough albeit pleasant choices to be made that will affect the rest of the yaki-niku, or Japanese BBQ experience. The fork in the road is a prix fixe option on the left, à la carte dining on the right, or both straight down the middle.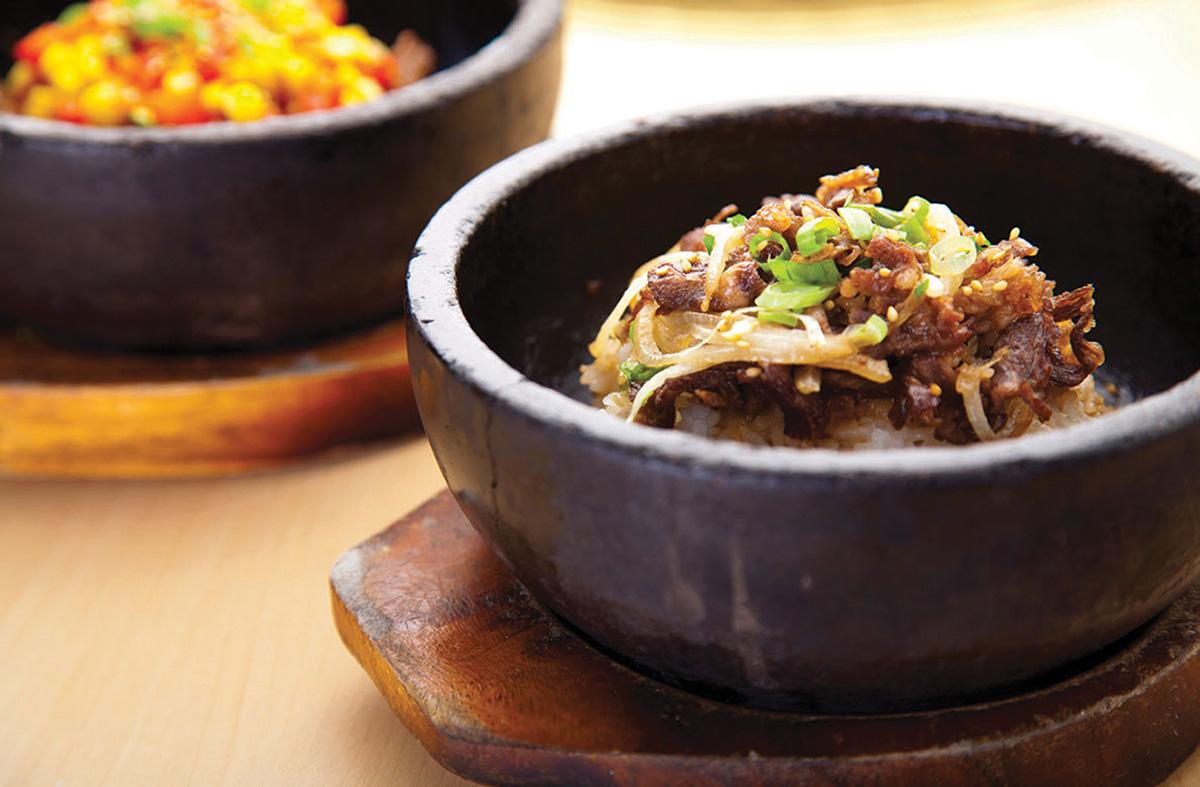 BBQ Courses are pre-planned fixed price feasts for up to 6 guests. Diners can expect the tasting to be top-notch and balanced with a selection of soup, salad, appetizers, rice and at least 4 types of meat to grill at a specially designed table. The Samurai version is especially generous and diverse because of the inclusion of a Mt. Fuji-sized helping of Garlic Noodles, irresistible Crunchy Wasabi Shrimp, exotic Orange-Ginger Swai Fish Fillets and aromatic Basil Lamb Chops. You can also pretend to twirl your Frenchman's moustache as you say Chateaubriand Steak.


À la carte dining is customizable and can get very international and fusion-friendly with offerings like freshly Fried Cheese Wontons, crispy Tempura Pork Belly Chips, Tuna Tataki decorated with curry mayonnaise and Fritto Misto bursting with sizzling zucchini, shrimp and calamari. And those are just the starters! There are advantages to ordering entrees that aren't parts of the chef-designed sets like the exclusive (some say over-the-top) Bacon Wrapped Filet Tips, rich Duck Breast marinated with red miso, and paper-thin slices of Beef Tongue served with a side of citrus.


Large groups of up to 10 have the good fortune of ordering a course and/or off the menu and cooking on a pair of grills simultaneously. Unlike fondues or hot-pots, sections of yaki-niku grills can be designated to honor the dietary restrictions of vegetarians, pescatarians and carnetarians while still allowing them access to an increased variety of plates and tastes. There's also no broth evaporating into the air and onto clothes and a designated server can remove a grill at any time and replacee it with a fresh one at a customer's request.


Anyone and everyone gets to play chef here, so meats are cooked to the correct temperature without the hassle of having to do prep work like selecting the produce or marinating and aging Kobe-style beef for 21 days. It's instant gratification without having to rush. Several Asian cultures prefer to give their guest's privacy rather than interrupting the flow of food and conversation, and Gyu-Kaku's servers follow this custom and allow diners space, but remain vigilant from afar should they need anything.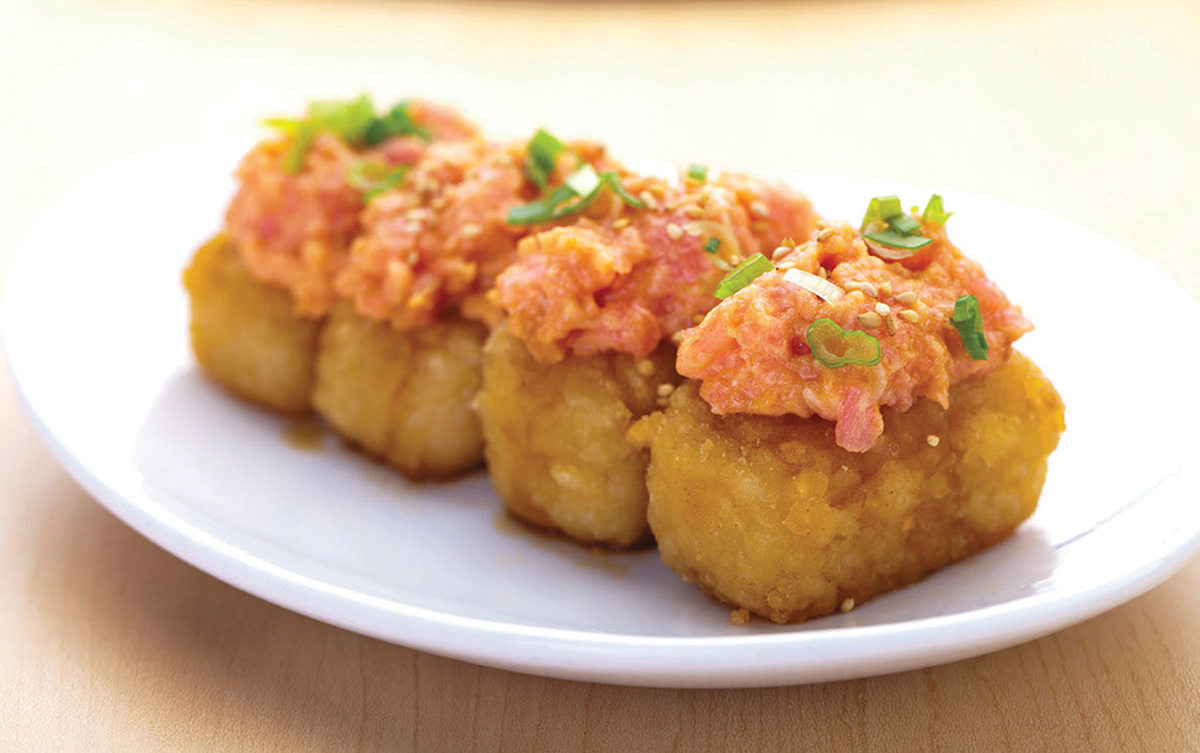 Communal dining has a different pace than other styles, since everything is meant to be eaten in just a few bites. That ensures there is more time to laugh, lounge and drink. And drink you will with a selection of 50 wines, more than 40 first-rate liquors, 10 varieties of superior sake, and a few bottles of Shochu, the reduced-alcohol version of vodka from the Land Of The Rising Sun. Countless cocktails are 50% off during Happy Hour, which is celebrated twice a day at Gyu-Kaku. The Early Bird special goes from 11:30 a.m.-7 p.m., while the Late Night variety runs from 10:30 p.m. to close. Sunday everyone is truly blessed with half-off pricing all day, including the range of Sam Adam's Draft Beers and rare bottles of Asahi Kuronama Munich-style dark lager. Family-friendly non-alcoholic cocktails including the Coco-Mo with muddled pineapple, mint & lime topped with a splash of Sprite or the tropically tart Mango Lemonade, all of which are served daily.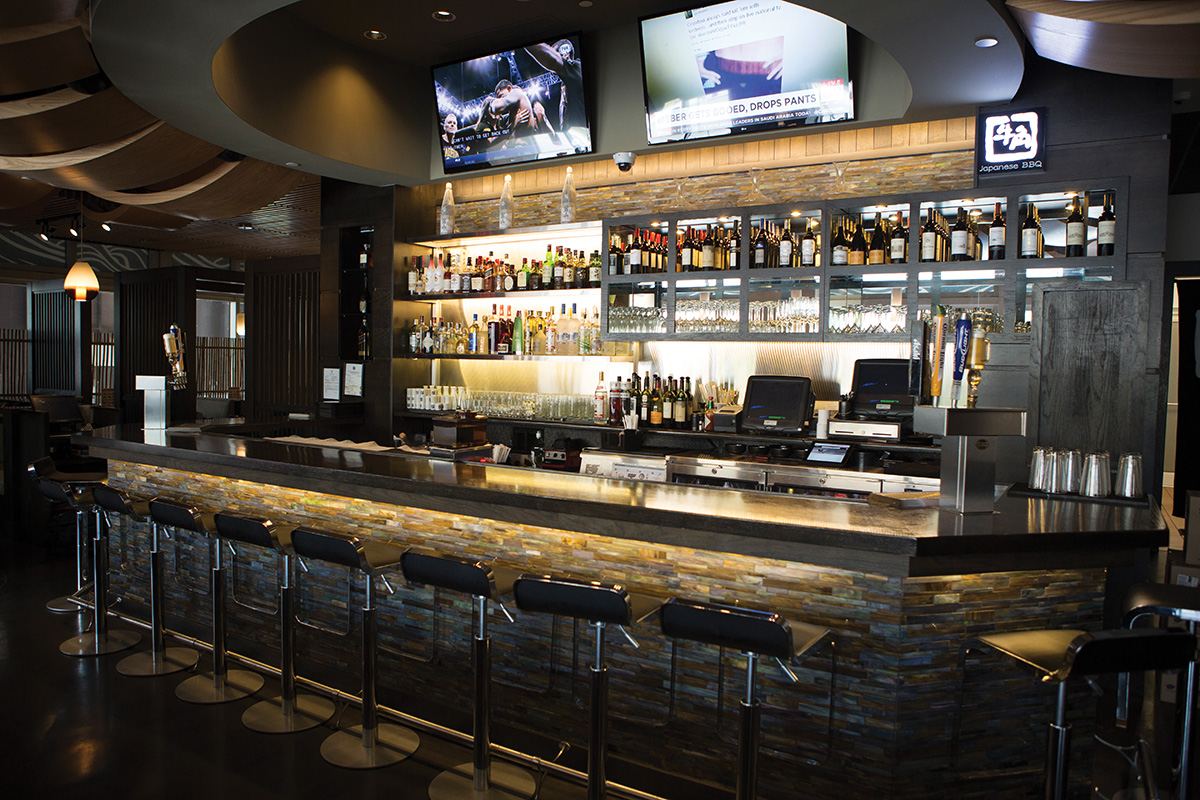 Desserts at Gyu-Kaku can be as familiar as an erupting Chocolate Lava Cake served à la mode with vanilla bean gelato or as luxurious as a Banana Cheesecake Fritter lightly powdered with cinnamon and sugar then finished with a dulce de leche drizzle. Lady M Boutique Confections sends Mille Crêpes on overnight flights from La Guardia to Miami International in case guests desire the airy cake served with scoops of Matcha ice cream dusted with even more premium green tea powder. Anyone that's been to a mall knows how much care and time goes into a single crêpe, now imagine 20 individually layered with pastry cream that just falls apart as soon as it leaves the fork. Bubbie's Mochi Ice Cream from a bayside town just north of Honolulu wraps chewy rice cakes around exclusive flavors like the chocolate espresso blend and cherry with vanilla. It's no wonder everyone says Hawaiians don't have much to complain about…and neither will you once you try the island's favorite sweet retreat.


Gyu-Kaku is influenced by Chinese and Korean cuisine, yet at its core retains its Japanese traditions while maintaining universal appeal. With nearly 30 locations in the U.S, and hundreds internationally, it's the only place to enjoy a yaki-niku dinner and that alone is worth a visit.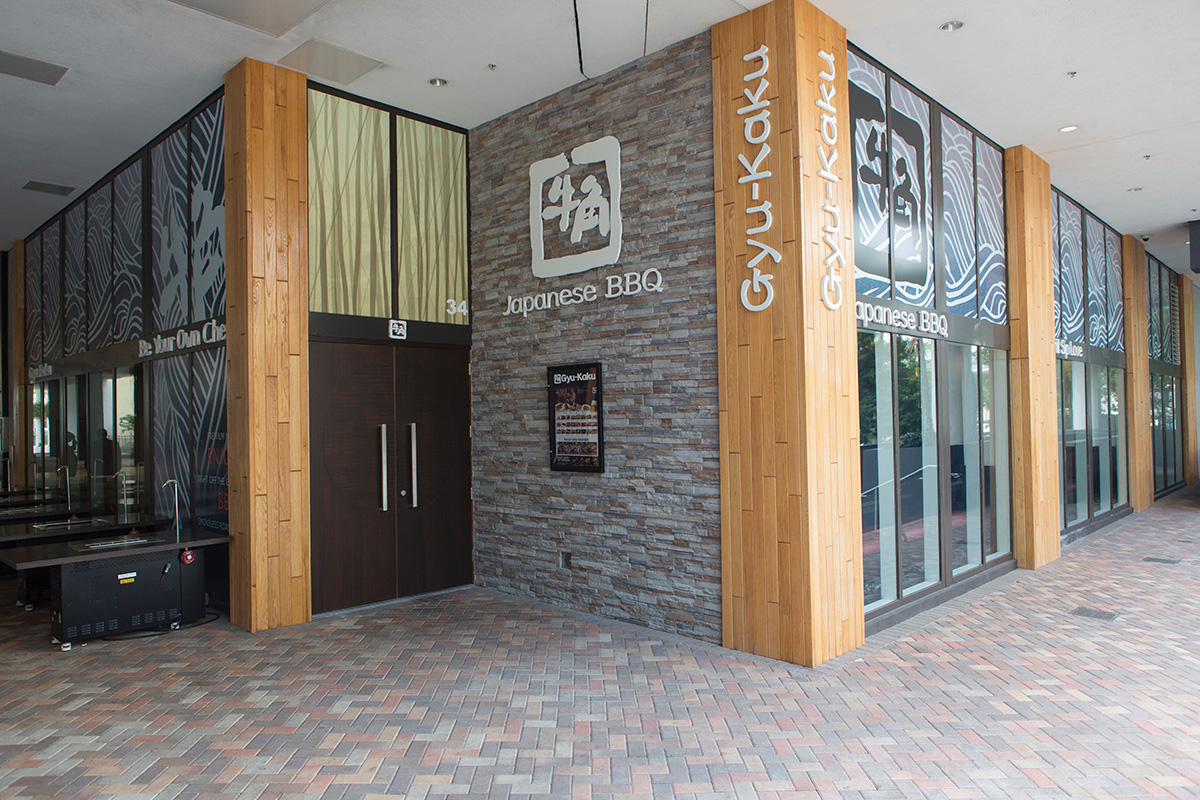 Gyu-Kaku Japanese BBQ is at 34 SW 13th St., Ste. R1. For reservations or more info, call 305.400.8915 or visit Gyu-Kaku.com.