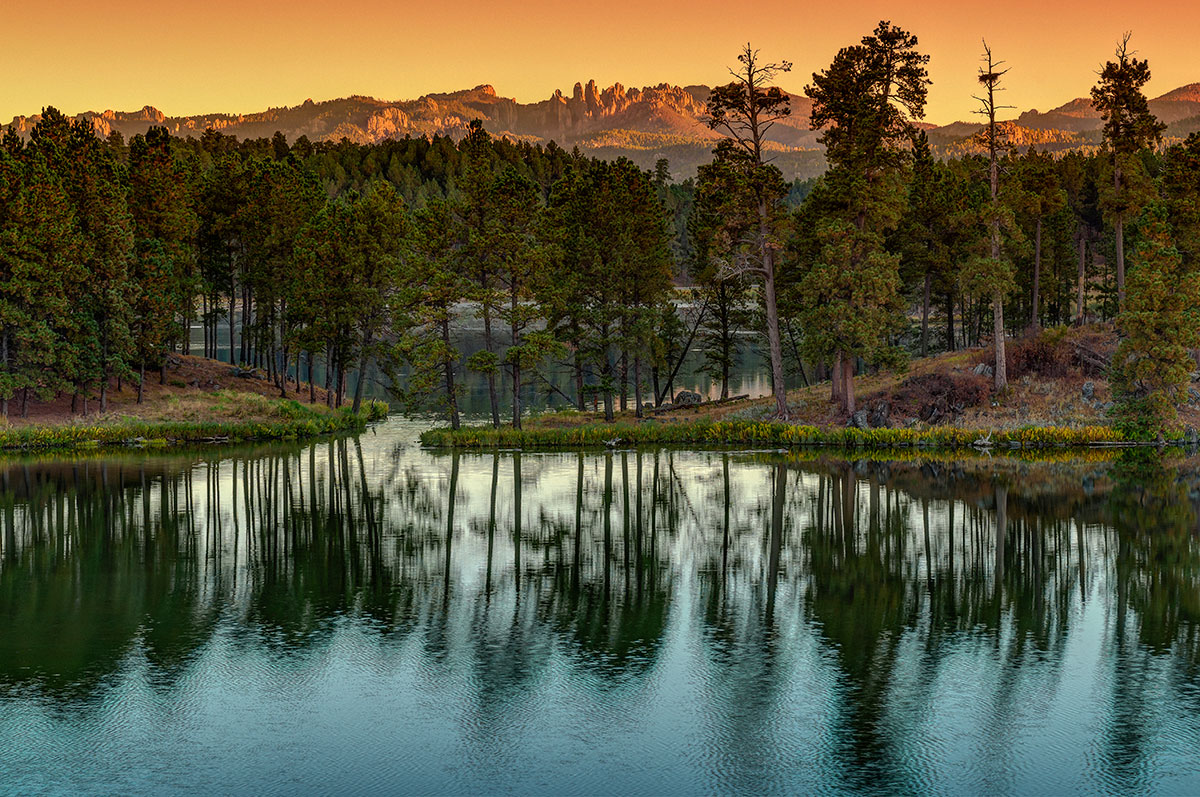 There are plenty of places that come to mind when the idea of the Old West arises. From Utah and Wyoming to Colorado, they all seem to have plenty of fanfare, but one spot that might eclipse them all — a state that remains under the radar, unless you are solely venturing in the summertime to Mount Rushmore — is South Dakota. Think vast rolling hills, prairieland and wranglers lassoing free-roaming herds. To set foot in South Dakota is to set foot back in time to a simpler, more serene existence.
This state, and its second-largest city, Rapid City, is stunning Americana at its very best. Take Custer State Park and its Black Hills situated in the western part of the state. About a half-hour scenic drive from Rapid City, this 71,000-acre state park is home to one of the world's largest publicly owned bison herd (1,300 to date). Each Fall, the prairie rumbles with the sound of stampedes as cowboys saddle up to bring in the herd. It's opened to the public and held every year on the last Friday of September.
One of the most breathtaking drives you'll set your sights on is the landscape of the Badlands. With a maze of buttes, canyons, pinnacles and spires, you'll almost think you're dreaming it. Dusk here falls over the prairie in shades of tangerine, electric blue, mint green and golden cornhusk yellows. Wildlife abounds in the park, consisting of 244,000 acres of land; ideal for hiking, camping and just sitting still in nature and taking in all of its bountiful beauty.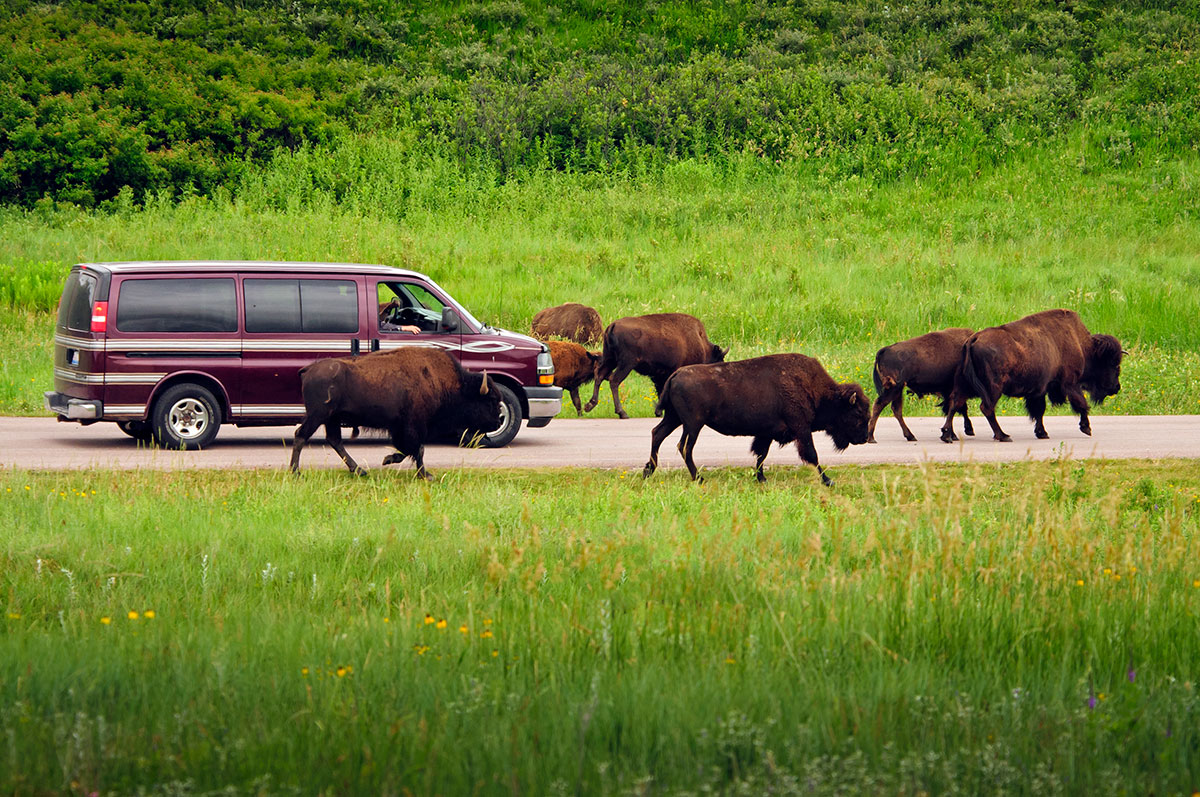 This is America's heartland, and you almost feel like you should be witnessing it while on a wagon, wearing a bonnet and cowboy boots. It's a thrilling sensation to lower the windows and let the wind blow through your hair as you feel the sun caress your cheeks en route to Mount Rushmore; just a 35-minute drive from Downtown where I found cozy lodging. Mount Rushmore is situated in the Black Hills and is considered a "Shrine To Democracy." During the summertime, it's buzzing with people, but during Fall and even early Winter, it's composed and peaceful with temperatures in the 50s.
Sculptor Gutzon Borglum led the Mount Rushmore project in 1927, with completion of the project in 1941. The site consists of 4 gigantic carved sculptures depicting the faces of U.S. Presidents: George Washington, Thomas Jefferson, Abraham Lincoln and Theodore Roosevelt. Some 400 workers erected the sculpture under dangerous conditions, removing a total of 450,000 tons of the red rock in order to create the enormous carved heads, each of which reached a height of 60 feet. Hard to believe, but no man perished during its construction.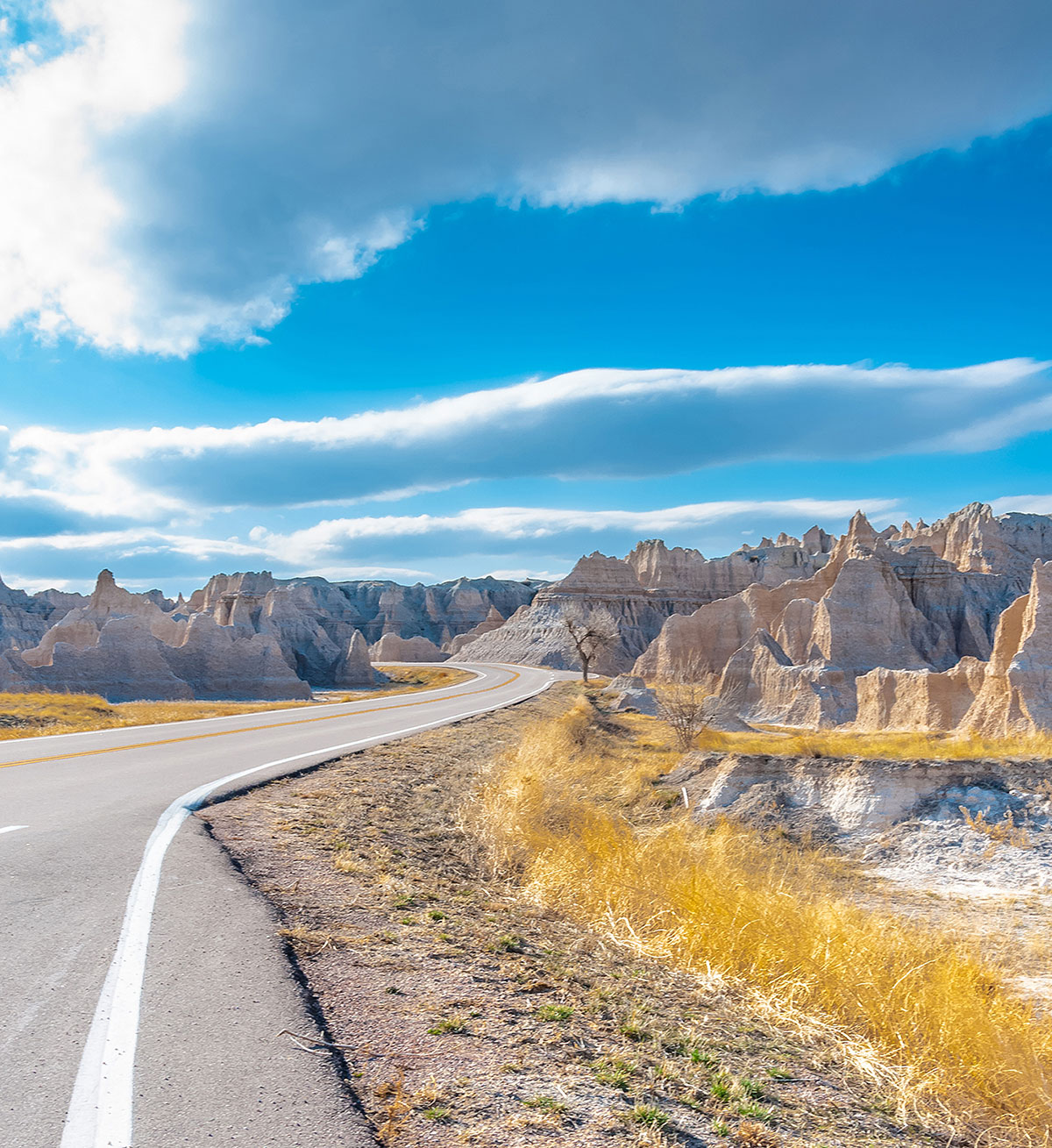 It's thrilling to stand in its presence, and even if one is not that patriotic, you leave with a new zeal and appreciation for the beauty of nature, this country and the engineering marvels of mankind. After a full day of exploring the prairie, seeing roaming wildlife and the paramount monument, it was time to enjoy a nice lunch. Rapid City, I was pleased to find out, is a foodie roadstead. For upscale new American fare, there's Tally's Silver Spoon; and Everest Cuisine has fantastic Nepalese-Indian food. Murphy's Pub & Grill has some great traditional fried pickles and Shepard's pie; and for great steaks with a pleasant setting and classic mountain west décor, make sure to enjoy lunch or dinner at Dakotah Steakhouse & Tavern.
Other places to see while in Rapid City are Needles Highway, a National Scenic Byway completed in 1922, that includes 14 miles of sharp turns, low tunnels and granite spires. From there you'll be en route to the Crazy Horse Memorial, a mountain monument of a famed Oglala Lakota warrior, riding a horse and pointing into the distance — the monument is still under construction with just the face of the warrior visible. Just a 37- minute drive via US-16 and you arrive at Sitting Bull Crystal Caverns. A subterranean, limestone cave complex that houses the world's most extensive display of dog-tooth spar crystal. Peer into the pristine shimmering waters of Diamond Lake, reflecting like a mirror, the massive crystal ceiling. Visit the famous French Chandelier room, Crystal Palace and Rainbow Arch. Just an 8-minute drive later, and you arrive at the Dinosaur Museum. With over 50 life-size dinosaurs, the museum features a mirror maze, movie theatre and a children's fossil dig.
As if that were not enough, other adventures wait around every corner in the Prairielands. The Sitting Bull Memorial sits on a rural road across the Missouri River from Mobridge — you can invoke Lewis & Clark for the day taking in the desolate yet peaceful drive. Or you can opt to sleep under the stars at one of the two campgrounds within the Badlands. For only $10, you can pitch your tent to experience prairieland, hear roaming wild buffalo and gaze at the heavens. In the mood for something a little more fast-paced? You may want to check out where Jack McCall was captured in 1876 while playing poker at Saloon No. 10. It was there that Wild Bill Hickok was shot spark between the eyes by McCall…who then fled to Main Street. A placard marks the very spot where he was arrested.

And, while we're on the subject, the American West is all about ghost towns — even for the faint of heart. You can now tour the area's ghastly haunts via stylish stagecoach and stockade to view artifacts just 4 miles west of Custer.
Moving on, a mere 25 miles east of Rapid City is one of the most famous spots on the map. Wall Drug is the ultimate South Dakota roadside attraction. It's an old-fashioned Western drugstore complete with apple pie and tons of souvenirs and knick-knacks to bring back home.
Rapid City, South Dakota has everything to offer travelers — from nature to museums, history, monuments, family adventures, scenic landscapes, restaurants and plenty of gracious locals. It's a destination suited for long walks, journaling, taking in sunsets, being in gratitude and finding peace in nature. It's no surprise this state's hashtag is #ATHANKFULstate.