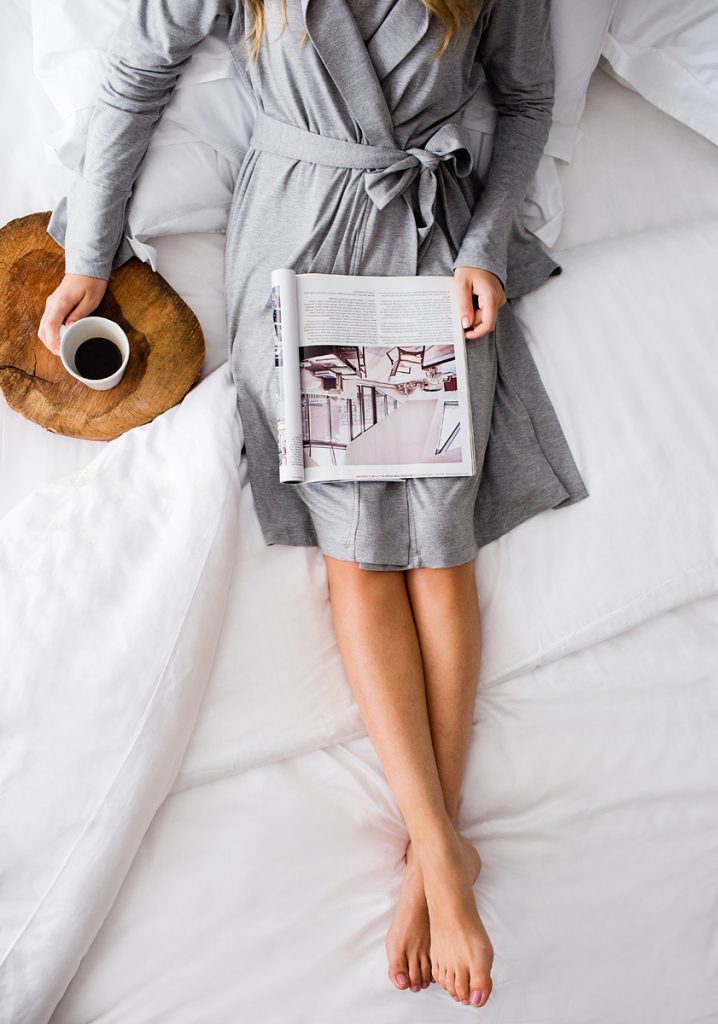 Trousseau was the dream of a young couple, Adriana & Romeu Trussardi Neto, who had recently married and wanted to create a business that set itself apart from the rest. "We wanted to create something different but at the same time we did not have capital, so we had to work with what we had access to," says Romeu. "Given our background in fine textiles and the fact that there was a lack in quality products with great design, we started Trousseau, a luxury bed and bath linen brand."
Each Trousseau piece is meticulously well thought-out; from utilizing master printers in Italy to working with true artisans in their family-run, cut, sew and embroidery operation in Brazil. With such attention to every possible detail, they continue to define a modern take on traditional luxury. "We offer a product that is very special and intimate to our clients, we are always sensitive to this fact and make sure we are providing the utmost service and support whether they are getting married, decorating a new home or welcoming a new baby," he says.
Over time, the brand has carefully and thoughtfully expanded their offerings to include, not only the very best quality bed linens and bath towels, but loungewear, home fragrances and a line for infants called "Petit". "Our unique point is comfort and quality aligned with design," they say. "Our philosophy is that less is more; it's better to have a few pieces of the best quality found around the world. Trousseau is a collection of the best textiles, fabrics and designs inspired by places all around the world. We work with the best materials and finest craftsmanship of our products."
As such, their bed linens are of unparalleled quality and classic designs that can enhance any bedroom. Their towels are of the highest quality and available in a gorgeous assortment of colors. Their exclusive fragrances are also very special and a signature staple in their collection. The beautiful loungewear line is unbelievably comfortable yet stylish. All are available in their stores throughout Brazil and now in the U.S. Even with all this success, Romeu considers his greatest accomplishment to be "without a doubt my wife, when she accepted to marry me and start a family. Today we have 3 kids who have grown into wonderful young adults, starting their own professional lives. Together we also accomplished this wonderful opportunity of expanding to Miami. We like to call this endeavor our baby; we have to take very good care of it and educate it so that it can be successful."
Trousseau is a brand in which the eyes of the owners are still very present in the business. While many other brands lose control to bigger groups that purchase them, they have remained a family-owned business in which the couple are very much present and involved. "What makes us different is our obsession for quality, design, and comfort — but above that we are a company of great values," they say. "We like to say we are Truesseau because we stay true to our brand philosophy and principles. We love all of our partners, suppliers and staff, some of whom have been with us for over two decades. Our family just keeps growing and growing because we consider each and every one of them family."
In 1999, they founded Trousseau For Good with the specific purpose of bringing help and a sense of solidarity to children in need. Initially, the campaign focused on contributing dollars and profits during a predetermined period. Offering significant discounts, the profits were dedicated in the form of food baskets, to charitable institutions in Sao Paulo, Rio de Janeiro, Belo Horizonte and Brasilia. In its inaugural year, 1,200 parcels were distributed. In 2015, over 10,000 parcels (a total of more than 80 tons of food) were donated, benefiting 28 partner charities. "Among all of Trousseau's initiatives this is the one which brings me the most pride and for a simple reason: Helping others is always very gratifying, where all come together for the same reason, to do good," says Romeu.
They've come a long way from their first store on Joao Cachoeira Road in Sao Paulo. In 2010, they launched the Hotel Collection, created to cater exclusively to hotels and spas. In 2011, they inaugurated two Trousseau Petit stores. The following year, the first edition of the "Campos do Jordao Social Tennis School" social project, sponsored by Trousseau, worked with 150 young people free of charge to teach values through sports and leisure. In 2016, they launched their commemorative 25th Anniversary book, followed the next year by the launch of their new Eyewear line. In between were many store openings but none more notable, and of interest to us, than their U.S. flagship store in Brickell City Centre last year. "Our near future is Miami," concludes Romeu. "We have the challenge of elevating our brand and making it available to our new clients. It will be an honor and great opportunity for these clients to welcome us into their homes. It's almost like a rebirth of Trousseau."
The Trussardi Family has been creating some of the world's most beautiful and sought-after textiles since 1898 and Trousseau only enhances their legendary reputation. Trousseau is located at Brickell City Centre Level 2; Trousseau.us.