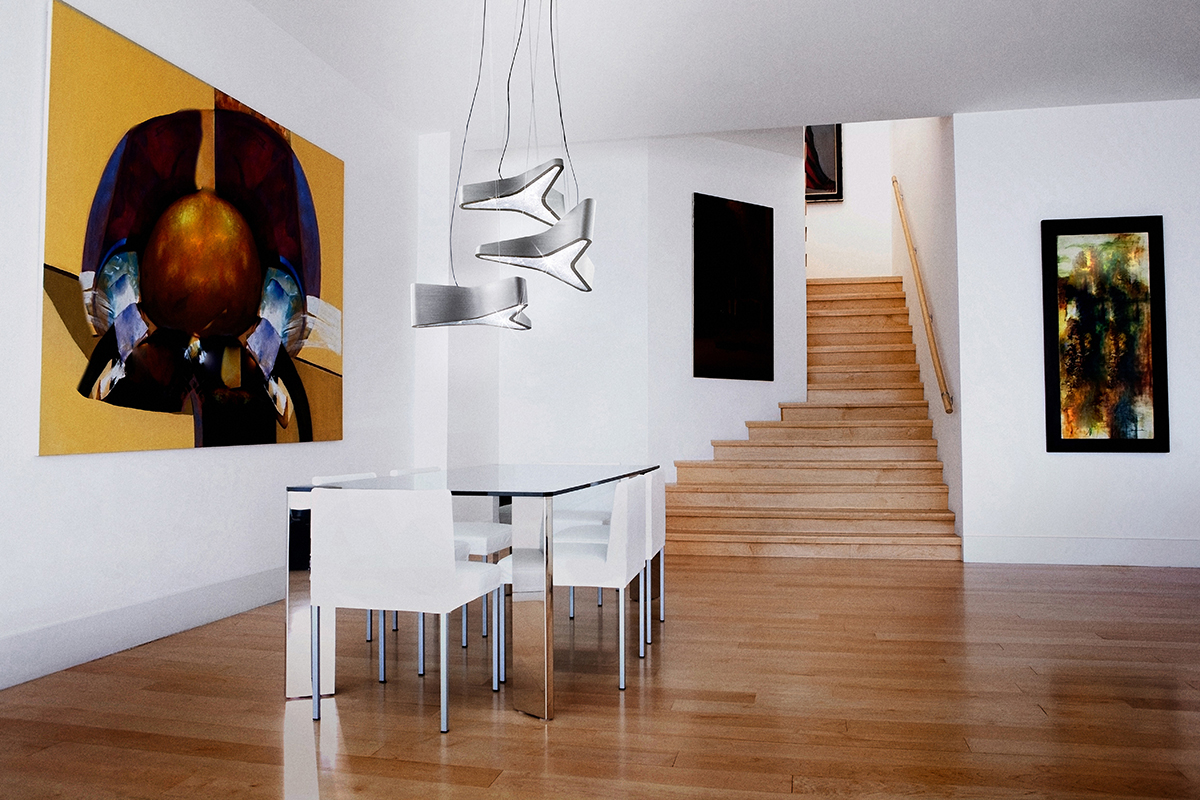 By Swarovski, the Trimini is a sleek and graceful triangular shape that incorporates smoothly gleaming metal and vibrant Swarovski crystals. Trimini's simple design lends itself to a multitude of compositions of sparkling light when installed in multiples.
By ET2, Cubist art reimagined through lighting, the Quad Collection features suspended aluminum squares finished in warm bronze in multiple tiers, illuminated by high-powered dimmable LED's housed within the frame. The collection offers tremendous design flexibility with adjustable connectors for multiple configurations. The hanging illuminated squares serve as kinetic sculptures, adding a dimension of movement to the room.
The Carson by Hinkley Lighting masterfully pairs industrial sophistication and artisan craftsmanship boldly overlapping metal ribbons. The handcrafted pendants bring a subtle touch of reclaimed charm into any space.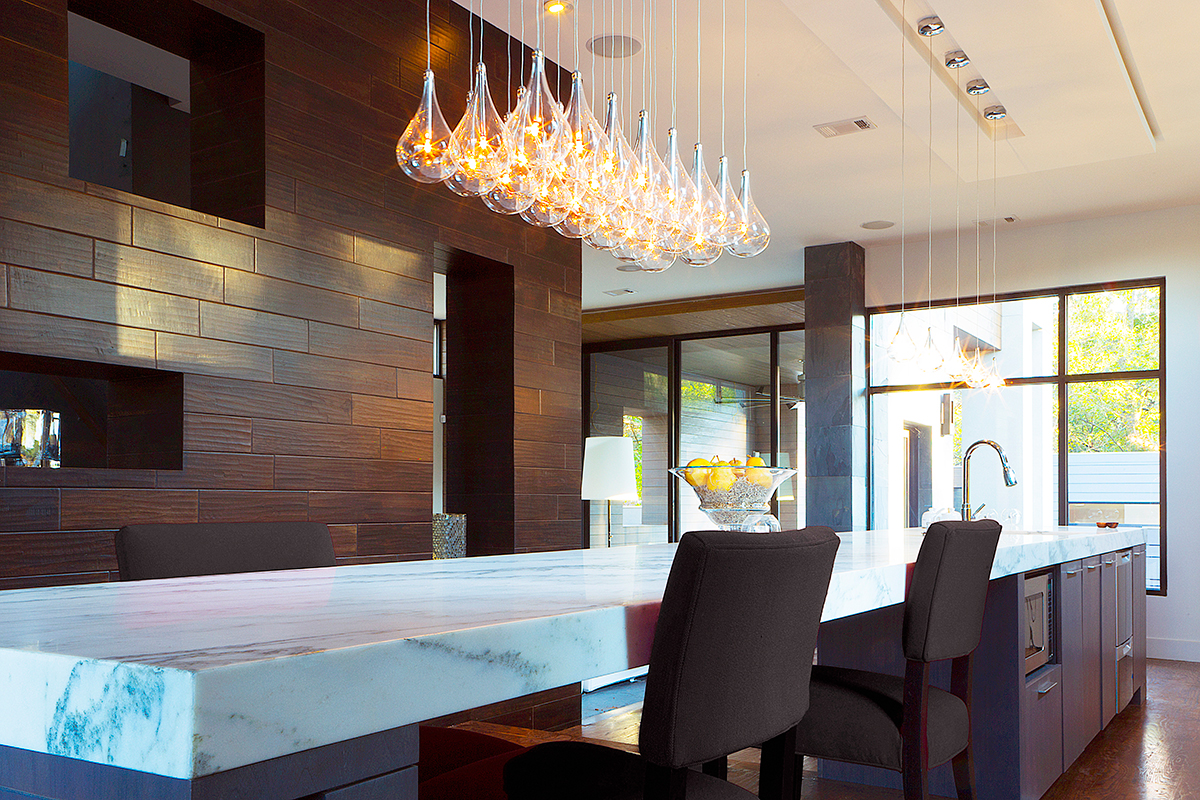 This simple idea is gracefully executed in the Larmes Collection by ET2. Row upon row of clear oversized teardrops, mounted onto an extended polished chrome lamp holder that supports xenon lamps, sets the stage. Individually adjustable drops for custom stagger effects allows for dramatic impact. An added benefit of each drop being aircraft cable-suspended is the ability to adjust the overall height of the piece to fit a space. The final result is stark and stunning.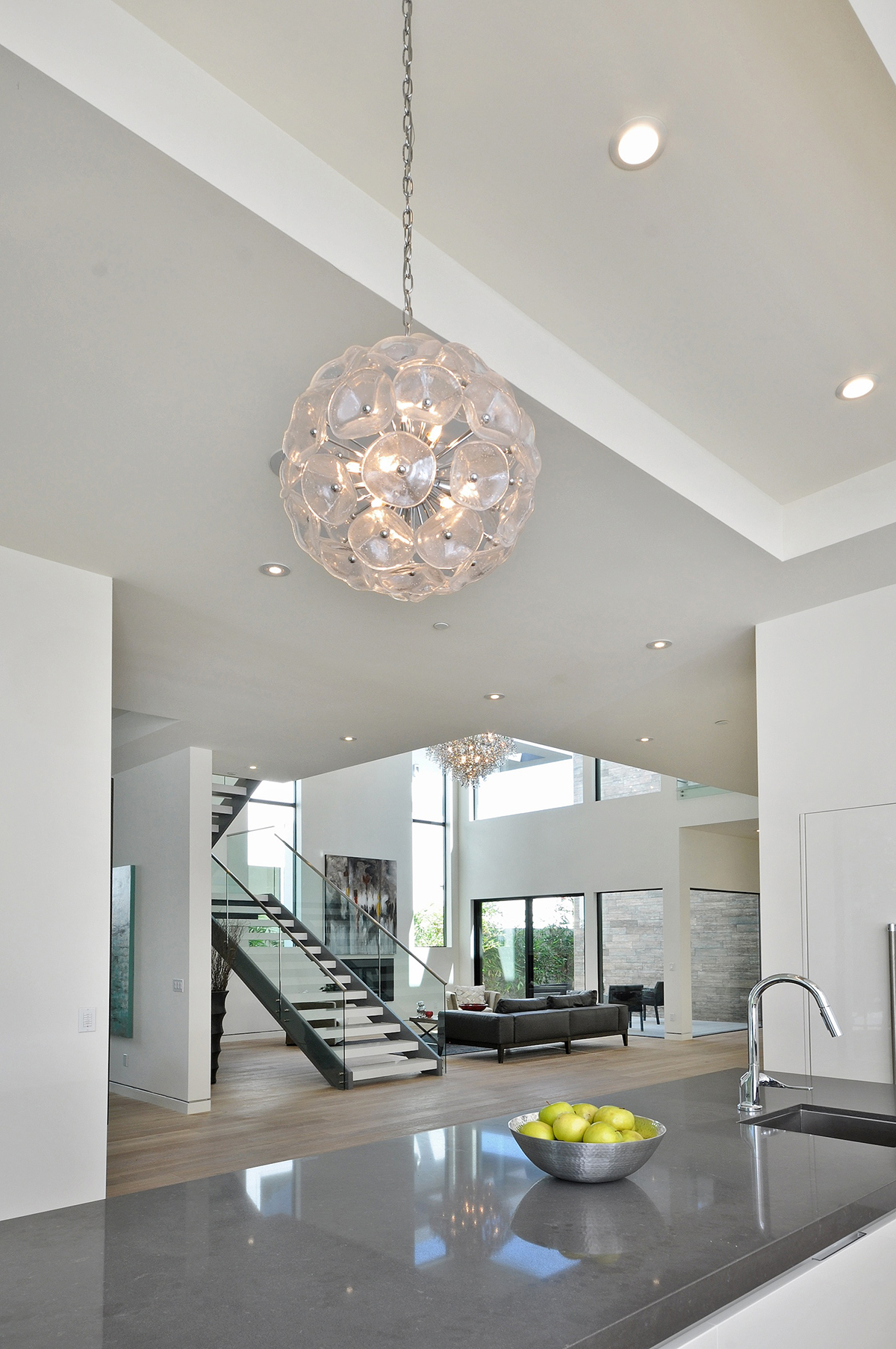 By ET2, The Fiori Collection boasts a contemporary design fused with historic craftsmanship. A floral sphere, comprised with hand-formed Murano glass crystal petals, is eloquently designed in an impressive combination of glass & chrome while delivering an amazing glow of light. The result is a fixture that will definitely make a statement in any design space.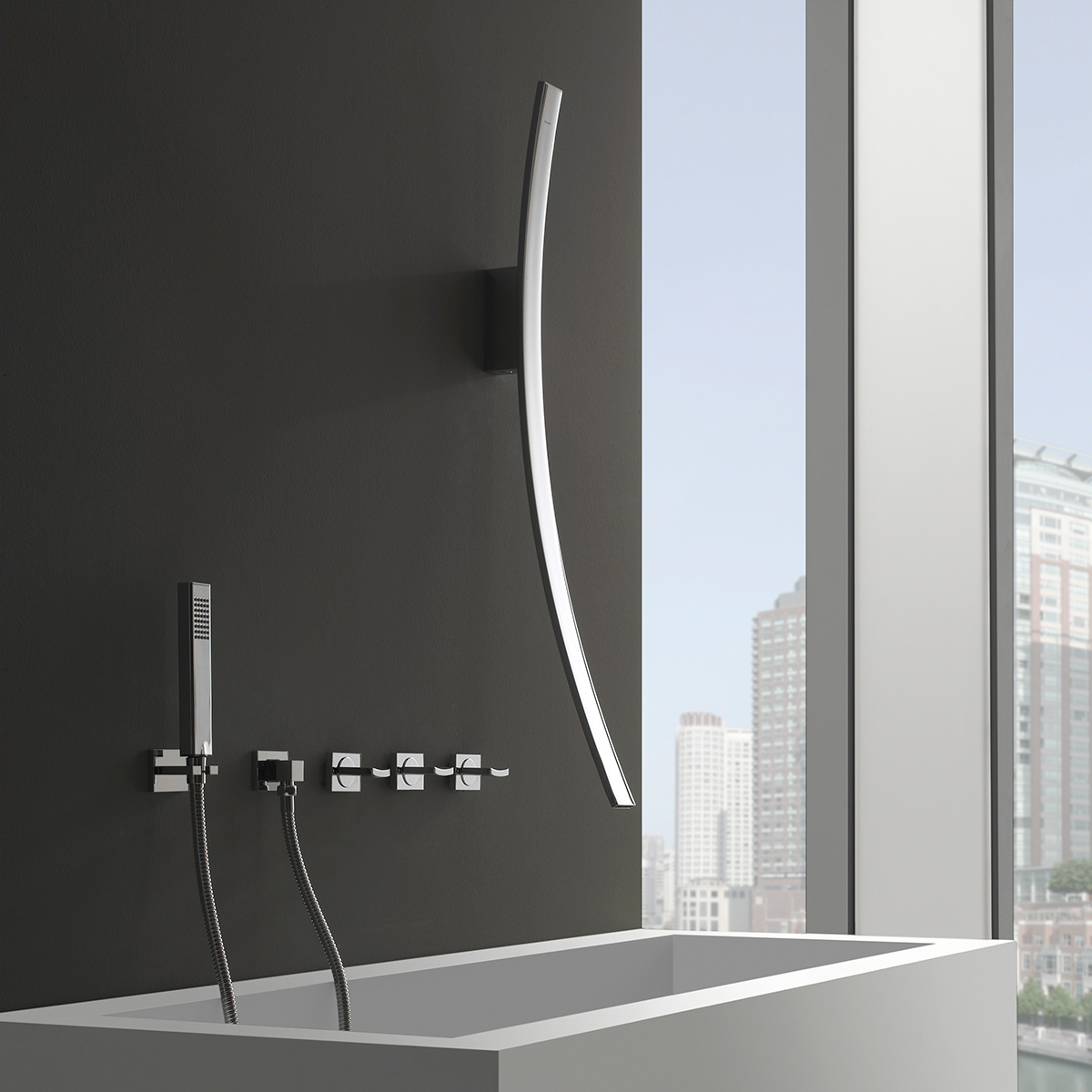 The Graff Luna Shower Collection is a gleaming crescent moon. Arched to perfection, the sleek crescents of the Luna Collection carry over into the thermostatic shower system. The Luna Shower may be used every day but will never feel routine.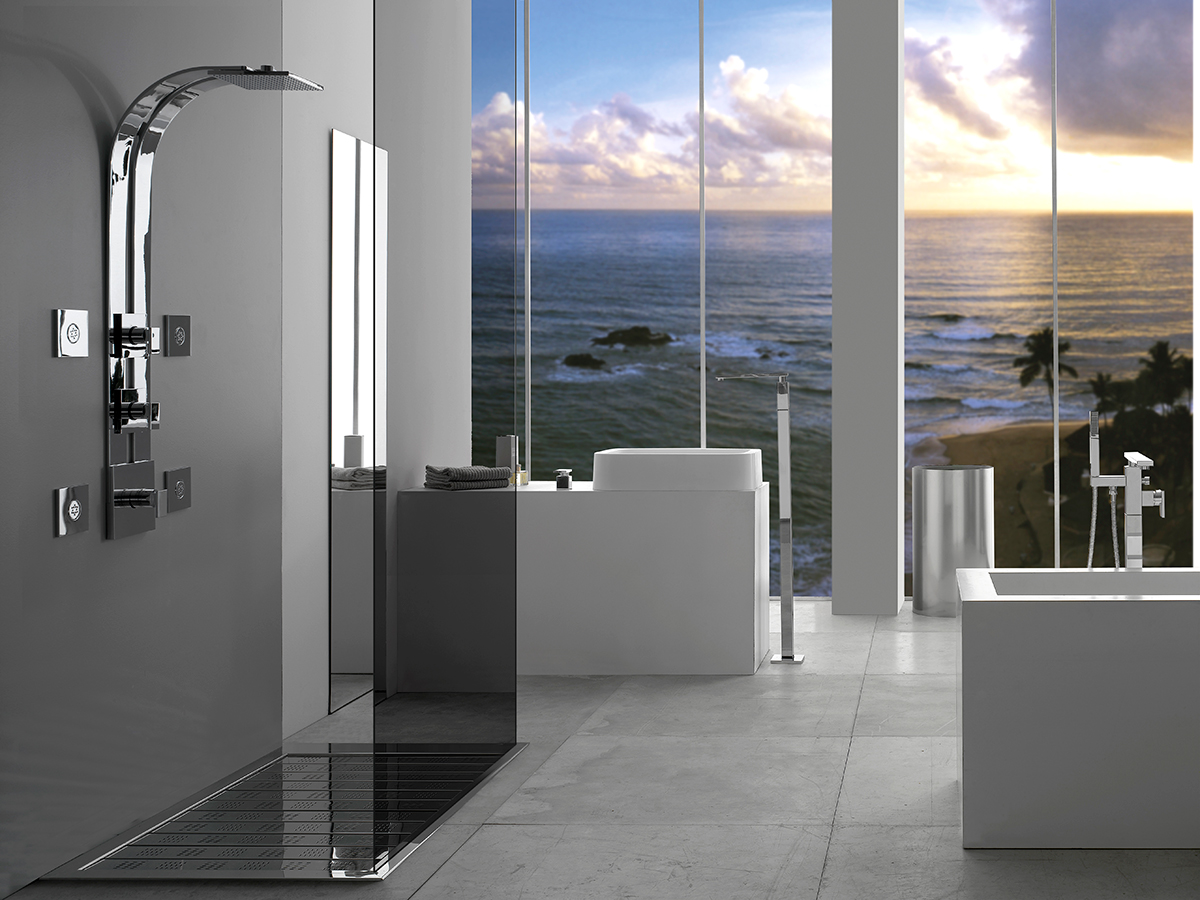 The Graff Solar adds Avant Garde design to any bathroom. The contemporary faucet stands are the main protagonist in the bathroom and seduces the purity of its shape. The minimal design consists of a geometrical composition of cubes, rectangles and right angles.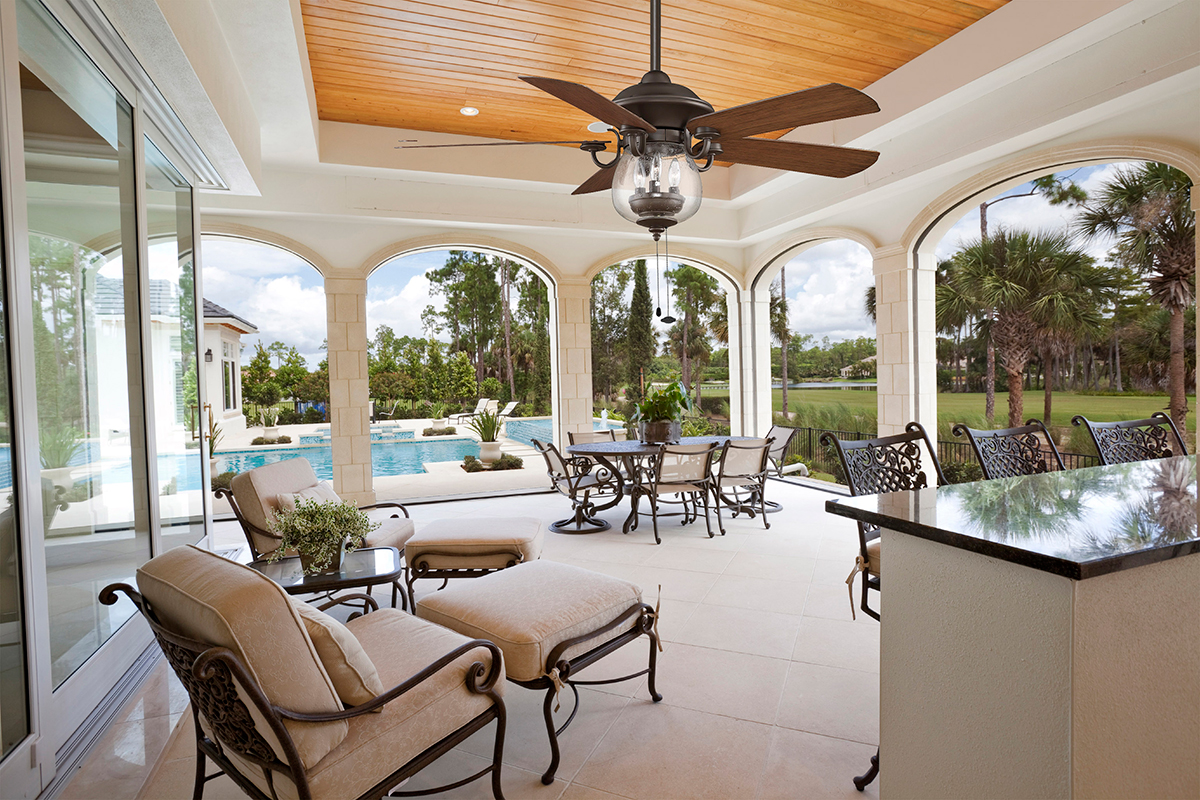 Make the outside of your home look just as smart and stylish as the inside. The classic style of the Crestford by Fanimation, paired with a uniquely shaped light fixture is a perfect finishing touch for any outdoor location. The oil-rubbed bronze fan complete with cherry/walnut all-weather composite blades is rated for wet locations. With the option of using this fan in dry, damp or wet areas, you're sure to find just the right place for this exceptional fan. The blade sweep measures 52 inches.The Odyn by Fanimation, knows it's the boss whenever it enters a room. It's magnificence commands immediate attention and will surely dazzle onlookers. The Odyn's DC motor allows this fan to consume up to 70% less energy. It comes in a brushed nickel finish with black blades, brushed nickel finish with brushed nickel blades, dark bronze with dark walnut blades, matte greige with weather wood blades and matte white with matte white blades. The Odyn has an 84-inch blade sweep and includes a remote control.