If you've ever come across old footage of Downtown Miami in pop culture, on TV or in the movies, you can usually tell the decade it was produced with one look at the skyline. Today, nearly 100,000 people live in greater Downtown Miami, more than double the population at the turn of the century, and the daytime population is estimated at more than 250,000. A far cry from Downtown Miami's cameo in the opening credits of Miami Vice or ¿Qué Pasa USA? Once Bad Boys For Life is released, audiences will be able to trace the evolution of the skyline from one film to the next in the action-packed trilogy. From young professionals to Fortune 500 CEOs, Downtown Miami is booming with world-class residential options as well as professional opportunities, globally recognized entertainment venues, shopping destinations and award-winning restaurants and bars.
A beacon of the entrepreneurial spirit, more than 80% of the total corporations in the area are small businesses and start-ups, thanks to a global orientation and reputation as "The Gateway to the Americas." "The rapidly expanding population base in Downtown Miami has precipitated a growing demand for retail, entertainment and dining offerings, as evidenced by the more than 400 restaurants currently serving Downtown patrons," says the Miami Downtown Development Authority (DDA). "New major retail centers, such as the $1.7 billion Miami Worldcenter and the 2 million square-feet of Brickell City Centre, join such established shopping destinations such as Bayside Marketplace, The Shops at Mary Brickell Village and Historic Flagler Street. Connecting Downtown, its retail offerings, and the greater South Florida region is the transformative Virgin MiamiCentral Station. These new developments are laying out the welcome mat to major brand-name domestic and international retailers to enter the rapidly growing Miami market, often as their first foothold into the U.S."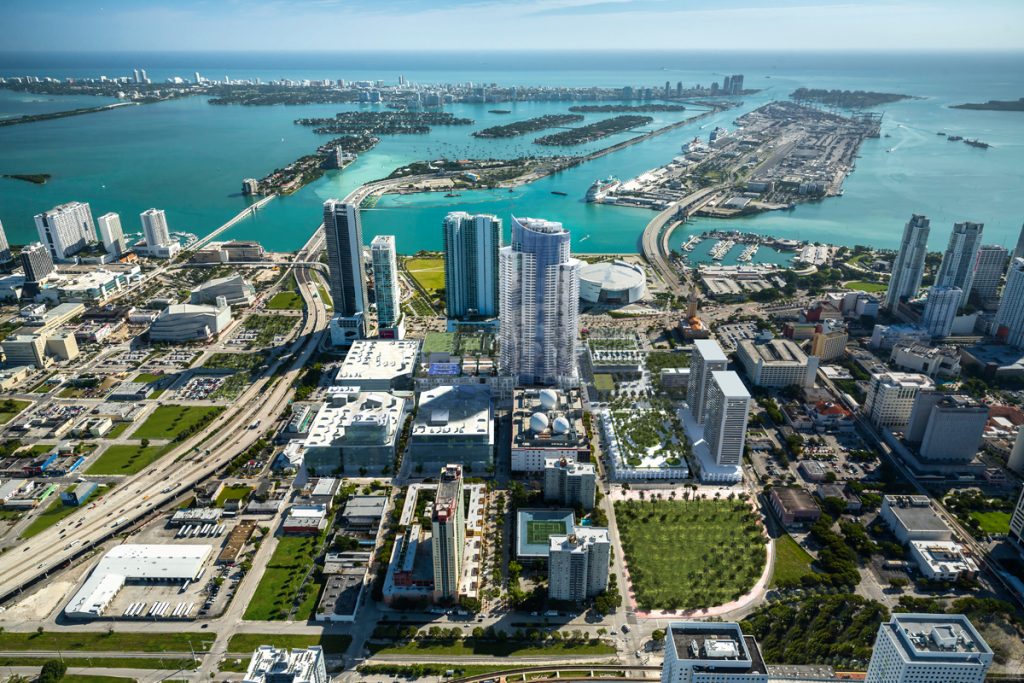 What's more, according to a recent DDA analysis, an estimated $11 billion in private and public investment has been allocated or is earmarked for development in Downtown Miami. The amount exceeds any other downtown in the country. The city has added museums, a performing arts center, professional sports teams, public parks and walkways connecting the waterfront. Simultaneously, developers are not just adding condos, but thousands of hotel rooms and apartments and millions of square feet of offices, retail, restaurants and entertainment options.
When merging international amenities with a talented, diverse and globally oriented workforce and resident base, it becomes clear that Miami delivers everything businesses and individuals need to succeed on the global stage. PARAMOUNT Miami Worldcenter Developer Kodsi, whose project is making history as one of the most highly amenitized developments in the world, says condo investment in Miami and Downtown is more secure because it requires a 50% deposit in the pre-construction phase, whereas New York is 20% and Los Angeles is 3%. Miami buildings under construction are typically 75%-80% sold and projects that do not achieve sufficient pre-sales are scrapped.
PARAMOUNT Miami Worldcenter will deliver "new urbanism" at its best, creating a sensational pedestrian-friendly community where people can truly live, work and play in the heart of Miami's urban core. "The features and accessibility of this project are impossible to replicate anywhere else across the globe — currently, we have more than 55 nationalities represented among our buyer pool — demonstrating that Miami offers the best new urban living experience in the U.S., solidifying its emerging reputation as "America's City of the Future"!"