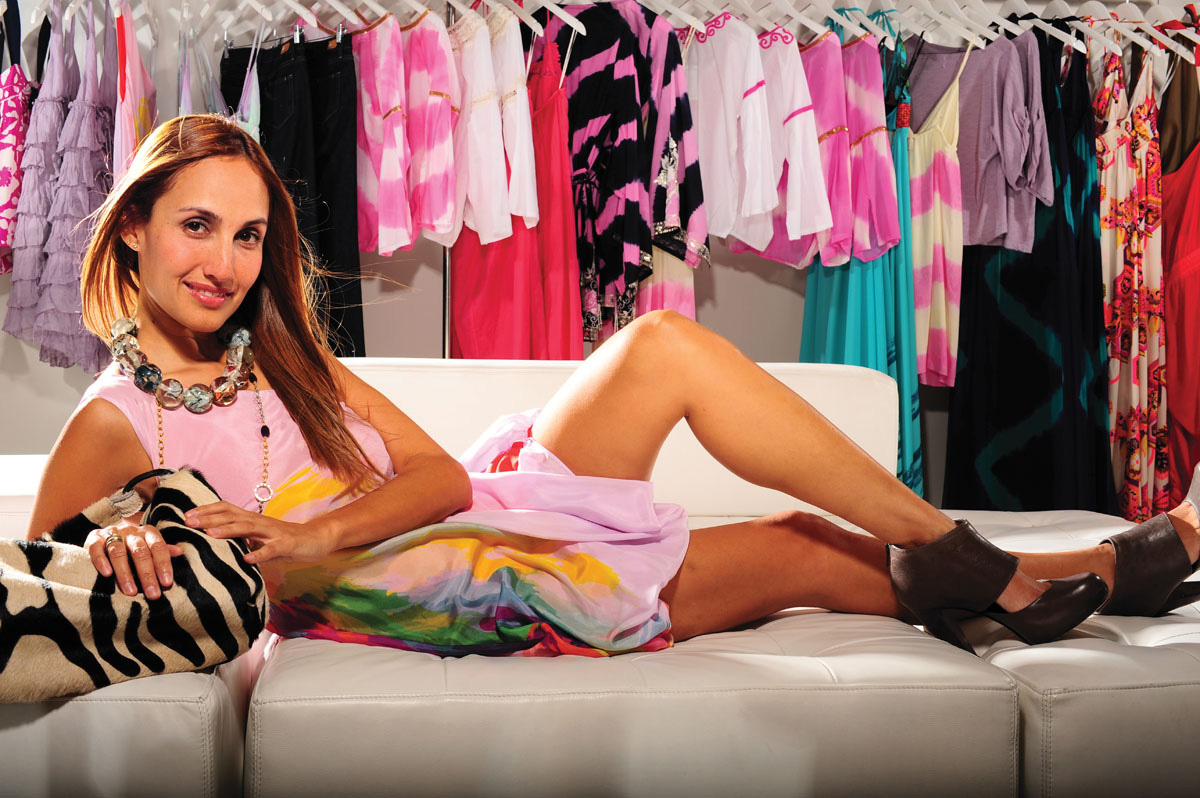 Fashion shows. Magazine photoshoots. Art exhibits. Extravagant, fun product launches. These are just some of the things that have complemented the fashions proudly displayed inside Brickell's most alluring boutique, Green Grass. "Our customers are always telling us that it's refreshing to see some action and exciting finally coming back to the city," says owner Claudia Sanz. "When our customers walk into our showroom, we want them to experience not just the clothes on display, but also the vibe they'll get when they wear their favorite pieces."
Launching Green Grass was second nature to Sanz, a Colombian-born fashionista whose family is filled with fans of fashion and all things aesthetic. For more than three decades, her mother has owned a hair salon in Colombia and her aunt a boutique. But her first taste of fashion design came from her seamstress grandmother. "There are two things I remember the most," she says, "the first was going to the fabric store and seeing the colors, the names and the kinds of fabrics. The second was what my grandmother used to say: 'No matter how original or different you want to dress, you always have to look classy.'"
Despite her roots, Sanz didn't set her sights on the runway right away. She majored in business in Colombia, where she was the financial director of a major company for two years before moving to the U.S. in 1998. "I moved to Miami to specialize in international marketing, and ended up pursuing fashion," she says. The rest is history.
Sanz studied fashion design at the Miami University of Art & Design where she met high-end fashion designer Silvia Tcherassi at a fashion show and landed her first job. Soon after, she met Diane von Furstenberg through a friend and began working for her at Merrick Park. That stint was followed by some time with Nepalese designer Ash Rana in the Design District.
A culmination of all she's learned over the years, Sanz describes her work as girly and feminine with a focus on chiffon, jersey pieces and handbags, all made in Colombia. For three seasons, she sold to stores in Florida and The Hamptons. To keep in the tradition of her family, her husband, Carlos, is an intricate part of the company. "He's in charge of the business aspects," she says. "I come up with the ideas and he makes them happen." As such, she regularly travels to Los Angeles, New York City, Atlanta and Vegas for trade and fashion shows. Her next stops are Paris and Spain.
To say Sanz loves everything "green" would be an understatement. "All the media frenzy about 'going green' has been great because people are finally becoming more eco-conscious," she says. "Our planet really needs to be taken care of and Green Grass takes that consciousness to the next level with a fashionable jolt of joy and strength."
When it comes to her company, it was her South American roots that nurtured her environmental awareness. Sanz spent a month in the Amazon hiking through forests and says it forever changed the way she viewed the world. "When you experience places where pure nature is far away from houses and buildings, you begin to realize that you have to conserve and have a sense of respect for your own existence," she says.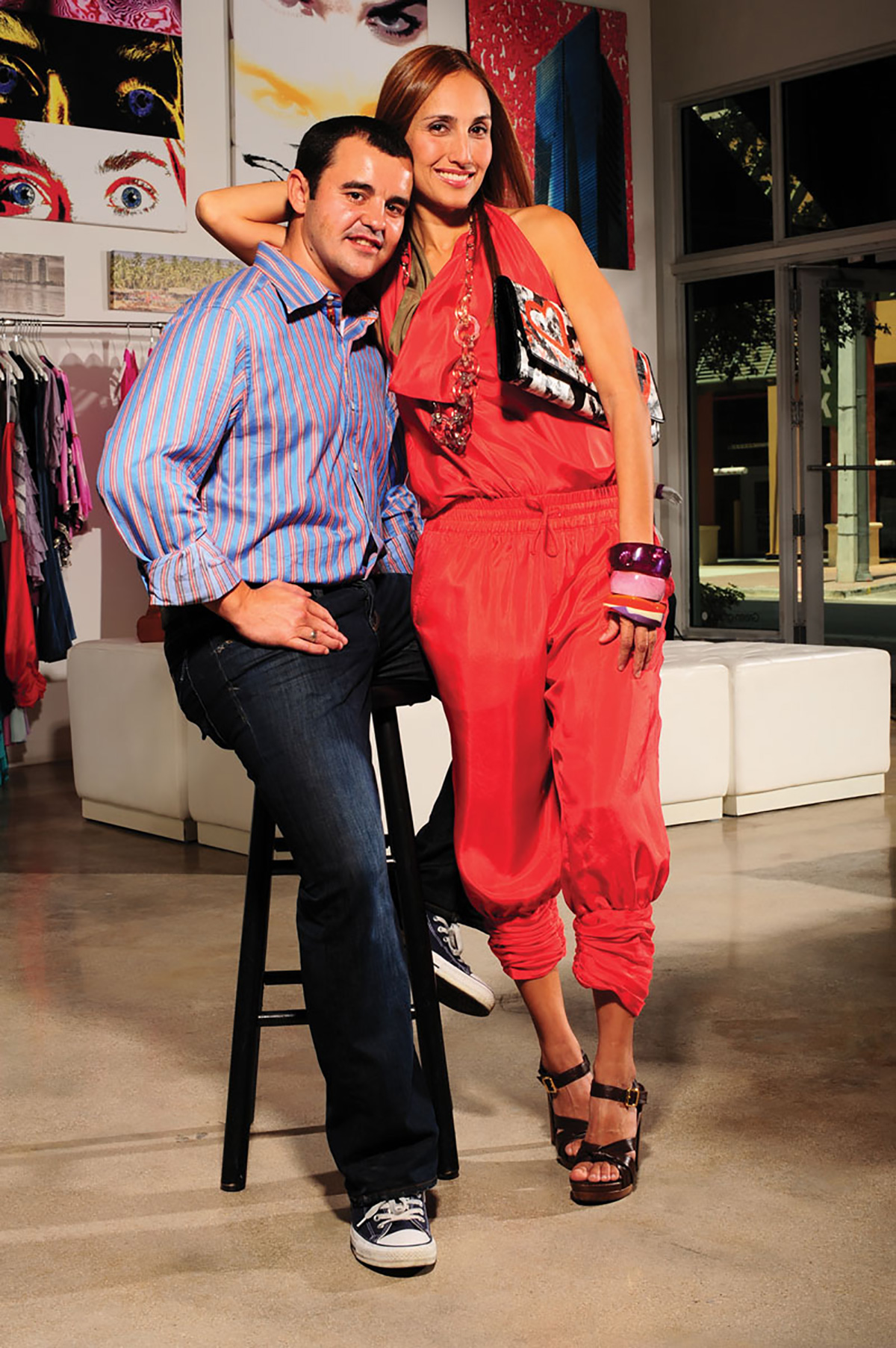 While on the subject of green, even the store's slogan, "Green is Freakin' Cool…" is very cool. Although Sanz is currently incorporating organic lines into the boutique, her efforts don't stop there. On top of the hip clothing selection and the exclusive, original artwork found at Green Grass, every three months Sanz hosts opening receptions for new artists and fashion impresarios. Celebrities stop by, too. Among her favorite guests have been Cameron Diaz because of her environmental initiatives, and Sienna Miller and Kate Moss for their great sense of style. "Being stylish comes from within and it reflects naturally," she says. "It's cool and effortless."
So how does this woman do what she does without qualifying as a stylish superhero or losing her cool? Her answer is simple. "Passion is an everything-factor," she says. "It has to be very natural and it has to come from the soul."
To get a little glimpse into Sanz's soul and all the creative things its yielded, stop by Green Grass at 54 SW 10th St., adjacent to Mary Brickell Village, or visit their website at GreenGrassHouse.com.