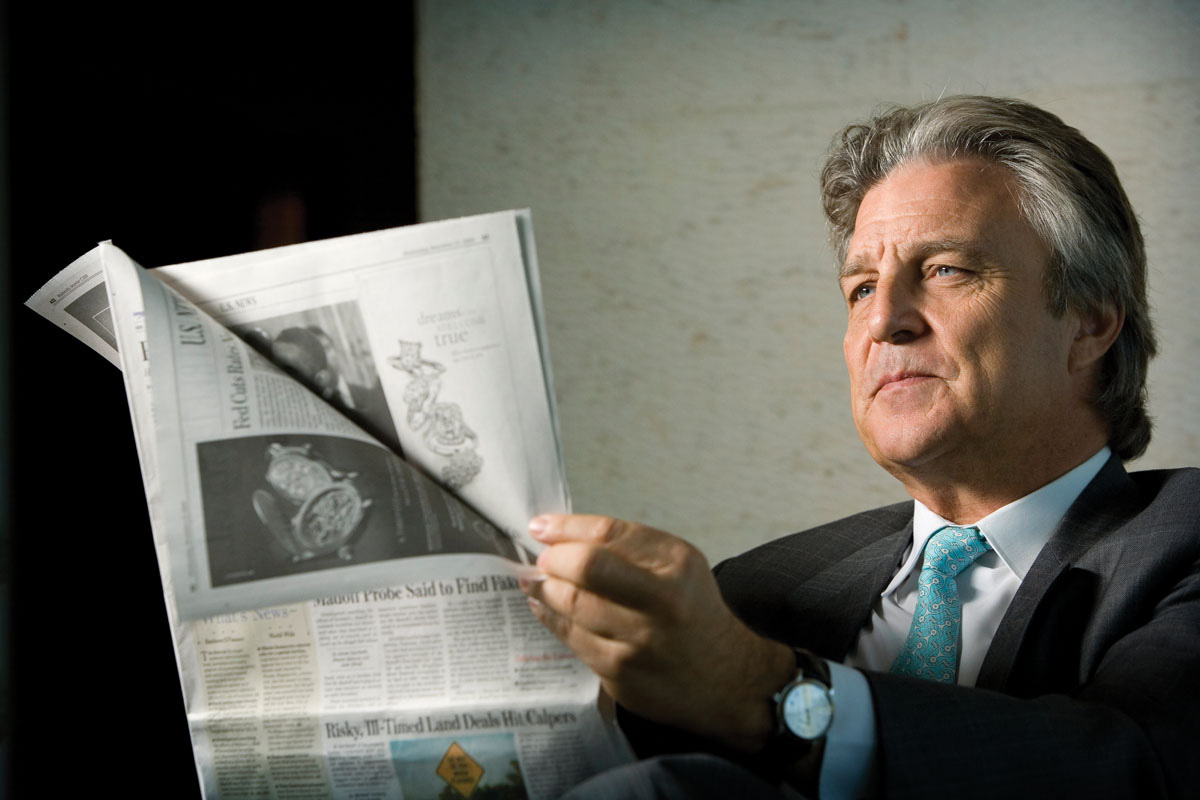 It's crack-of-dawn early on a Wednesday morning and Alan Ojeda is plopped atop one of the plush couches in the lobby of One Broadway on Brickell's edge, lost in the pages of the The Wall Street Journal. The newspaper towers a good six inches above his head as he scans the headlines. The buzzing of some of the residents catches his attention and he firmly lowers one of the corners of the paper, a piercing blue eye assessing the situation right as we arrive to conduct an interview and photoshoot.
This is not a typical day for the President & CEO of Rilea Group, a company that has been developing Miami's skyline for more than a quarter-century. And he doesn't have any idea what we have in store for him. But then again, the real estate development mogul hasn't had a typical day in his life. "The last thing you'll find me doing is the same thing every day," he says, mentioning that his desk is usually an impromptu masterpiece of paper, paperclips and papercuts. "My routine and schedule is in constant flux and I have to be available for anything that might arise — one minute I could be signing a check and the next I could be touring potential project sites."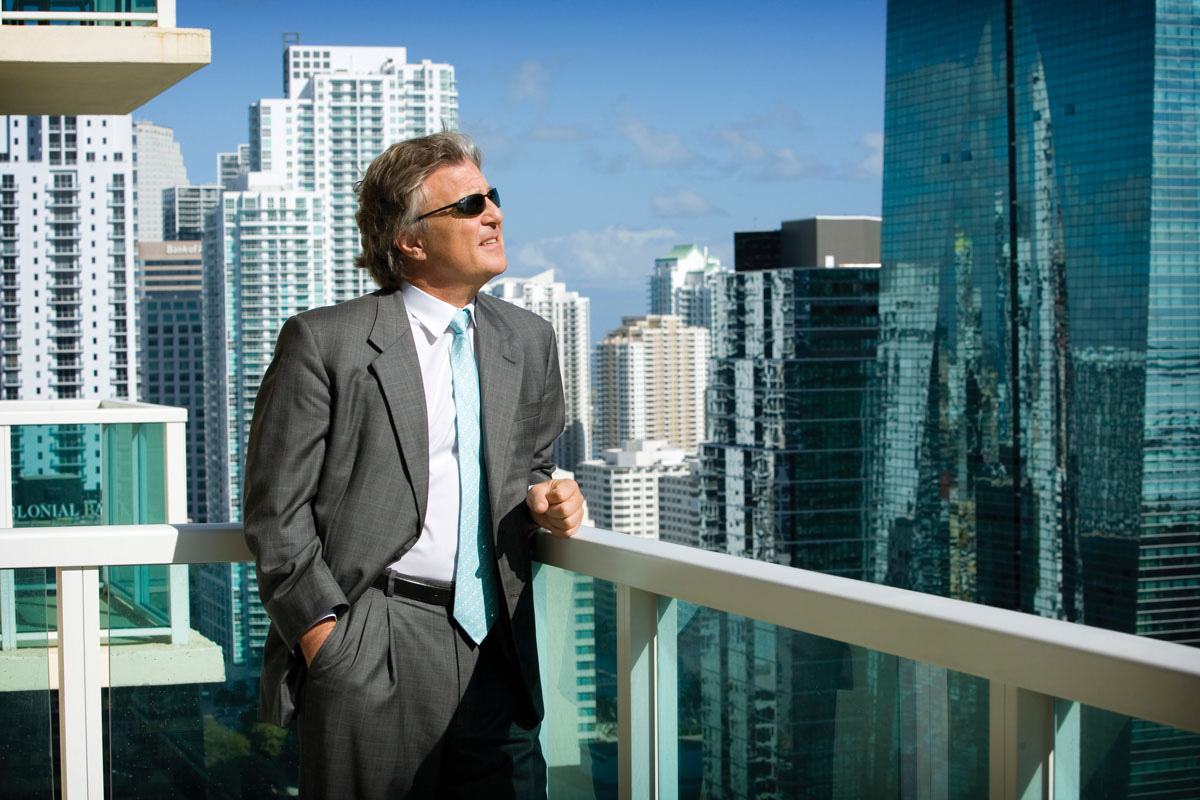 But before his vision of building big buildings materialized, Ojeda was a young, starry-eyed dreamer in Madrid, with a love for astronomy. Then one day his parents gave him a camera and his focus shifted toward creativity in a household where business was front and center. Instead of shooting silly faces or weird bugs in the backyard, he turned his newfound hobby into his first money-making experience. "One day while I was walking around my neighborhood, I noticed that a local parking garage had been repainted with fire-proof paint…with my camera in hand, I started to click away," he says. "Once I developed the film, I went to the company that painted the garage to test my business skills. They were so impressed with my work that they eventually bought my photos and used them in brochures. That was my first real business transaction."
So it came that the little boy who mustered up all that courage and walked into that office with amateur photography so many years ago got to high school and became a self-described loner, albeit one with lots of charm. "I've always been a very reserved person," he admits. "I only had a handful of close friends in my youth…I don't have the slightest idea why, it's just the way I was back then. Thankfully, I'm a lot more social these days!"
During his college years while studying law and economics, and unsure of where life was taking him, Ojeda left his research papers and thick textbooks behind to embark on an adventure with the Spanish Army, where he quickly climbed the ranks to become a lieutenant. "Next thing I know I find myself driving around in armored tanks overseeing a platoon of more than 200 soldiers," he says of his one-year stint in the barracks of his native country. "Some of my best memories come from that time in my life."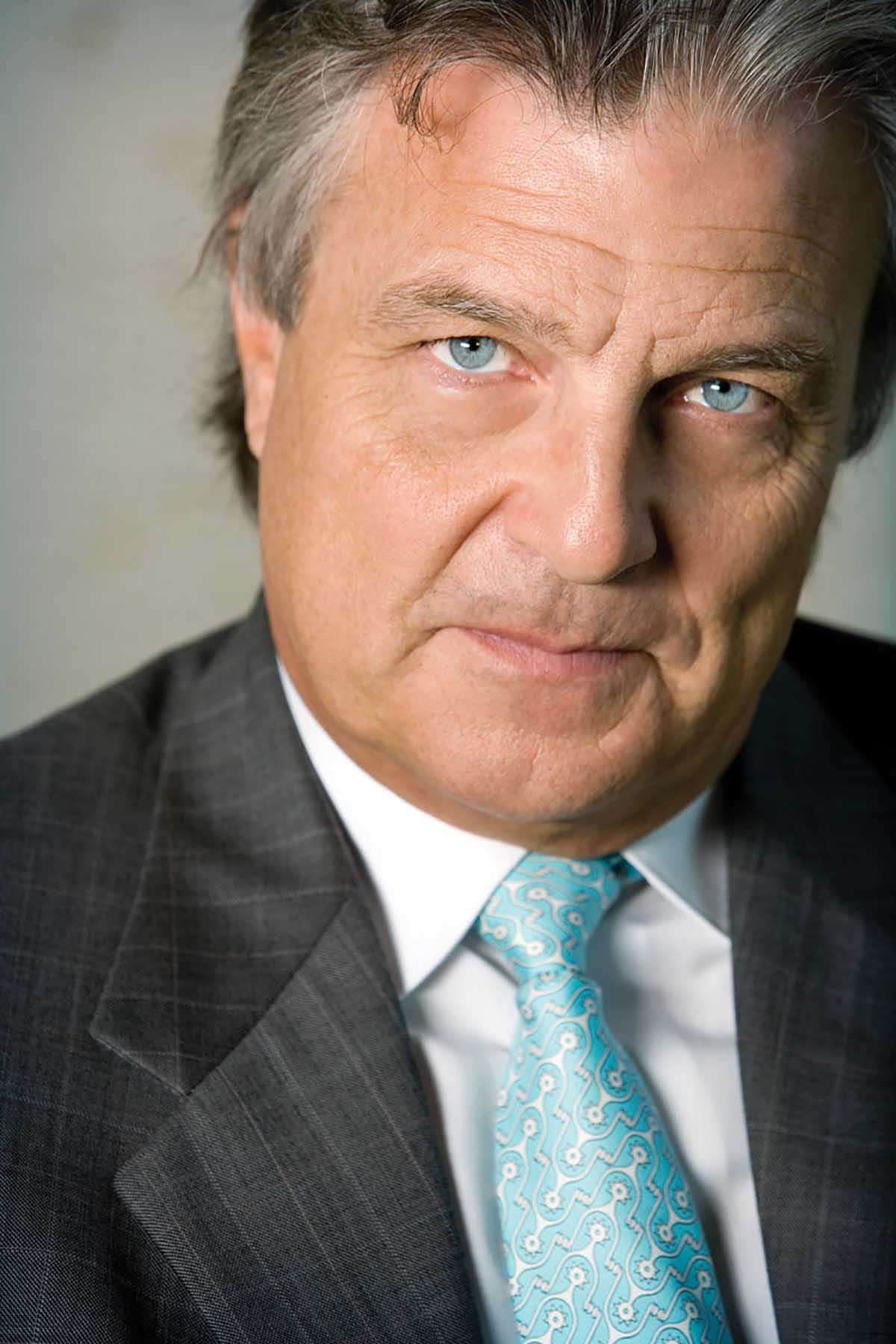 Upon returning from his service, Ojeda's first taste of the corporate world came when he dove into the movie industry in Spain, distributing major films to international markets. Coincidentally, his son, Diego, also got his start in the film industry, first by producing and directing the on-air sectors of Viacom's MTV Latin America and NBC Universal's Mun2 and then eventually by producing his first feature-length film entitled Mancora. Today, he works with his father at Rilea. "I want to keep this a family business," says Ojeda. "When my son expressed interest in joining our team, I brought him in without hesitation."
Although Ojeda's career goals have swerved over the years, he admits that his array of experiences has helped him launch more than a dozen successful condominiums, shopping centers, office buildings, and single-family homes throughout South Florida.
"Traveling is the best book you can read," he says, gazing down the length of the conference table in his train-sized boardroom at One Broadway. "One day I started counting the number of countries I've visited and I stopped at 40-something." Although he couldn't recall exactly what halted his tally, we both agreed that most likely the phone rang or he received a fax he just had to read. Or he simply could have taken a spontaneous power nap. Either way, duty called in one form or another.
And duty is something Ojeda takes very seriously — whether it's to his family, his country or to his company — especially during tough times like the ones we're facing today. "Luckily all the financing and plans for the majority of our projects were in place before the recent downturn," he says. "We've put a couple on hold until the time is right to start them. However, we own significant land throughout South Florida so when the right opportunity surfaces, we'll make a move. My motto has always been 'Keep Building'!"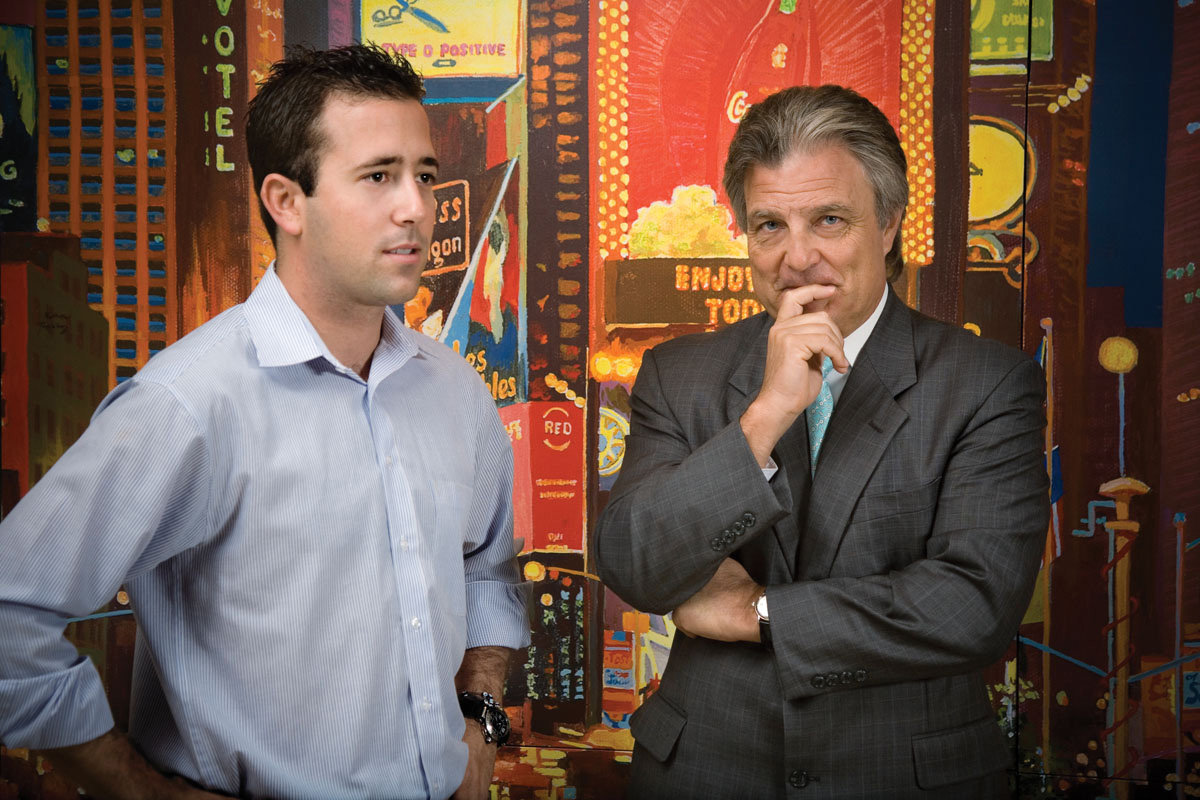 One of the projects he will "keep building" is 1450 Brickell, a 35-story, 586,000-square-foot Class-A office tower adjacent to another of his projects, One Broadway. Once completed, the commercial juggernaut will be Miami's first LEED Gold office tower. "We will not require all our tenants to be green, but we can help them go green if they wish," says Ojeda. "The best part about 1450's location is the absence of the traffic collapse that you find throughout the rest of the entire Brickell sector."
Ojeda named Rilea Group after the Rioja wine region of Spain, which when using the "o" as a common letter, creates the Spanish words rio and oja, which translate in English to "river leaf." "I took the first two letters in 'river' and the first three letters of 'leaf' to create the namesake of my company," he says of the complex literary equation. "I have always felt a connection to nature, and to wine, and so the name of my company reflects that." He decided on Miami as the headquarters for his brainchild after a two-day visit in 1978. "There was something magical about the Magic City that lured me to it from the moment I arrived," he says. "Three years later, I realized it was the perfect place to launch my new company."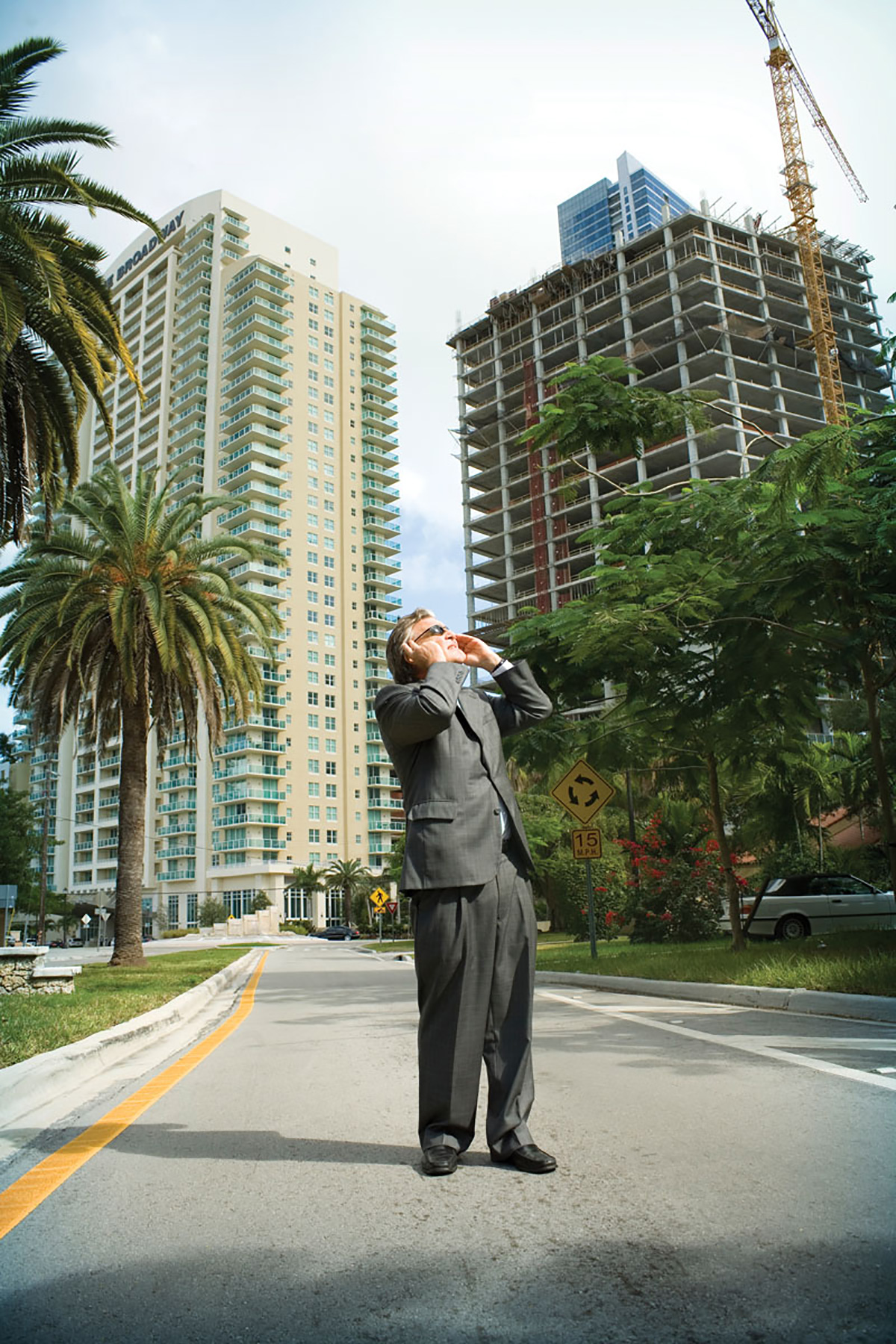 Besides his role at Rilea, Ojeda also serves on the boards of the Miami Children's Hospital Foundation, Colonial Bank's South Florida chapter, the Miami Downtown Development Authority and Carrfour Supportive Housing, a non-profit that builds homes for the homeless throughout Miami-Dade County. "Although I could be involved with dozens of organizations, I choose to keep my focus on the ones that matter most to me," he says. "The simpler you keep things, the more you will accomplish."
When asked what advice he would give the next generation of business leaders who may aspire to attain his level of success, Ojeda couldn't believe we were asking the question. "Some people actually want to be me?" he laughed. "I think somebody must have been speaking too highly of me!" Eventually, he articulated some worthy pointers. "There are two things every successful person should know," he says. "The first is that North is always in one place…it doesn't move. The second is to keep it simple. Some people get distracted with side noise in this world and unfortunately most things are not relevant."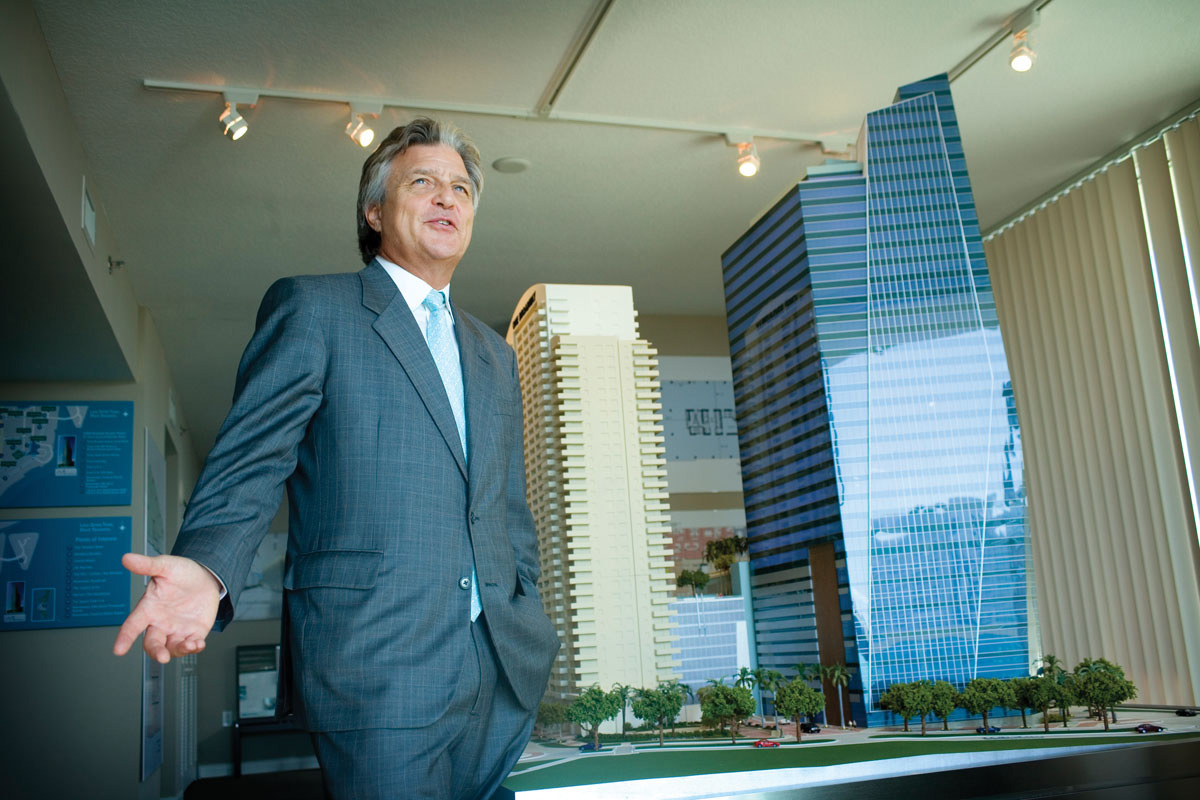 Among his pleasures and passions are fantasizing about sailing the world's oceans uninterrupted; scarfing down a bellyful of pasta and red wine at Lolita's, Perricone's or Segafredo; getting stress-relieving adrenaline rushes by skiing and mountain-biking along some of the world's toughest terrains…and relaxing while watching The Legend of Bagger Vance?! "I just saw the film for the twentieth time not too long ago," he says. "It's a beautiful story that I recommend everyone see at least once."
In terms of his pick for the single most important tool in his trade, Ojeda doesn't blink. "Elevators," he says with a chuckle. "My job would be very difficult without them."
At the conclusion of our time together, Ojeda walked my colleagues and I to nearby Segafredo where he asked the waitstaff to take care of us. "Yes, sir, of course, sir," they responded without hesitation. And with that, the man who builds big buildings but keeps his ego small walked off into the sunset in search of his next great adventure.
BUILDINGBIG
When it comes to contributing to Downtown Miami's constantly shifting skyline, Alan Ojeda's Rilea Group doesn't cut any corners when it comes to the needs of tenants, residents and visitors. Here are few of the firm's more notable creations in and around the Brickell district.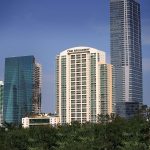 One Broadway
This luxury residential hi-rise in the heart of the Brickell Financial District is the anchor of the Brickell Gateway neighborhood, one of Miami's fastest-growing areas. The firm recently launched an innovative short-term rental program offering fully-furnished condos for as little as $79 a night.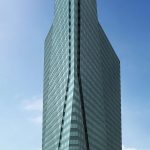 1450 Brickell
Adjacent to One Broadway, this 35-story, 586,000 sq. ft. Class-A office building is scheduled for completion in January 2010. Once completed, it will be Miami's first LEED Gold office tower. Tenants will not have to be green-certified, but can work with Rilea to transition to greener practices if they wish.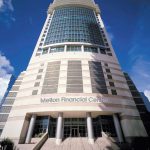 Mellon Financial Center
Developed in 2000 in partnership with MDM Office Group, this 31-story office building at 1111 Brickell Ave. is located in the northern quadrant of downtown Miami's flourishing financial district. It has been considered by many to be one of the premier and most recognized skyscrapers gracing Brickell's skyline ever since it launched nearly a decade ago.