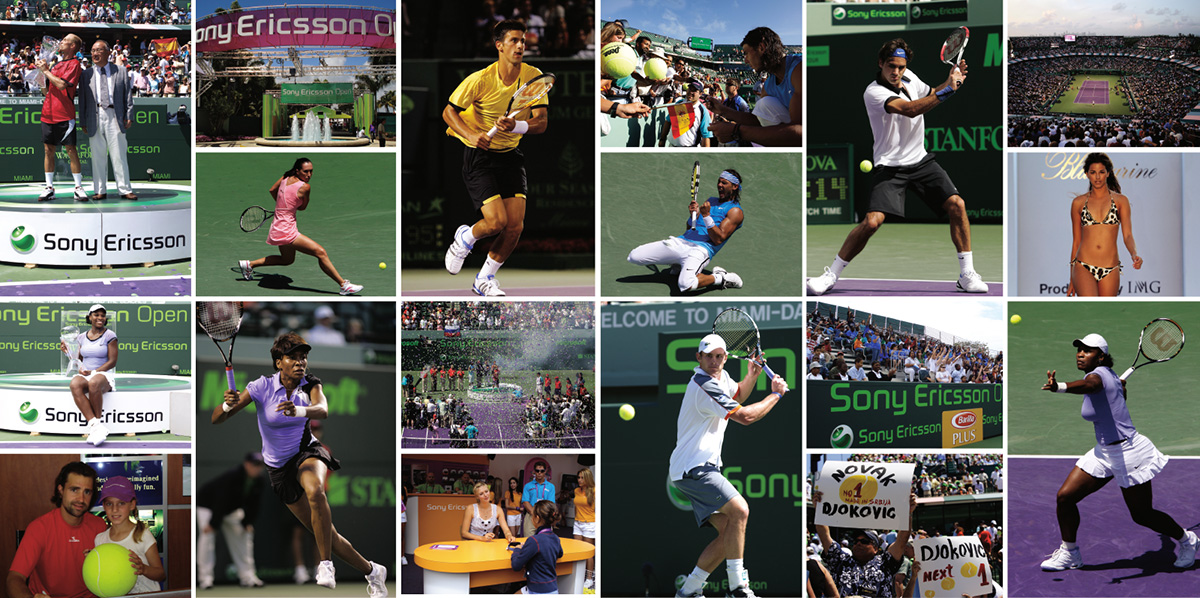 Meet the Maker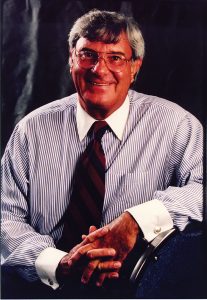 Whether in a boardroom or on a tennis court, International Tennis Hall of Fame inductee Butch Buchholz has always been active in a sport he knows well. Buchholz's contributions to tennis were recognized in 2005 with his induction into the International Tennis Hall of Fame in Newport, Rhode Island. He was enshrined as a "Contributor" with Jim Courier, Yannick Noah and Jana Novotna.
As Chairman of the Sony Ericsson Open, Buchholz has dedicated much of his life's work to this tournament — which became a reality in 1985 after he first conceptualized the idea while still a touring pro more than 30 years ago. Today, with over $6.9 million in prize money, equal prize money for men and women, and all the top players competing, the Sony Ericsson Open is surpassed in size and stature only by the four Grand Slams.
Active in tennis since his youth, Buchholz played his first tournament at age six and won his initial title a year later. He became the first player to win junior titles at the Australian Open (1959) and French Open (1958), Wimbledon (1958) and the U.S. Junior Championships (1958). Ranked fifth in the world in 1960, Buchholz entered the professional ranks with Jack Kramer's worldwide circuit. A member of three U.S. Davis Cup teams from 1958-60, he won 22 professional tournament events and was one of Lamar Hunt's famous "Handsome Eight" of World Championship Tennis (WCT). He retired at the age of 29 after injury ended his 10-year professional career, but the same spirit that drove him as an intense competitor inspired him to develop and grow in the business of tennis. His credentials include tournament promoter, network television commentator, owner/operator of tennis clubs, and U.S. Junior Davis Cup Tennis Team captain in 1970.
A founding member of the first men's players association in 1963, Buchholz has served tennis in many capacities. He directed tournaments in his hometown of St. Louis (1964-1968), directed WCT events (1969-78), directed a Virginia Slims event in 1972, was Commissioner of World Team Tennis (1977-78) and served as executive director of the ATP and as a member of the men's pro council, the governing body of men's pro tennis (1981-83). While running the ATP, Buchholz was responsible for establishing the framework for the first pension fund for men's professional tennis players, still in existence today.
After a series of other successes, in 1992, Buchholz and the late Arthur Ashe, then tennis director at Miami's Doral Hotel, were reminiscing about how tennis programs in their hometown parks had shaped their lives. They were inspired to form the "Good Life Mentoring Program" in partnership with the Greater Miami Chamber of Commerce, providing valuable life skills for elementary and middle school students. Moore Park Tennis Center in Miami became one of the venues where hundreds of youngsters would benefit from this program.
Buchholz remains Chairman of the Board of First Serve Inc., a concept that began in conjunction with the USTA in 2001 as a way to give back to tennis by using the sport as a positive influence on our nation's youth. First Serve is a youth empowerment organization that utilizes tennis to help kids develop the skills, values and experience they need to be responsible, productive and successful in life. Currently thousands of inner-city young people throughout the United States have exposure to the First Serve program, with a long-term goal to expand throughout the world.
The Schedule
2009 Order of Play (*Subject To Change)
Session
Day/Date
Start Time
Men's / Women's Singles Qualifying (48 draws)*
QA: Day
Monday, March 23
10:00 am
QB: Day
Tuesday, March 24
10:00 am
Women's Singles 1st Round (96 draw) / Men's Singles 1st Round (96 draws)*
1: Day
Wednesday, March 25
10:00 am
2: Night
Wednesday, March 25
7:00 pm
Women's Singles 1st Round / Men's Singles 1st Round*
3: Day
Thursday, March 26
10:00 am
4: Night
Thursday, March 26
7:00 pm
Women's Singles 2nd Round / Men's Singles 2nd Round*
5: Day
Friday, March 27
10:00 am
6: Night
Friday, March 27
7:00 pm
Women's Singles 2nd Round / Men's Singles 2nd Round*
7: Day
Saturday, March 28
10:00 am
8: Night
Saturday, March 28
8:00 pm
Women's Singles 3rd Round / Men's Singles 3rd Round / Doubles 1st Round (32 draws)*
9: Day
Sunday, March 29
10:00 am
10: Night
Sunday, March 29
7:00 pm
Women's Singles 4th Round / Men's Singles 3rd Round / Doubles 1st Round*
11: Day
Monday, March 30
11:00 am
12: Night
Monday, March 30
7:00 pm
Men's Singles 4th Round / Women's Singles Quarterfinals / Doubles 2nd round*
13: Day
Tuesday, March 31
11:00 am
14: Night
Tuesday, March 31
7:00 pm
Men's & Women's Singles & Doubles Quarterfinals*
15: Day
Wednesday, April 1
11:00 am
16: Night
Wednesday, April 1
7:00 pm
Women's Semifinals / Men's Singles Quarterfinals / Men's Doubles Semifinals*
17: Day
Thursday, April 2
1:00 pm
18: Night
Thursday, April 2
7:00 pm
Men's Singles Semifinals / Women's Doubles Semifinals*
19: Day
Friday, April 3
1:00 pm
20: Night
Friday, April 3
7:00 pm
Women's Singles Final / Men's Doubles Final
21: Day
Saturday, April 4
Noon
Men's Singles Final / Women's Doubles Final*
22: Day
Sunday, April 5
12:30 pm

Tournament Quick Facts
Site
Tennis Center at Crandon Park in Key Biscayne
Stadium Capacity: 13,800
Grandstand Capacity: 5,700
Dates
Main Draw: Wednesday March 25th – Sunday April 5th, 2009
Qualifying rounds: Monday & Tuesday, March 23rd – 24th, 2009
Tournament Executives
Tournament Owner – IMG
Tournament Chairman – Earl "Butch" Buchholz
Tournament Director – Adam Barrett
Format
A 96 draw for men's and women's singles.
A 32 draw for men's and women's doubles.
Session Start Times
Gates Open: 9:30 a.m. March 23-28; 10 a.m. March 29-April 5
March 23-24 (Qualifying): 10 a.m.
March 25-27: Day session: 10 a.m., Night session: 7 p.m.
March 28: Day session: 10 a.m., Night session: 8 p.m.
March 29-April 2: Day session: 11 a.m., Night session: 7 p.m.
April 3: Day session: Noon, Night session: 7 p.m.
April 4: Finals Festivities begin at 11:30 a.m.
April 5: Finals Festivities begin at 12:30 p.m.
Tennis Balls
Penn
Tickets
Call 305.442.3367 or visit www.SonyEricssonOpen.com
Guest Services
Lost? Need information? Need to purchase tickets for future sessions to the Sony Ericsson Open? Or just need to purchase Andalucía Collectors Club daily passes? The Guest Services Center is located next to the draw board in front of Gate C. Multi-lingual personnel are available to answer questions, make recommendation or listen to suggestions.
Wachovia ATM
A full-service ATM, furnished by Wachovia, is available adjacent to the Guest Services Center.
Will Call
The Will Call Center is located next to the main entrance to the Tennis Center by the fountain. Only the person whose name is on the order may pick up reserved tickets. A photo I.D. and signature is required to pick up your tickets.
Parking
General admission ticket holders may park on Virginia Key (one mile west of the Tennis Center), with free shuttle bus service to the parking area at Crandon Park. Directional signs will lead you to Virginia Key once across Rickenbacker Causeway. Miami-Dade County will provide Virginia Key parking for $10 per vehicle.
History
On August 29, 2006, Sony Ericsson Mobile Communications announced the signing of a four year contract to become the title sponsor of the Sony Ericsson Open. With $7.54 million in prize money the Sony Ericsson Open is currently the largest tournament in the world with Title Sponsorship. When Butch Buchholz established the event in 1985, it marked the first time in 56 years that a new two-week tournament featuring men and women was launched. Located in Delray Beach (Laver's International Tennis Center) in 1985 and Boca Raton (Boca West) in 1986, the tournament found a permanent home in 1987 on Miami's Key Biscayne. In 1994, Miami-Dade County christened the Tennis Center at Crandon Park, a 30-acre expanse that is transformed each year from a public tennis facility into a full-fledged festival for the Sony Ericsson Open. The Sony Ericsson Open, considered one of the most prestigious titles in professional tennis, has been awarded "Tournament of the Year" by the ATP for five consecutive years and in eight of the last nine years overall. In 2004 the event was also named "Tournament of the Year" by the Sony Ericsson WTA Tour. In 1999, the tournament was purchased by IMG.
Television
The Sony Ericsson Open was covered by over 750 credentialed media from 36 countries. Television coverage was beamed to over 153 million viewers around the world with 2,461 hours of television coverage broadcast in 2008. In the United States, the men's and women's finals are broadcast live on CBS while Fox Sports Network will broadcast 30 hours of early round coverage.
Attendance
297,011 over 22 sessions/12 days in 2008 (a new tournament record)
Tickets
(305) 442-3367 or www.SonyEricssonOpen.com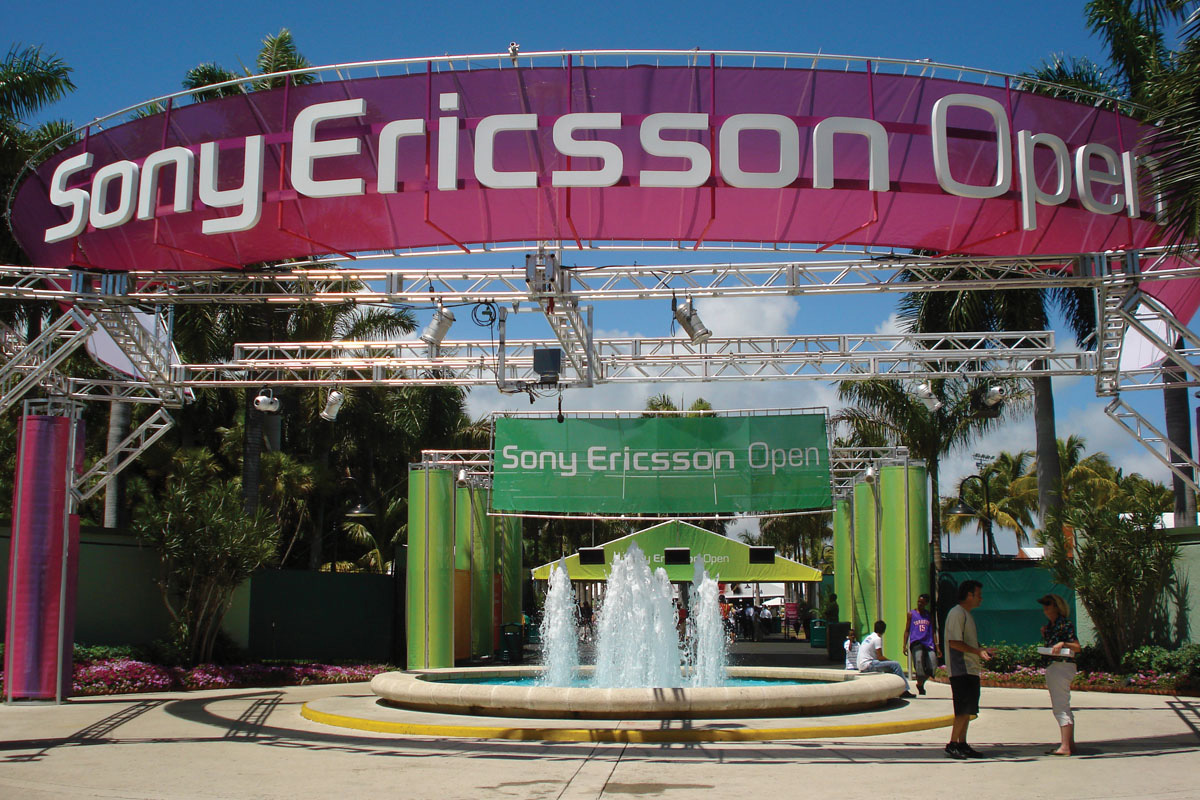 The Venue
The 13,800-seat Stadium Court is the centerpiece of the Tennis Center at Crandon Park facility, home of the Sony Ericsson Open since 1987. The Sony Ericsson Open uses 12 courts in competition courts, plus six practice courts. The facility is also home to four European red clay, four American green clay courts and two grass courts. The Tennis Center also home to the United States Tennis Association's player development program headquarters.
Time Line
March 1989: A new clubhouse was dedicated on the Crandon Park grounds
November 1990: Miami-Dade County approved plans for a new stadium
Summer, 1992: The site is rechristened The Tennis Center at Crandon Park
November, 1992: After legal delays and Hurricane Andrew halt construction, the way is cleared to open
February 12, 1994: Miami-Dade County dedicates the new 14,000-seat stadium
March 11, 1994: The first match is played on Stadium Court
August-October, 2005: Crandon Park weathers two powerful storms, Hurricane Katrina and Hurricane Wilma.
March, 2006: A new chairback seating system debuts in the 400-level.
The 411
Need more information? Below are some useful contact numbers and emails that will help you get what you need to know.
Key phone numbers
Main Switchboard 305-446-2200
Tickets 305-442-3367
Travel 800-725-5472
Main Fax 305-446-9080
Key email addresses
Ticket information [email protected]
Sponsorship and Sales inquiries [email protected]
Vacation and hotel information [email protected]
Media inquiries [email protected]
Volunteer information [email protected]
All other inquiries [email protected]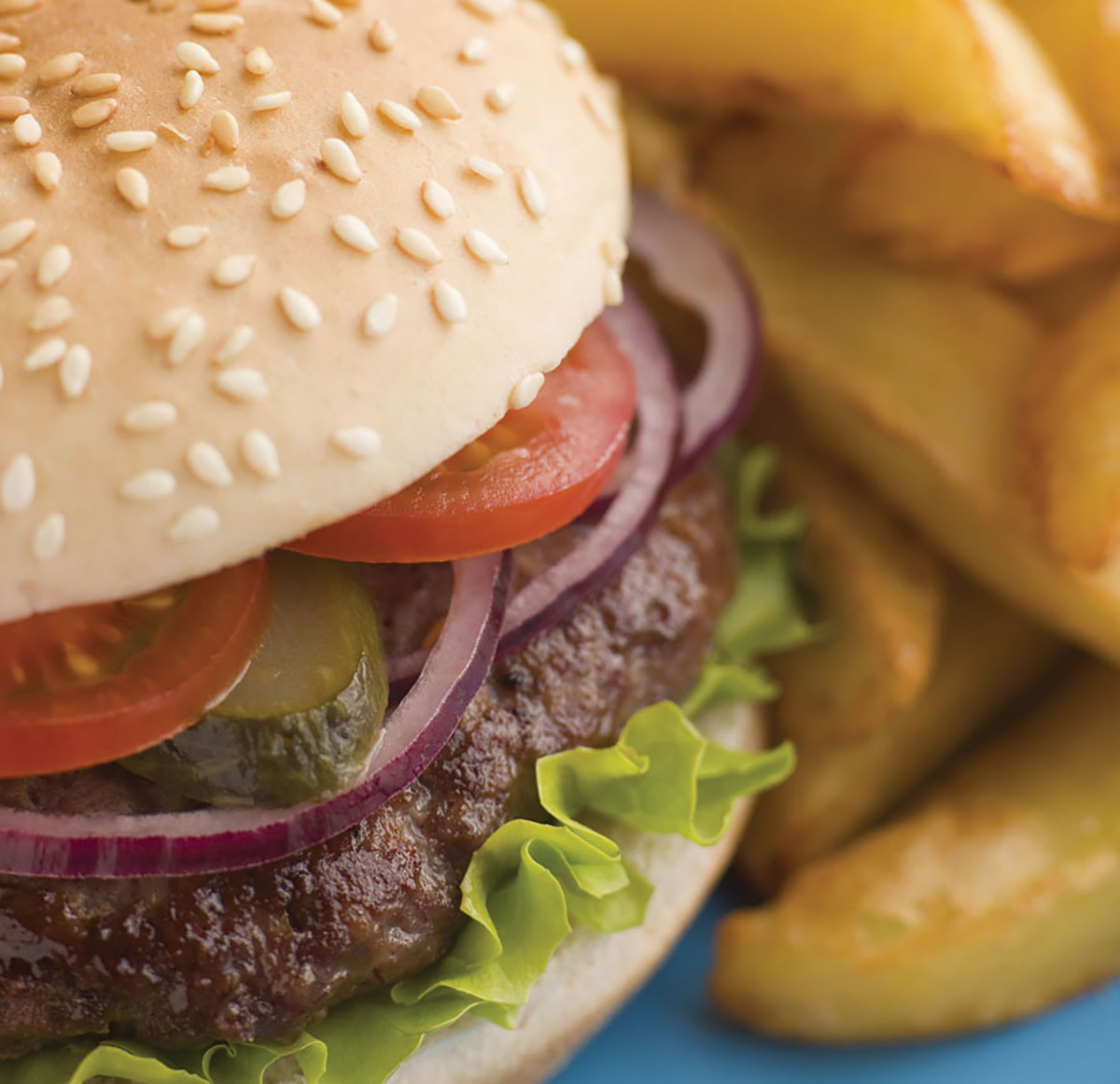 The Dining
The Andalucía Collectors Club
For those who enjoy the very best, the 2009 Sony Ericsson Open brings back The Collectors Club, brought to you by Andalucía, an exciting, exclusive venue featuring an upscale restaurant, and a trendy bar and lounge area, where private members can get away from the hustle and bustle of the tournament grounds in a beautifully decorated, air conditioned setting.
Veuve Cliquot Wine Bar
Come experience the full line of Veuve Clicquot champagnes at the Veuve Clicquot Wine Bar located adjacent to the Marketplace. Since its fouding in1772, the iconic Champagne House has been closely associated with the world's elite sporting events, from Polo and Yachting to World-Class Tennis.
Ben & Jerry's
No matter when you are craving a cold, frosty treat, you can always find something at Ben & Jerry's! From scoops of your favorites ice-cream in a crispy waffle cone, to thick, creamy milkshakes to the delicious novelty bars, Ben & Jerry's always has the perfect flavor for you.
Bombay Sapphire Lounge
Bombay Sapphire is proud to bring back the Bombay Sapphire lounge at the 2009 Sony Ericsson Open. Tournament attendees will get a chance to sample and enjoy the signature Bombay Sapphire Ace.
The Bombay Sapphire Lounge will serve as the perfect backdrop to enjoy a delicious and refreshing Bombay Sapphire cocktail, all while enjoying the many talents of this exciting tournament.
Latin Café & Bacardi Bar
Brings the Latin SENSES to the Sony Ericsson Open, serving traditional Cuban and South American food all day with your favorite Bacardi Bar drinks at the Bacardi Bar by the glass or the pitcher with Latin Music in a relaxed open a la Carte dining area.
Crepe Express
Crepe Express returns with an array of ham, chicken and spinach crepes that are sure to satisfy. Try their new Thai crepe with shrimp, broccoli, carrots and peanut thai dressing! Save room for dessert, the Strawberry Delice, a cup of fresh strawberries in a Grand Marnier syrup topped with whipped cream.
The Grill by Shoreline Foods
Bring your appetite as this classic serves sirloin hamburgers, rib eye steak sandwiches, as well as jumbo Hummel hot dogs. Don't forget the grilled chicken breast sandwich and famous fries, with the skins on!
Heineken Lounge
Give yourself a Good Name and visit the Heineken Lounge at the Sony Ericsson Open. Enjoy a cold Heineken or Heineken Premium Light with your friends in this ultra lounge atmosphere featuring the new Heineken Draught Wall complete with plasma TV's, cabanas and shaded seating.
One Fish Two Fish
Grilled Mahi Mahi, fried native grouper sandwiches and a crab cake Caesar Salad are on the menu at this seafood inspired location. Fresh seafood is not the only thing on the menu – try the chicken tenders or the spicy buffalo wings.
Little Italy Pizza
featuring Pasta by Barilla
Enjoy a variety of Barilla pasta dishes, individually sliced pizzas and a delicious meatball sub sandwich at Little Italy Pizza by Barilla. New menu items this year include cold Penne Primavera and Chicken Parmesan sandwich.
Marketplace
Enjoy a tossed salad made to order with your selection of toppings. Try a Grand Slam tossed salad or the Sony Ericsson tossed. If salad is not your fare there is sushi available as well.
Starbucks
A Sony Ericsson Open favorite! Starbucks returns to the Main Plaza, serving fresh, rich-brewed Italian-style espresso beverages, served along with a variety of pastries and confections.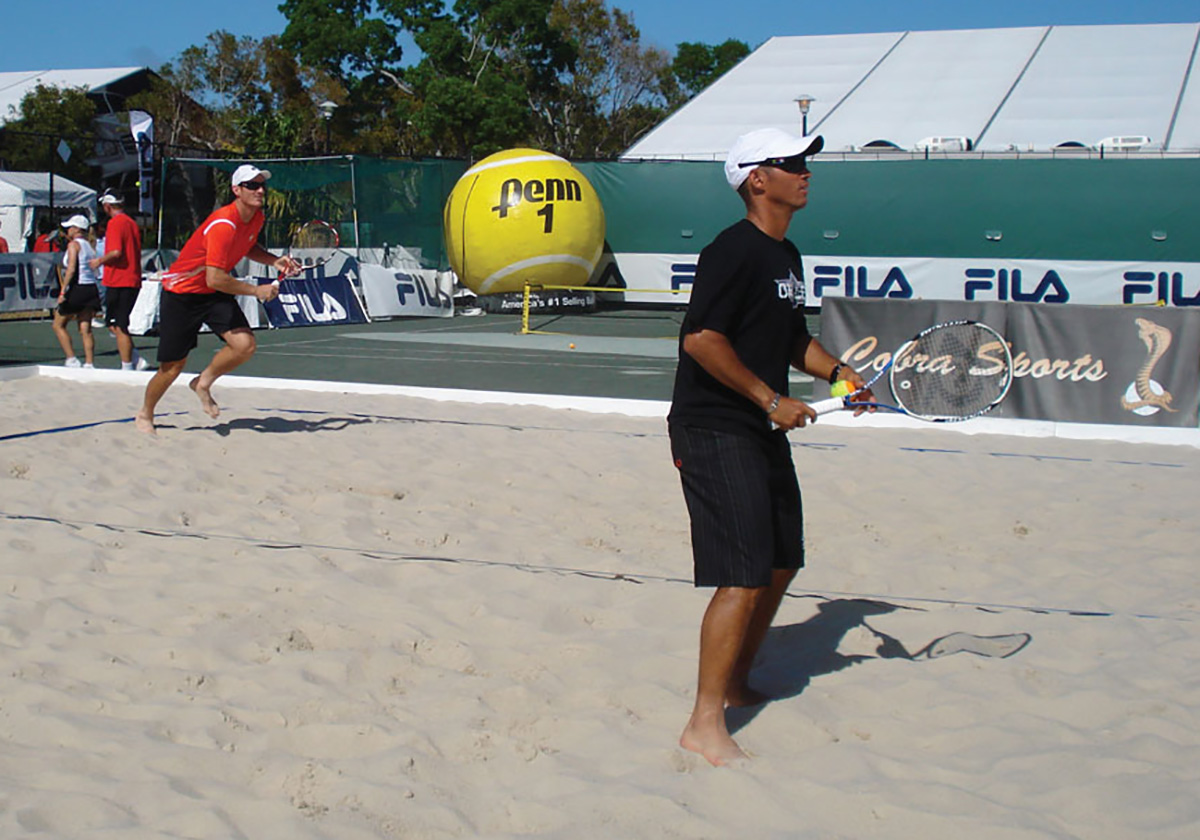 The Activities
Sony Ericsson Experience
While on site stop by the Sony Ericsson Experience – Check out the hottest technology and purchase a Sony Ericsson phone to match your lifestyle! Throughout the tournament, the Sony Ericsson Open Experience will host player autograph sessions, fan giveaways, and lots more. See you there!
Entertainment Stage
New this year to the Sony Ericsson Open is the Entertainment Stage located between the Bombay Sapphire Lounge and Starbucks. Visit the Stage to see live musical performances, question and answer sessions with the Tour's top players, fashion shows by top designers and much, much more.
Beach Tennis
What happens when you combine the fast-paced action of tennis and beach volleyball?–you get Beach Tennis USA! BTUSA returns to the Sony Ericsson Open for a weeklong series of pro exhibitions and open free play. So join the movement and try America's fastest growing beach sport. Racquets and balls provided free of charge. To learn more, visit www.beachtennisusa.net. Located by Grandstand Court.
FILA Family Zone
Visit the FILA Family Zone to participate in a variety of fun family tennis activities. Open daily from 11am to 6pm!
FILA Friday Night
Talk to top FILA tennis stars on Friday, March 27th at 6pm!
LAN Airlines
Be our guest at LAN's booth as we participate for the sixth consecutive year as Official International Airline of the Sony Ericsson Open. At our booth, we will showcase the new entertainment system of our 767-300 long haul fleet, among other details of our extensive South America network and services. The new LAN cabins include the latest technology in entertainment which places LAN among the worldwide airlines that offer the most and the best in terms of variety. Its Premium Business and Economy cabin seats feature larger individual video monitors with high definition and widescreen in each seatback. The individual monitors are high resolution and have on-demand video and audio systems. Passengers may choose between 44 monthly movies, 95 channels of television series, and as of February, 450 music CDs and 14 video games. LAN Airlines and its affiliates serve more than 60 destinations around the world through an extensive network that offers full connectivity within Latin America while also linking the region with North America, Europe and the South Pacific, as well as 58 additional international destinations through its various code-share agreements. The company's world class quality standards enabled its membership in oneworld™, the global alliance that encompasses the best airlines in the world. For more information, please visit: LAN.com
Sony Ericsson Open Guest Services Center
Have a question or need some information? Visit the Sony Ericsson Open Guest Service Center located next to the draw board in front of Gate C. Multi-lingual personnel are on hand to answer questions, help with disabled guests, point you in the right direction, provide local information or just listen to suggestions. Pick up your tickets for upcoming sessions at the Advance Ticket Window in the same building.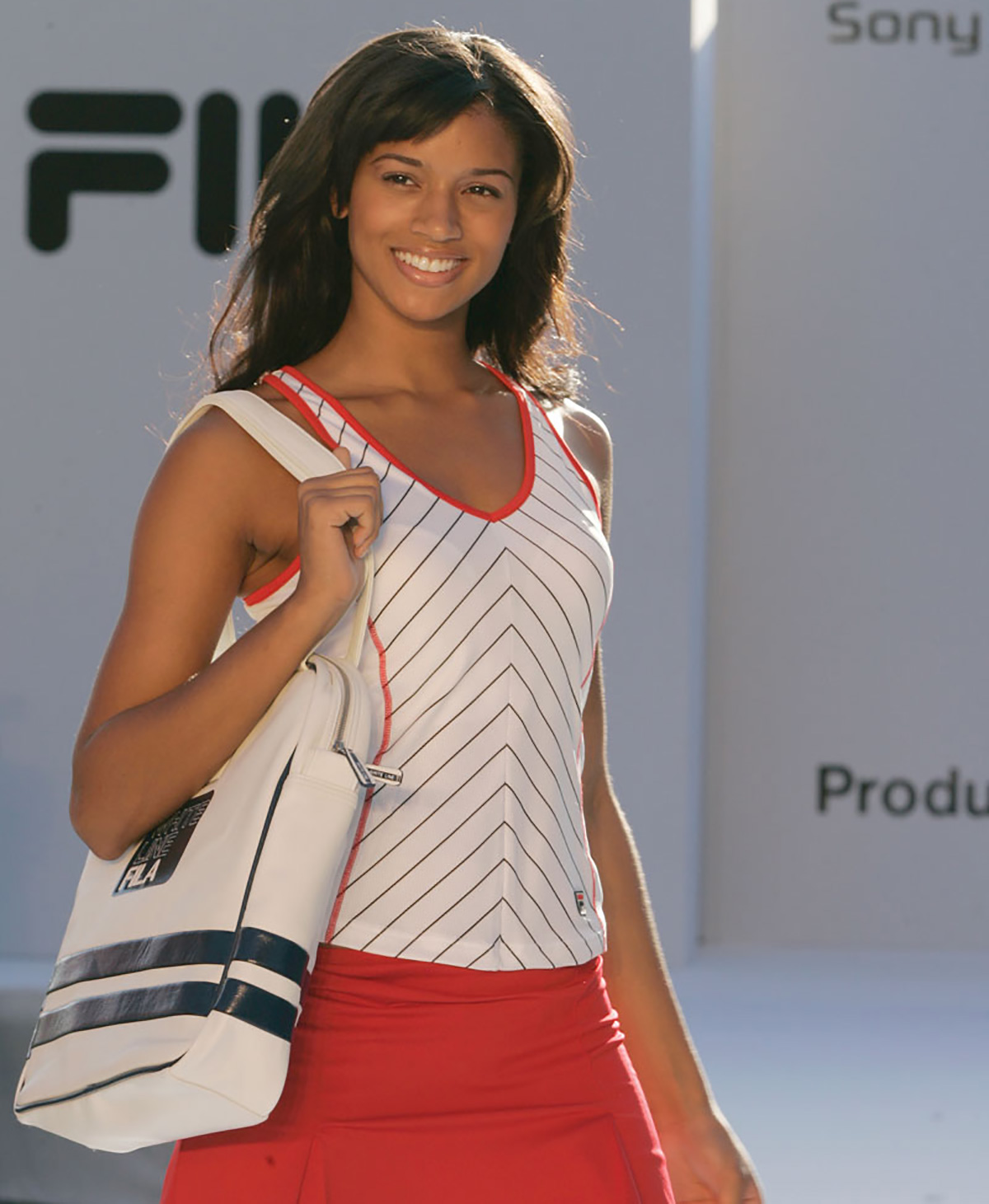 The Shopping
FILA Store
Visit the Fila store for Official Sony Ericsson Open gear and the latest tennis, fitness clothing and accessories! Be sure to try out Fila's Alfa tennis shoes…the next generation in tennis footwear!
Jeffrey Scott Fine Magnetics
Visit Jeffrey Scott Fine Magnetics on one of their two locations, the Main Plaza and the Display Island. Their Jewelry is not only therapeutic, but beautiful and stylish for all occasions. Jeffrey Scott Fine Magnetics is committed to offering you the finest quality possible.
Tournament Souvenirs
Pick up your official Sony Ericsson Open gifts in our Souvenir Shop, with oversized tennis balls perfect for autographs, Official Event t-shirts and caps, along with a variety of apparel and trinkets. The tournament program and daily draw are also available here.
Tournament Sports Shop
Browse the latest in tennis fashion at our Sports Shop with selections from Nike, Adidas, Reebok, Stella McCartney and many more! Also check out accessories and shoes from some of the trendiest local and national designers.
TennisPlaza.com
Visit TennisPlaza.com, featuring a wide selection of the latest in racquets technology. Located on the way to Grandstand, TennisPlaza.com is the place to go to meet and learn more from "tech reps" and to test drive your favorite gear.
Premier Display Island
Located just steps from the Main entrance, we invite you to visit these impressive booths:
Bolle
Browse the large selection of the latest in performance eyewear at this display.
Head & Penn
Representatives will be on hand to discuss the latest in racquets and tennis balls.
IMG Academies
IMG Academies invite you to browse information and ask questions about their Florida tennis and sports programs.
USTA
USTA will be holding the Membership Booth, where you can join or upgrade your membership and get a free gift! The Membership Booth will also have information on USTA programs, leagues, services and events to get you on the courts!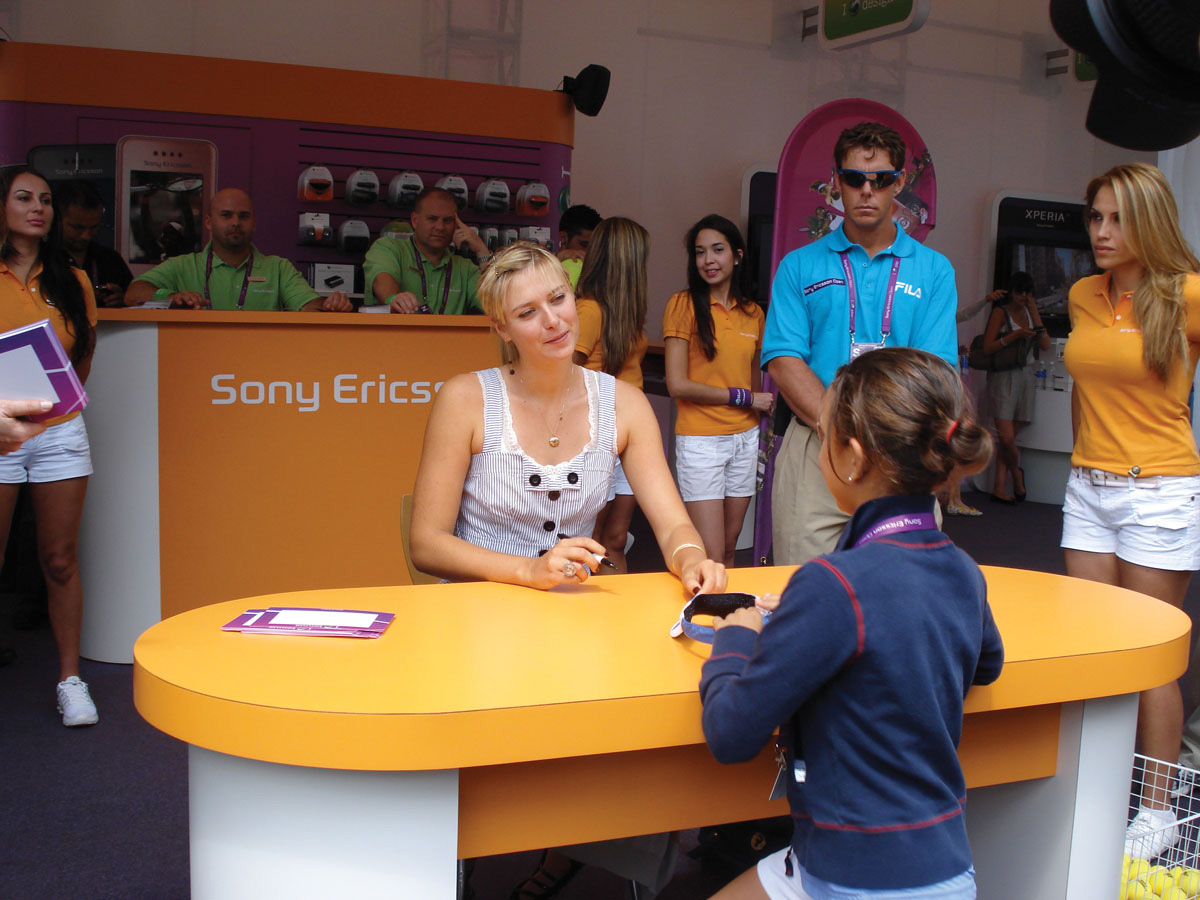 VIP Experience
Andalucia Collectors Club
For those who enjoy the very best, the 2009 Sony Ericsson Open is once again offering memberships to the The Andalucia Collectors Club. This exclusive venue features an upscale restaurant, trendy bar and lounge area which allows guests the opportunity to escape the hustle and bustle of the tournament grounds and relax in a beautiful air conditioned setting.
The Andalucia Collectors Club also allows members the opportunity to participate in a series of special events, including daily question and answer sessions, private autograph signings with top players, opportunities to meet television broadcasters, tips and match analysis from Mary Joe Fernandez and others, and Happy Hours with Sony Ericsson Open tournament officials including Tournament Chairman Butch Buchholz.
For more information, or to secure your membership to The Andalucia Collectors Club, contact the Sony Ericsson Open Ticket Office at (305) 442-3367 or e-mail [email protected].
The Red Carpet Experience
Guests for the duration of the 2008 Sony Ericsson Open can take advantage of Collectors Club's Red Carpet Experience, which includes:
– Two passes to Collectors Club for the twelve days of the tournament.
– A total of eight complimentary single-day guest passes to Collectors Club.
– Priority access to participate in Collectors Club's special events
– Priority reservations at Collectors Club restaurant
– The ability to purchase additional daily guest passes
– $600 food and beverage credit to use at Collectors Club during the 2008 event
Membership Options
Gold Membership
– Two photo membership cards personalized for each guest
– Four limited guest access passes 
admits one guest for one day of your choice excluding March 28 – 29 and April 4 – 5
– $400.00 club currency use in the Andalucia Collectors Club only.
Price $1,200.00
Platinum Membership
– Two photo membership cards personalized for each guest
– Two non-photo access passes for each day of the tournament
– Eight limited guest access passes admits one guest for one day of your choice excluding March 28 – 29 and April 4 – 5
– $600.00 club currency use in the Andalucia Collectors Club only
Price $2,000.00
Corporate Membership
– Four non-photo access passes for all 22 sessions passes are dated and only valid for the session printed on pass.
– $1,200 club currency use in the Andalucia Collectors Club only.
Price $4,500.00
Limited Access Guest Passes
– Advance purchasing for members only admits one guest for one day of your choice excluding March 28 – 29 and April 4 – 5
– $50.00 club currency use in the Andalucia Collectors Club only
Price $75.00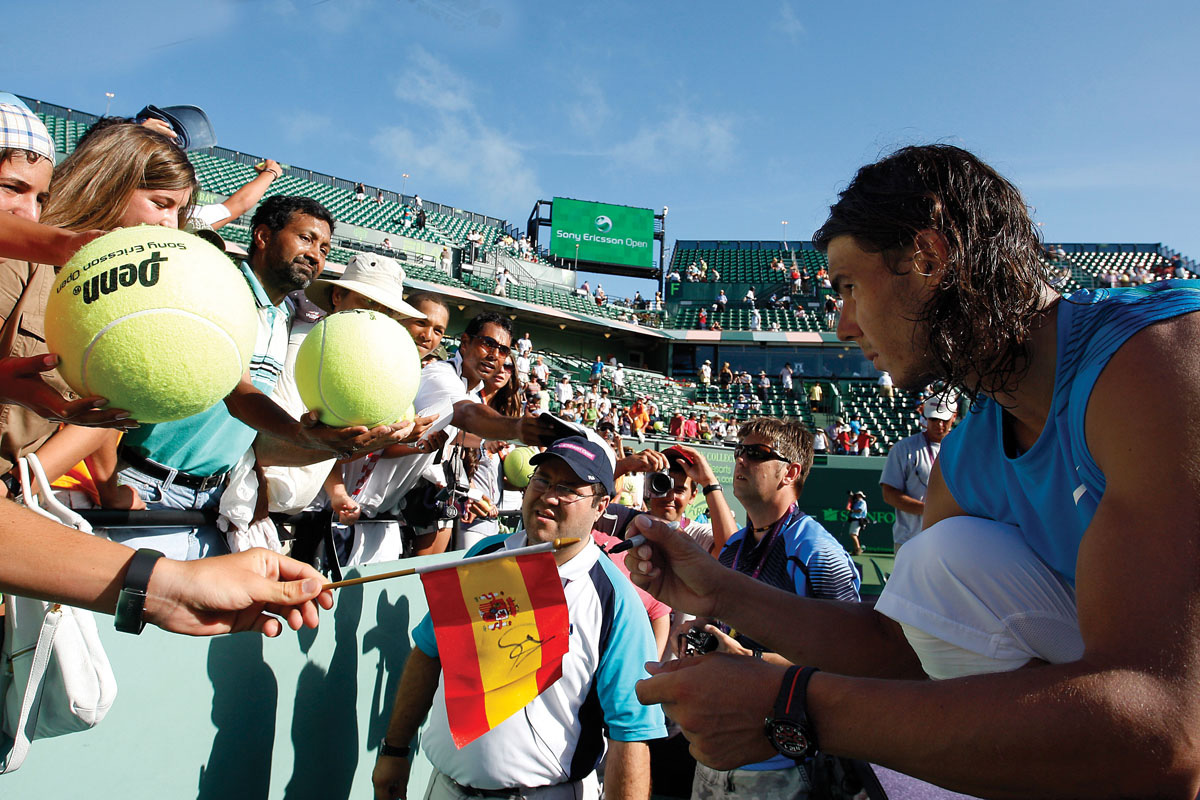 The TV Schedule
Day
Broadcast Times
Hrs.
Live or Tape Delayed
Monday, March 30
1:00 pm – 5:00 pm
4
Live
Tuesday, March 31
1:00 pm – 5:00 pm
4
Live
Wednesday, April 1

1:00 pm – 5:00 pm

7:00 pm- 10:00 pm

4

3

Live
Thursday, April 2

1:00 pm – 5:00 pm

9:00 pm – 11:00 pm

4

2

Live
Friday, April 3

1:00 pm – 3:00 pm

7:00 pm – 9:00 pm

2

2

Live
Total
33
CBS Sports
Saturday, April 4
12:30 pm – 3:00 pm
2.5
Live
Sunday, April 5
1:00 pm – 3:00 pm
2
Live
Total
4.5
Total Coverage Hours: 37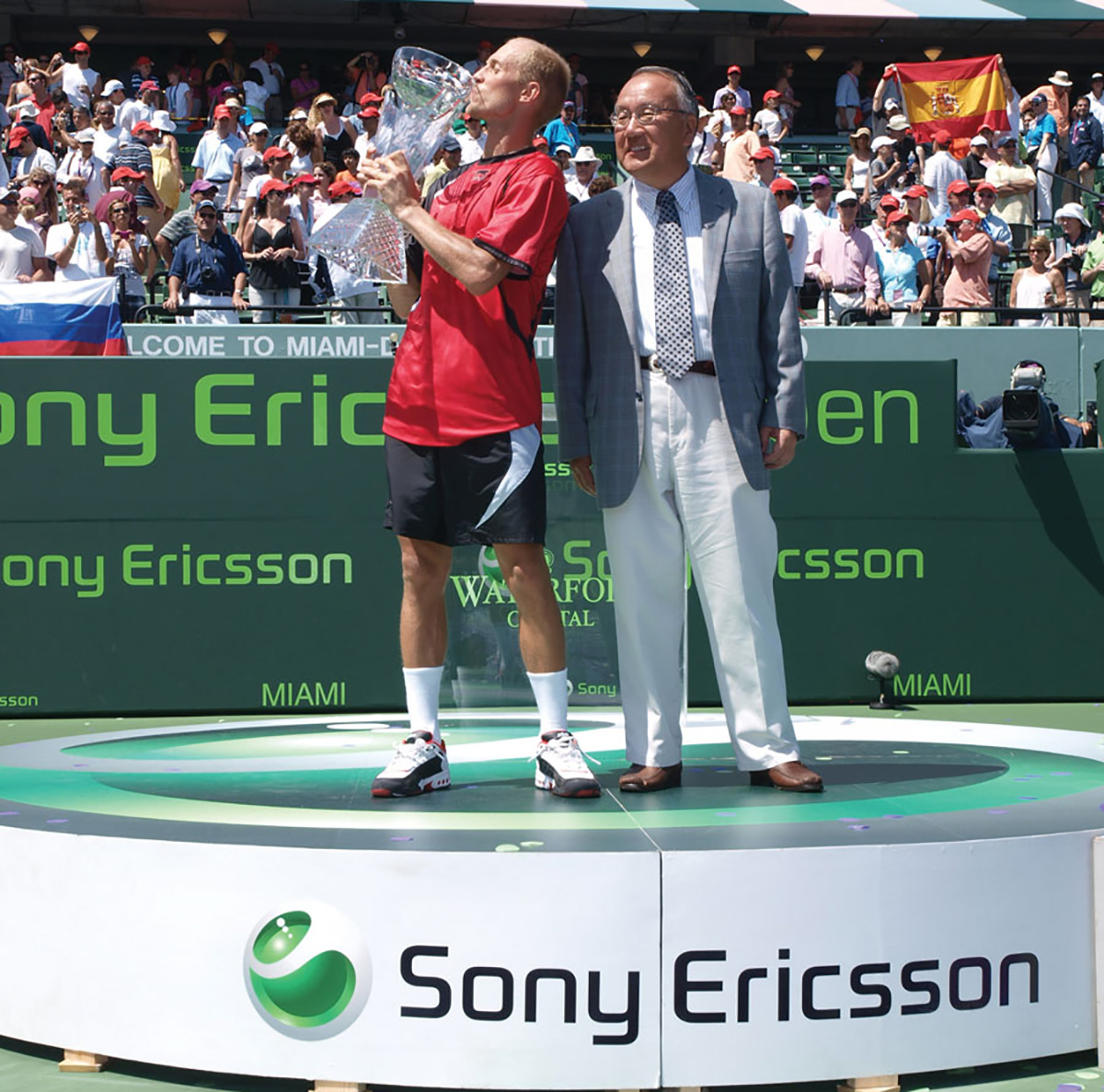 Past Champions
Singles
| | | |
| --- | --- | --- |
| Year | Men's | Women's |
| 2008 | Nikolay Davydenko | Serena Williams |
| 2007 | Novak Djokovic | Serena Williams |
| 2006 | Roger Federer | Svetlana Kuznetsova |
| 2005 | Roger Federer | Kim Clijsters |
| 2004 | Andy Roddick | Serena Williams |
| 2003 | Andre Agassi | Serena Williams |
| 2002 | Andre Agassi | Serena Williams |
| 2001 | Andre Agassi | Venus Williams |
| 2000 | Pete Sampras | Martina Hingis |
| 1999 | Richard Krajicek | Venus Williams |
| 1998 | Marcelo Rios | Venus Williams |
| 1997 | Thomas Muster | Martina Hingis |
| 1996 | Andre Agassi | Steffi Graf |
| 1995 | Andre Agassi | Steffi Graf |
| 1994 | Pete Sampras | Steffi Graf |
| 1993 | Pete Sampras | Arantxa Sanchez-Vicario |
| 1992 | Michael Chang | Arantxa Sanchez-Vicario |
| 1991 | Jim Courier | Monica Seles |
| 1990 | Andre Agassi | Monica Seles |
| 1989 | Ivan Lendl | Gabriela Sabatini |
| 1988 | Mats Wilander | Steffi Graf |
| 1987 | Miloslav Mecir | Steffi Graf |
| 1986 | Ivan Lendl | Chris Evert |
| 1985 | Tim Mayotte | Martina Navratilova |
Doubles
| | |
| --- | --- |
| Men's | Women's |
| Bob Bryan/Mike Bryan | Katarina Srebotnik/Ai Sugiyama |
| Bob Bryan/Mike Bryan | Lisa Raymond/Samantha Stosur |
| Jonas Bjorkman/Max Mirnyi | Lisa Raymond/Samantha Stosur |
| Jonas Bjorkman/Max Mirnyi | Svetlana Kuznetsova/Alicia Molik |
| Wayne Black/Kevin Ullyett | Nadia Petrova/Meghann Shaughnessy |
| Roger Federer/Max Mirnyi | Magdeleena Maleeva/Liesel Huber |
| Mark Knowles/Daniel Nestor | Rennae Stubbs/Lisa Raymond |
| Jiri Novak/David Rikl | Arantxa Sanchez Vicario/Nathalie Tauziat |
| Todd Woodbridge/Mark Woodforde | Julie Halard-Decugis/Ai Sugiyama |
| Wayne Black/Sandon Stolle | Martina Hingis/Jana Novotna |
| Ellis Ferriera/Rick Leach | M. Hingis/J. Novotna |
| T. Woodbridge/M. Woodforde | A. Sanchez Vicario/Natalia Zvereva |
| T. Woodbridge/M. Woodforde | A. Sanchez Vicario/J. Novotna |
| T. Woodbridge/M. Woodforde | A. Sanchez Vicario/J. Novotna |
| Jacco Eltingh/Paul Haarhuis | Gigi Fernandez/Natalia Zvereva |
| Richard Krajicek/Jan Siemerink | Larisa (Savchenko) Neiland/J. Novotna |
| Ken Flach/Todd Witsken | A. Sanchez Vicario/L. Savchenko |
| Wayne Ferreira/Piet Norval | Mary Joe Fernandez/Zina Garrison |
| R. Leach/Jim Pugh | Helena Sukova/J. Novotna |
| Jacob Hlasek/Anders Jarryd | H. Sukova/J. Novotna |
| John Fitzgerald/A. Jarryd | Steffi Graf/Gabriela Sabatini |
| Paul Annacone/Christo Van Rensburg | M. Navratilova/P. Shriver |
| Brad Gilbert/Vincent Van Patten | Pam Shriver/H. Sukova |
| P. Annacone/C. Van Rensburg | G. Fernandez/M. Navratilova |