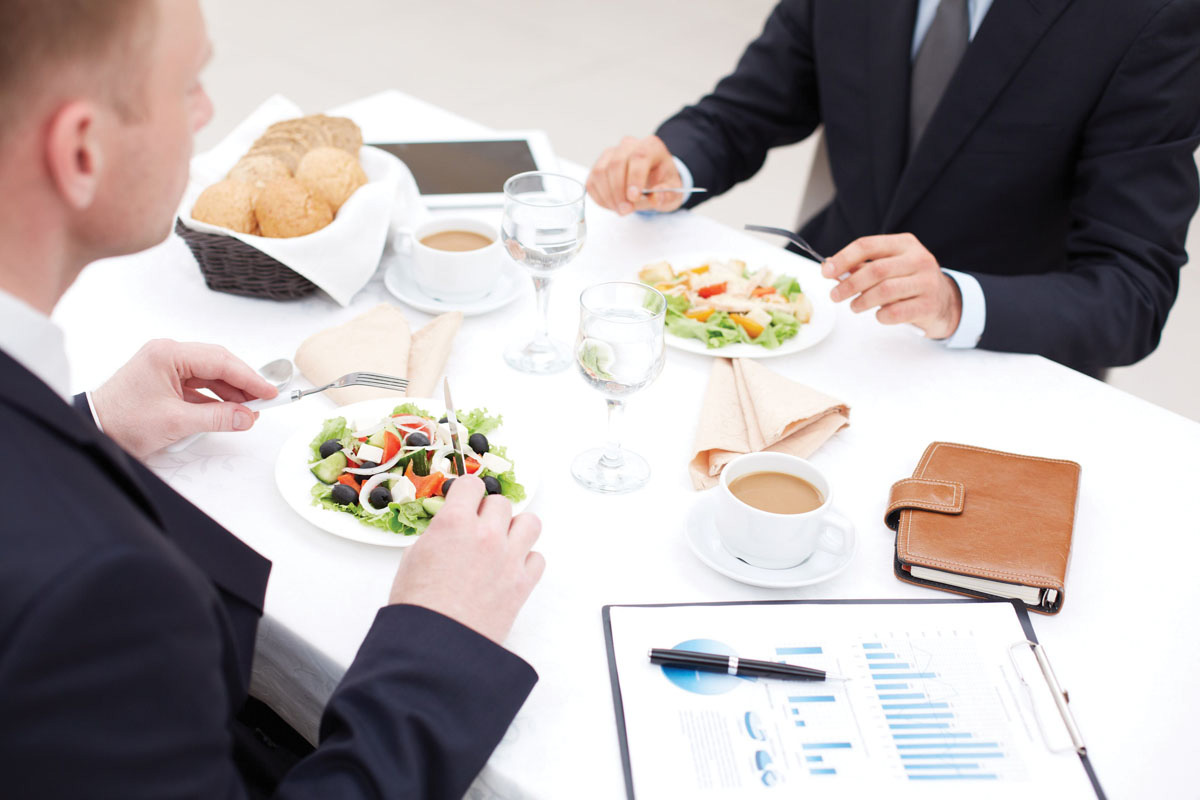 Amid the '80s garb and brick-sized cellphones of the iconic film, Wall Street, Gordon Gekko delivers a classic line about business dining: "Lunch? Aw, you gotta be kidding. Lunch is for wimps." Gekko was far too busy and could not be bothered with lunch. Certainly his shady business dealings, not his stance on midday dining, attributed to his demise…but times have changed.
The term "Power Lunch" was first coined in a 1979 article written by Lee Isenberg. The then-Editor-In-Chief of Esquire was reporting on a new lunch scene that had popped up at the Grill Room at The Four Seasons in Manhattan. The power lunch was, and to many accounts still is, a symbol of rank and status. During a lunch break, you're working against the clock…going out for a proper sit-down meal became a symbol of power.
Before the birth of this dining movement, executives and CEOs typically took long booze-filled lunches while consuming rich and heavy food. Lee described this new trend as a working lunch designed for people that were planning on going back to the office after their meal. The concept was revolutionary. In fact, The Grill Room was instrumental in developing the perfect business lunch that was at once satisfying, light and easy on the palate — plus they'd have you on your way back to the office in 60 minutes or less.
As expected, the concept evolved over time. While classic steakhouses, like The Capital Grill and Morton's, will always attract the Miami power brokers for deal-making lunches, one thing has, however, changed about power lunches. The traditional 2-martini lunch is history. A glass of wine, maybe a couple, is the norm. Many upscale restaurants like Eos, Eating House, Rosa Mexicano and Area 31 are now offering no-fuss power lunch options that take less than an hour from ordering to dessert. It's not exactly fast food, but it's designed with efficiency and ROI in mind.
But before you even decide on the venue, you will have to create an outline of the goal of your power lunch: Are you having an informal meal with no agenda? Do you want to be seen? Consider what the purpose of the meeting is and choose your venue wisely. Watch what people order. Opt for a menu item that's simple to eat and won't distract you from the conversation. Be social, have a great time but don't be afraid to get down to business. After all, they didn't agree to have lunch with you just to talk about the Dolphins game. Finally, the question of who pays is simple: Whoever invited takes care of the bill.
Aside changing trends and eating habits, it seems likely that business-heavy midday meals will continue their reign as the quintessential setting for the exchange of thoughts, ideas, power and money. With all of that on the table, don't be surprised if you get inspired to order seconds, thirds and fourths.