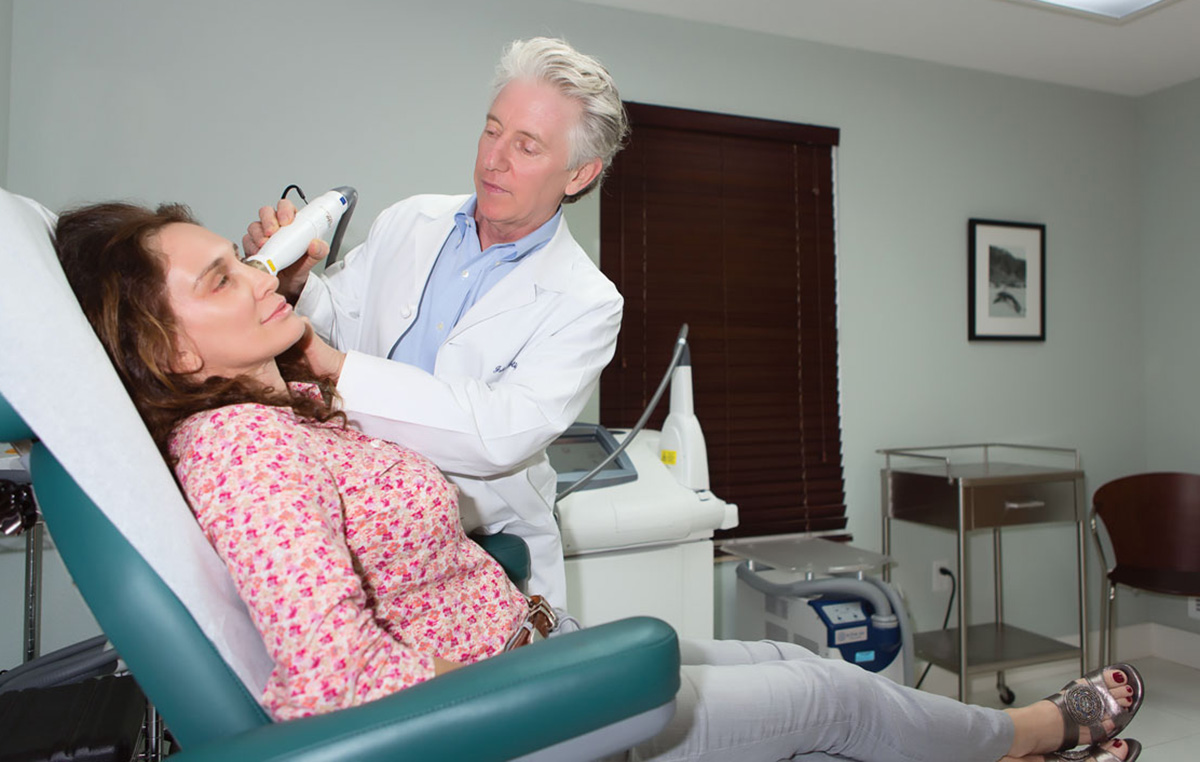 John J. Martin, Jr., M.D.
Dr. John J. Martin
2912 S. Douglas Rd.
305.444.5950
JohnMartinMD.com
Dr. Martin's surgical practice is renowned for its facial and ophthalmic plastics. He also does a lot of laser work and has 8 lasers for different types of rejuvenation.
Dr. John J. Martin, Jr., has heavy-duty credentials. He got his medical degree from Harvard Medical School and did his residency in ophthalmology at the Wills Eye Hospital in Philadelphia, followed by a fellowship in Ophthalmic Plastic & Reconstructive Surgery at Bascom Palmer in Miami. He's been in private practice for 20 years. "While doing my residency, I realized that I liked the plastic surgery field the best." Today, he focuses on eye, facial & neck rejuvenation, while rounding out his comprehensive list of services with laser and other non-surgical options for concerns such as vascular and pigment problems, hair removal and more, including fixing the bad work of others. "We've been seeing a lot of patients who have had illegal fillers put into their faces," he explains. "This creates large disfiguring nodules which we've been able to shrink down with a new ultrasound treatment. While it doesn't make things perfect, these patients are desperate in their search for something to help them out." He also looks to the future and spends time exploring some of the new less invasive techniques coming out for rejuvenation – but not all of them work! "I've been doing a lot of speaking internationally and plan to continue that," he says. So what's the most fulfilling part of his job? "I enjoy sharing in patients' excitement about a good result," he says."
DOCTOR'S ORDERS
One of the best ways to rejuvenate the face is with an intense pulsed light treatment. This technology helps even out skin tones by eliminating brown spots and small vessels on the face. There's no downtime and minimal discomfort. An even skin tone will make you look younger and healthier.
ASK THE DOCTOR
Q:I've noticed that I'm getting large "bags" in my lower eyelids, which makes me look tired. What are my options?
A:"Sometimes some filler can be placed below the fat pads to smooth out the appearance. A more permanent solution is a lower blepharoplasty with fat repositioning where no fat is excised since this can lead to hollowing of the lid. Instead, the fat is moved further down to create a smooth transition between the cheek and lid. Excess skin can be removed at the same time."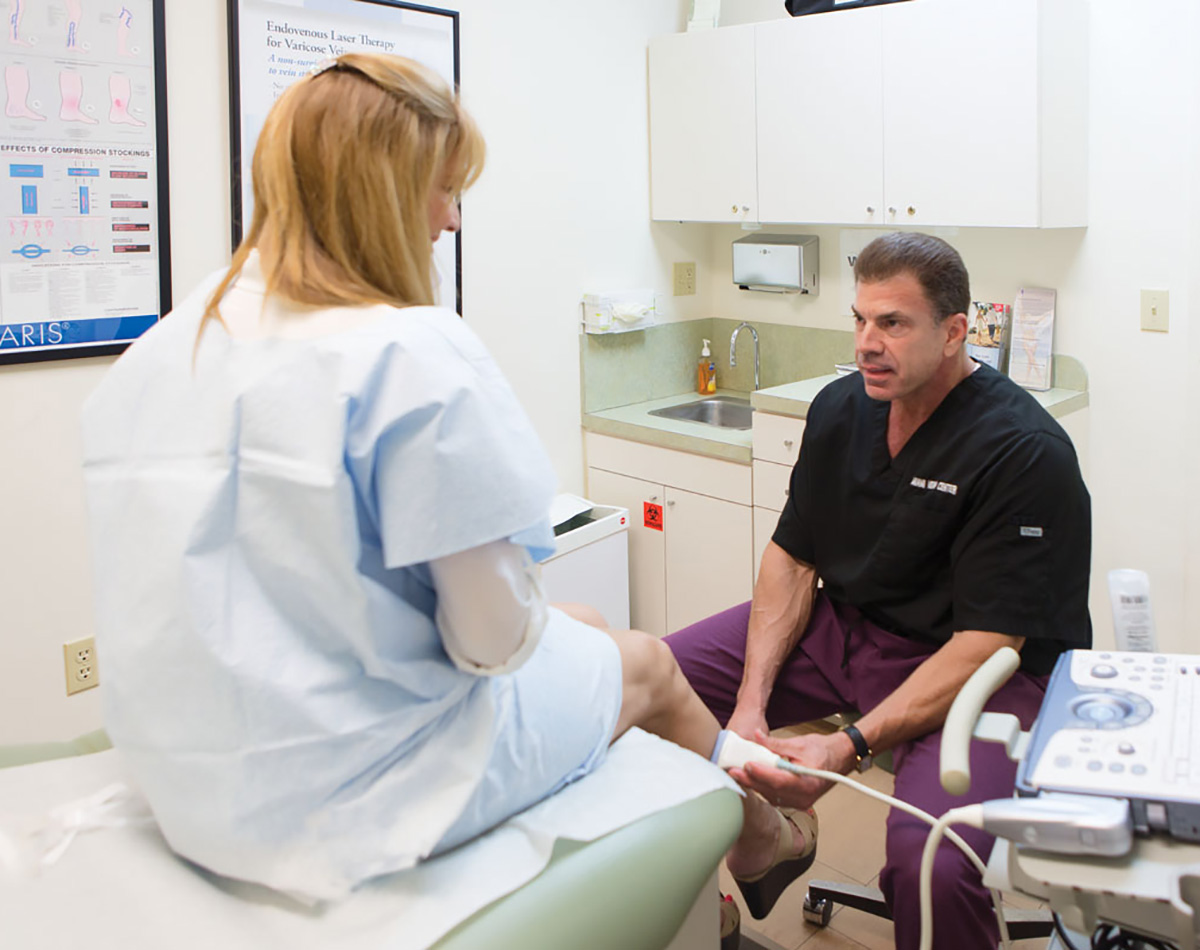 Jose I. Almeida, M.D.
Miami Vein Center
1501 S. Miami Ave.
305.854.1555
MiamiVeinCenter.com
"The best thing about working with venous disease for me is the high patient satisfaction after treatment. Results are very good. Complications are very, very infrequent."
Patients go to Jose I. Almeida, M.D., with a wide range of venous problems because he and his team are quite capable of dealing with most of them right in the office. "I'm a board-certified vascular surgeon with a practice dedicated solely to venous problems," he says. "We have an accredited 7,000-sq.-ft. office with 2 operating rooms, equipped with technology comparable to most major universities. I only take the most complex cases to the hospital." Dr. Almeida completed his general surgery training at UM Jackson Memorial Hospital and his vascular surgery fellowship at the University of Missouri-Columbia. At the Miami Vein Center, he treats the entire range of venous disorders: spider veins, varicose veins, leg swelling, leg pain and leg ulcers. The problems range from very simple to very complex. "A couple of years back, we saw a patient who was 100 years old with a long-standing ulcer on his leg," he says. "No doctor would touch him because of his age. We performed a 20-minute laser procedure with local anesthesia and the ulcer healed in 2 weeks." His future plans include continuing to grow his practice and serving the Miami community. "We have also been doing missionary work in the Dominican Republic for the past 9 years," he says. "These are impoverished patients and we treat them gratis."
DOCTOR'S ORDERS
Unsightly spider veins are a common problem. Here in Miami, where folks want to show their legs, they can be quite embarrassing. Sclerotherapy treatments can erase these veins from the leg. Usually this requires 4 treatment sessions of 30 minutes each over a 2-month period at a cost of $250 per session.
ASK THE DOCTOR
Q: I exercise and eat right yet my legs have developed these distressing thin red, purple and blue blood vessels visible through the skin. What can I do?
A:"Spider veins are a genetic disorder. They cannot be cured per se, but they can be well controlled with maintenance therapy. Although lasers can be used for treatment, injection of an FDA-approved medication is most effective. Saline injections are not effective. Spider veins are not covered by medical insurance because they are a cosmetic condition."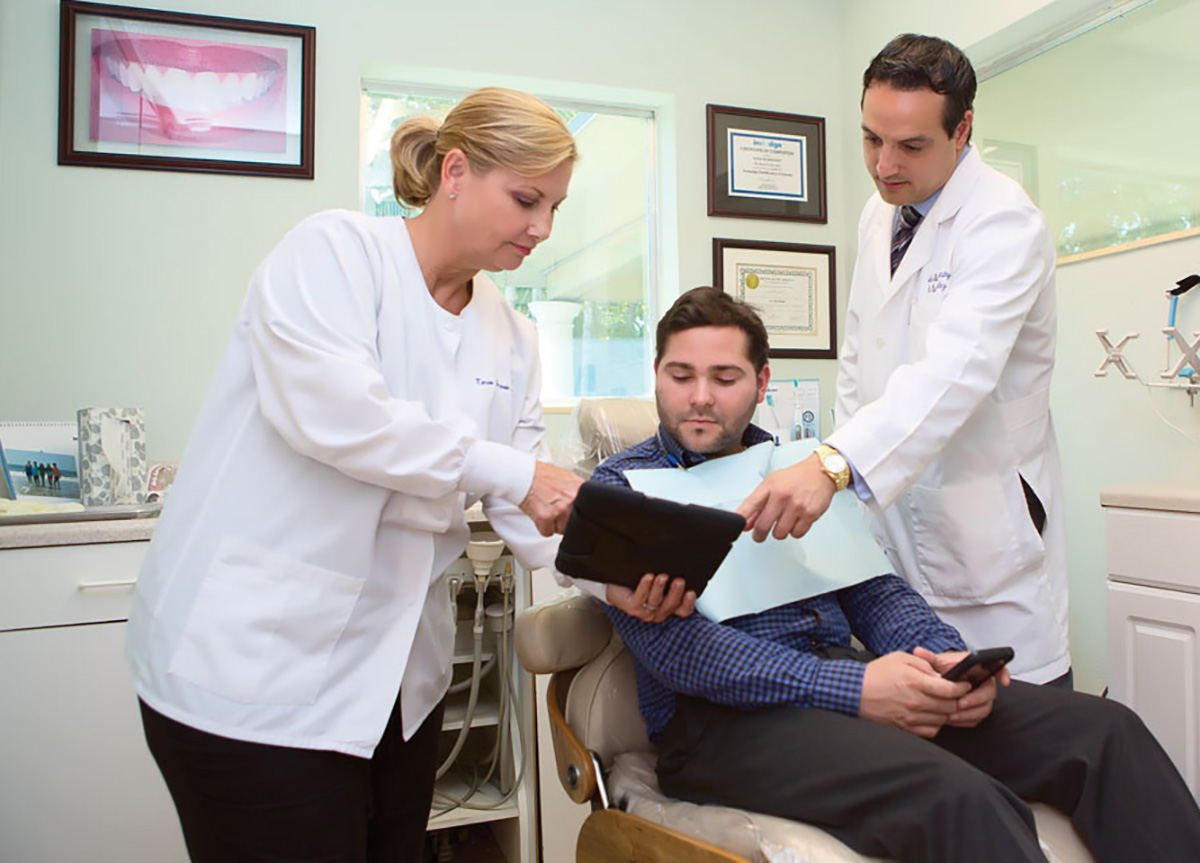 Dr. Raul C. Gonzalez
Smile Studio Assoc. Dentistry
1760 Coral Way
4201 NW 107th Ave.
305.856.1488/305.594.4418
SmileStudioDentistry.com
Dr. Gonzalez combines the natural ability to design, create & visualize with a passion for health and a chairside manner inspired by his uncle, a retired maxillofacial surgeon and great humanitarian.
Dr. Raul C. Gonzalez changes more than smiles, he changes lives. "The most fulfilling part of my job is the trust that's developed that can change a human being to a more assertive, self-motivated, more secure person through the process of a healthier, great-looking smile," he says. "I have become a sort of family life coach from the infants to the entire family." Where else can you find 4 generations coming to a dental office and arguing over who will be seeing the dentist first? "The great-grand children always win," he reports. "It's an entire day by day of joy and rewards." Dr. Gonzalez is a self-described passionate man devoted to family and friends, a multitasking, intense, humanitarian gentleman who loves auto racing (he has his own team) and technology. That love of technology is reflected in his office, which offers the most advanced proven systems and materials available in the field of aesthetic and reconstructive family dentistry. He's also an Elite Preferred Invisalign Provider. At his practice, high-tech is balanced by extremely personalized service. "In my work, our patients are treated as family members, and as such, we build long-term caring relationships," he says proudly. "We have a staff of mature, highly-qualified, dedicated professionals." Future plans, projects and goals include an expansion to satellite locations to reach out to other communities.
DOCTOR'S ORDERS
Dental veneers are thin, custom-made shells of tooth-colored materials designed to cover the front surface of teeth to improve your appearance. Throughout a lifetime, your teeth collect stains, small cracks and chipped edges from daily activities and regular use. Protecting your tooth with a veneer improves your smile and also protects it from further damage.
ASK THE DOCTOR
Q: I have headaches and have tried many things, but haven't been able to determine the cause. Can headaches come from my teeth?
A:"Yes, a bad bite, narrow dental arches, crowded teeth, breathing and nasal deviation all may produce muscle malfunctions, tensions and spasms that could produce headaches. A neuromuscular evaluation with crania massages, and the continuous use of an orthotic bite protection could alleviate or eliminate the problem."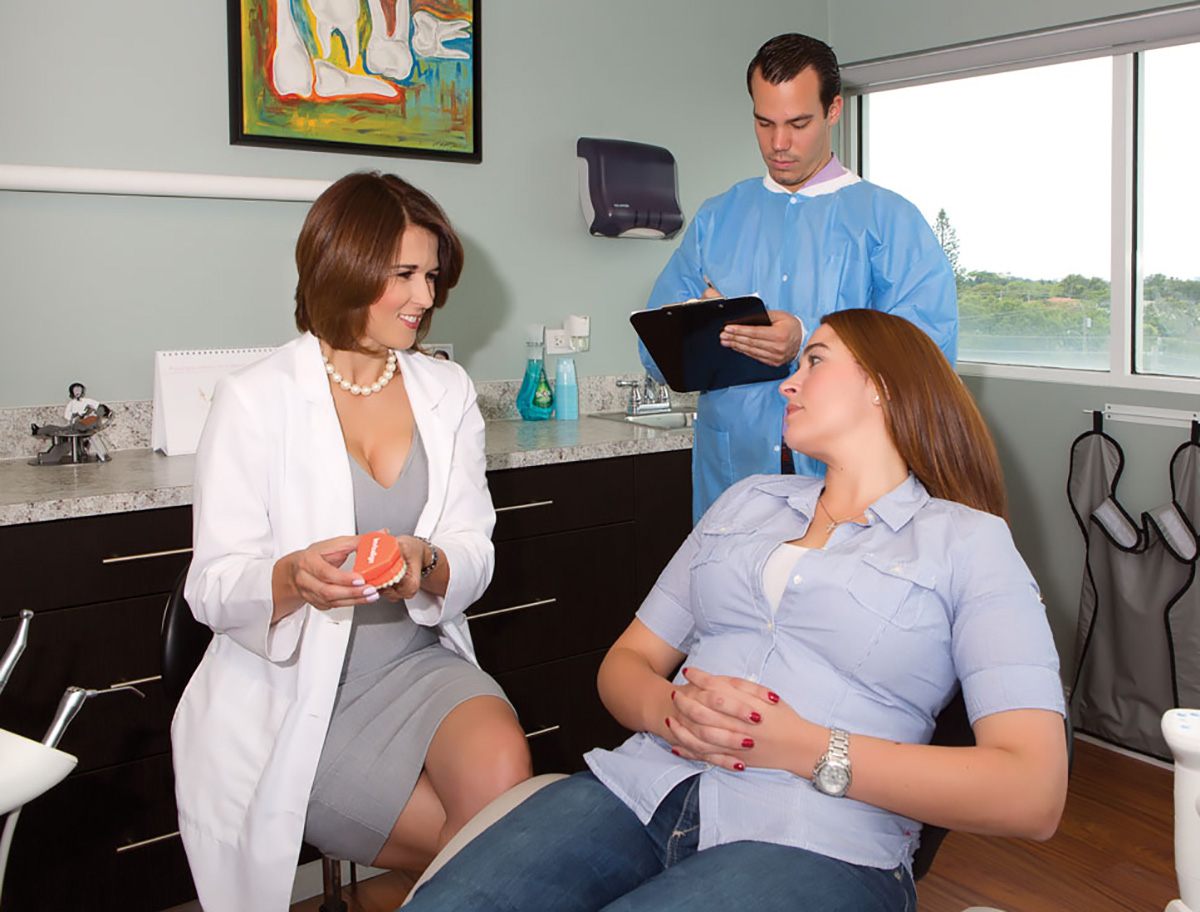 Jessica Eagan D.D.S.
1378 Coral Way, Ste. 500
305.856.1178
DrJEagan.com
"The best part of my job is seeing the look on my patients' face when they see the transformation of their smile for the first time."
"It's amazing to see a patient's demeanor change and their self-esteem improve from one appointment to the next after I've helped beautify their smile," says Jessica Eagan D.D.S. She was inspired to pursue dentistry when she accompanied her grandmother to the dentist at age 17. "The staff was extremely unprofessional, the atmosphere very unpleasant and the treatment delivered to my grandmother less than clinically satisfactory," she recalls. "That day I realized a dentist does much more than fill cavities and take out teeth, we transform and customize smiles, esthetically changing the way one looks and feels about themselves and ultimately improving self-esteem." In her brand new, state-of-the-art facility, Dr. Eagan stays on the forefront of modern dentistry with an interdisciplinary approach that allows her to encompass all aspects of general and cosmetic dentistry. She and her team of dental specialists offer dental implants, porcelain veneers, Invisalign and tooth whitening, among other services. She's also a certified provider for a variety of facial injectibles that eliminate unwanted lines and wrinkles, create fuller lips, add contours, and even fix minor indentations in the nose. "Providing each and every patient with the personal attention they need is always my main goal — present and future," she says.
DOCTOR'S ORDERS
Porcelain Veneers are durable porcelain laminated bonded to your tooth with minimal tooth preparation. Virtually undetectable, they can correct a smile including the shape and size of teeth, cover internal tooth discoloration, fix unwanted spacing, crooked and crowded teeth and much more.
ASK THE DOCTOR
Q: My cardiologist said my gums may worsen my heart disease, is this true? Is there a link between the condition of my gums and heart disease and what can I do to stay healthier?
A:"Gum Disease/Periodontal Disease affects 80% of American Adults. Studies have shown that people with periodontal disease are more likely to have heart disease than those with healthy gums. Prevention is the best medicine so keeping up with your regular dental visits is essential for the removal of bacteria, decreasing your risk for gum and heart disease."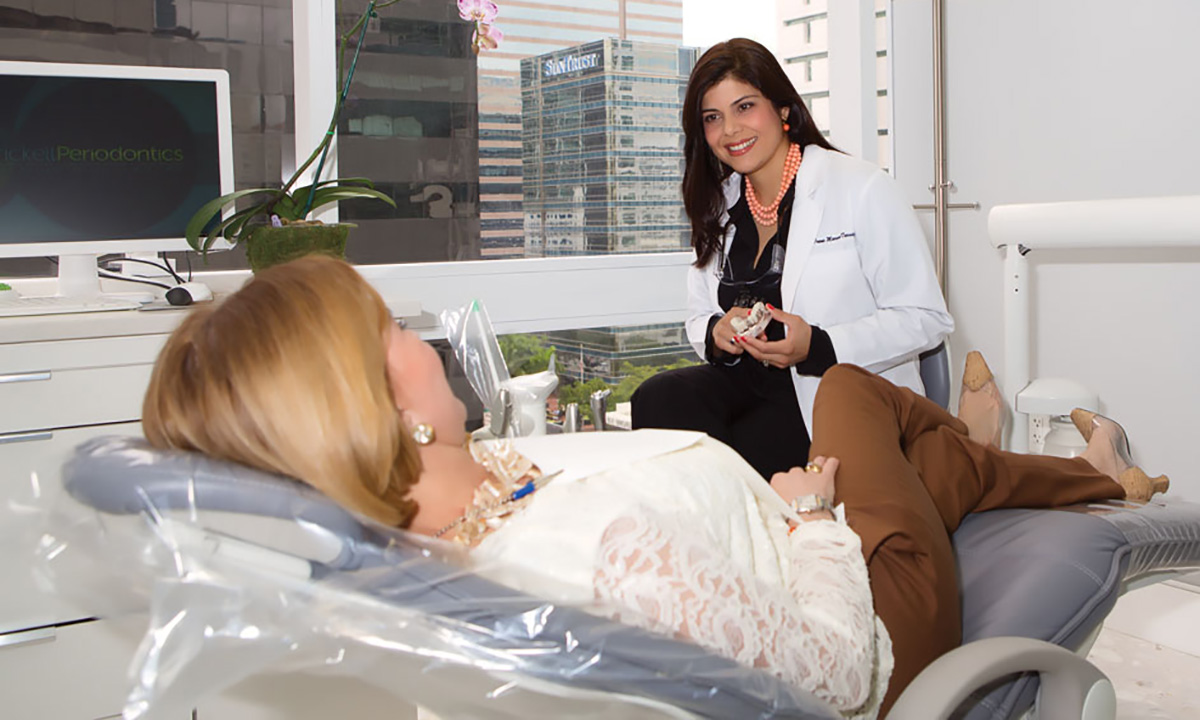 Irene Marron-Tarrazzi, D.MD.
Brickell Periodontics
848 Brickell Ave., Ste. 940
305.646.1524
BrickellPerio.com
"In dentistry, every patient has a unique need that requires specific knowledge and skills to provide the best outcome. For me, it's about improving the patient's quality of life."
Irene Marron-Tarrazzi, D.M.D., M.S. uses the latest technology at her state-of-the-art periodontal practice for the prevention and treatment of periodontal diseases, including dental implants, gingival grafts, bone regeneration, sinus lifts, exposure of impacted teeth and crown lengthening, to list a few. "My mother was a true inspiration," she says. "Seeing her as a successful dentist and as a housewife helped me understand that as women we can have it all. Observing her at work and witnessing the close relationships she created with her patients inspired me to achieve my own personal and professional goals." At Brickell Periodontics, each patient is given a unique and personalize experience in the warm, understanding, committed-to-excellence environment that goes above and beyond what we normally find in today's fast-paced world. Dr. Marron-Tarrazzi is equally committed to giving back to the dental community and is on councils and committees that oversee critical legislative issues and the future of new dentists. "Being involved helps me stay connected and always aware of the changes that dentistry faces," she says. "Dentistry is a hands-on profession with daily challenges that require the combination of critical thinking, compassion and talent. I enjoy the sense of achievement and pride in your own handiwork that comes from reestablishing the health and wellbeing of a patient."
DOCTOR'S ORDERS
As an adjunct to veneers or crowns, the bone and gums that surround your teeth can be recontoured to expose more of the natural tooth to give you the most pleasing smile possible. This procedure is called Esthetic Crown Lengthening. It's almost painless and gives instant results."
ASK THE DOCTOR
Q: Why do I have to come for a cleaning every 6 months? After all, I do brush and floss on a daily basis.
A:"Prevention equals Periodontal Health. Think of your gums as the foundation for your teeth. Without a healthy, stable foundation, you risk losing your teeth. Your efforts at taking control of your periodontal health and keeping your gums in good shape are vital to the wellness of your whole body."