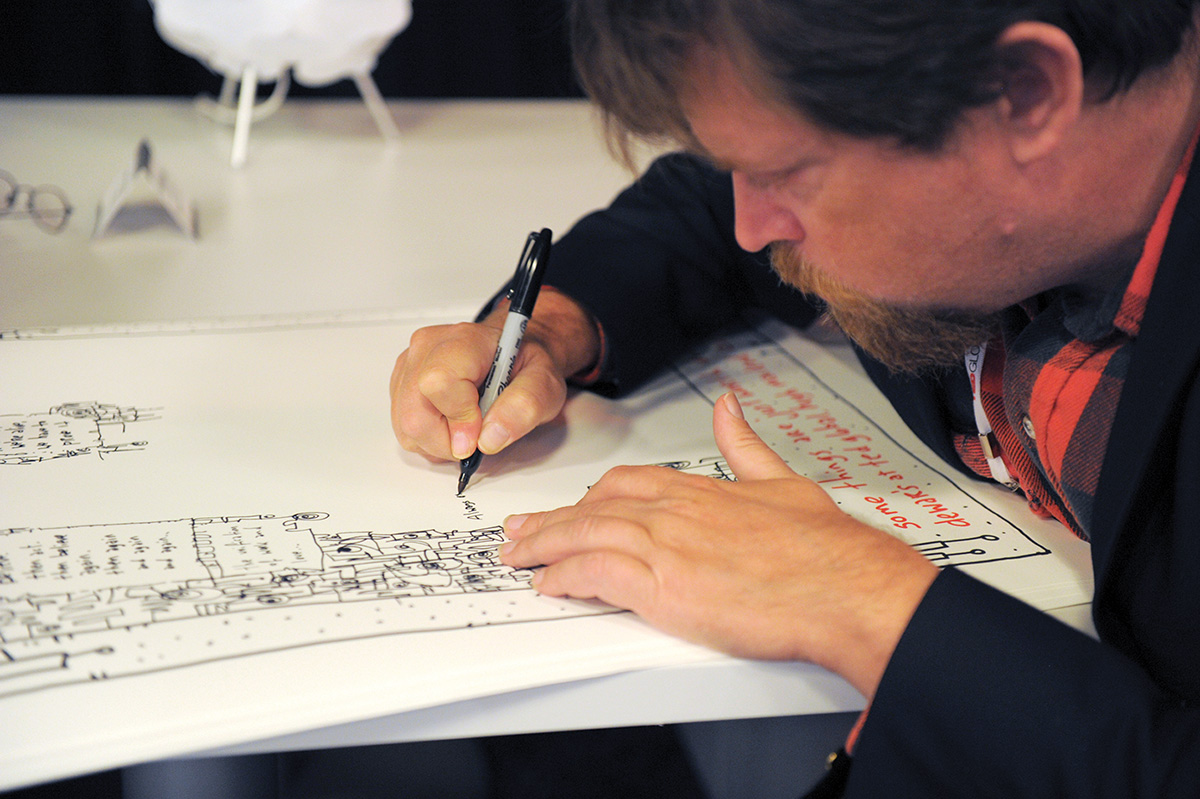 Hugh MacLeod, Co-Founder & Creative Director of Gapingvoid, is all about art and its many forms. In his current position, he's a cartoonist, interested in how art affects company culture. "It's more than just inspiration," he stresses. "The artwork we make is scientifically designed to change behaviors inside large organizations. We have been fortunate to work with some of the most interesting companies on the planet like Microsoft, Zappos and Intel." Today, he and his team continue to work with large employers, helping them make what they do more human and meaningful for their employees, which in turn helps them find job satisfaction and connect to customers on a more genuine level.
Even from an early age, MacLeod says he always found the adult world fascinating. "I was always insanely curious about what actually motivated 'the big people,' and wondered why adult life seemed so much more ambiguous than being a kid," he says. By keeping his creativity and curiosity intact as he entered the professional world, he soon found out the answer to his question. He spent his first decade working in the advertising business, writing ads in Chicago and New York. There, he learned not just what he wanted to do, but his experience highlighted the extent to which even great companies waste huge amounts of money on a daily basis. This solidified his determination to create products and services that didn't.
Moreover, MacLeod has always been an innovator, even back in the early days of the internet. He was one of the first professional marketing bloggers a decade ago, and back then, doing anything with an overt commercial agenda was considered sacrilege; now, almost all bloggers follow in those footsteps, even to the extent that it's now considered a viable career with solid prospects for growth.
And that, MacLeod says, is the best part of whatever project he's working on — beginning something with a certain vision, working out the kinks, creating a solid foundation for it, and watching it flourish and grow. "We occupy a unique niche other firms completely ignore — the ability of art on office walls to spread ideas, define culture and change behaviors," he says; Gapingvoid.com.