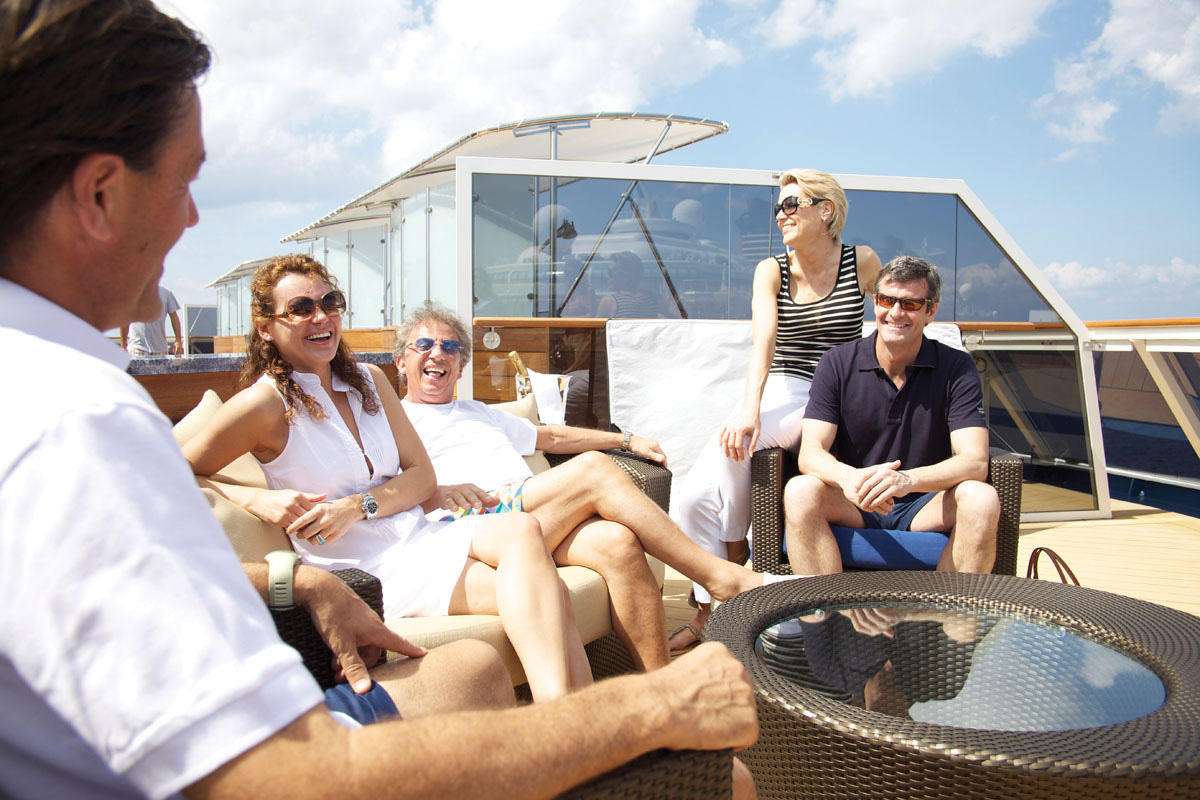 Its never-ending itinerary takes you to the far reaches of the planet. Its relaxed atmosphere makes you want to call it home no matter what port comprises the view. Sophisticated travelers now have the opportunity to enjoy an exclusive realm of exploration that's at once effortless, motivating and unforgettable. Herewith: Excerpts from the journal entries of a variety of renters depicting life abroad The World.
July 4, 2009 – The Albertinis
Happy Fourth of July! Jennifer and I got to Seattle yesterday, and even though we stopped in before, it was great to see the that the city got bigger and better as we pulled in. Our new friends from New Zealand, Joann and Stephen, have never been to Seattle. We're pretty sure we can show them a good time! There's Pike Place Market, Chinatown and of course the Space Needle.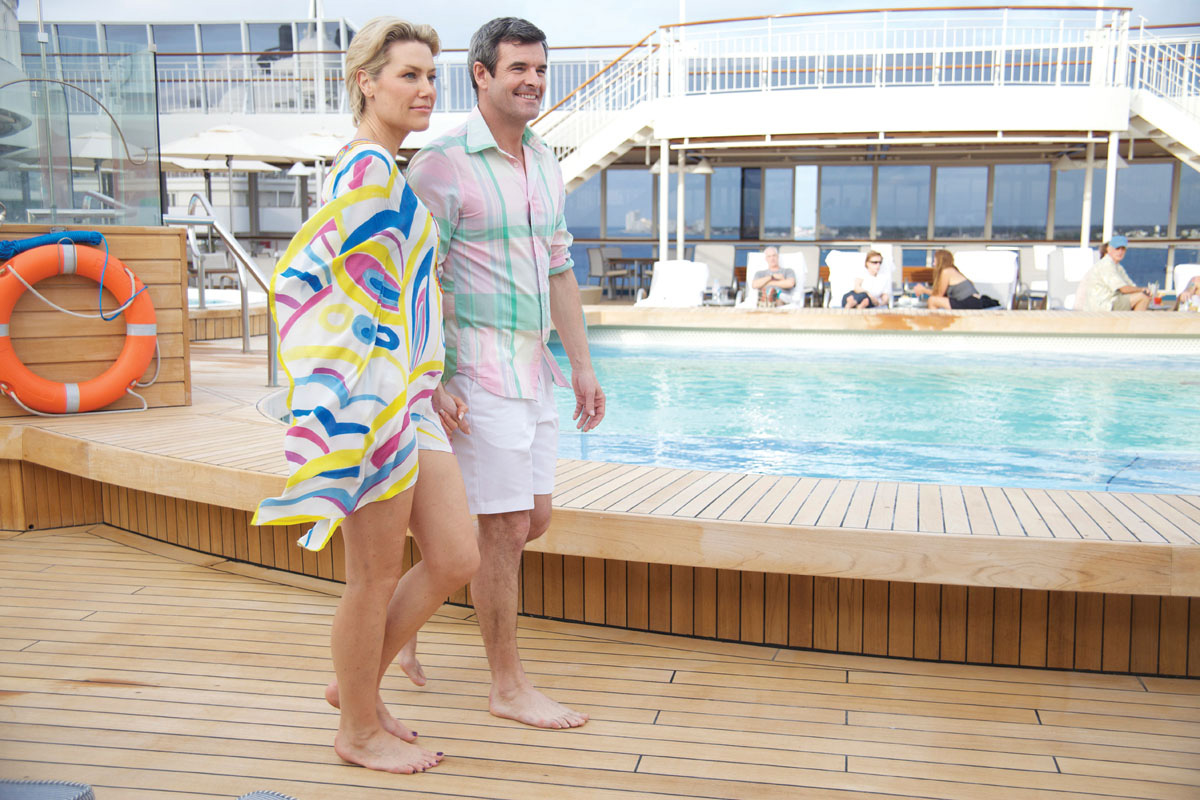 Stephen and I ended up reeling in a monster at Pike Place, where we laughed like kids as the girls waited their turn. Jen and Joann were both so happy, even though I could see the bait was making them a little grossed out. The look on their faces is exactly what this trip is all about — living life to the fullest and making our dreams come true while taking pictures of all the less glamorous moments that keep us grounded.
Of course, the minute we return to our awesome apartment onboard, we're right back to feeling like royalty. This place is HUGE! And it's starting to feel like home now, even though we're only aboard for a couple more days. Ok, time for some fireworks and a nightcap at the pool bar…shots on me!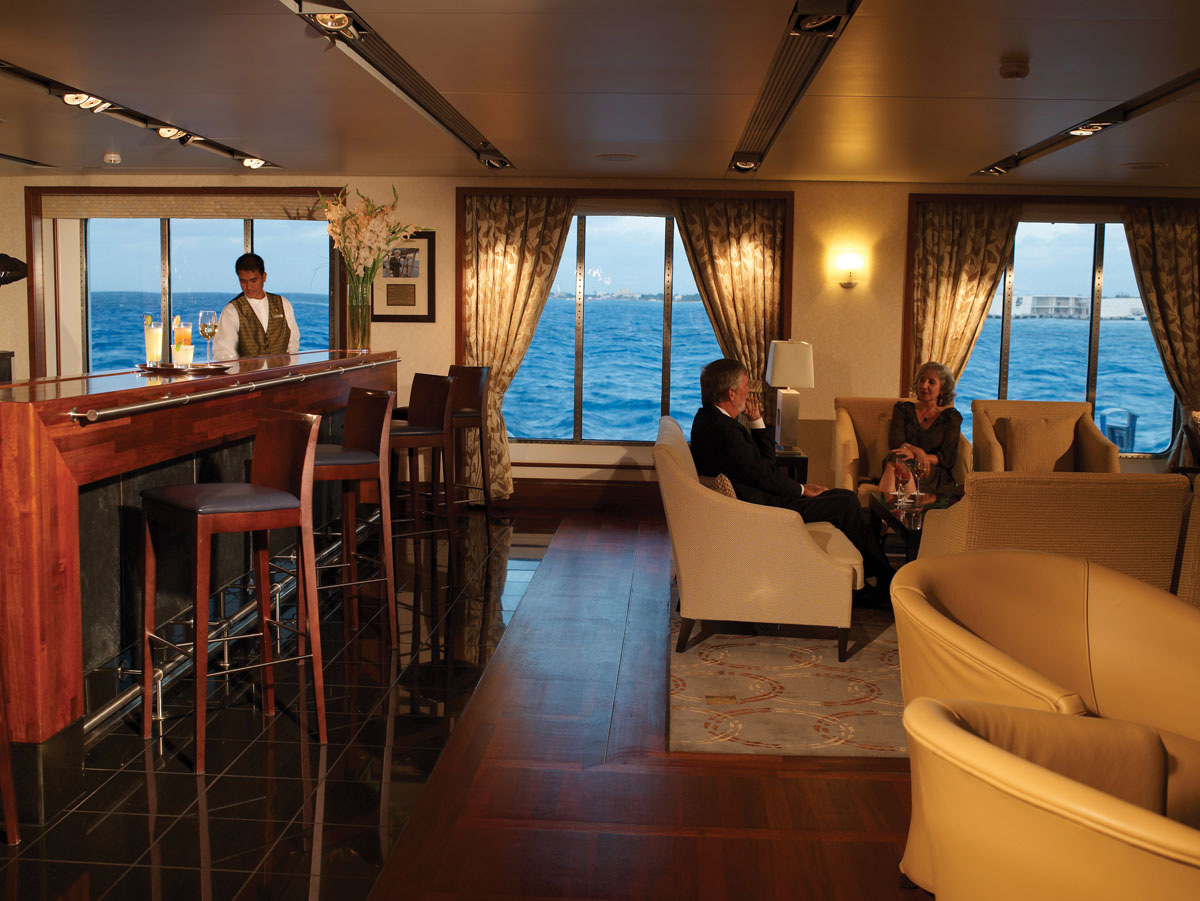 Aug. 4, 2009 – Maria Silva
OMG! Am I the luckiest woman alive or what?! I'm so grateful to be aboard this amazing ship! I feel like Kate Winslet in Titanic! All I'm missing is my Jack! There are so many wonderful people onboard, the food is great and the views, well, those are so breathtaking I wonder if my lungs will ever recover! Today, we were in Anchorage, the largest city in Alaska. Now that it's summer, the days are very long and the temperatures have been in the 60s all day. Perfect weather for taking the "flight-seeing" tour that Art, a member of the expedition team, recommended. I've never been on a Cessna and was a little nervous about the water landing…but once aboard the plane, with Juan's (ok, he's my Jack for now…) hand grasped for comfort, I was mesmerized by the cliffs.
Our guide pointed out the Dall Sheep in the valley of the Chugach Mountains…they seem to stand sideways, defying gravity on the rocky mountainside. We saw Turnagain Arm, an area named by Capt. James Cook in the 1770s when he had to keep turning around and tracing his steps trying to find the Northwest Passage. I never really knew I liked history until today! (In this case, I hope history repeats itself!) I can only imagine how difficult it must have been to navigate this terrain on foot years ago with only your instincts as a guide. At least the view was nice…
A few hours after that last thought, I held my breath during our water landing, while Juan stared out the window, a look of utter exhilaration on his face. I have to admit, after all the worry throughout the day, landing was a breeze!
After the excitement, we got back on the ship and had a pretty uneventful night. (Hey, we were tired from all the excitment all day!) We did manage to order dinner from room service and picked up a movie from The Library and a few midnight snacks from Fredy's. A quiet night in our room, with breathtaking views of Anchorage through the window and a snoring Juanito by my side. I am a lucky, lucky girl.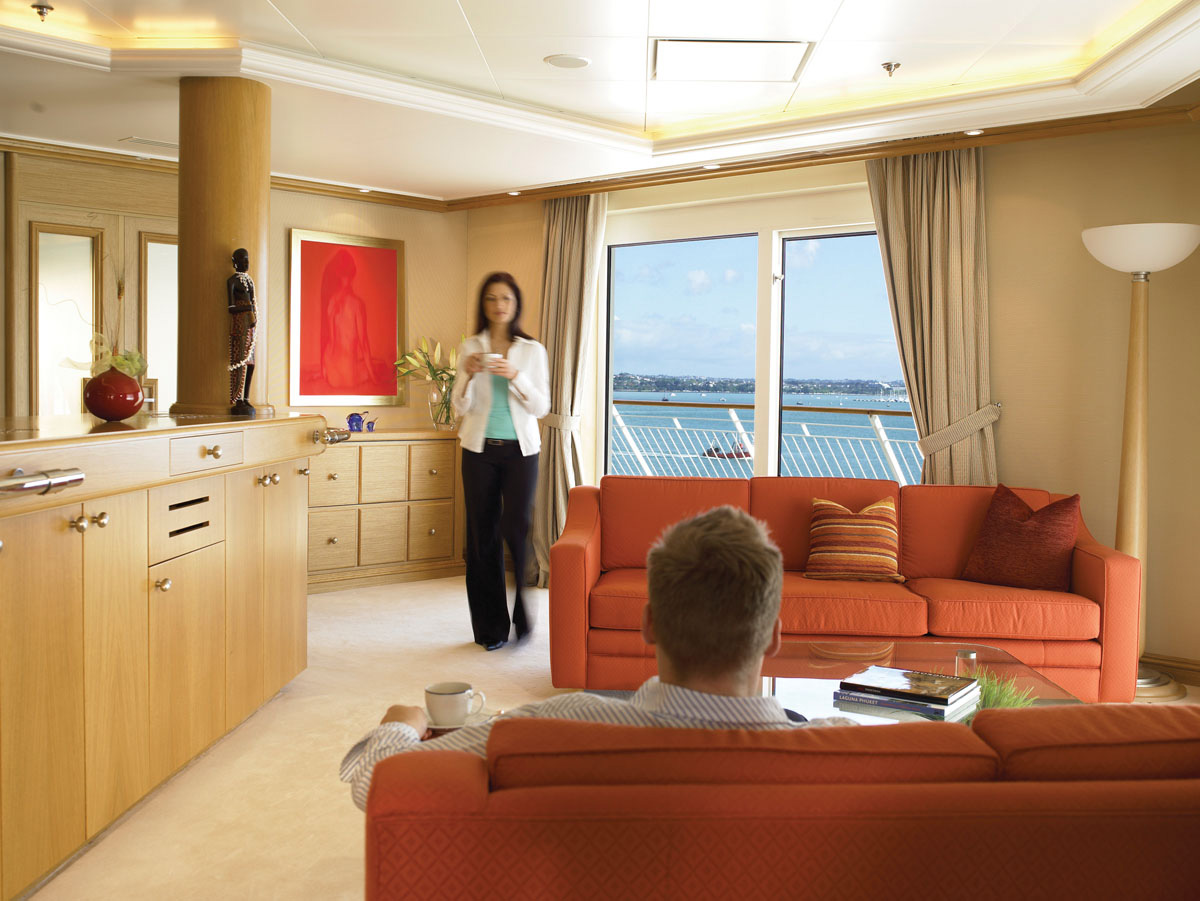 Aug. 10, 2009 – Samantha Stein
Today was a glorious day to be living at sea…the weather brisk, the sea calm, and the views from the deck amazing! I, of course, took advantage of the Banyan Tree Spa where the refreshing scent of eucalyptus immediately puts me at ease. I booked a Radiance Facial with Tawny and a Thai Massage with Susan. The 90-minute facial left me looking glowing, and dare I say it, a little younger. The 2,500-year-old ritual of Thai Massage was a new experience for me. The oil-free massage and delicate stretching energized me. Afterward, I visited the steam room for a while, only adding to the benefits of the massage I had just received. Charlie, on the other hand, spent the afternoon with his buddies, in his version of a spa day, at the Cigar Bar, sipping cognac, smoking a stogy and talking about life.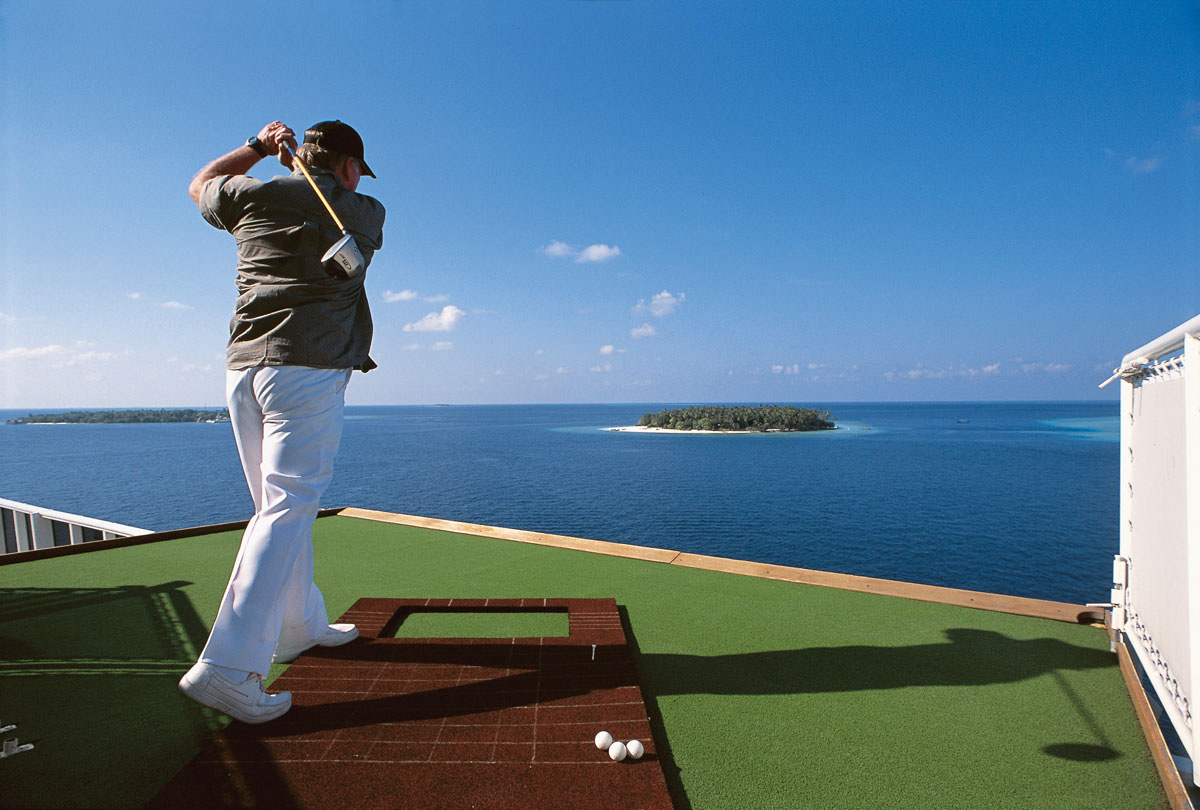 We've made such great friends onboard, interesting characters with similar interests. It's so great to have them to share these amazing experiences with us. Tonight we're having dinner with Mark and Charlotte at The Marina on Deck 5. We always have such a good time with them, sharing a great meal, discussing where we've been so far and planning our next adventure!
To begin your life onboard The World, or to rent one of its 165 private luxury suites, contact Jennifer McClain (formerly Perez), Sales & Guest Manager, at 954.538.8413 or [email protected]. For more information, visit AboardTheWorld.com.