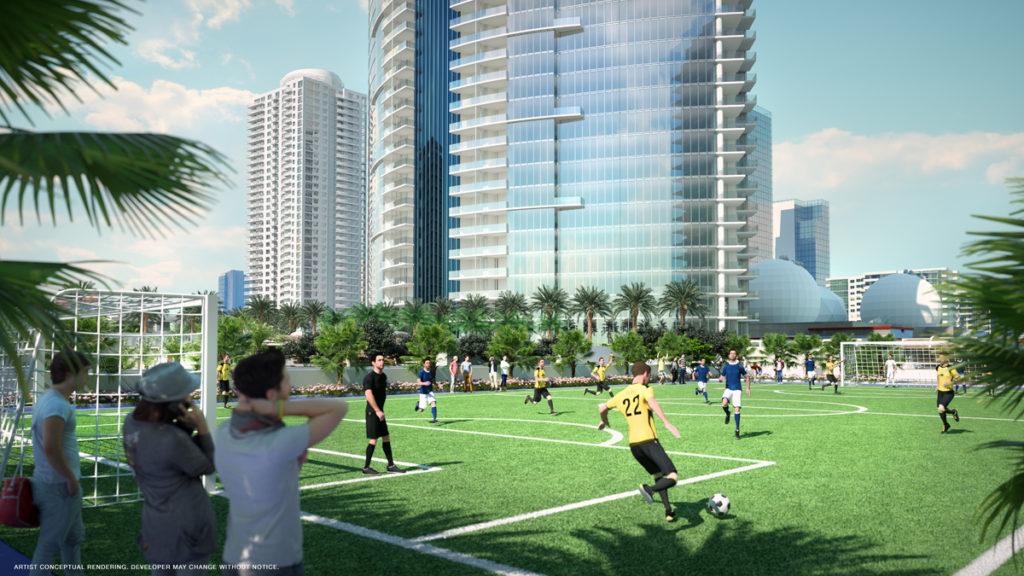 Sports Complex @ PARAMOUNT Miami Worldcenter
Featuring an upper deck soccer field, tennis court, golf simulator, basketball, racquetball, yoga and an expansive fitness center plus ample pools for swimming and walking paths galore…athletes the world over will rejoice at PARAMOUNT's fitness and wellness offerings which are at once jaw-dropping and breathtaking; PARAMOUNTMiami.com.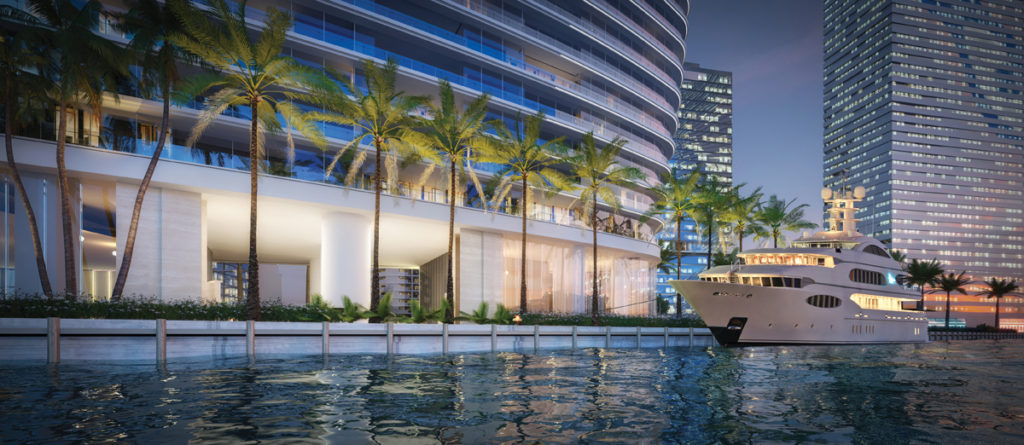 Private Superyacht Marina @ Aston Martin Residences
Taking the notion of land, sea and air to the next level, Aston Martin Residences will welcome owners and their guests to pull their superyachts right up to their own "backyard." "As the development is right on the Miami River with direct access from the Atlantic Ocean, it makes sense that owners and their guests may wish to birth their superyachts right outside of their properties," says German Coto, CEO of G&G Business Developments. "We're also focusing on our green credentials, protecting and restoring marine ecology to safeguard the wildlife and conserve the stunning location."; AstonMartinResidences.com.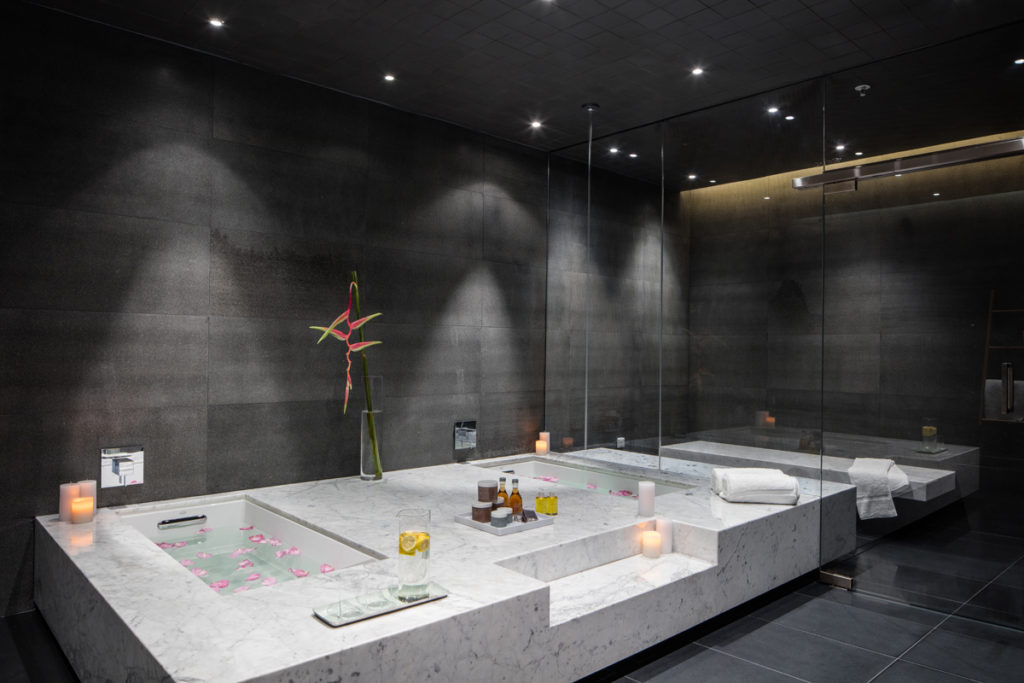 Hammam Spa @ Reach and Rise
Lap up the lifestyle and unwind at the exclusive resident's spa at Reach and Rise with a pair of Hammam Spas featuring dipping pools, showers and steam rooms. Residents can take advantage of the co-ed spaces made with Carrara marble and bush-hammered black stone, located in each of the towers. Accommodating up to 10 people, the spas also feature multifunctional treatment rooms, adjacent hair salons and mani/pedi stations; SwireProps.com; BrickellCityCentre.com.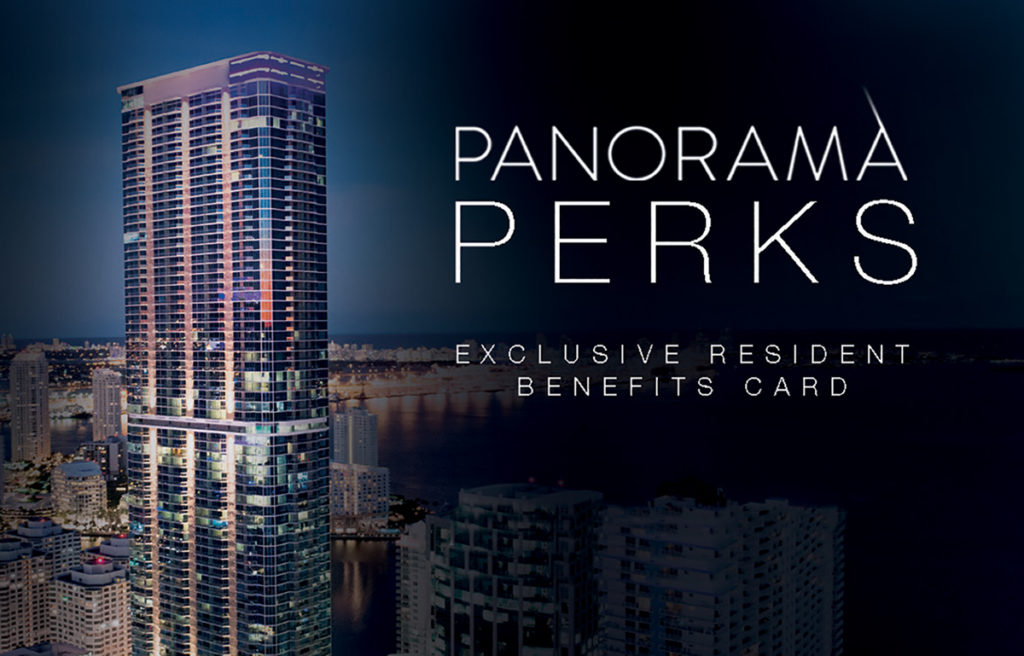 Panorama Perks @ Panorama Tower
Soaring 85 stories into the Brickell sky, Panorama Tower is the tallest residential building south of Manhattan. Panorama Perks is a curated program for Panorama residents offering a wide array of incentives from local bars, restaurants and retail shops, including Baby Jane, Barsecco, Brightline, Caña Restaurant, Caudalie, DC Pie Co by Lucali, Dogtown, Fleming's, Jaxson Maximus, La Centrale, Latin Café Brickell, Luke's Lobster, Rik Rak, STITCHED and Tacology. "As the Brickell area's most sought-after address with endless opportunities for exceptional living, we continually strive to deliver a living experience above all else and to exceed our residents' every expectation," says Jerome Hollo, Executive VP of Florida East Coast Realty, developer of Panorama Tower; PanoramaTower.com.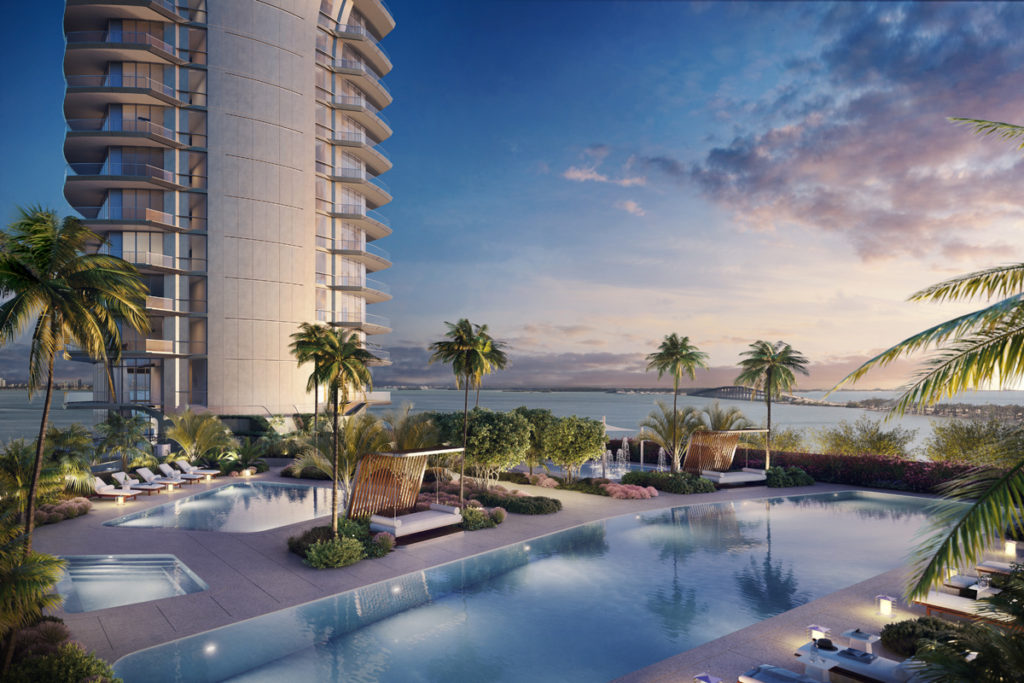 Pools @ Una Residences
Resort-style living takes on new meaning at Una Residents, where an array of luxury swimming pools take center stage, highlighting a lavish lifestyle enhanced by the natural beauty of Biscayne Bay. Residents will enjoy a leisurely Bayfront Pool, offering a tranquil retreat with unsurpassed waterfront views; an expansive Lap Pool suited for those who value swimming for fitness and sport; a Family Pool complemented by cabanas and varying depths; a Whirlpool for outdoor-spa experiences; and a Splash Pad with a kids' wading pool complete with sprinklers for the entire family to enjoy; UnaResidences.com.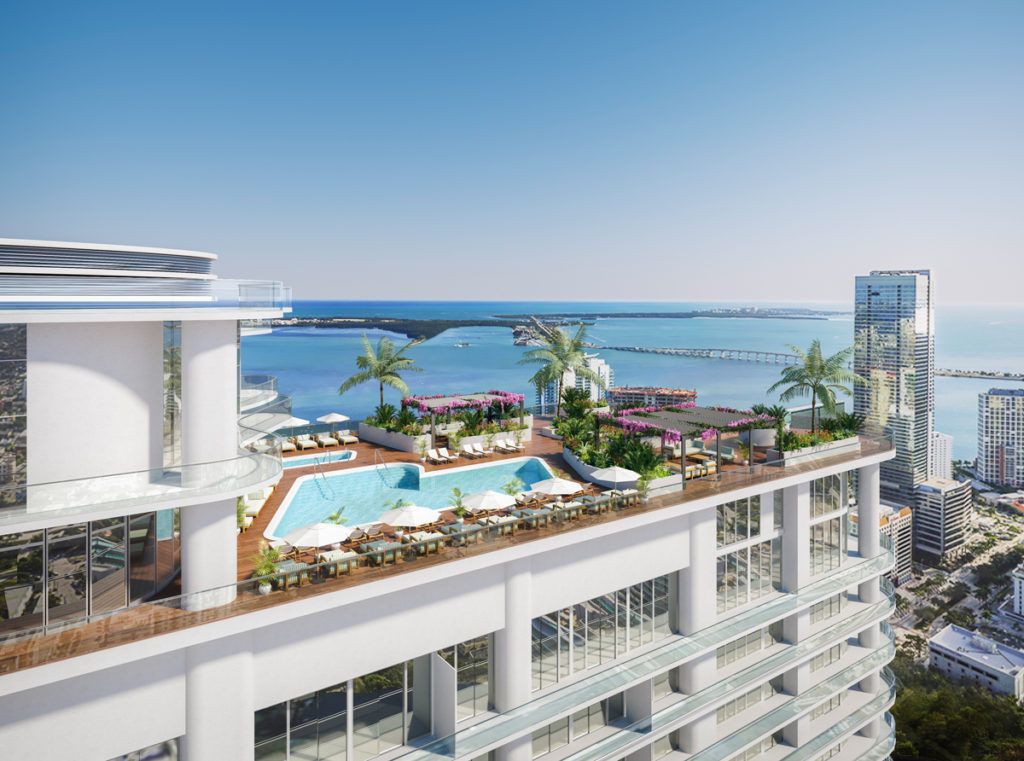 Everyone's Penthouse @ Brickell Flatiron
When it comes to high-end real estate, everyone wants to own the penthouse — and now they can! The crown jewel of Brickell Flatiron will be a Sky Spa & Pool Deck perched 64-stories over Downtown Miami — offering residents panoramic 360-degree views of the cityscape and Biscayne Bay. "We could have sold our penthouse for top-dollar, but instead we've made a design choice that will create added value for buyers over time," says Developer Ugo Colombo of CMC Group. From "cardio in the clouds" to a therapeutic steam shower to meditation and treatment rooms, there is no shortage of amenities to experience atop this world-class residential oasis; BrickellFlatiron.com.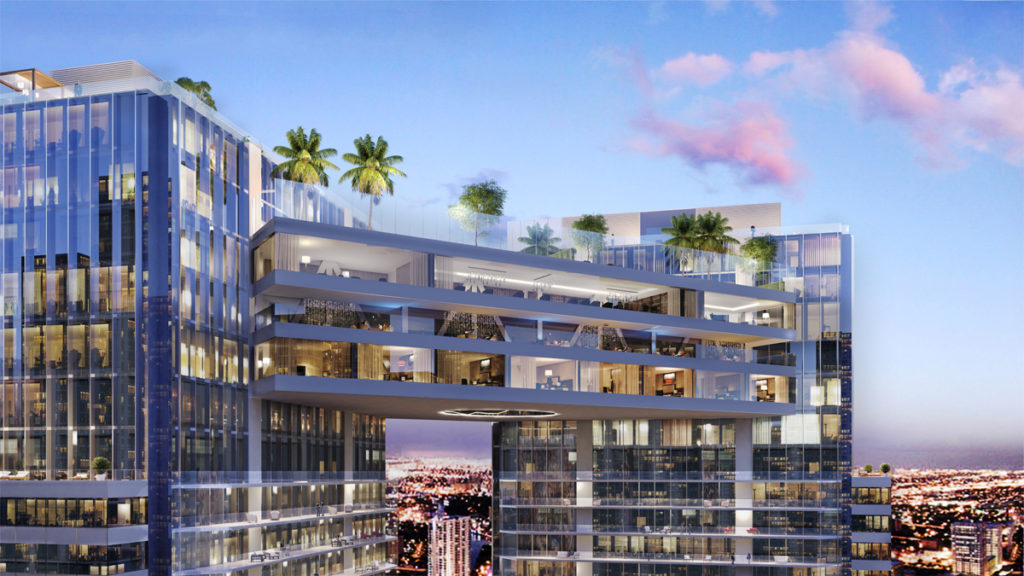 Skybridge @ One River Point
Curated by internationally acclaimed hotelier and lifestyle visionary Adrian Zecha, the Skybridge at One River Point is the definitive punctuation of the development's distinct architectural identity. Encased entirely in glass, its 50,000 square feet of dining, craft cocktail bars and lounges casts a privileged gaze 800 feet over Miami's cultural core. The private playground of fashionistas, jetset business travelers and high-style culture seekers alike, the Members' Club will play host to a calendar of private culinary, arts, fashion and wellness events; OneRiverPoint.com.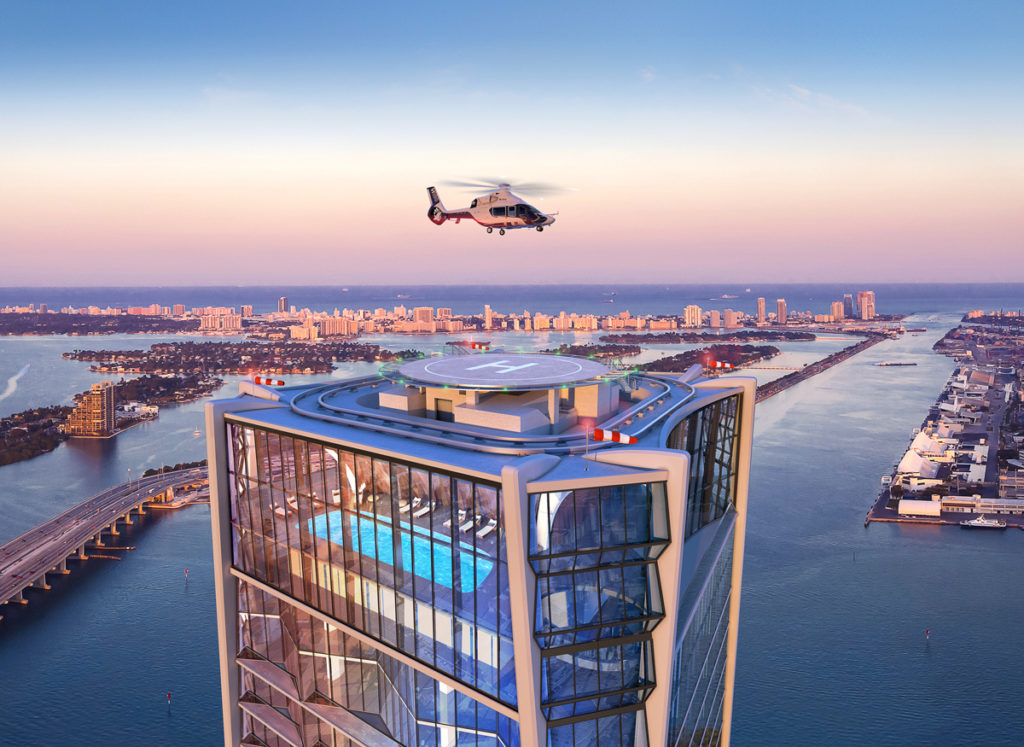 Helipad @ One Thousand Museum
One Thousand Museum, designed by Pritzker Prize-winning Zaha Hadid, is one of Miami's most prestigious new residential buildings. The property goes above and beyond by offering the ultimate in luxury lifestyle — a helipad available on-demand for residents. Through the building's luxury management service, residents can reserve the helipad and book transport to and from Miami International Airport as well as nearby islands, destinations and more without ever having to leave the building; 1000Museum.com.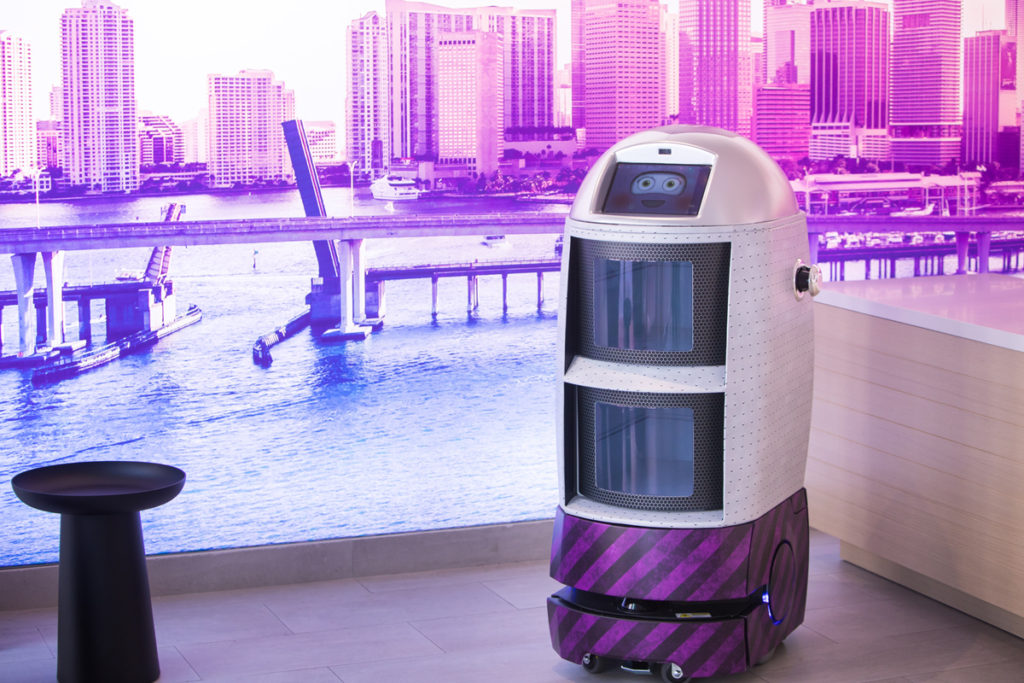 Robot Butler @ YotelPad Miami
Move over, Rosie! When YotelPad Miami launched the country's first condo development Techi Robot Butler, the world was both surprised and delighted. Lulu is designed and developed by robotics solutions company Techmetics and works side by side with staff to make deliveries to 231 Pads (residences) and 222 Cabins (hotel rooms). She is also cleverly automated to interact with people and can sing, chat and bring you a midnight snack all in one fell swoop! "We see value in offering tech-forward amenities that enhance the residential experience," says David Arditi, Principal of Aria Development Group. "Through this partnership with Techmetics, we are bringing something truly unique to the first YotelPad on the East Coast."; YotelPadMiami.com.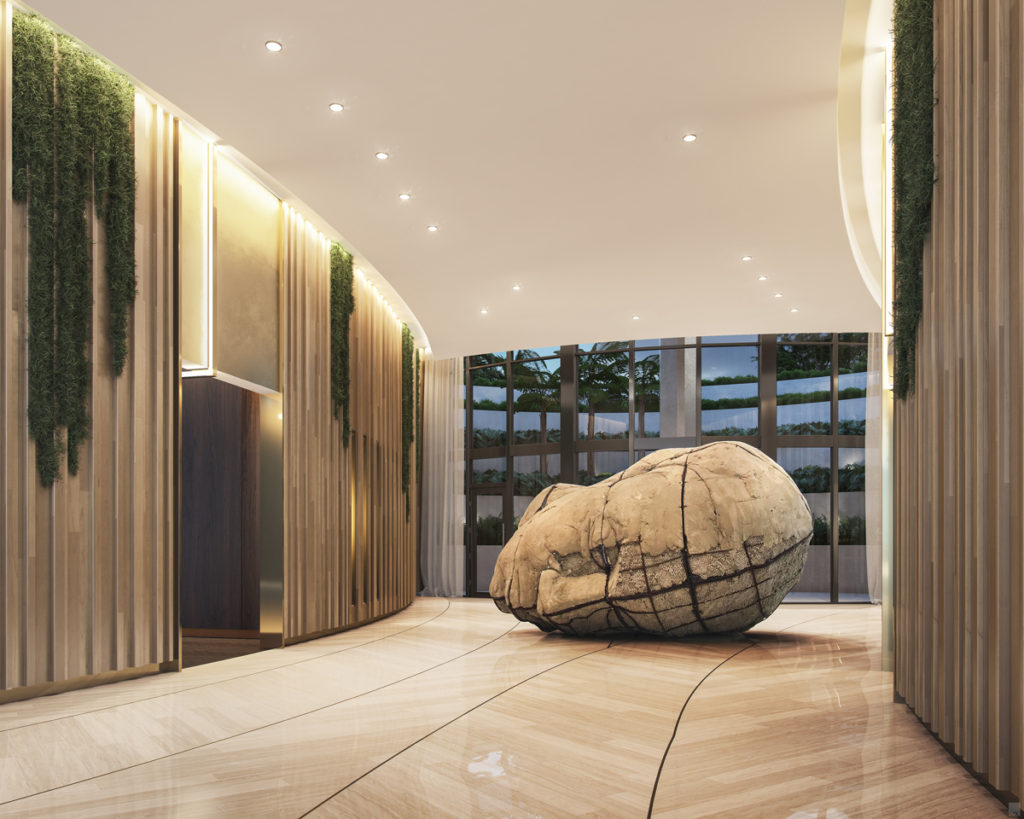 Private Amphitheatre @ Park Grove
Both an identifier for Coconut Grove, and a differentiator within the luxury real estate space, homeowners of Park Grove have access to over 50,000 square feet of carefully curated amenity spaces, along with staff and services to meet and exceed expectations. Among these, residents can enjoy a Private Amphitheater — a unique perk given Park Grove's dynamic and discerning community; Park-Grove.com.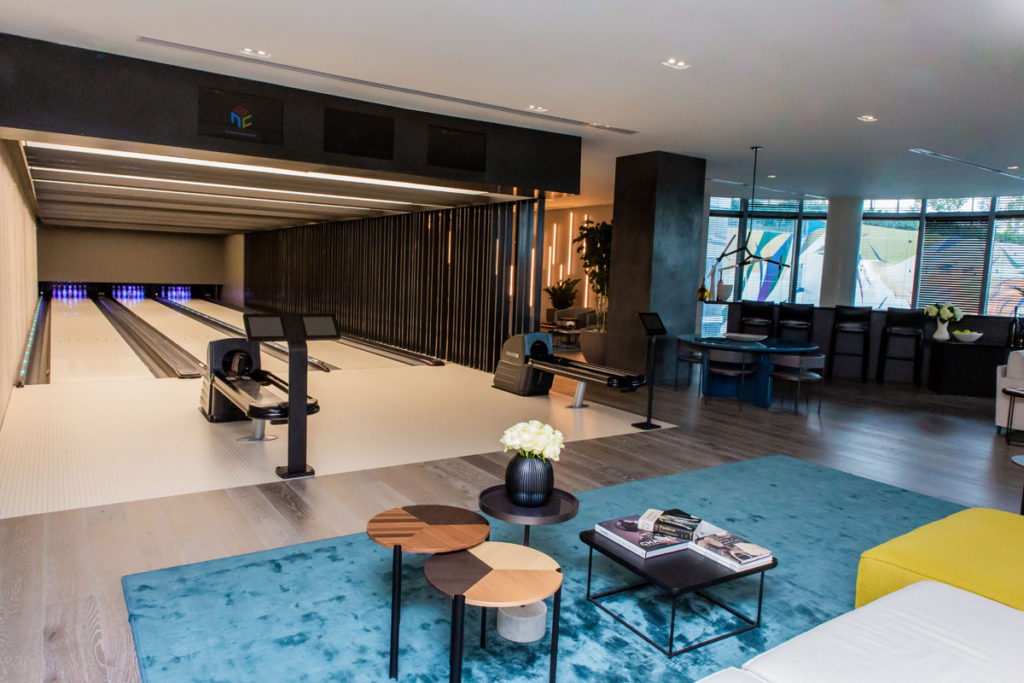 Bowling Alley @ Gran Paraiso
Get ready to shine up your lucky bowling ball — there's a new bowling alley in town at Gran Paraiso, and it could be the amenity you've always wanted but never knew you needed. The Paraiso District, the largest and most ambitious project by The Related Group, encompasses 11 acres of prime waterfront land in Miami's buzzing East Edgewater neighborhood and is now fully complete. Comprised of Paraiso Bay, Paraiso Bayviews, Gran Paraiso and One Paraiso, the community features over 1,400 residential developments and numerous museum-quality art installations and world-class amenities; GranParaisoResidences.com.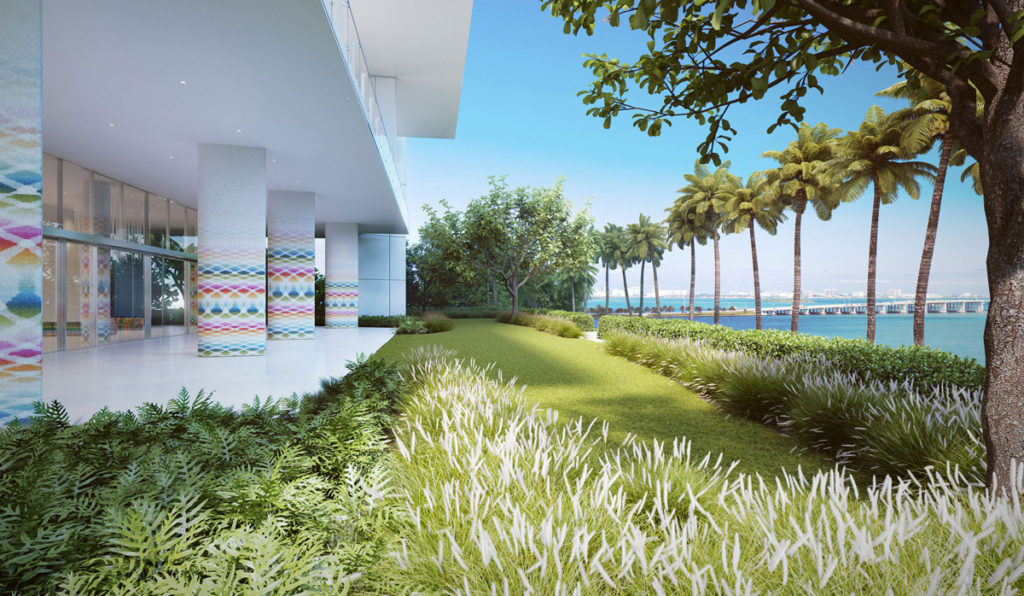 Baywalk @ Missoni Baia
With an impressive 200 linear feet of bayfront frontage, minimalist modern design and world-class architecture to maximize natural light, Missoni Baia has mastered the concept of letting the outside in. With an expansive array of outdoor bayfront amenities that can be enjoyed all year long, Missoni Baia also showcases one of the city's most beautifully landscaped baywalk paths along the water, hugged by lush tropical landscaping and amplified by crisp sea breezes; MissoniBaia.com.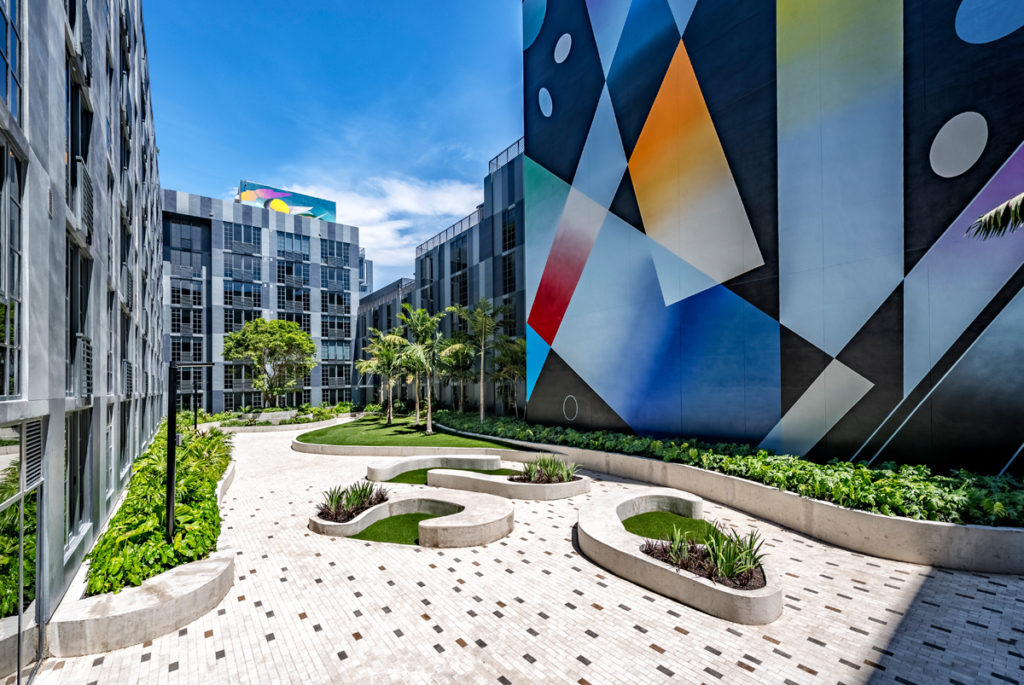 Interior Courtyard @ Wynwood 25
Developed by The Related Group and East End Capital, Wynwood 25 is the first new completed residential tower in the neighborhood. The project offers an abundance of amenities, from co-working spaces and a dog-washing station, to a spinning studio and rooftop pool. Most notably, the tower features an Interior Courtyard, where residents can enjoy massive art installations, weekly yoga classes and special events during Miami's endless social season; Wynwood25.com.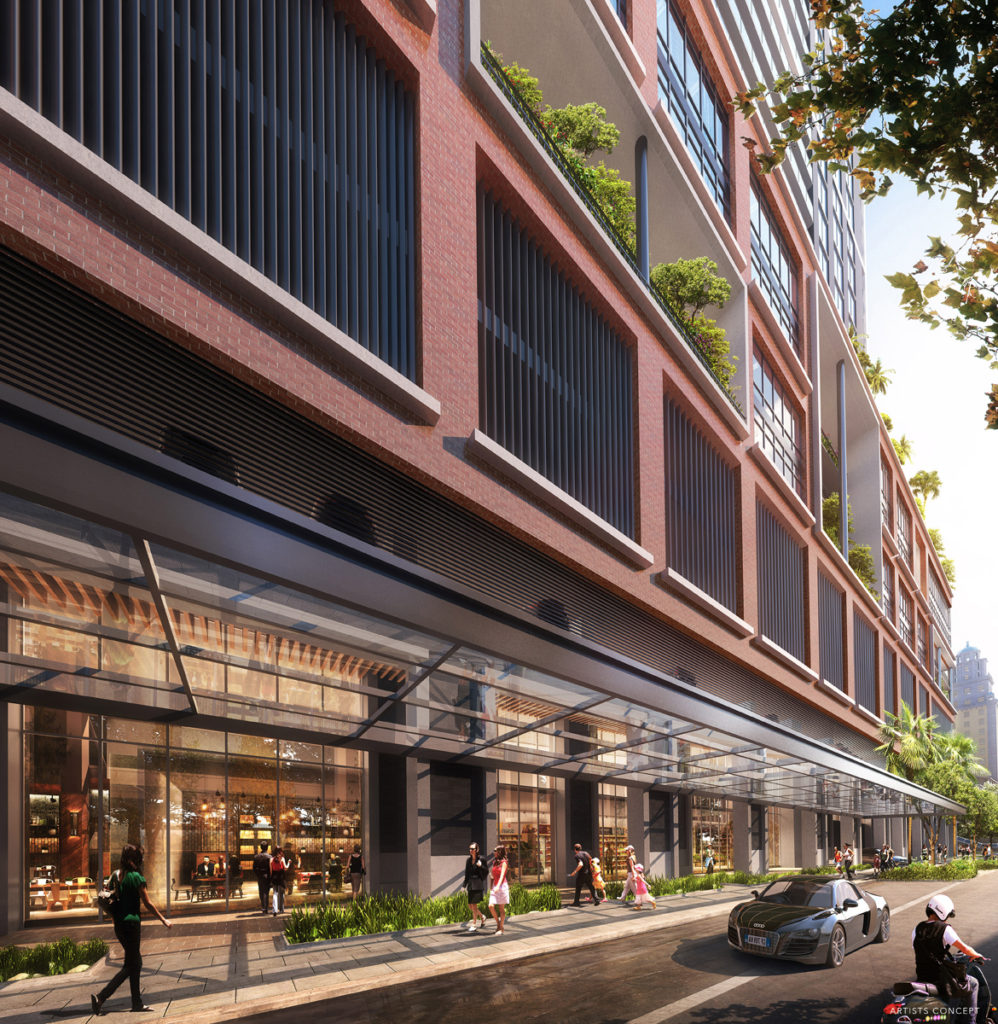 MasterHost @ Natiivo Miami
Ushering in a new concept of home sharing, Natiivo Miami, powered by Airbnb, offers the flexible benefits of ownership with the superior services of a high-end hotel. Unique to each Natiivo property is an onsite MasterHost that serves as an elevated concierge. Available around the clock, MasterHosts are Natiivo-certified experienced Airbnb hosts and local experts offering insider's tips on the best entertainment experiences, culinary adventures and must-see attractions; NatiivoMiami.com.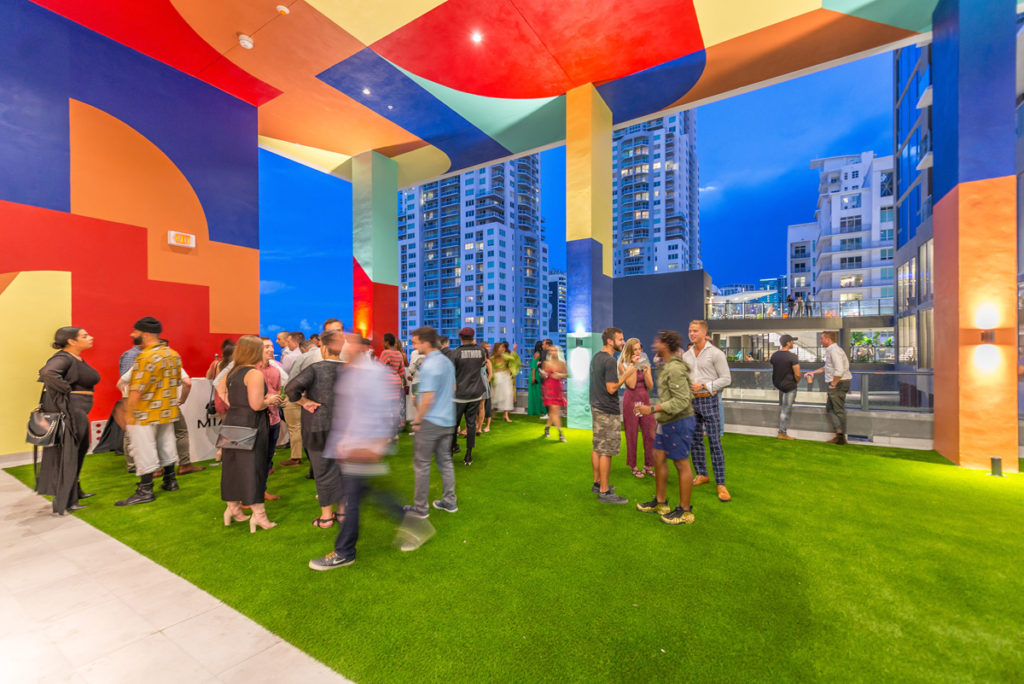 Community Vibe @ X Miami
Designed by PMG, X Miami is a 464-unit multi-family social community revolutionizing the way people rent apartments. With the philosophy that "Life's Better With Company," X Miami offers residents a space where they can experience community through shared experiences. Highlights include a food hall, oversized pool deck, outdoor bar & lounge, stage & lawn with terraced seating, a double-height amenity level with social lounge, media wall, co-working lab, modern gym, fitness studio, sky dog park and an outdoor amphitheater. X Miami's co-living concept specializes in thoughtful design, activated amenities and shared spaces — all designed to connect residents and promote an affordable community environment for all; XMiami.co.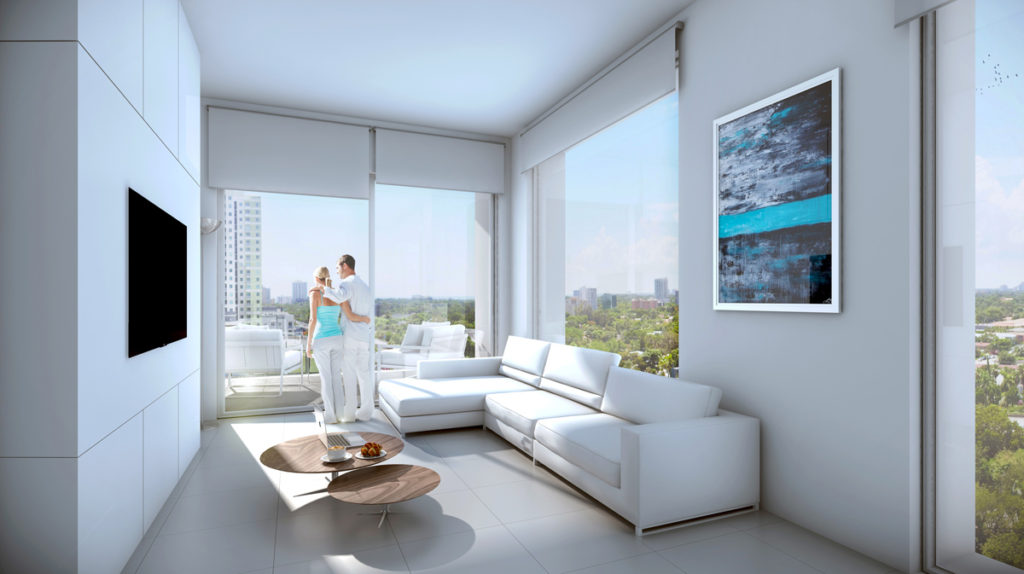 Smart Living @ Smart Brickell
Smart Brickell gives residents and guests the opportunity to experience integrated technology and amenities specifically designed to spark interaction and efficiency, acting as a gateway to Smart Living in the city. Amenities for Towers 1 & 2 will be equipped with state-of-the-art tech including top-of-the-line appliances, lighting features, mobile concierges, electric parking spaces and more. Staying true to its smart design, all three towers of Smart Brickell will adhere to LEED Certified regulations, the most widely used green building rating system in the world; SmartBrickell.com.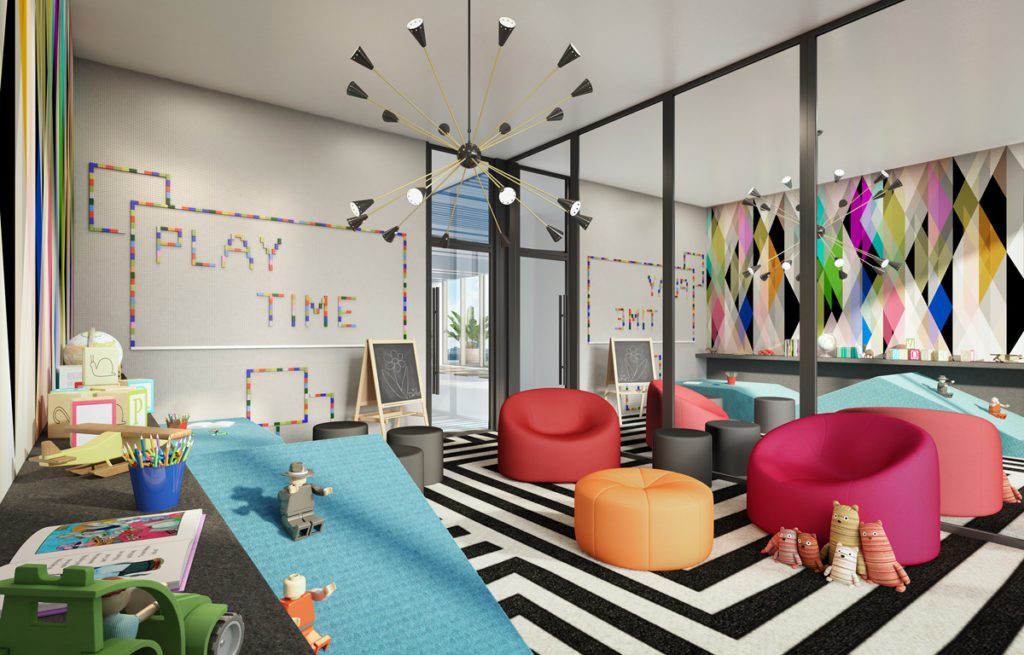 Play Room @ Elysee Miami
At 57-story Elysee Miami, Parisian designer Jean-Louis Deniot creates an elegant-yet-playful children's room with bold-colored wall coverings, modern furniture and an interactive Lego wall. Deniot's seamless finesse and signature style can be found throughout the building's common area interior spaces, including the grand lobby, bayside lounge, sunrise pool deck and Owner's Sky Lounge, featuring 360-degree bay and city views. The dramatic full-floor space is designed to serve as an extension of each residence with extravagant amenities including a full bar, piano lounge, wine room, chef's kitchen, library, private theater and game room; ElyseeMiami.com.