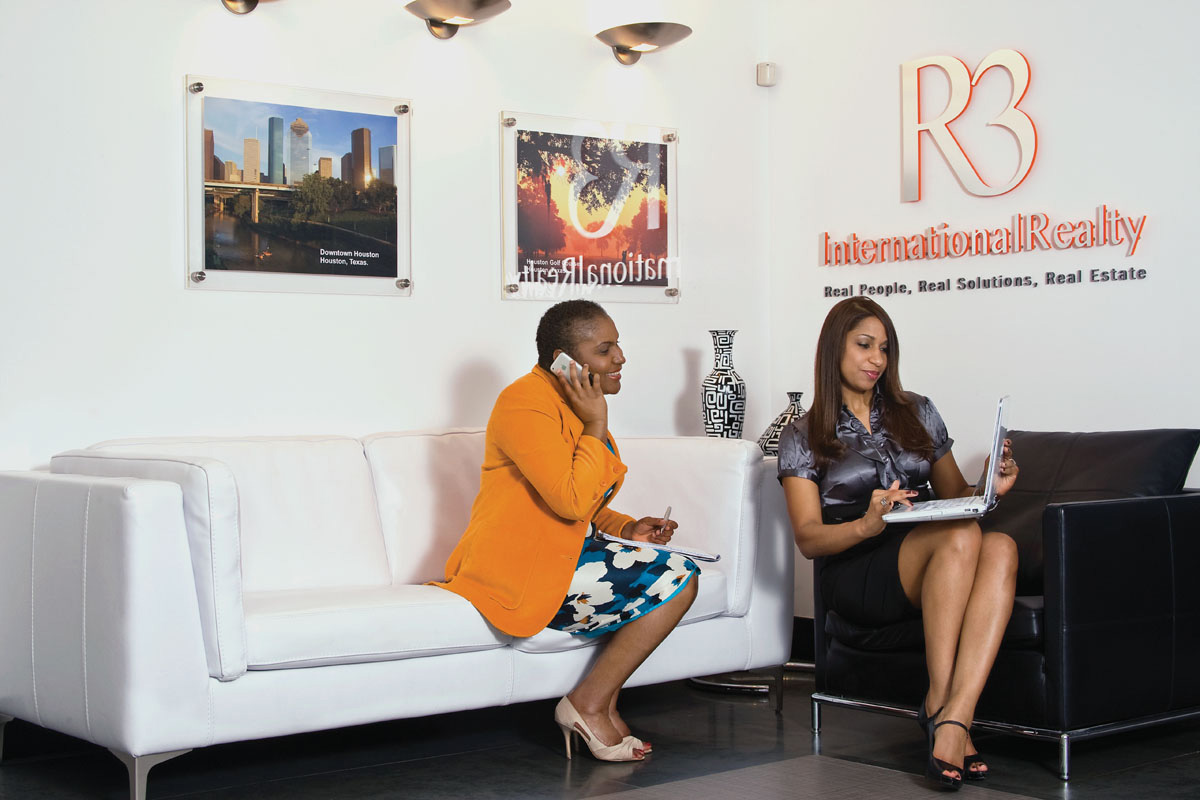 Dedicated Duo
Shelia Bokstein and Abigail Loiseau of R3 International Realty stop at nothing to develop real estate solutions that leave their clients satisfied and coming back for more.
Text by Luisana Suegart
Photo by Antonio Eli
Realtors Sheila Bokstein and Abigail Loiseau know very well it's all about location, location, location! It's why the two have partnered up at Brickell-based R3 International Realty, where they have been working together for two years to benefit their clients, and just as important, each other.
Bokstein started her career in real estate in her native Dominican Republican, while Loiseau got her start in Spain. Their career paths led them to Brickell, where both ladies now implement their savoir-faire in a working environment that both agree is based on balance. "Abigail is my inspiration. She is a fighter and extremely responsible," says Bokstein. "I'm very passionate. She's good at bringing me back down to earth and teaches me to be objective."
"Where one of us is more volatile, the other keeps the team grounded," adds Loiseau. "Sheila taught me to give things in life a second chance."
As it seems, they are on the same page, especially where work ethic is involved. "We divide our work so that each client receives the best attention possible, and sometimes we join forces to double-represent the client," Bokstein laughs. "Then they really feel like we have their back!"
And as in any successful business transaction, honesty and integrity are always a part of the equation. "He that is walking with wise persons will become wise, but he that has dealings with the stupid ones will fare badly," affirms Loiseau.
In between meeting with clients and juggling offers, Bokstein and Loiseau grab a bite at their favorite spot for a power lunch, Le Boudoir. When the time is right, the two head to happy hour at hotspots Segafredo and Novecento. "I enjoy a very active life in Brickell," says Bokstein. "It's a great mix between a residential and commercial community. It's safe, and well-located. What more can you ask for?!"
When they're not on Brickell, both of these ladies like to see the world. "I enjoy traveling, learning new cultures and widening my horizons," says Loiseau. Bokstein doesn't stray too far behind. "I love visiting places where there is a lot of nature, preferably where I can enjoy the sun and the ocean."
Regardless of where their travels or brimming appointment books take them, one thing's certain: This double-act will continue to join forces on Brickell to seal some very good deals for a very long time to come.
To meet Sheila Bokstein and Abigail Loiseau, call 305.381.7878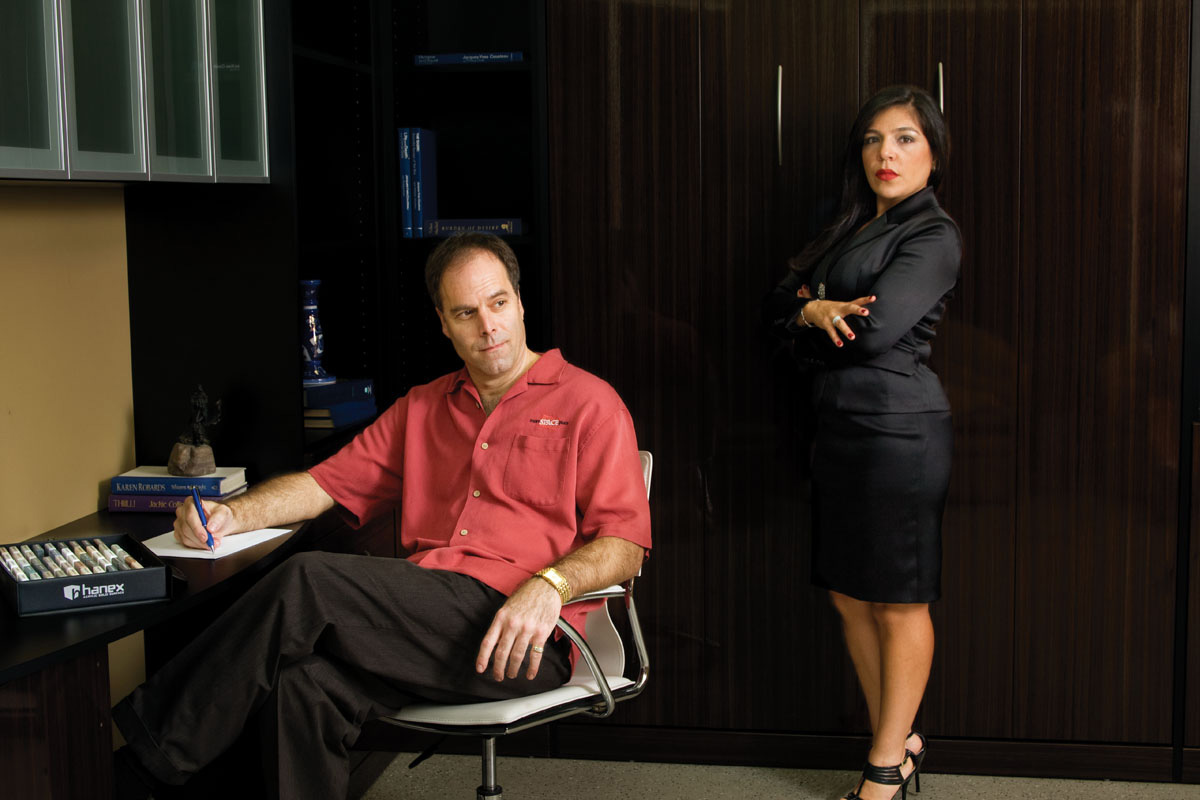 Perfect Place
For Robert Meyers and his partner, Cristina Maria Lloyd, of More Space Place, creating the perfect balance in a home is what both feel they were born to do — getting praise from all those they help to unclutter is just an added bonus.
Text by Luisana Suegart
Photo by Antonio Eli
Need more space in your place? Robert Meyers is your Ace! As VP of Retail Sales for More Space Place, Meyers builds on 20 years of experience improving lives through a little organization. "Over the years, I've developed many space-saving products that have become commonly sold in our industry today," he says.
Also known as "America's Murphy Bed Store," More Space Place is a chain of retail showrooms featuring a large selection of savings solutions for just about every room in your home — garage included! "I found it interesting that it was difficult to find a place to buy a Murphy Bed and decided to develop a concept showroom that was the central place to shop and buy one," says Meyers.
Originally dubbed Murphy Bed Centers of America, today More Space Place has expanded to include home offices, custom closets, media centers and much more. "I love being a problem-solver," Meyers says. "I get great satisfaction from seeing my clients benefit from my creative process."
Hard at work, too, is Meyers' partner, Cristina Maria Lloyd, a furniture designer who knows her stuff when it comes to space utilization, especially after being a Construction Project Manager in Florida for the likes of Starbucks and Washington Mutual. "I've always had a great passion for maximizing spaces to their fullest potential," she says. "In my projects, whether it's a renovation or a new space, my great passion and drive is to see nothing turn into something spectacular."
Whether their working from their 60,000-square-foot headquarters in Clearwater, Florida, or designing a penthouse on Brickell, one thing's certain: these two exude success. "When I put my gold watch and ring on every morning, it grounds me," says Meyers. "I feel like I become empowered with this invisible positive energy…they remind me to listen more intently and to speak words that thrive in the moment of possibility."
To meet Robert Meyers and Cristina Maria Lloyd, call 727.539.1611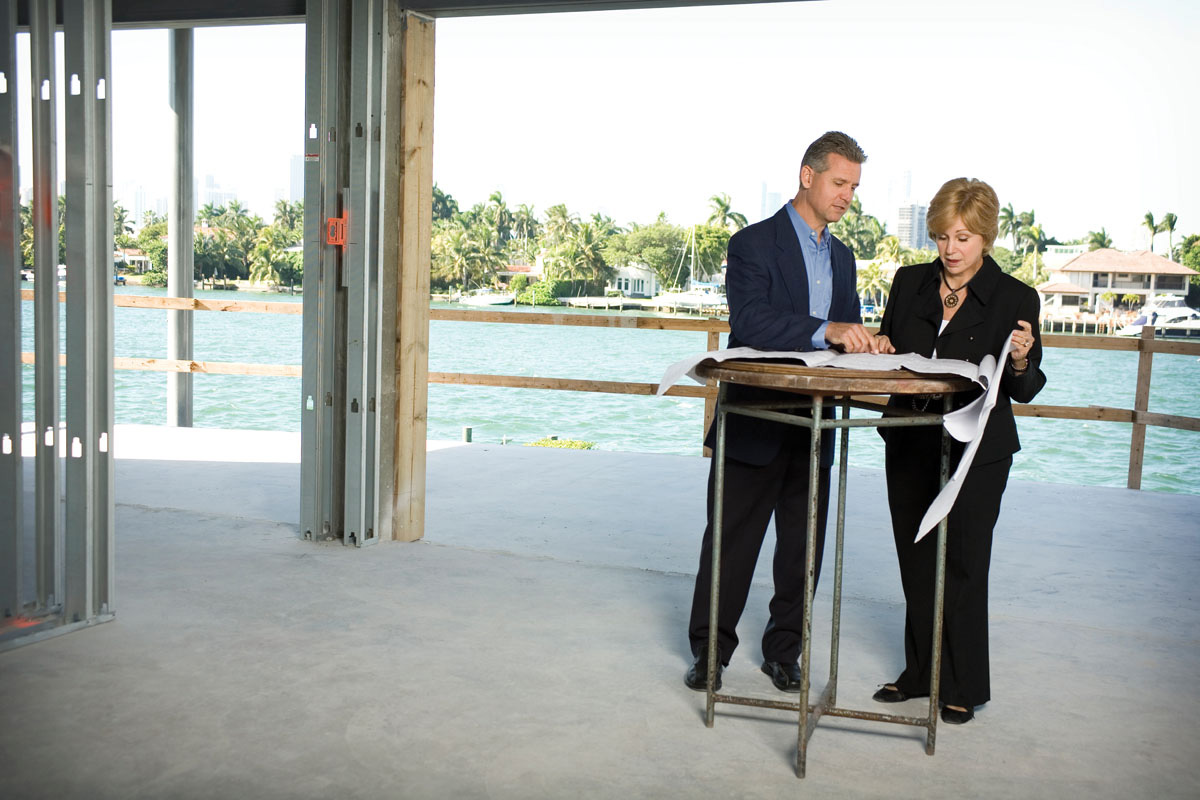 Building Blocks
Ellen Brazer and Kevin Goud of general contracting firm DA Group Construction, Inc., make sure attention to detail translates into building it better.
Text by Luisana Suegart
Photo by Kate Benson
DA Group Construction, Inc., makes it a point to live up to its mission of doing what they do and doing it well. It's the driving force behind partners Ellen Brazer and Kevin Goud, who have been working together for eight years evolving a concept based on perfection.
"Kevin and I are both perfectionists," admits Brazer, who is in charge of marketing and sales for the company. "We come from the same work ethic, and have similar goals about life, family and relationships that we cultivate with our clients."
Prior to their partnership, both Brazer and Goud spent close to 30 years on different paths, gaining the experience that today is the basis for the diligent duo. "As much as I love carpentry and creating things with my hands, I saw more potential in the whole project than in just the one part I would work on," says Goud, a carpenter…turned contractor…turned president and project manager. "I was always fascinated with construction."
And while Goud was climbing the ropes, Brazer spent 12 years running her own retail clothing store in Coral Gables. "My career has been exciting and varied," says Brazer, a community activist and published author, whose family has been involved in the construction of retail stores for three decades. "When I partnered with Kevin, we added new offices, historical restorations, homes and condominium interiors to our business."
With a bigger business, came a better strategy. "I have a creative, introspective personality that generally gets so focused on the projects that I neglect the future of our business," says Goud. "Ellen's social prowess and marketing abilities compliment this and have enabled our business to grow in areas we never imagined." But it goes beyond just metropolitan growth. "We are both constantly evolving and changing," says Brazer. "I have more years of life experience, and tend to mentor when I can. Kevin is full of dreams and goals, and that's always contagious."
The duo says they plan to further the presence of their vision in the Brickell area, where they enjoy spending leisure time whenever their schedules allow. "There's a feeling of great accomplishment when a project is finished," says Brazer. "I love to make introductions, to put deals together and make things happen."
To meet Ellen Brazer and Kevin Goud, call 786.845.7074