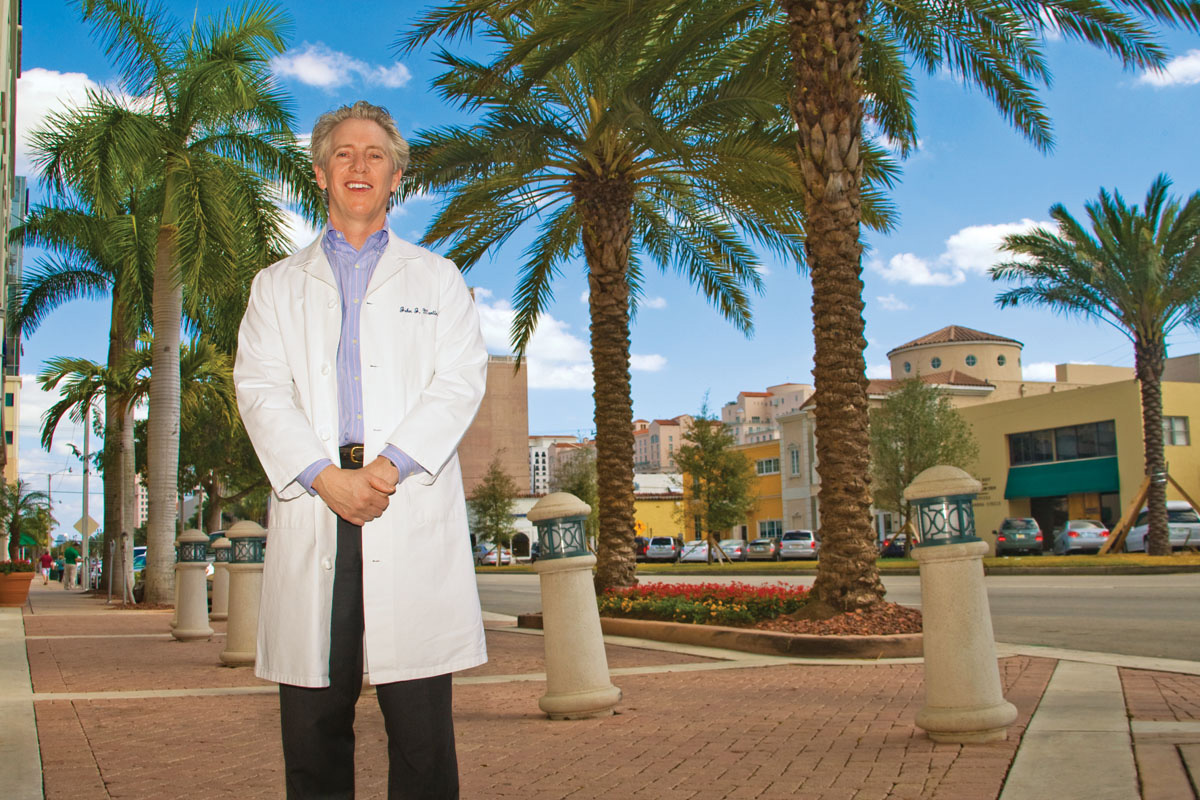 Good Looks
For Dr. John J. Martin, Jr., making Miami's finest look and feel their best is all in a day's work. And with various specialties under his belt, you can bet you'll leave his office satisfied no matter what you're looking to improve.
Text by Luisana Suegart
Photo by Antonio Eli
Dr. John J. Martin, Jr., doesn't only make you see better, he can make you look better, too, as the ophthalmologist-turned-plastic surgeon veered off on a tangent to give his practice its very own facelift — pun intended. "Of all the specialties in ophthalmology, I liked plastic surgery the most, so I specialized in surgery around the eyes and did additional studies to do laser and facial work."
Today, Martin works out of his Coral Gables practice where he performs most of his surgeries with a large selection of laser systems for facial rejuvenation. Among his routine procedures is the facelift, necklift, browlift, and of course, the eyelift. "I try to give a very natural look to patients," he says. "I want to make them look younger and refreshed but not pulled and distorted."
And if you want to get in and out before your lunch-hour expires, Martin offers express treatments. "Patients can come in for Botox, and other fillers like Juvederm and Restylane, as well as laser hair and leg-vein removal on their break or right after work," he says. As a frequent visitor to the neighborhood, it's safe to say he doesn't mind the short drive. "I like Brickell's mix of residential and commercial areas, and I frequently go to the Mary Brickell Village area for dinner."
Having completed his fellowship in Ophthalmic Plastic & Reconstructive Surgery at Miami's Bascom Palmer Eye Institute, Martin's resume also includes studies at Williams College and Harvard Medical School. And you can bet he's making the most of his experiences.
For now, Martin is pleased to announce Reloxin — the new Botox due out in the coming months — which he says will keep his practice growing. While Martin comes from a family of physicians — his father, older brother and sister are all M.D.s — he still marches to the beat of his own voice, and three others. For 10 years, he has been a member of The Decotones. "We are two men and two women, and we sing classic songs from the '20s, '30s and '40s."
To look better with Dr. Martin, call 305.444.5950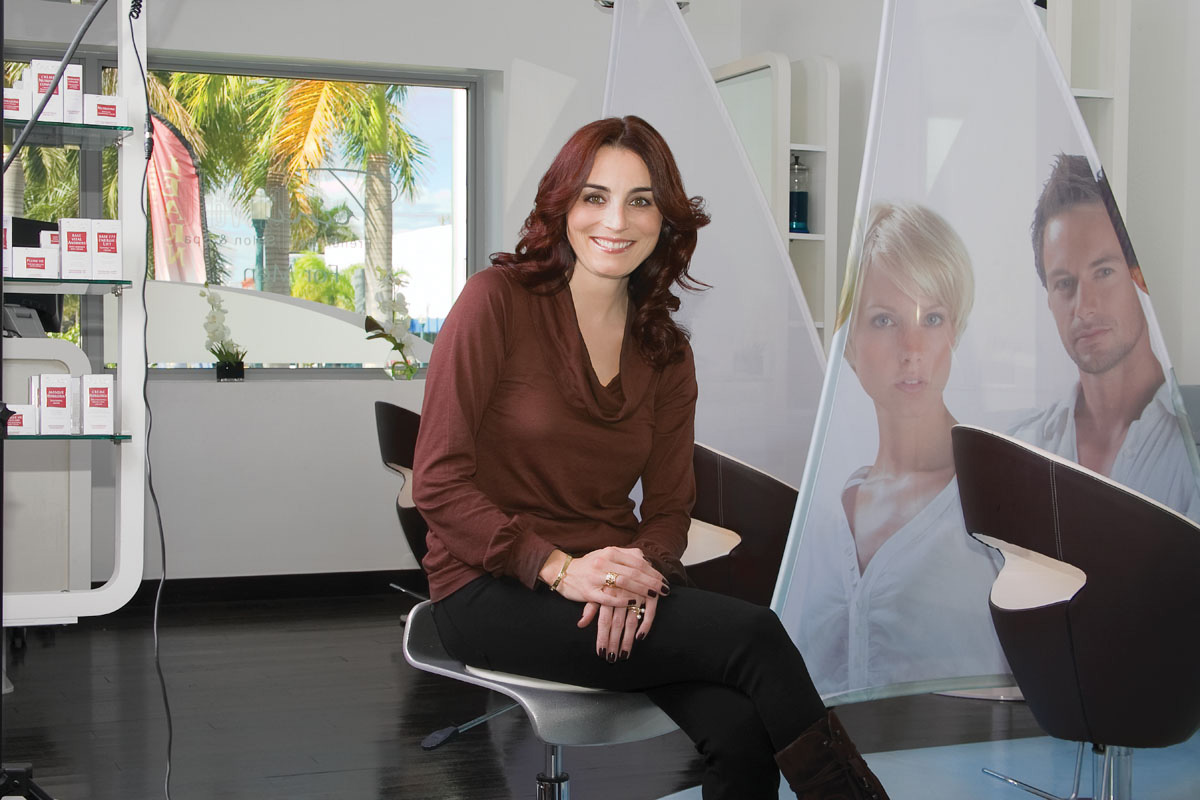 Beauty Queen
It seems the beauty fairies of the universe united the day Trini of Trini in Private was born, making her mastery of everything aesthetic a gift from above.
Text by Luisana Suegart
Photo by Antonio Eli
As a child, Trini's favorite toys were a pair of scissors and a comb; her passions were haircuts and makeovers — first on her dolls, and soon after on her sister and friends. "This was to the great dread of our mothers," she laughs. So it came that from the age of four — unwittingly and with professional tools in hand — she was already a cute little version of "Trini in Private."
Eventually, Trini fine-tuned her skills at the Ecole de Coiffure de Paris. At 15, she became the lead hairstylist for a major hair designer. "Hairstyling is the essential key that emphasizes each woman's beauty," she says. "I create custom styles that accentuate natural beauty."
In Paris, Trini counted movie stars, models and politicians among her clientele. She made the move across the Atlantic in 2003, and in just three years, opened the first Trini in Private, offering hairstyling, makeovers, extensions, Brazilian keratin treatments, make-up, depilatory waxing, facial and body treatments, massages, manicures and pedicures. "My concept is completely French," she says. "It's original, specific, modern and very private so clients have the utmost connection with the stylist."
Today, that concept has evolved into six salons and spas throughout Miami and two in New York, with the latest one launching at 941 Brickell Avenue. "Brickell is a very prestigious area that deserves only the finest," she says. "I choose my stylists based on their ability to integrate themselves within the concept."
While eight salons is a lot to tend to, this beauty maker has no plans of slowing down. She's currently working on her Summer 2009 collection of new styles and colors while separately developing plans for a hairstyling academy. "I want to expand and position my concept on a national and international basis," she says.
Trini in Private is open from 9 a.m.-9 p.m. Mon-Sat and 11 a.m.-6 p.m. Sundays. For a list of services, visit TriniInPrivate.com.
To book an appointment with Trini, call 786.220.7796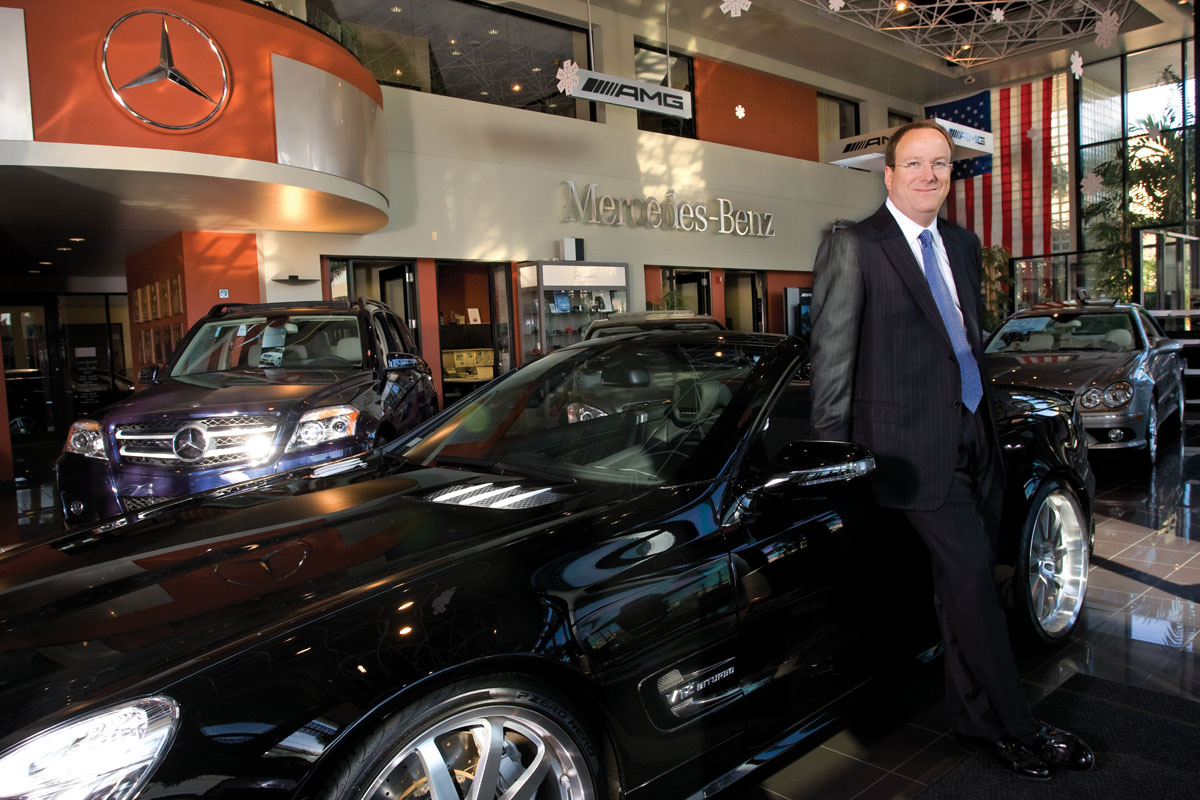 Stylish Drive
Robert W. Brockway will not only help get you behind the wheel of a luxurious dream mobile from Florida's oldest Mercedes-Benz dealership, he'll also show you how to drive it with style.
Text by Luisana Suegart
Photo by Antonio Eli
Robert W. Brockway's big business is no less personal than your average mom 'n' pop shop. As Chairman and CEO of Bill Ussery Motors and its entities, Brockway is dedicated to providing world-class service along with some of the world's finest cars at Florida's oldest Mercedes-Benz dealer. "Our dealerships are family-owned and operated, and offer personal service and attention," he says of his two South Florida Mercedes-Benz dealerships, Mercedes-Benz of Coral Gables and Mercedes-Benz of Cutler Bay. "Unfortunately in today's environment, these are unique concepts."
That concept is more than a half-decade in the making. Brockway's grandfather — William L. "Bill" Ussery — started the business in 1953. More than 30 years later, in 1986, Brockway, a business graduate from Texas Christian University, was hired as Vice President and Operations Manager. "I took the helm in 1995 and my wife Paula and I bought the company from my parents and siblings in 2006," he says.
While being behind the wheel of two dealerships is a lot to handle, Brockway has no plans to hit the brakes, always keeping an open mind and a positive attitude. At the same time, it's to his benefit that the brand speaks for itself. "The cars have always been in a class by themselves," he says. "Being the world's oldest carmaker gives Mercedes-Benz the heritage and prestige it rightly deserves."
All the while, the customer, too, gets what he or she deserves — that being the best service from a group of professionals that's comprised of Brockway and his wife as well as a loyal team. "We like to think we offer the client a personalized purchasing experience — a friend in the business, so to speak."
But more than serving as a friend to his clients, Brockway and his family are friends to the community. Since its inception, Bill Ussery Motors has made it a point to support all kinds of charities and organizations, from the University of Miami to the Red Cross and beyond. "The reasons are simple, really," he says. "It's important to give back to the community that has given so much to us and it makes us feel good."
To explore some luxe driving options, call 1.800.654.8290