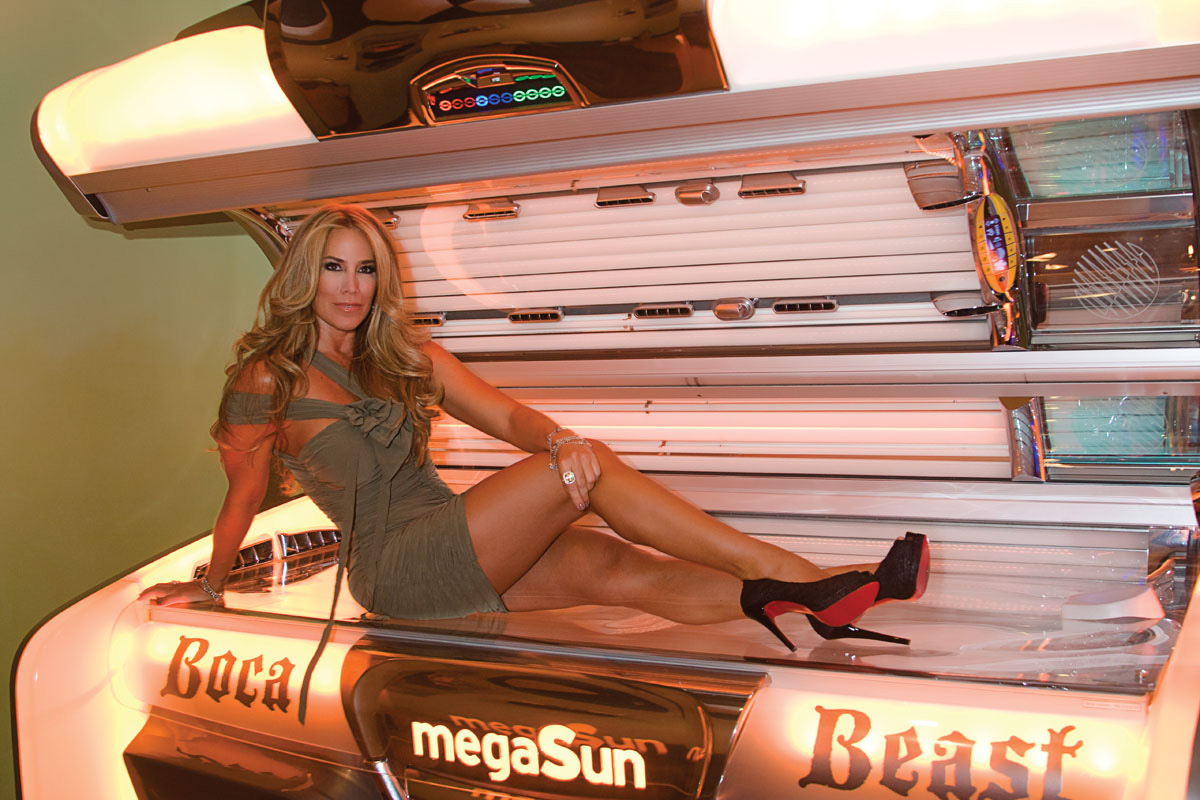 Tan Demand
"I've learned that the key to success is to run your business with pure passion and integrity."
Zurami Pascual knew her chances of success would be greater if she opened a business she was passionate about and could relate to. "I've always loved the sun, the beach and tanning. When I was introduced to the Boca Tanning Club concept, I knew instantly that I wanted to become a franchise owner," she says. "I don't consider what I do a job. My business is my second home." Pascual drew from the entrepreneurial influences of those closest to her, learning to operate a business first from her parents and later from working with her son's father, a very successful doctor. "There's nothing else I'd rather be doing. I had a vision of what I wanted to do and I believe I've made my dreams come true. My goal is to conquer the tanning world," she says but quickly reconsiders with a less-than-timid smile. "Come to think of it…why not just conquer the whole world?"
Quick Facts
She has a sense of humor. "One client kept complaining that no matter how many times she visited, she was only getting a tan on her back. When we finally asked her to go through her tanning routine, we discovered that every time she lay down on the tanning bed, she would never bring the top part down!"
She loves to celebrate a victory. "I take my son to Game Stop and buy myself a pair of Christian Louboutins — I haven't met a pair of shoes I don't love!"
Her formula for success is simple. "Try to surround yourself with goodness and blessings will follow."
Text by Luisana Suegart; Photo by Antonio Eli
Zurami Pascual is the owner of Boca Tanning Club Brickell; 1390 Brickell Ave., Ste. 106; 305.381.7826; BocaTanningClub.com.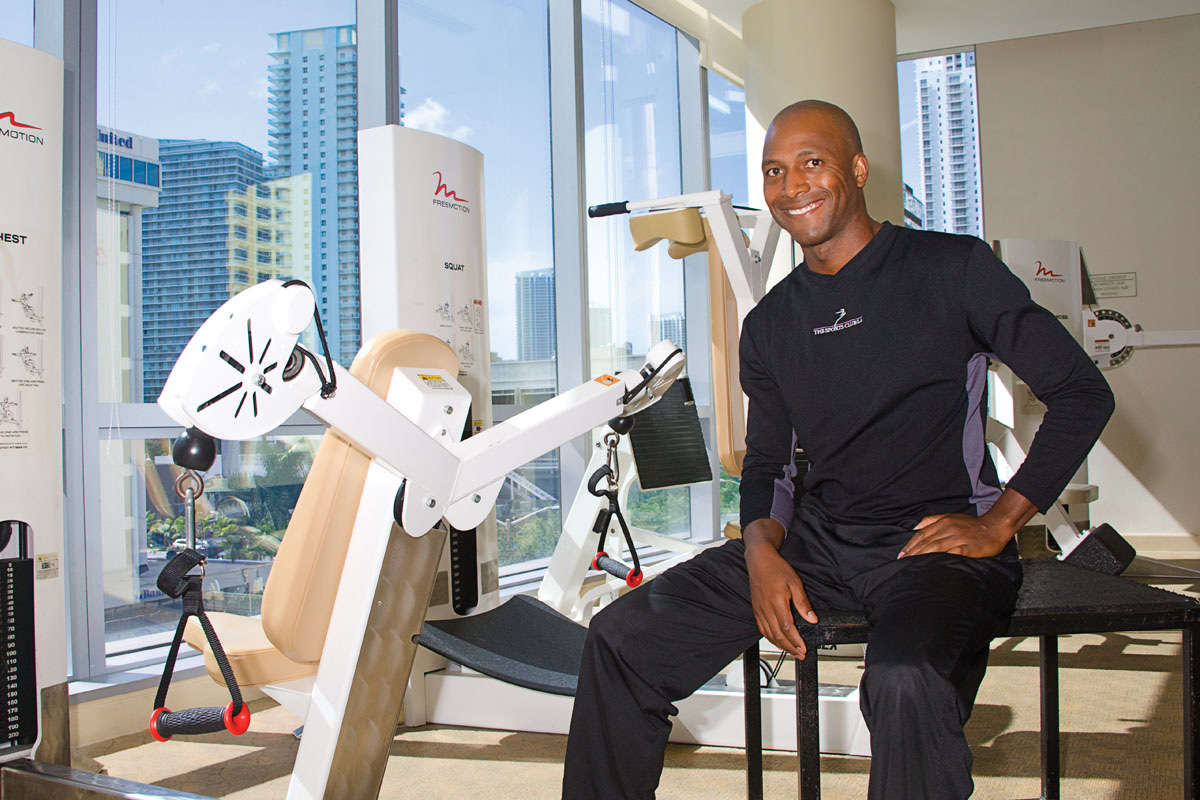 Change Agent
"It satisfies me to help my clients realize their potential to change their minds and bodies."
Chris Sims admits he moved around a lot as a kid and as a result had to learn quickly how to befriend folks from all walks of life. "I've always enjoyed working with people," he says as he elaborates on the quality of relationships he builds with his diverse client base at The Sports Club/LA Miami. With a degree in psychology and a personal interest in being active, vital and athletic, Sims is fit to train bodies and transform lives. "Over time, I've learned that the secret to success is patience, perseverance and communication. You have to embrace the idea and reality of change," he says, sharing one of his favorite success stories about the time one of his most loyal clients brought her mother in for a partner training session after they had not seen each other for 9 months. "Her mom exclaimed to me that she had barely recognized her daughter because of the dramatic changes in her body!"
Quick Facts:
He greets victories with an inner smile and gets back to business. "I would like to become a Master Trainer for the Integrated Flexibility Training Program we have at The Sports Club/LA."
He can fly. "Some would describe me as an above-average pilot," he says. "My most unique accomplishment was surviving 10 years of flying in the Air Force."
His fridge is stocked with kale, romaine lettuce, roma tomatoes, dried pineapples, sunflower seeds, natural salad dressing and fresh coconut water.
His worst habit: "I like talking so much that sometimes at meals I talk with my mouth full."
Text by Luisana Suegart; Photo by Antonio Eli
Chris Sims is a private trainer at The Sports Club/LA Miami; 1441 Brickell Ave.; 305.533.1199; TheSportsClubLA.com.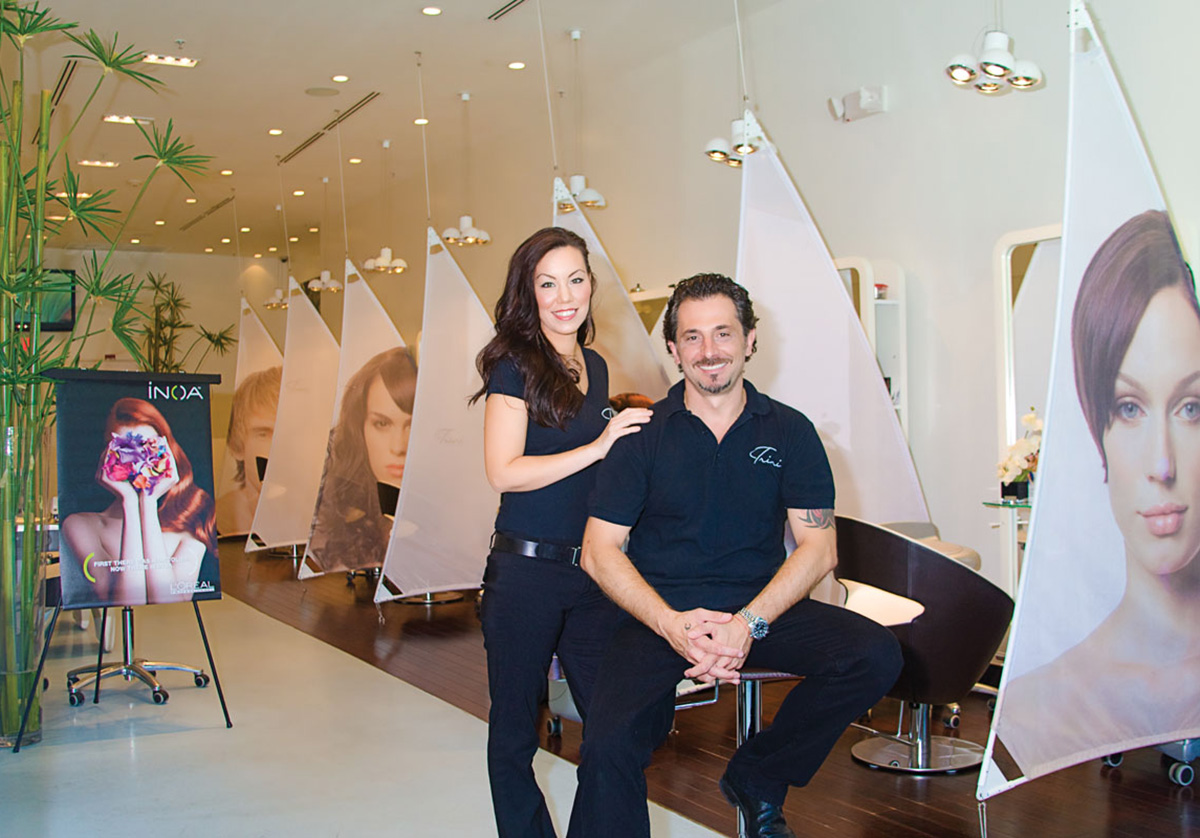 Magic Look
"As part of Trini's staff, we work one-on-one with her on advanced color and cutting techniques to the benefit of our clients."
Stylists Lin Jenkins and Michel Jaquemot understand that authentic beauty comes from within. Jenkins is a master of haircuts, blowouts, makeup and creative color, who takes pride in having a keen eye for the way each person's hair naturally falls. "The ongoing training we receive by Trini is amazing," she says. Renowned for his cutting techniques, Jaquemot's goal is to bring out the inner beauty in every client. A native of France, his 30 years of experience have allowed him to study under industry leaders like Trini herself. "Paying close attention to each person's facial features, desire for certain looks and overall lifestyle for maintenance, I've achieved mastery in my profession and pleased each person who sits in my chair."
Quick Facts
Their biggest accomplishments are truly grand. Jenkins: "I'm a proud mom of boy and twin girls!" Jaquemot: "The best part of the job is being with beautiful women all day! Also, I speak four languages, so I'm able to communicate with many!"
Each has their own guilty pleasures: Jenkins: "I love all of The Real Housewives: Orange County, New York, Atlanta and New Jersey…I love them all!" Jaquemot: "I love champagne, strawberries and French cheeses!"
If they weren't styling, they'd be doing…Jenkins: "I'd be a professional vacationer — traveling the world!" Jaquemot: "I would be a plastic surgeon, so I could still be able to be very meticulous by using my hands to make women beautiful!"
Text by Luisana Suegart; Photo by Antonio Eli
Lin Jenkins and Michel Jaquemot are stylists at Trini in Private; 941 Brickell Ave.; 786.220.7941; TriniInPrivate.com.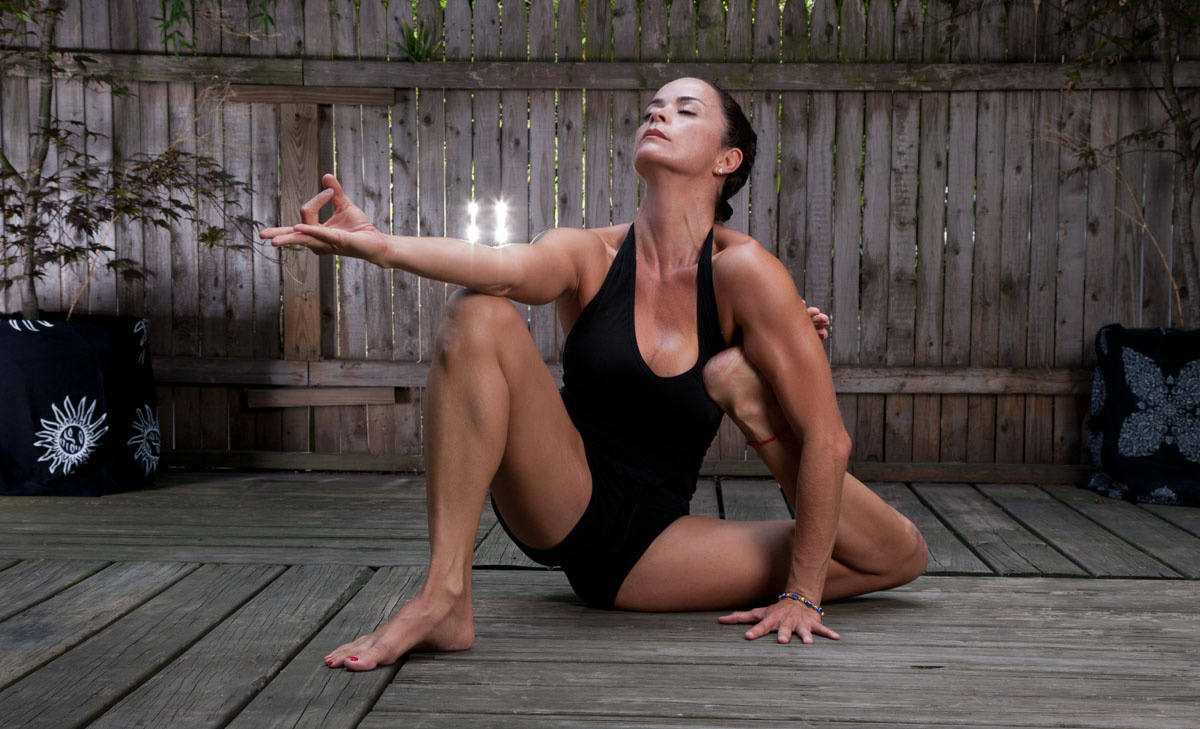 Devout Yogi
"The most fulfilling part of teaching yoga is seeing the transformation in my students."
As the owner of Skanda Yoga Studio in Brickell, Lina Vallejo is on an extreme mission to accentuate the power of the mind and body. "Many don't think that yoga is an extreme sport, but that's because they haven't practiced with me," she says, promising that the alignment-based power vinyasa offered at Skanda will shake you to the core. "I had a strong aversion to the practice after my first experience. I was distracted, chewing gum, and not breathing properly — but yoga forced me into the moment so that I could reflect on who I was being in the world," she says. Eventually, yoga took over her life and put her on the path to heal others. "I've had students come in completely closed emotionally and negative about life," she says. "After a few weeks their armor breaks down, their hearts open and their inner light begins to shine."
Quick Facts:
She's fearless. "I was the first female bungee jumper in Colombia, and hold many records for the highest and most dangerous jumps. I also always went first, so I could test the gear!"
She's taught royalty. "I was invited personally by the Prince of Saudi Arabia to teach him yoga for a week while he vacationed in Seychelles. It was a surreal experience that I will never forget."
She embraces her inner light. "I'm an instrument of love and approval to the world and myself. In the words of Jiddu Krishnamurti: 'Only the intelligence of love and compassion can solve all problems of life'."
Text by Luisana Suegart; Photo Skanda Yoga Studio
Lina Vallejo is a yoga instructor at Skanda Yoga Studio; 1800 SW 1st Ave; 305.961.1657. For a full schedule of classes and fees, visit SkandaYoga.com.