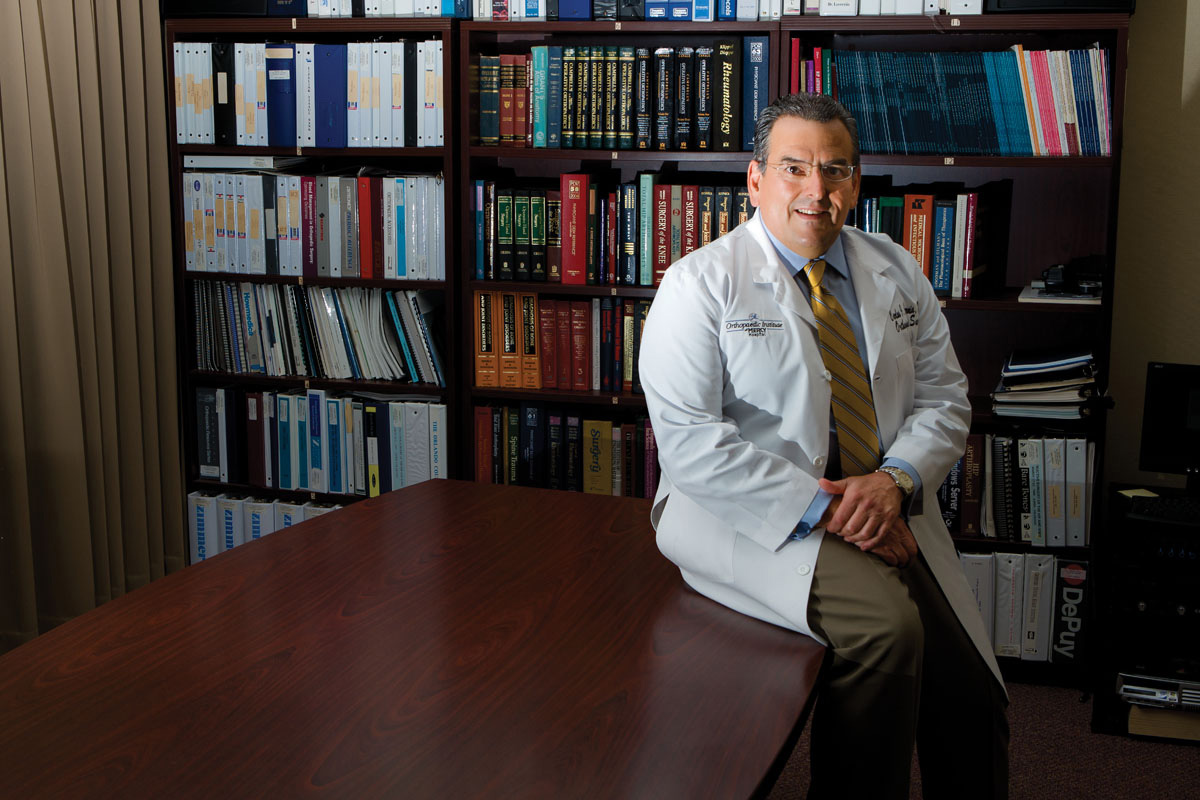 Hip Doctor
"The impact I can have on a patient's life and the immediacy of the process is fascinating."
For Dr. Carlos Lavernia, replacing hips and knees is a specialty he's mastered beyond the walls of his operating room, having ventured into the field of engineering to ensure each patient receives the durable implant they need to live their best life. "Being a surgeon engineer allows me to better restore the kinematics and mechanics of a hip and a knee," he explains. "I'm now helping design a robotic application to do knee replacements in which all ligaments in the knee are preserved." Going forward with plans to grow his practice to include 10 specialists in the next five years and to offer complete musculoskeletal care is no easy task, but for Dr. Lavernia, inspiration comes easy. "I operated on a 103-year-old patient who fell off his bicycle," he says. "After the surgery, he and his wife invited my family over for an exquisite Greek meal. After dinner, he rode his 3-wheeler bike around the block — it was unforgettable."
Quick Facts:
He has a hidden talent. "I used to be an amateur boxer, and I can still hit the bag pretty hard."
If he weren't replacing hips and knees: "I would probably be a college dean or a professor of engineering in California."
Words of wisdom: "Be careful whose toes you step on as you make your way up; they may belong to someone whose help you may need on the way down."
He knows how to celebrate a victory. "I like to BBQ with my wife and kids, and drink a bottle of really good red wine."
Text by Luisana Suegart; Photo by Antonio Eli
Carlos. J. Lavernia, MD, is Medical Director at the Orthopaedic Institute at Mercy Hospital; 3659 South Miami Ave., Ste. 4008; 305.285.5085; [email protected]; OrthoMercy.com.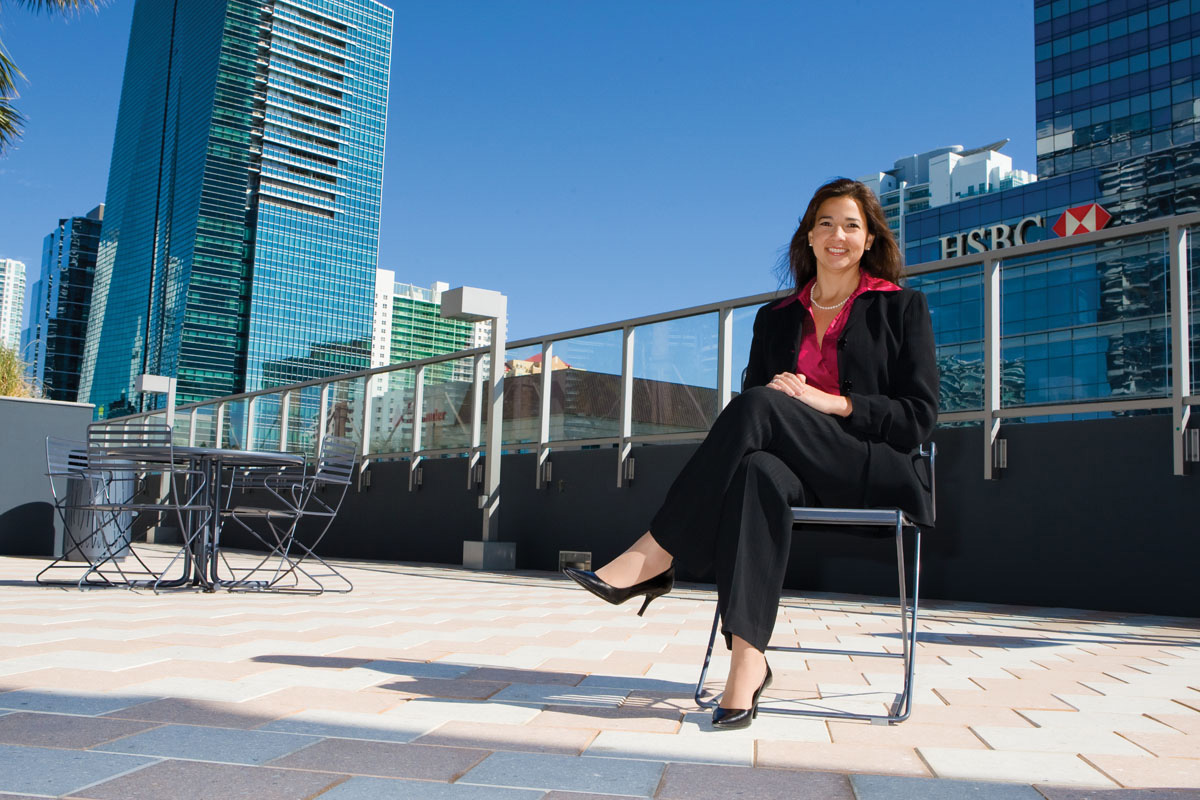 Global Sight
"I treat everyone the same, whether they are a 1,000-sq. ft. or a 100,000-sq. ft. client."
Since the early '90s, Danet Linares has been watching Brickell transform before her eyes. It was then when she initiated a thriving career in the world of property management and leasing, building on opportunities as they arose. "I mostly loved the marketing aspect of the job and decided this would be my career," she says. "There are two fascinating aspects to my work: Striking the deal, and seeing the tenant move into their new office space after months of negotiations." As Executive VP of Blanca Commercial Real Estate, Linares currently serves as the exclusive leasing agent for several properties, most notably for 1450 Brickell, Miami's premier Class A office tower. "It's been an exciting project," she says. "Shortly after we began leasing 1450 Brickell, we snagged the most coveted tenant in the market, law firm Bilzin Sumberg Baena Price & Axelrod, LLP; it was great boost for the building before it even opened."
Quick Facts
If she weren't leasing properties, she'd be developing them. "I enjoy creating and transforming spaces to leave them better than I how I found them."
She was good at strategic board games as a child. "Real estate requires strategic thinking," she says. "How do we market a space? How can we get to finish?"
Chocolate gets her through the day. "I love dark chocolate and now I've transferred this appreciation to the rest of the office — we always have it around!"
Favorite word? "That's easy: 'Done!' When a deal is finally completed it is done!"
Text by Luisana Suegart; Photos by Antonio Eli
Danet Linares is Executive VP of Blanca Commercial Real Estate; 1450 Brickell Ave., Ste. 1460; 305.577.8850; [email protected]; BlancaCRE.com.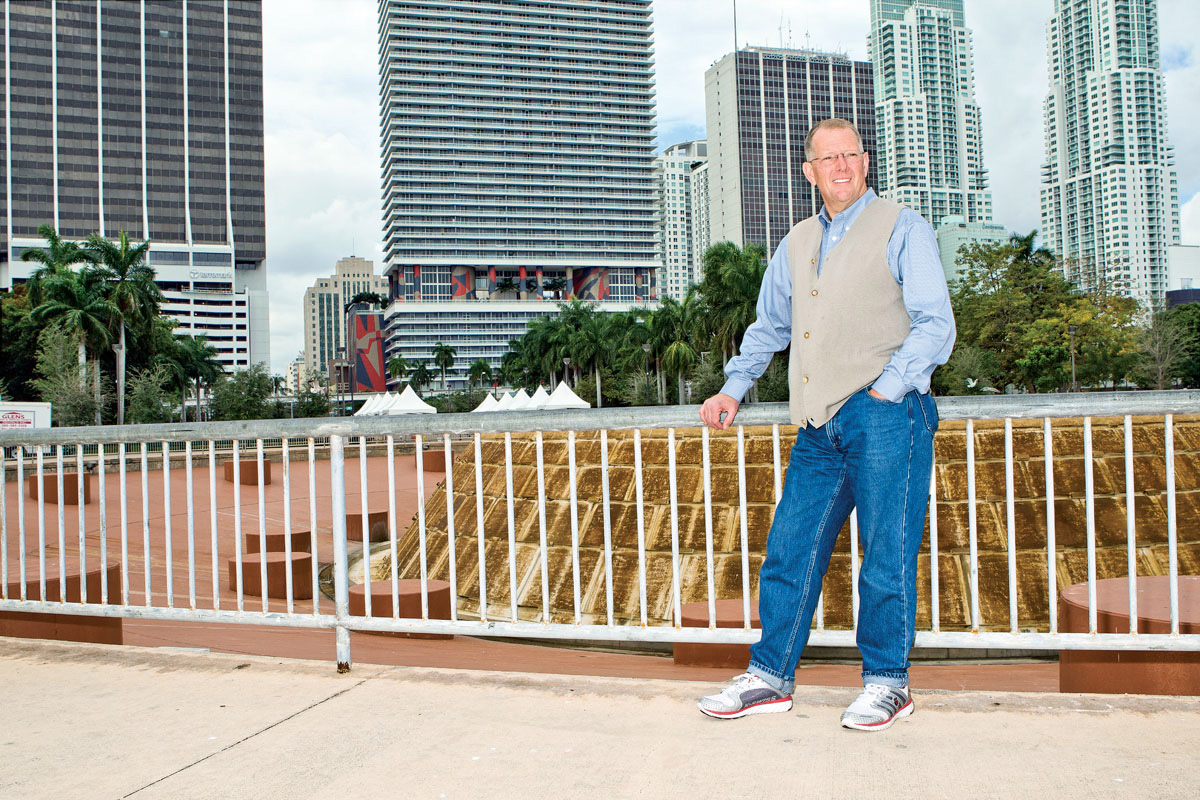 Totally Inspired
"Each day we impact hundreds of children, and hopefully inspire them to make their own positive impacts."
John K. Huseby, better known as Hans, knows first-hand the challenges one must overcome to be in optimal shape. In fact it was his own journey toward fitness that inspired his career. "Before I got started, I was looking for a way to stay fit and took a chance by asking for help," he says, admitting it was no easy endeavor. "The inspiration came after I had invested a good deal of time and effort." Now Huseby is most inspired by seeing the change fitness can make in a person's life. As President of the non-profit organization TeamFootWorks Educational & Fitness, he stays busy motivating others to reach their full potential. In his role, he coordinates events and produces educational material to promote fitness for everyone from beginners to advanced athletes. For 2011, Hans and his team are once again coordinating the annual Mercedes-Benz Corporate Run Series, going strong for 25 years!
Quick Facts:
His childhood inspirations include Jiminy Cricket and Roy Rodgers. "Those two gave me a pretty good dose of old-fashioned manners and a sense of right and wrong."
He's had some great accomplishments. "Doing my best in three sports during three stages of my life: high school hockey, running a marathon and martial arts."
How he celebrates a victory: "I toast my good fortune for the shoulders I stand on."
He lives by a quote from Tagore: "Faith is the bird that feels the light and sings when the dawn is dark."
Text by Luisana Suegart; Photo by Antonio Eli
John K. Huseby is President of TeamFootWorks Educational & Fitness Corp.; 5724 Sunset Dr.; 305.666.7223; [email protected]; TeamFootWorks.org.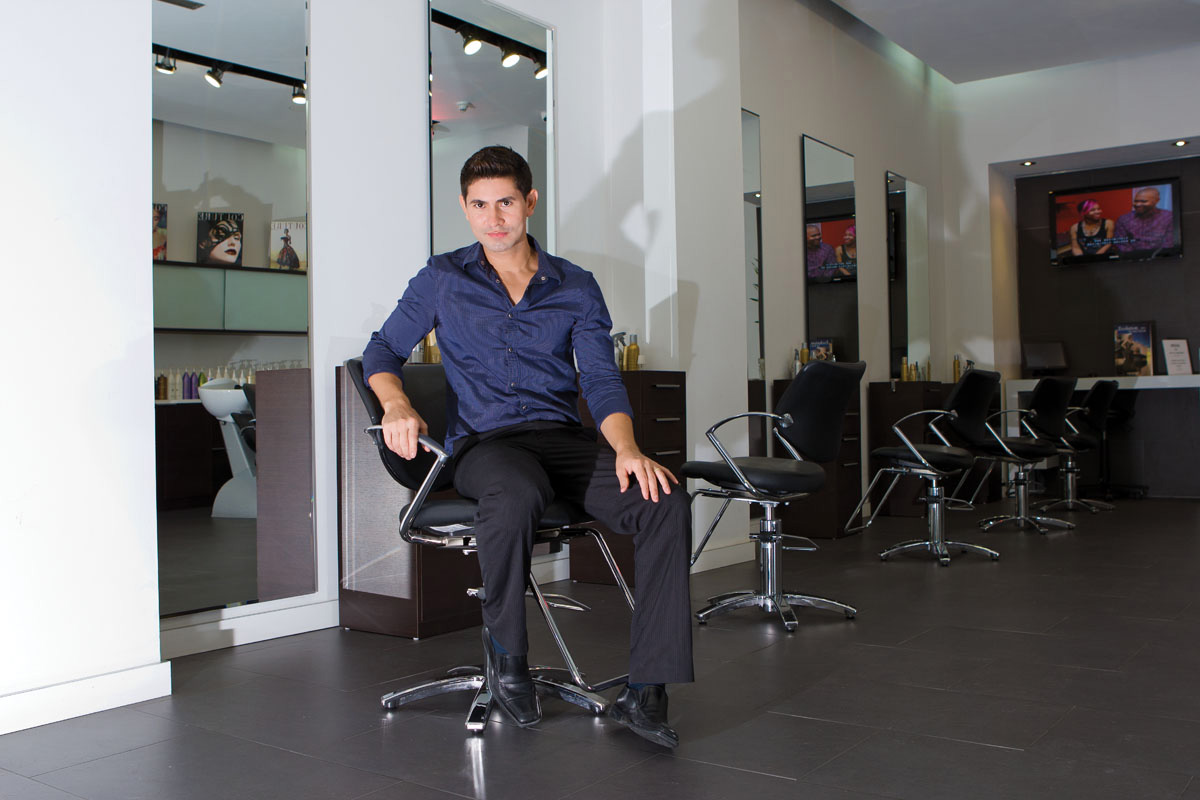 Cut Above
"I posses the gift to produce magnetism, fascination and appeal with my customers."
Cosmetologist Dinho Payan has been into his craft for as long as he can remember. "Ever since I was a young boy, having the shears in my hand was an extension of me. Transforming people's hair was a natural talent," he assures. "Cutting hair is an art and showing the signs in childhood was definitely the foundation to my career." Fast-forward some years and Dinho is a licensed cosmetologist who masterfully applies the training and education he's received to enhance the natural beauty of each of his customers, consulting and advising each on which of the latest hairstyles and colors fit them best. "I listen to my customers' needs, and understand that my profession is all about being of service to them," he says. "I have confidence in making any woman look and feel beautiful. Loving what you do as a profession is fulfilling, and I wouldn't trade it for anything!"
Quick Facts
His biggest inspiration is change. "I always look to upgrade and enhance my knowledge of the latest techniques and products available in the beauty industry."
His first job came naturally. "I was an assistant in a beauty salon," he says.
If he weren't a cosmetologist: "I can't even imagine doing anything else."
Worst habit: "I tend to be a workaholic!"
Words of advice? "Live without regrets, this lifetime will never come again; it is precious and irreplaceable."
Text by Luisana Suegart; Photo by Antonio Eli
Dinho Payan is a Cosmetologist at Studio D Salon; 117 NE 2 Ave.; 305.372.1449; [email protected]; StudioDByPaoloSalon.com.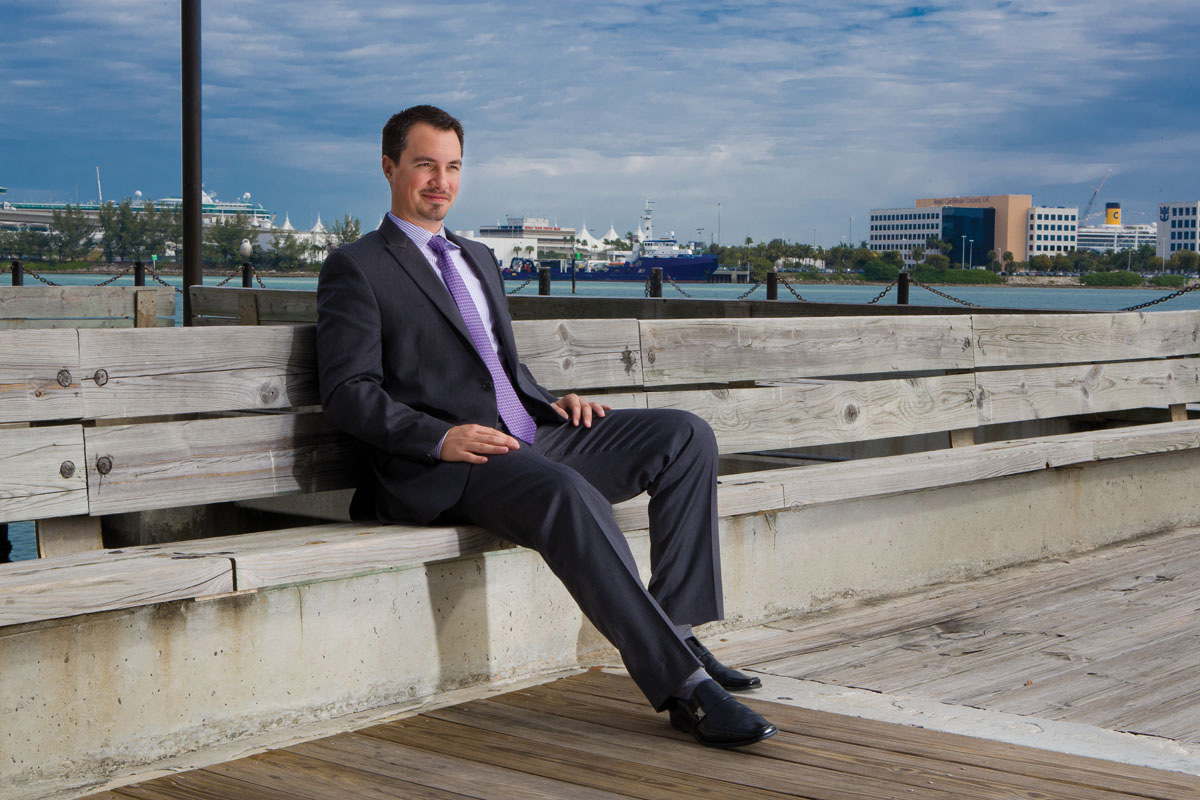 Deal Maker
"It's the constant proximity to others fulfilling their goals that makes my job rewarding."
While attending law school at the University of Miami, Shawn Baxter had the good fortune of joining a boutique brokerage firm in Coral Gables where he would learn every aspect of the real estate business. Having graduated and passed the Florida Bar Exam, he decided to pursue real estate over law, earning his Florida Real Estate Broker's and CAM licenses. "The idea of personal property is fascinating to me, and I relish the challenge of finding a space in which the client is comfortable and happy." As the President & Managing Partner of the boutique real estate firm Essential Real Estate, Baxter manages the day-to-day operations of the business. On any given day, he can negotiate a lease, show properties throughout the city, view a potential purchase for an out-of-state client, visit a rehab on behalf of an investor, and stay in touch with tenants. The goal? "To turn my business into a household name, one that people can fully trust with any real estate issue, question or goal."
Quick Facts
He's most fulfilled by: "Putting the keys into a client's hands or sending a check to an investor because I sold one of their rehab projects."
Most inspired by: "Referrals from prior clients. It's validation that I'm providing the service I intend."
He was born a bookworm. "As a kid, I would never take no for an answer and would read and research an issue until I knew it inside and out."
Also on his resume: "I attended the U.S. Military Academy at West Point for 2 years, and also served in the Peace Corps in Turkmenistan."
Text by Luisana Suegart; Photo by Antonio Eli
Shawn Baxter is President & Managing Partner of Essential Real Estate; 848 Brickell Ave., Ste. 1200; 305.981.6751; [email protected]; Essential-Realty.com.