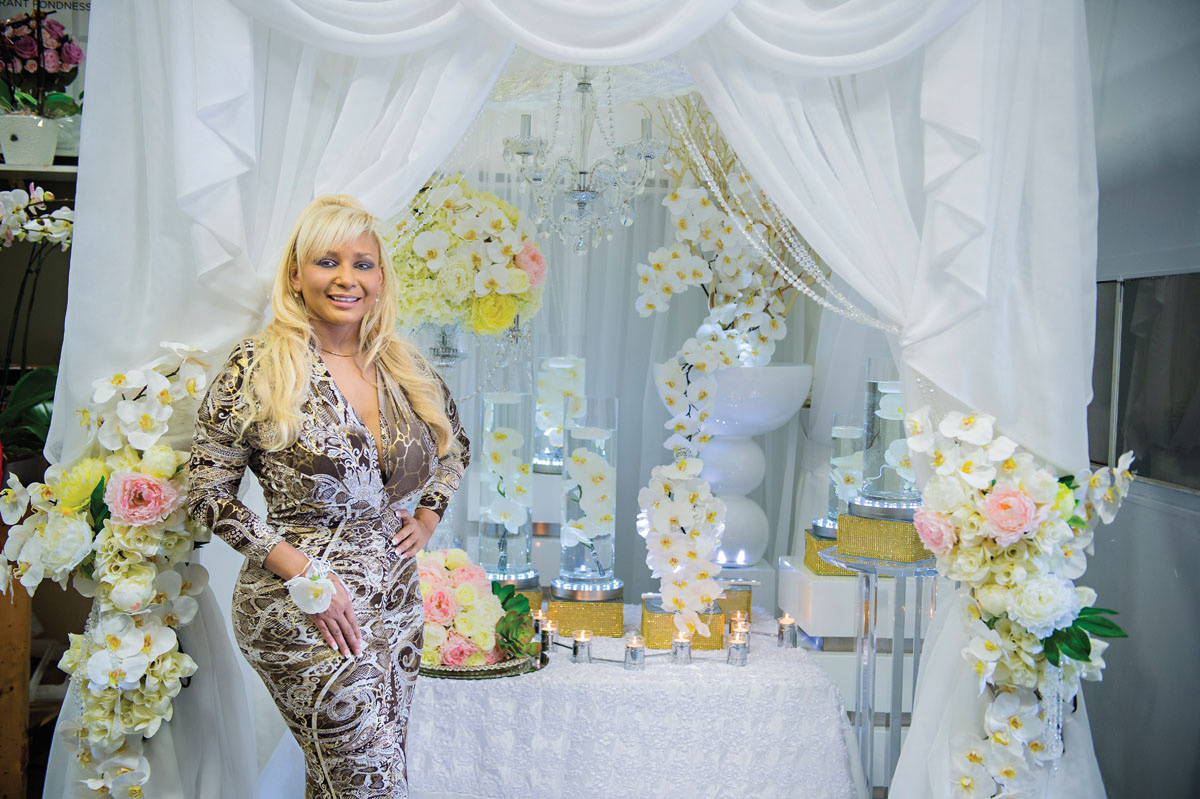 Flower Power
"Flowers lend an air of grace, no matter what the occasion and I love being able to make our clients' events as memorable as possible."
For Sandra Shenker, life at the exotic Miami floral boutique, Flower Of The World Import, is all about beauty. Though her primary role is in communications and public relations, she knows the ins-and-outs of the business and counts it as a blessing she works in an industry she enjoys. Every client is a VIP to Shenker, and she especially enjoys making brides' ceremonies glamorous with flowers from around the globe. But the job is not without its moments, however. "There was one wedding where all the floral centerpieces were in shades of yellow, but the gentleman setting up the event used all blue décor by accident since he couldn't tell the difference between the two colors," she says. "It worked out, though, and it was a lovely event." So what does the future hold? Shenker recently received confirmation that she will be hosting a new TV show featuring her floral creations and demonstrating her techniques to viewers.
Quick Facts
She has a spiritual side: "I think that having God in your life is incredibly important…both for surviving difficult times and for giving thanks when life is going well."
In another life, her chosen career would be…"A foreign minister. I believe strong communication could solve a great deal of the world's problems."
Classic drink of choice: "A dirty martini!"
Protip: "I always aim to make life easier for others!"
Text by Cristina Zuazua; Photo by Chantal Lawrie
Sandra Shenker is in Public Relations & Communications at Flower Of The World Import; 2728 NW 72nd Ave.; 305.968.9909; 305.968.8868; FlowerOfTheWorldImport.net.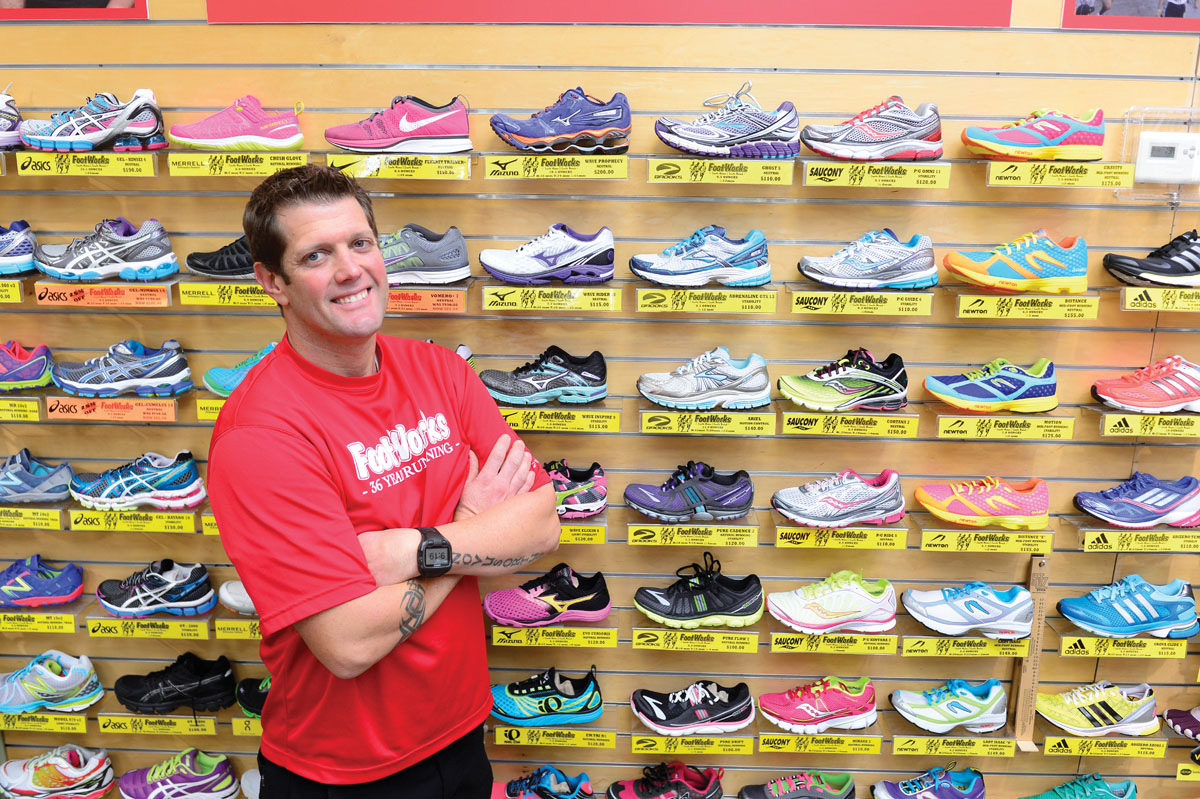 Speed Master
"I like witnessing the life-changing experiences of individuals who have made a decision to live with a healthier lifestyle."
JP Huseby never stops running…literally. As the GM of FootWorks & Assistant Race Director of Team FootWorks, the energetic athlete not only helps customers find the right equipment for their activities, he also helps introduce them to the world of running in all its forms. As such, he organizes events for Team FootWorks in the Miami area, which creates a community for aspiring runners to get involved in a team and meet like-minded folks who are looking for a healthier lifestyle. The races are not without their memorable moments, however. Huseby laughs remembering one race: "During the Corporate Run one year, the Brickell Bridge went up a couple minutes after the race started," he says. "We had more than 20,000 people waiting at the bottom for the bridge to go back down…it's never boring, that's for sure!"
Quick Facts
Strong (sporty) roots: "I was always athletic as a kid. I played lots of sports and ran a lot growing up."
Delicious kryptonite: "It's almost impossible for me to turn down frozen yogurt."
Bad habit: "I know it's necessary, but I hate stretching!"
What he always grabs during grocery shopping: "Chobani Greek Yogurt!"
Guiding philosophy: "When it comes to people constantly working to help others and improve themselves…everyone has something to contribute."
Text by Cristina Zuazua; Photo by Chantal Lawrie
JP Huseby is the GM at FootWorks & Assistant Race Director of Team FootWorks; 5724 Sunset Dr., 7210 Red Rd., Ste. 200; 305.667.9322; 305.666.7223; FootWorksMiami.com; TeamFootWorks.org.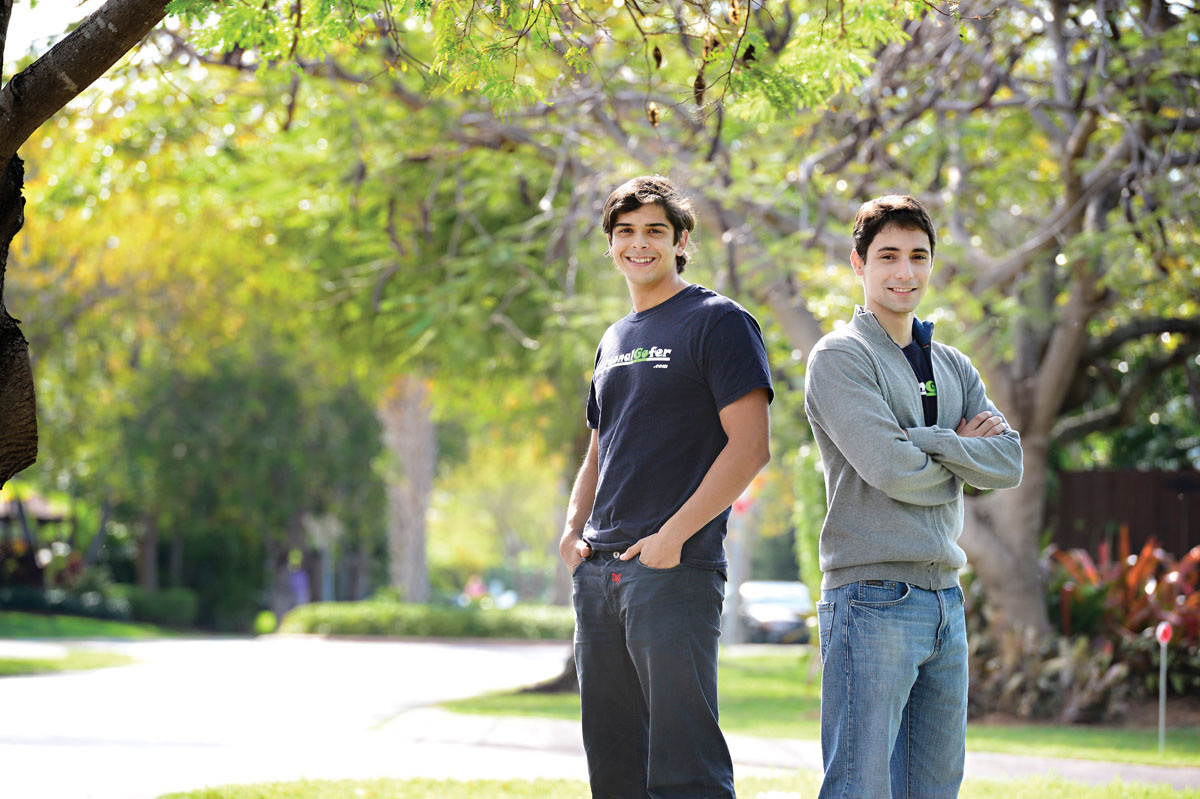 Team Work
"We have always wanted to do something that involves creativity and thinking outside of the box to generate value."
What do people who don't have the time to do their chores, taxes or assemble Ikea furniture have in common? PersonalGofer.com cofounders Michel Giacomotti & Marcos Victoria can solve all their problems. "Before we started," Giacomotti remembers, "we began asking people what they thought of the idea of a service company that completed personal errands for others — and the responses ranged from I can't believe this does not exist! to Oh my god, I definitely need this!" Victoria nods, and shares one unusual customer request: "I once had to teach an older lady how to use all the features of her car's navigation system," he says. "I don't even think the average person is too familiar with some of these complex devices, but she was super-efficient, taking notes and becoming an expert in less than an hour!" The key to their business, both stress, is flexibility. "If something doesn't go as planned, we're quick to adapt, learn and evolve," they say.
Quick Facts
The secret to Michel's boundless energy: "Espresso — it's the best!"
Both agree on the perfect way to celebrate: "Spending time with friends and loved ones is absolutely the way to go!"
Marcos' best (and worst habit): "Working late!"
Words of wisdom from the self-starters: "Do it right the first time!"
Fear is for the weak: "We've built a great habit of not being afraid to fail or get rejected."
Text by Cristina Zuazua; Photo by Chantal Lawrie
Michel Giacomotti & Marcos Victoria are Co-Founders of PersonalGofer.com; 1121 Crandon Blvd., Key Biscayne; 305.349.3416; PersonalGofer.com.