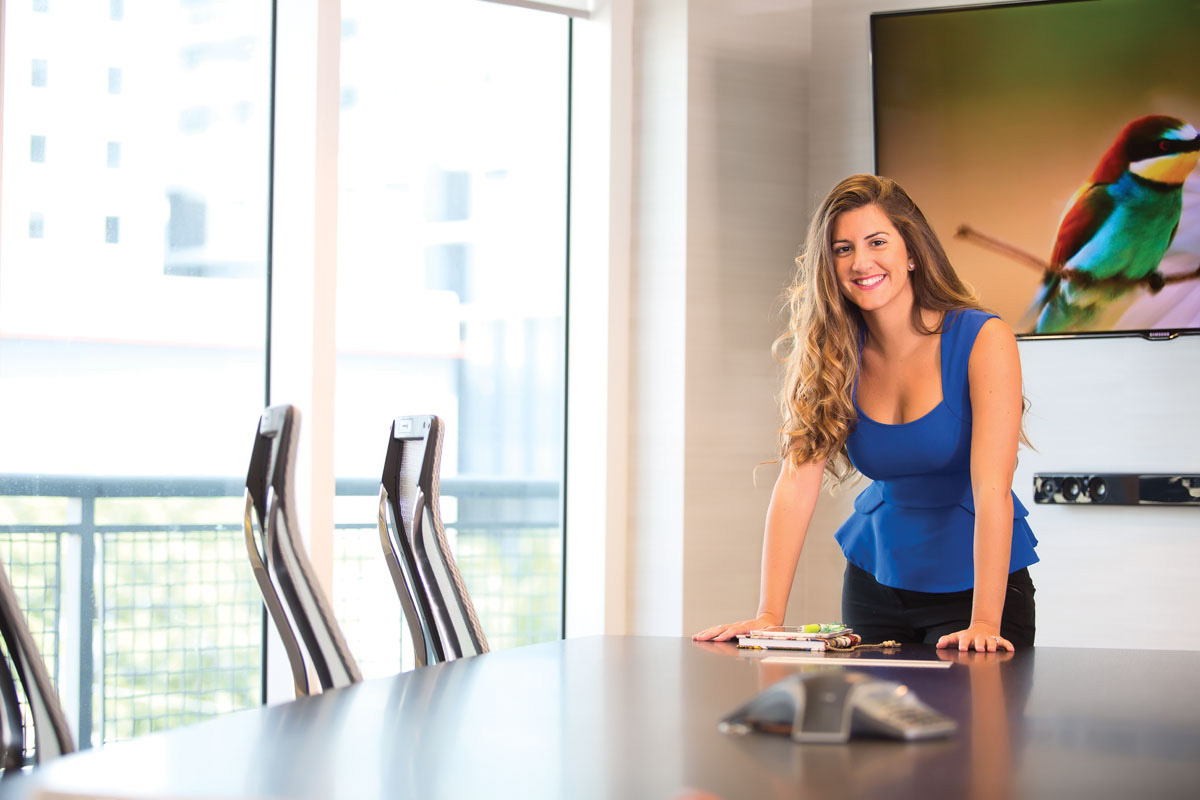 Office Savvy
"I love being the helping hand behind small business owners, recently graduated professionals and entrepreneurs by providing them the tools to achieve their goals."
Samantha Alvarez of SEVEN Met Suites laughs as she explains the catch-all title: "Owner Fabio and I both are the receptionists, the janitors, the assistants, the marketing team, the PR specialists, the owners and managers, and, most importantly, the face of the company," she says. "We don't believe in titles or ages, we simply believe in the willingness to provide excellent service." Her passion for the company, which provides Miami professionals with virtual office space in the heart of Brickell, shows in the details; SEVEN's office décor and layout was specifically designed following the strict guidelines of a Fung Shui consultant to enhance the flow of positive energy, not only for SEVEN but for their clients as well. As Alvarez points out: "Their success is our success." As for future plans, she just grins: "If I tell you, I might have to kill you…but you'll find out soon!"
Quick Facts
Unforgettable business advice: "Work smarter, not harder — this allows for more freedom to try new things."
What you'll find in her fridge: "Ask my husband, he's the cook!"
How she celebrates a victory: "I like to celebrate with my family — and I'm talking about all 38 members!"
Woman of the world: "With a Spanish father, an Italian mother and being raised between Venezuela and America, I now speak 3 different languages fluently!"
Text by Cristina Zuazua; Photo by Antonio Eli
Samantha Alvarez is an exec at SEVEN Met Suites; The Infinity Building.;40 SW 13th St., Ste. 301; 786.502.3220; SEVENMetSuites.com.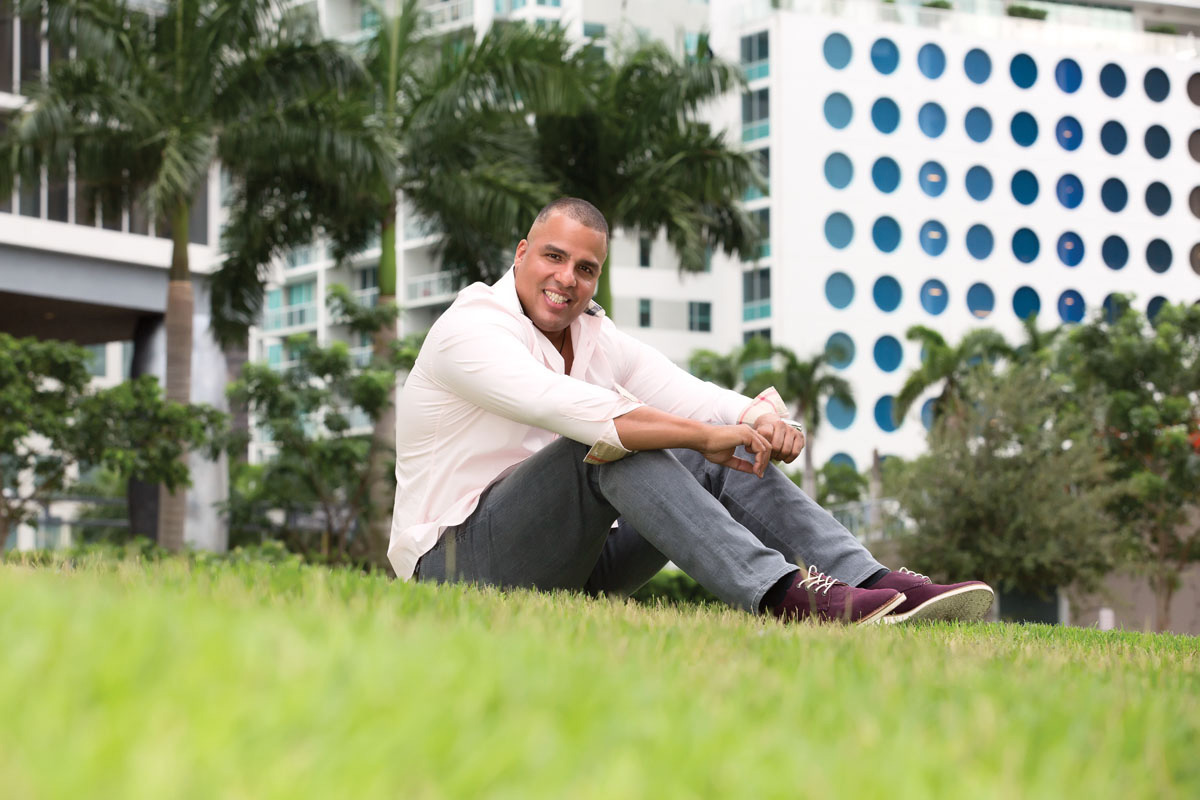 Creative Energy
"I'm proud to have such a unique model; it's really based on a team of young entrepreneurs who constantly push each other to create."
Angel Sanchez, CEO of Vitamin C Communications, is all about creating growth. His agency, which focuses on engaging brands and building them through social interactions and promotion-driven events, has a strong portfolio of about 15 original large-scale events produced annually throughout Miami. The secret to his success, he explains, is allowing his team members to get engaged while empowering them to create their own events and projects. "Sometimes they struggle or even fail, at first," he says, "But ultimately, it teaches them to stand on their own and take charge of their own events. The intrinsic reward is seeing their confidence grow as a result of creating or running their own project or event." So what does his crystal ball see down the road? "I would love to see if our team can duplicate doing events in other markets throughout Florida and beyond to other states," he says.
Quick Facts
How he stays cheerful: "I laugh when I'm stressed out — and it always helps!"
Favorite drink: "Macallan 18, on the rocks."
Good news travels fast: "When I'm celebrating milestones, I call my mother to let her know that she's always been my inspiration."
He's come a long way: "My first job was bagging groceries at Publix — it seems like a lifetime ago!"
Text by Cristina Zuazua; Photo by Antonio Eli
Angel Sanchez is the CEO of Vitamin C Communications; 1749 NE Miami Ct., Ste. 213, Miami; 305.375.0179; YourVitaminC.com.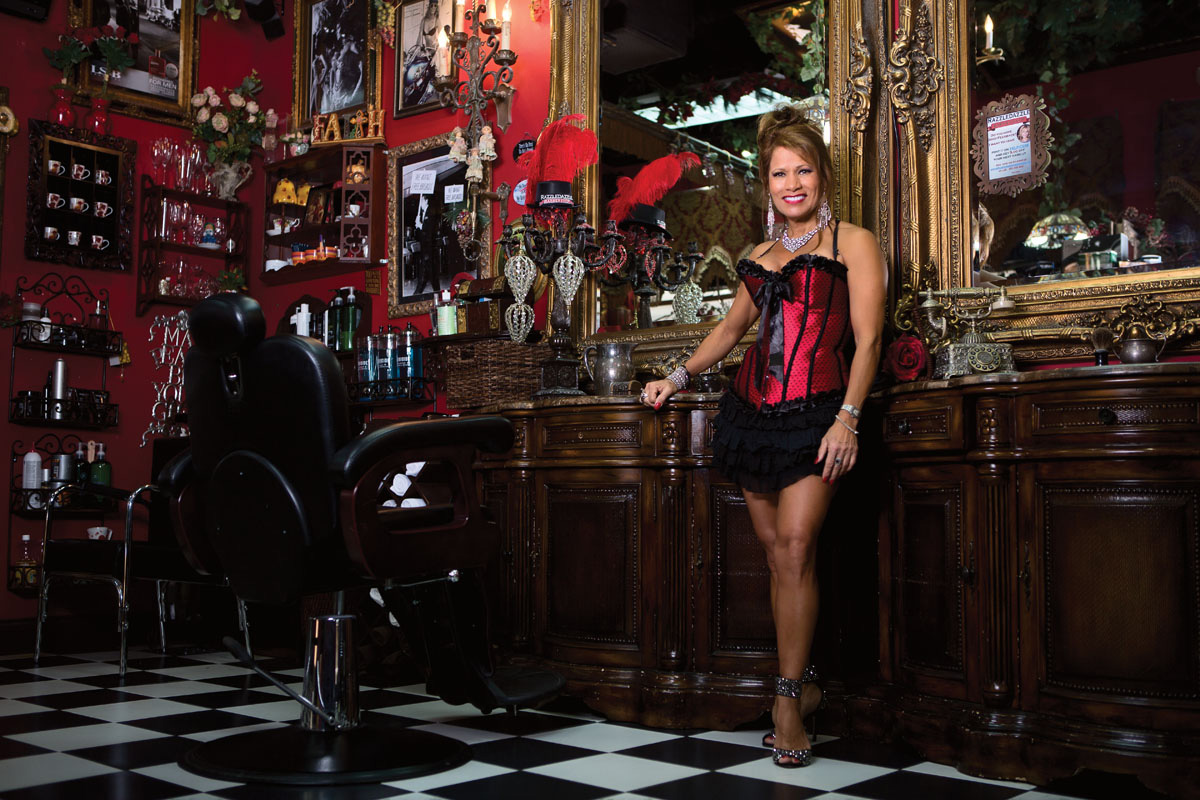 Dazzling Success
"Seeing how happy we make people feel by giving them attention and making them look better is the ultimate success in my line of work."
Elena Linares has had a rough journey to her current success, but she has overcome all obstacles with grace and strength. It all started in the mid '80's when she landed at a Miami shelter for battered women. As a single mother, she vowed not to depend on anyone for her family's survival. In short order, she landed a job with Supercuts. With hard work and dedication, her career and self-sufficiency yielded a quick ascension up the corporate ladder. As such, she became the owner of 12 Supercuts franchises, which led to her latest venture, RazzleDazzle Barbershop. "The concept is meant to throw men back in time," she says. "The décor and the feel of the shop is burlesque and vintage, and we cater to guys of all ages." And she doesn't stop there: "It's important for me to mentor others," she says. "Being a survivor of domestic violence has strengthened my desire to reach out and educate others through my own experience."
Quick Facts
Alter Ego: "The Queen of Dazzling!"
Guiding light: "In my book, true success is touching as many people as you can along your journey in life."
In another (professional) life, she would be…"I would have liked to be a dancer or a motivational speaker — both careers sound exhilarating!"
Giving back: "I'm proud to say that I support the Safespace Foundation by mentoring women at the shelter."
Text by Cristina Zuazua; Photo by Antonio Eli
Elena Linares is the Founder of RazzleDazzle Barbershop; 901 S. Miami Ave., Mary Brickell Village, Brickell; 224 & 241 Miracle Mile, Coral Gables; 1530 Alton Rd., Miami Beach; 305.579.4747; RazzleDazzleBarbershop.com.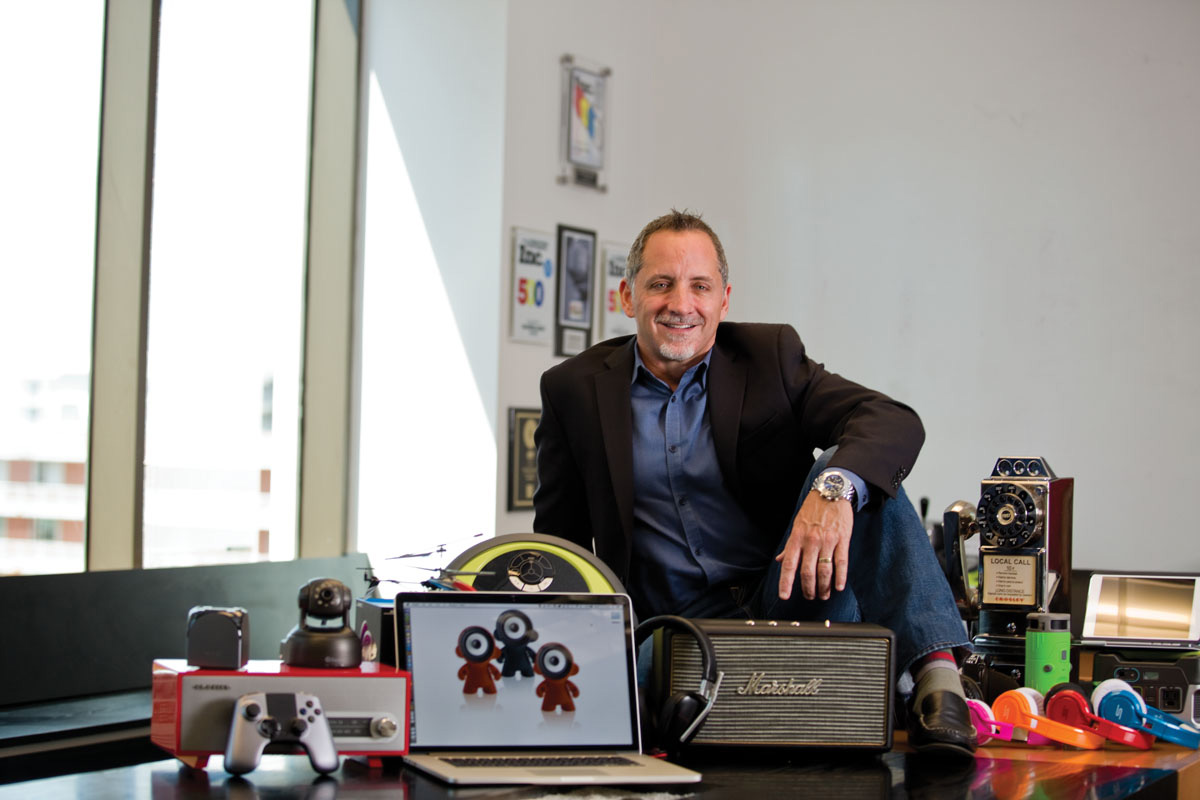 Positive Growth
"The most fulfilling part of my job is helping technology companies from around the world get the media coverage they deserve and seeing them grow as a result."
Max Borges has had an incredible journey in the course of starting Max Borges Agency 11 years ago. "When I launched my company I was dead broke and looking for a job," he says. "No one would hire me, but I did get some consulting work, yielding my first client." Today, his firm has 48 employees and more than 90 clients around the world. What's more, he's been on the Inc. 5000 List Of America's Fastest Growing Companies for the past 5 years in a row. In addition to his positive attitude that's a force to be reckoned with, Borges attributes a large part of his agency's success to an ultra-focused model. When asked what he would be doing if he weren't the president of a rising company, Borges' answer is immediate: "I'd be training for an Ironman triathlon," he says.
Quick Facts
Words to live by: "All the secrets of success are in a book. Read every day!"
Good habit: "I always try to turn a negative into an equal or greater positive."
Energy secret: "Lots of Red Bull!"
How he entered the working world: "Taco Bell, on my 16th birthday."
He likes to rock out: "I used to sing in various rock bands up until I was 21 and I've also been a competitive skateboarder!"
Text by Cristina Zuazua; Photo by Antonio Eli
Max Borges is the President of Max Borges Agency; 80 SW 8th St., Brickell; 305.374.4404; MaxBorgesAgency.com.