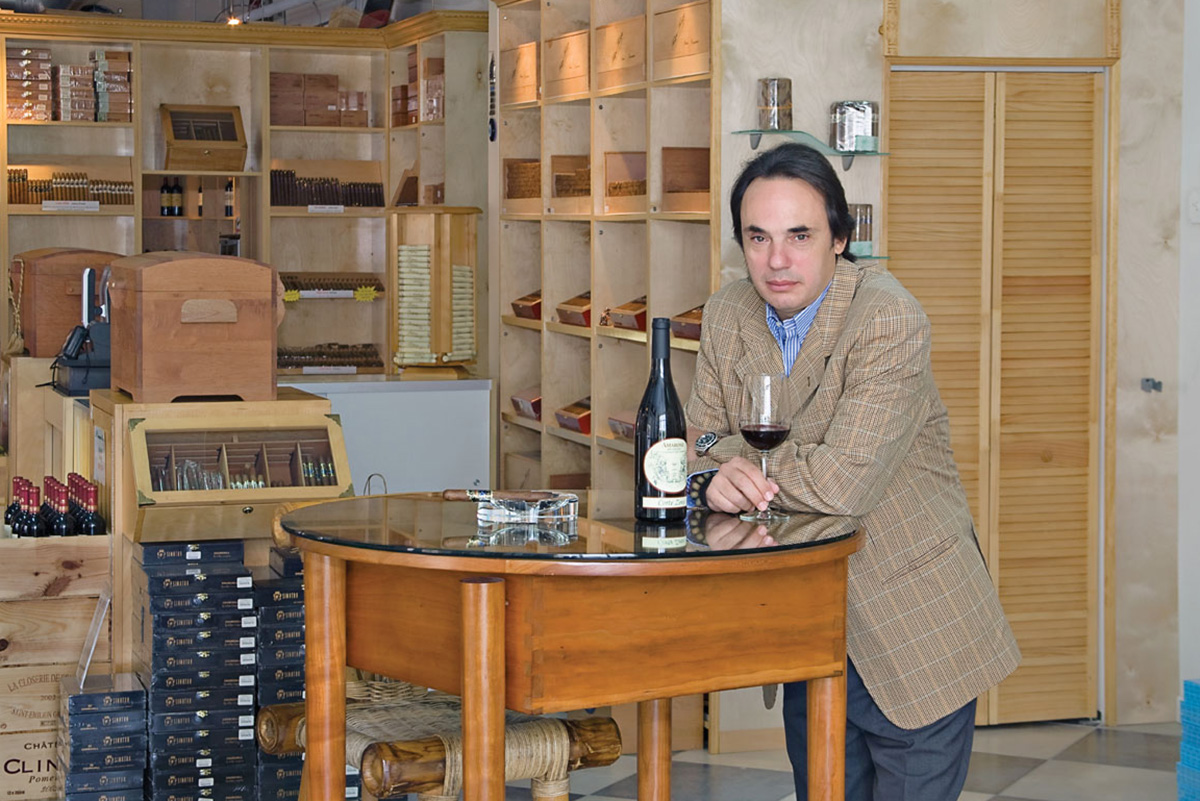 Concept Caché
World-renowned cigar-maker Philip Wynne wants to teach the world a thing or two about being a little more refined. All it takes is a quick stop at Casa Felipe, a sophisticated oasis for both budding and established cigar and wine enthusiasts.
Text by Laura San Nicolas
Photo by Antonio Eli
While his university peers were chugging beer on the sands of some obscure Spring Break destination on the other side of the planet, Philip Wynne was in Honduras with a few close friends puffing on a stogie and dreaming of a career making cigars. Today, those starry-eyed daydreams have turned into realty with Casa Felipe.
Wynne's nostalgic destination pairs premium cigars with fine wines from around the world, establishing a sophisticated charm that's evident from the breezy tables outside to the gentle smiles of his friendly and knowledgeable staff inside.
Located in Calle Ocho just off Brickell's edge, Casa Felipe welcomes anyone from established CEOs and celebrities (think David Letterman, Arnold Schwarzenegger and John Travolta) to 80-year-old Cuban ex-patriots and aspiring interns who all come to enjoy a cigar and a bottle of wine together without the hassles of cast, creed or color coming between them. "A good cigar closes the door on the vulgarities of life," says Wynne, quoting Franz Liszt, the legendary 19th century composer and pianist.
What's more, Wynne ensures every experience at Casa Felipe is one to remember. From friendly games of dominoes and chess to nightly wine tastings and a savory tapas menu, there's something for every taste here, every day of the week. The place even has free Wi-Fi so workaholics can stay connected…although most opt to disconnect the moment they get their first whiff of the soothing aromas inside.
But don't think you have to pay a fortune to feel like a million bucks at Casa Felipe. A bottle of wine and premium cigar cost less than a typical power lunch, with prices starting at below $20 for a box of premium cigars and just under $25 for a bottle of wine. Triple digit options range from Wynne's award-winning Felipe Power cigars to select wines from the most exclusive corners of France. "I hope that anyone who visits Casa Felipe leaves a better person than when they arrived," concludes Wynne. "It doesn't matter how much you can spend or where you come from, everyone who walks through our doors shares a common passion that unites us all."
To learn more about Philip Wynne, visit CasaFelipeMiami.com.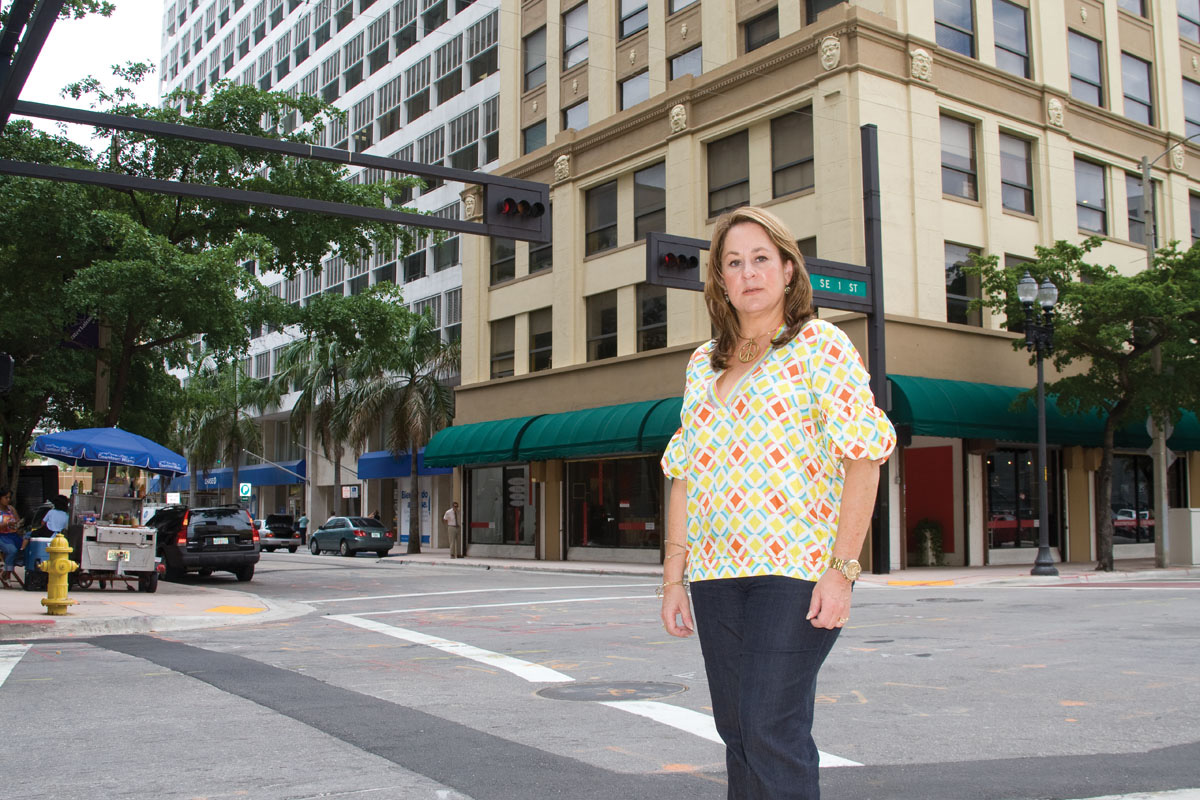 Downtown Dreams
With an eye for renovation and a knack for transformation, Josie Correa is painting the town red and making sure that a daunting Downtown Miami is a place of the past.
Text by Luisana Suegart
Photo by Antonio Eli
Josie Legido Correa is building a playground for professionals out of Downtown Miami, a neighborhood that's slowly transforming into a booming metropolis where residents can safely enjoy urban life at any hour of the day or night. "My favorite part of what I do is meeting with any and every entrepreneur who wants to open a business in Downtown Miami," she says. "By the time they leave my office I have completely opened their eyes to the great possibilities that Downtown Miami holds."
It all started in 1990 when Correa was presented the opportunity to work as Assistant to the Director of Downtown Miami Partnership, which offers and administers programs that provide a holistic approach to urban renewal. Four short years later, she was hired as the Executive Director of DMP. "What started off as a job turned into a labor of love for the urban life of Downtown Miami," she says. "For the past 19 years, I've been working to create an environment that's clean, safe and people-friendly, with the ultimate goal of creating a true urban center."
By which she means a 24/7 Downtown Miami — the antithesis of the ghost town that often looms after 6 p.m. once workers take off to the suburbs. "Our businesses needed to realize that residents living in the area will eventually become their bread and butter," she says. "It's only a matter of time."
Correa says pioneer owners realized that and transformed unoccupied floors into affordable housing, starting the first phase of urban living in "DWNTWN." "My aim is to make a real connection between the new residents who are living in the area and the businesses that are here to serve them, so that this dream will come full circle," explains Correa.
As such, Correa and her team host "Meet Your Neighbors" events designed to bring the two together, with the largest to date held at Mary Brickell Village in November 2008. "Brickell is like a big brother to the central business district, someone we look up to and admire, at the same time understanding that our differences are what makes us unique and interesting and gives us our flavor," she says. "Our individual successes as neighborhoods can only make us stronger as a destination, and a community."
To learn more about Josie Legido Correa, visit DowntownMiami.com.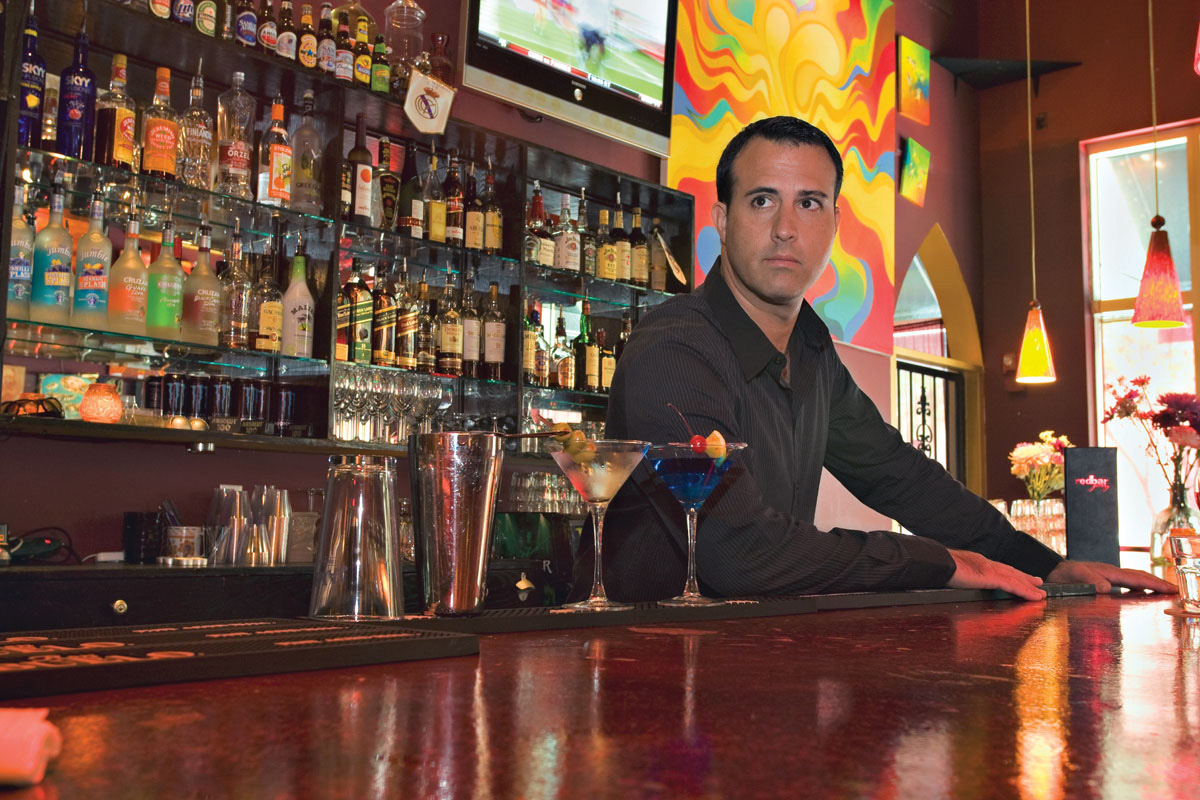 Art Smart
Daniel Baez brings a unique concept to Brickell with Red Bar Gallery, an establishment that puts the "art" in party for a truly engaging entertainment experience.
Text by Luisana Suegart
Photo by Antonio Eli
Like all the artists that have inspired him throughout his life, Daniel Baez is painting his own future with a profound appreciation of art at the forefront of everything he does. With a Bachelor's in Hospitality Management from Florida International University, and a Master's in Business Administration from the University of Miami, it seems Baez was well-equipped to realize a goal he created for himself at the age of 16 while working at a mall food court. "Whether it was working for a restaurant, bar or hotel, I've always been connected to the hospitality industry," he says.
Loving the fast-paced Miami lifestyle and the energetic, fun-loving, international people that comprise it, Baez set his sights on Brickell, opening Red Bar Gallery, a gathering place for the local (and not so local) community. "When you're here, you should feel like you're in a living room with friends having a good time," he says. "We created an intimate environment where we treat everyone like a VIP. We also try to offer the community something more than just a drinking establishment by broadening our customers' exposure to the local art community."
That explains the art that lines the walls to create a gallery, which Baez and co-owner Courtlandt McQuire created to showcase local artists. "Art is great for everyone from children to adults and it offers each person something different," says Baez. "Now that the art scene, for lack of a better term, is growing in the Brickell area, it's more important than ever to keep it strong and expanding."
And with goals to simultaneously expand his business, Baez looks toward the future with optimism. "We've continued operations at a high level despite the overall economic crisis," he says, adding that he's in the process of modifying their lineup so customers get more bang for their buck. "We've always had the best prices in the area and never a cover, and we plan to keep it that way."
"My favorite part is giving people a place to meet and to enjoy themselves," he continues. "That's why I got into the industry in the first place!" And with that in mind, Baez enables his customers to live up to the bar's tagline: Art. Atmosphere. Alcohol. Cheers!
To learn more about Daniel Baez, visit RedBarGallery.com.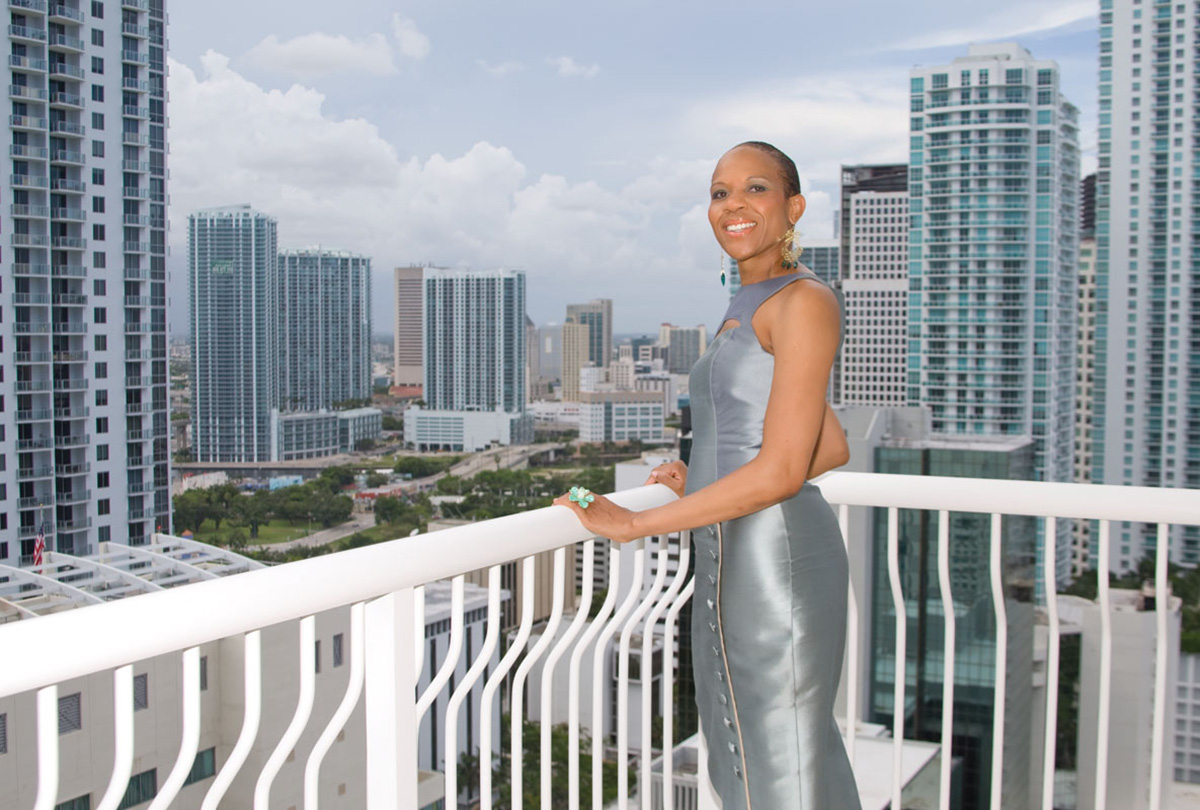 Role Model
Image Consultant Charmaine Campbell knows that landing a dream job starts with the right look, and she's letting her own success speak for itself as she transforms clients from the inside out.
Text by Luisana Suegart
Photo by Antonio Eli
You only have one chance to make a first impression, and that's a message Charmaine Campbell wants to write in the sky. It's why the image consultant, author and entrepreneur digs into her most valuable resources to transform lives one by one.
Campbell kicked her career into high gear when she moved to the U.S. in 1981, later attaining certifications as an Image & International Protocol Consultant from the Protocol School of Washington to fulfill career goals that were subliminally embedded at the age of 13. "I remember the exact moment I stumbled upon a photo of the late Audrey Hepburn," she recalls. "She exuded an aura of elegance and unpretentiousness that I was compelled to seek."
Today, Campbell is a role model to many as the owner of Chic International, a company that provides image and etiquette consultations to individuals and groups. "We devise a technique that will achieve a complete makeover from the inside out, which brings out the leader and winner in our clients," she says.
In addition, Campbell is VP of Public Relations for the Brickell division of Toastmasters International, a network of clubs that teaches its members to be better leaders and speak confidently in front of an audience. "My challenges are convincing clients and friends that an image adjustment is exactly what one needs in these economically tumultuous times," she says. "It's a 'survival of the fittest' arena. The only thing that will set you apart is appropriate deportment and an immaculate image."
"I strive to inspire others through my actions, verbally and non-verbally. I live daily by demonstrating Integrity, Charm and Elegance in everything I do personally or professionally," she says, referring to the "I.C.E." principle she establishes in her book, Money Can Not Buy Class.
With goals to continue with televised interviews and additional book signings, national coverage isn't her only means of setting a positive example. As a mentor for Women of Tomorrow and a fundraiser for Big Brothers Big Sisters and Heart Menders, Campbell is currently training for the Miami Leukemia and Lymphoma mini-marathon scheduled for January 2010. "Volunteerism is my hot button," she says.
To learn more about Charmaine Campbell, visit ChicInternational.com.