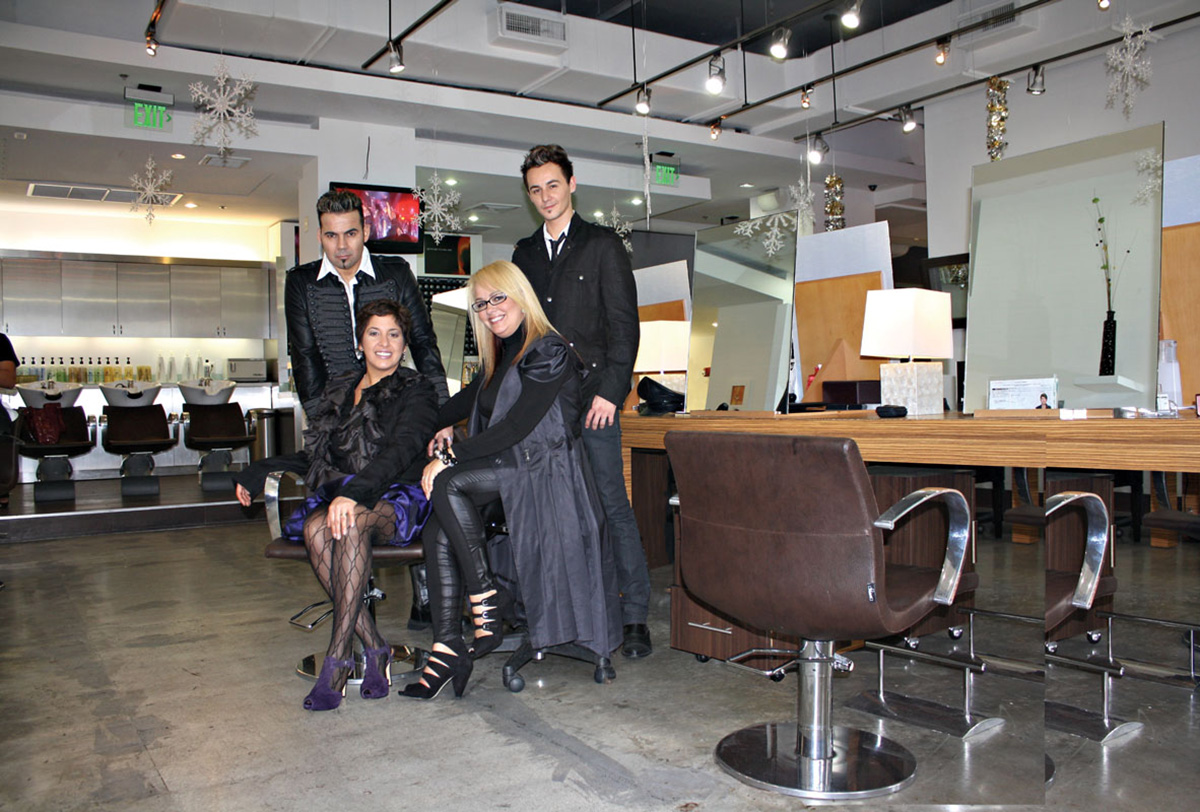 Shear Beauty
Featured in Elle's list of Top 100 salons in the USA, Roberto Giordano Salon in Brickell is living up to the legacy of Giordano himself — and then some.
Text by Luisana Suegart
Photo by Maria Lankina
When South American's most celebrated hairstylist joined forces with entrepreneurs Carlos Echeverria and Gustavo Copia to open the first Roberto Giordano Salon + Spa in the U.S., Brickell was the natural choice. Today, the fashion-sensed facility is home to four distinguished Master Stylists who apply their expertise to leave a legacy of their own.
Arlene Ferro, Manager and Master Stylist, professes to be living a dream. After 12 years working and traveling alongside SAMY, she has made appearances in various international and local TV shows, while leading numerous fashion shows and meeting with hundreds of designers from around the world. "The ability to give another individual the confidence that they are worth makes an incredible difference," she says.
Born in Argentina, Emiliano J. Breit began studying cosmetology at age 16 at the world-renowned Academy of Miguel Angel Martinucci in Buenos Aires, furthering his training at Bumble & Bumble in NYC. In 2001, he was welcomed to South Florida by the Pino Leo Lina Salon in Bal Harbour, and the Lucca and Porfolio salons in Coral Gables. A Master Stylist and Project Coordinator at RG, the best reward is a client's whole-hearted appreciation. "To see the expressions of happiness day to day is fulfilling," he says.
Yathelier Jaen knows what Brickellites want. Born in Havana, Jaen attended the Amelia Pelaez Academy before validating her license at the Beauty School of America. From her small, home-based patio to the Rosano Ferreti salon on Brickell, Jaen is keeping with the latest hairstyling trends. From suggesting a good hair product to encouraging a client to select the color he or she has always wanted, she admires style from within. "One always needs to have the doors open to life to let the dreams enter," she says.
Derek Lopez-Almodóvar, Master Stylist and Make-Up Artist, moved to Miami in 2001, bringing a repertoire of skills he acquired from Redken, Sebastian, Wella, Goldwell and Aveda, to name a few. A graduate of the Wilfred Academy of Hair & Beauty Culture in NYC, he was named "Miami's Top Stylist" in 2003 by Allure. "When I can boost a woman's self-esteem just by bringing out her natural beauty, I feel like a superhero!"
To take your look to the next level with the RG team, call 305.400.6663 or visit RobertoGiordano.US.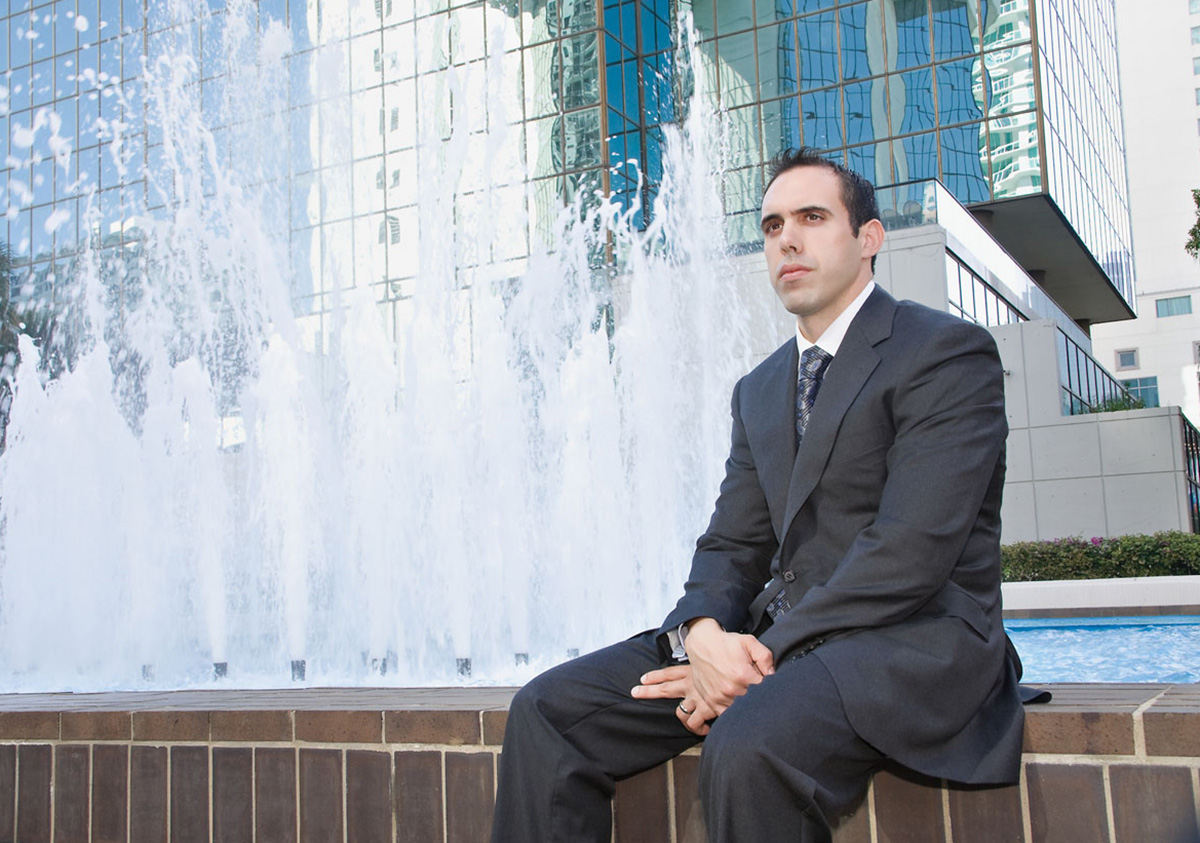 Pursuit of Justice
Along with his extensive list of experience and education in law, Kenneth M. Damas' is drawing inspiration from his upbringing to continually develop a triumphant career.
Text by Luisana Suegart
Photo by Antonio Eli
Originally from Cuba, Kenneth M. Damas' family relocated to the U.S. in the 1960s to avoid the Castro regime. "When I was 7, I heard stories about the injustices that my family experienced in Cuba. When I asked my grandmother why this happened, she said, 'Study hard. With a good education coupled with hard work, you can help fix all of these problems'."
As such, Damas completed his studies at the University of Miami, where he earned a Bachelor's degree and Juris Doctorate, graduating cum laude. He then went on to work at the Public Defender's Office and Miami Law Titles & Trust, where he specialized in real estate law focusing primarily on contract litigation, foreclosures and commercial transactions, amongst other property matters. A member of the Florida Bar, Cuban-American Bar Association, Dade County Bar Association and the American Association for Justice, Damas is continuously adding to his credentials.
As partner at the Law Office of Adorno, Damas and Associates, Damas and his team specialize in civil litigation cases involving family law, bankruptcy and real property matters. In essence, Damas is living his childhood dream of becoming an attorney and truly making a difference in the community while inspiring younger generations.
Damas assures he adheres to a solid collection of work ethics designed to ensure goals are met inside and outside the courtroom. With the entire practice based on quality and customer service, Damas and the team have turned away from the bill-by-the-hour era in order to accommodate every client. Wishing for anyone who walks into their office to feel like a member of their family, Damas remains a strong believer in maintaining an open-door policy, literally. "Our clients and prospective clients are always welcome to come in and chat."
His biggest challenge? Satisfying every client's inquiry. He does so by staying in the know; that is, always reviewing and studying new cases. "Our practice is always evolving and so are we," he says. "I like waking up every day knowing that no two days are the same, that I can help people, and that I'm living what I set out to do."
To learn more about Kenneth M. Damas and his team, call 305.381.9999 or visit AdornoDamasLaw.com.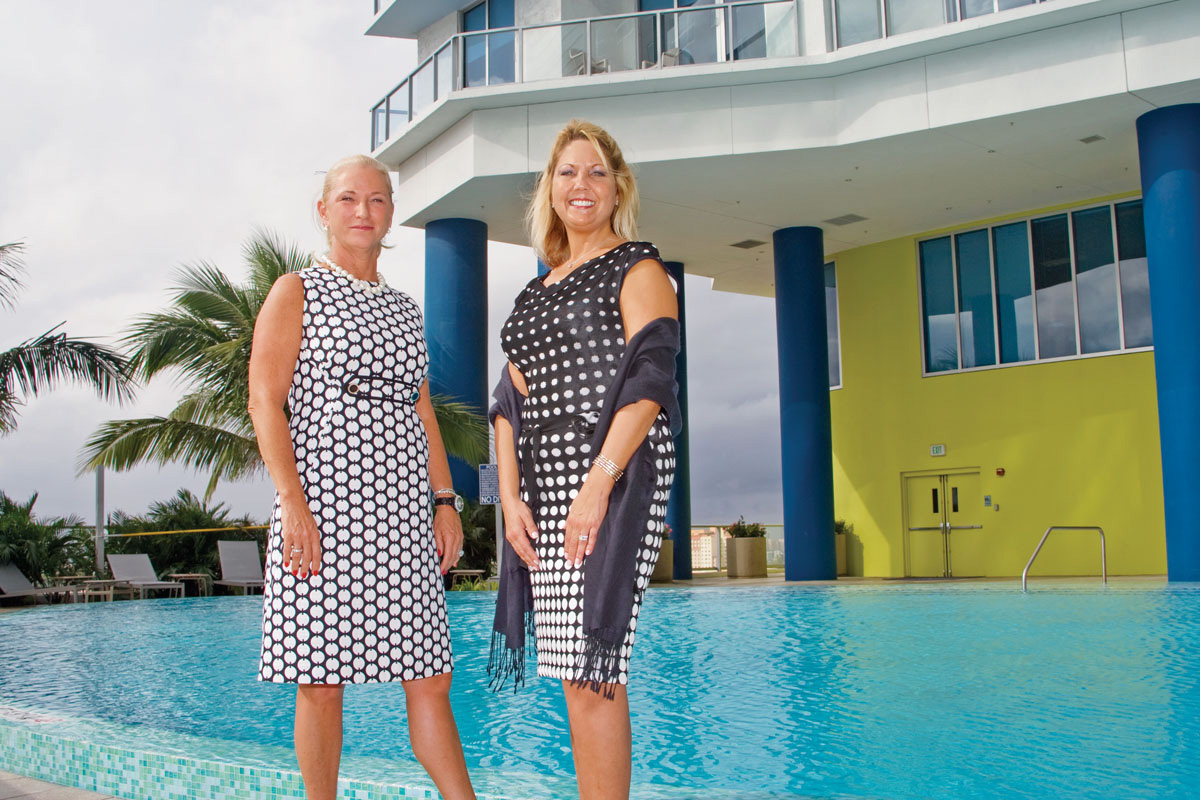 Property Pros
As key players of the real estate giant Peabody Properties, Inc., Karen Fish-Will and Lisa Doran know two minds work better than one, especially during challenging times.
Text by Luisana Suegart
Photo by Antonio Eli
With more than 30 years of experience in property and construction project management, Karen Fish-Will is VP of Peabody Properties, Inc., and oversees the leasing, sales, marketing and management of Latitude on the River, the 44-story residential development that comprises 452 condominiums, a 24-story Class A office building, and Graziano's Restaurant. "My aim throughout my real estate career has been to attain and maintain a solid reputation for excellence and to cement my relationships with public, civic and business communities," she says.
It's the marriage between Fish-Will's real estate career and creativity that widely accounts for her successful reputation that has yielded a booming real estate career path paved by her father, Edward A. Fish, and his father before him.
From her first major accomplishment, the development and marketing of an 83-acre condo community in Chelsea, MA, to leading the sales and marketing efforts of major developers with record sell-outs, Fish-Will's strategy is based on a head-on approach to any challenge. "I view my leadership role as a process, not figuring out all the answers by myself," she says. "Teamwork really works for me and our company."
Within her team is Peabody's Regional Manager, Lisa Doran. Originally from Southern Indiana, Doran launched her career in the banking industry's executive offices before entering the legal field as a paralegal for prestigious firms throughout the country. It wasn't until 2001 that Doran started with Peabody Properties in Boston, eight years later moving to Miami to grow the South Florida team. "I've found that my legal experience and my construction knowledge have greatly enhanced my ability to effectively manage property and people," says Doran, who also draws inspiration from Fish-Will's "can-do" attitude.
Together, the dynamic duo seeks ways to expand the company, starting with Fish-Will's vision for growth: "We believe diversification is needed for future growth. With such a unique package of services, branching into Florida and beyond is a top priority for Peabody Properties for 2010 and beyond."
To learn more about this dynamic duo and their current and upcoming projects, visit PeabodyProperties.com.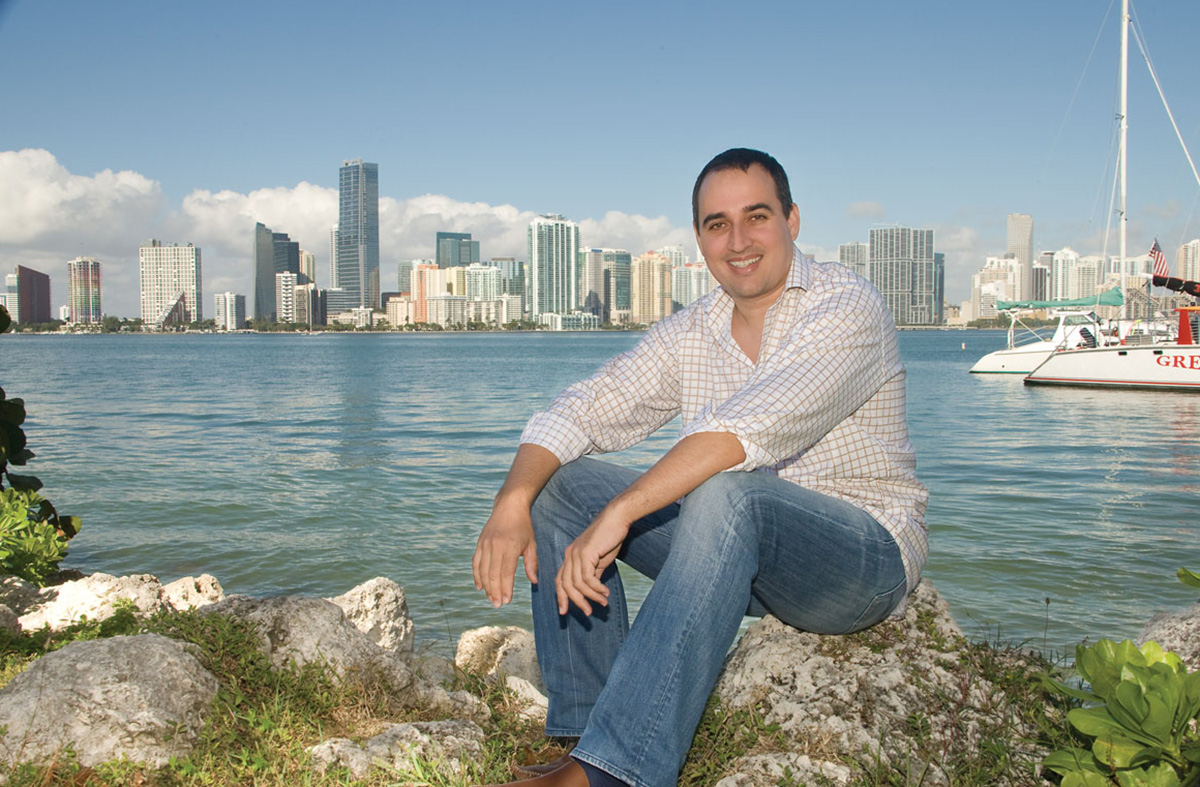 Problem Solver
What happens when you see a glaring need in the current real estate market? If you're Adrian Diaz-Sieckel, you create three brands aimed toward providing in-depth, no-joke solutions for folks who are in need.
Text by Luisana Suegart
Photo by Antonio Eli
Adrian Diaz-Sieckel is providing answers where they are needed the most. Since 2005, Diaz-Sieckel and his team of real estate pros have been tackling market issues with Sieckel, LLC, the brokerage and management company that takes on the most specific issues of real estate analytics, transactions, consulting and management. "We aim to solve problems, be it an association or commercial building looking to cut costs; the management of individual properties and groups of assets; or an entity wanting business intelligence applications for real estate." From expertly handling short sales to their market analysis advantage, he provides these services all under one roof.
The firm offers comprehensive solutions based on expertise that's boosted by cutting-edge technology. Divided into three brands, Sieckel, LLC, deals with business intelligence and management, while NDPS handles short sales, pre-foreclosures and distressed real estate. EMH3.com blends the two specialties, and applies them to the buying, selling and leasing of real estate. "We can give new or experienced associates a unique advantage and time savings, plus great backing from their broker." Net result, happy clients!
It's a winning business venture backed by extensive experience. Diaz-Sieckel earned his MBA from the University of Miami, before following his passion for technology in telecommunications. From there, it was on to the world of real estate, where he managed portfolios for major high-end projects and investors throughout Florida, including the management and rehabilitation of the Freedom Tower. Just four courses shy of a M.S. in Computer Science, he created a unique real estate data analysis system to complement his extensive budget analysis and management roles.
"A certain aspect of my learning was both vicarious and formal in nature but the rest was good old-fashioned jumping into the fire and testing your meddle," he says. "I have real solutions born from the experience of what works is what the market needs." And it's with this unique skillset, combined with business tools and experience that Diaz-Sieckel combats the challenges of a shaky market providing tailor-made solutions. "Listening to our clients, shooting straight and delivering is the key to our success."
For more information, contact Adrian Diaz-Sieckel at 305.349.3643 or visit EMH3.com .