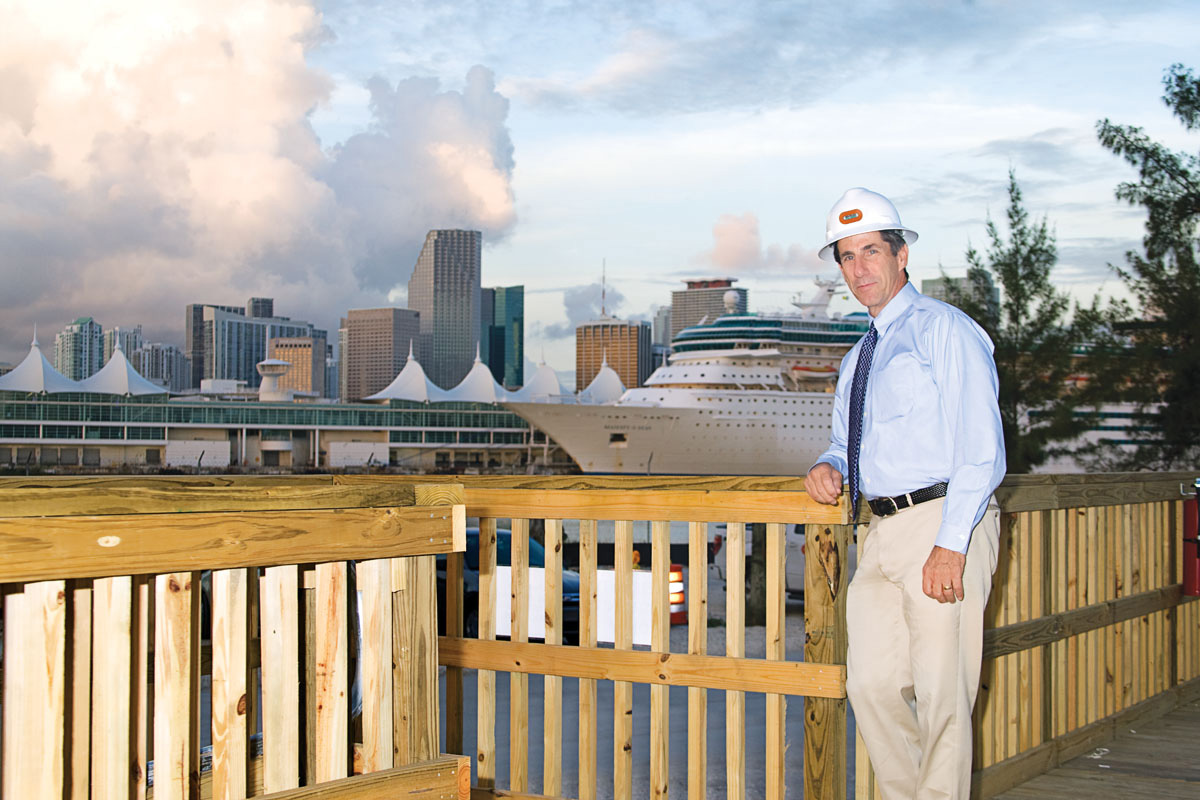 Legal Champ
"I'd like the next generation of lawyers to understand that the practice is a profession, not a trade."
Stuart Sobel radiates the poise and knowledge that can only come from three decades of legal practice based on integrity. A shareholder of Siegfried Rivera Lerner De La Torre and Sobel P.A., he represents participants in all aspects of the construction process — from negotiating the construction contracts through resolution of disputes that arise among all who are involved in complex projects. "I was always interested in the interaction of the various disciplines that come together to turn a developer's vision of a project into reality." He continues: "My dad always said, 'It takes a lifetime to earn your reputation, but only a second to lose it.' I always try to take the high road in dealing with clients, their adversaries, opposing counsel, judges and arbitrators," Sobel assures. "I love seeing the system work to vindicate clients whom I believe have been victimized by those who failed to keep their promises or take responsibility for their actions."
Quick Facts:
He foregoes jurisdiction at home. "While I handle some of the largest litigation of its kind during the day, my beautiful wife of 22 years manages virtually every other aspect of my life. After 5 weeks of dating, she demanded 'to know where this thing is going.' I didn't even know we had 'a thing' after 5 weeks, but took the hint and proposed the next week."
If he weren't practicing law: "I'd be teaching third grade."
What he knows for sure: "Life is the accumulation of circumstances, choices and consequences. Do the best you can and forgive yourself the rest."
Text by Luisana Suegart; Photo by Antonio Eli
Stuart Sobel is a shareholder at Siegfried Rivera Lerner De La Torre and Sobel P.A.; 305.442.3334; SiegfriedLaw.com.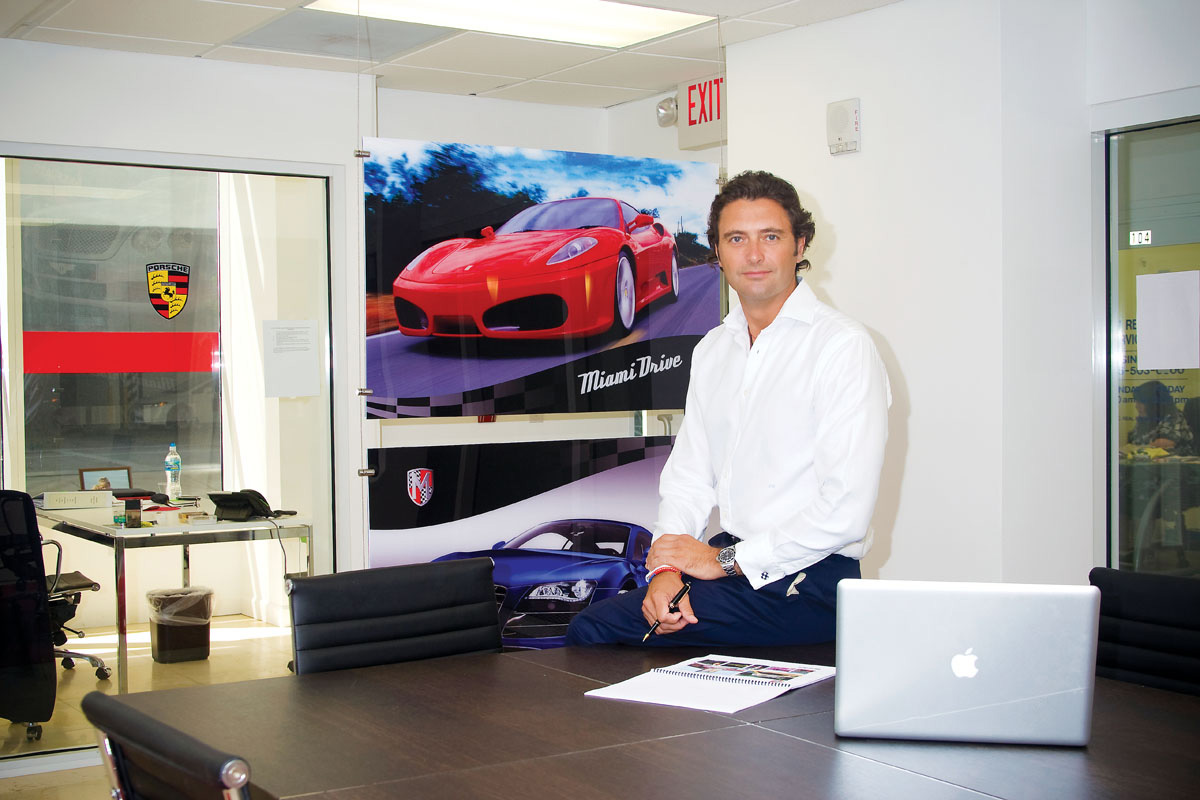 Next Level
"I love sharing with others the concepts and ideas I am passionate about."
Javier Martin is used to life in the fast lane thanks to his exhilarating tenure as Managing Partner at Miami Drive Club, South Florida's most exclusive exotic car share club, offering automotive enthusiasts access to a fleet of luxury cars — Ferraris, Lamborghinis, Bentleys and Porsches, to name a few. "Our clients are amongst the most discerning and debonair in South Florida," he says. "What we offer them is the chance to enjoy their passion for driving without the headaches associated with ownership of the vehicles they love to drive." When it comes to growth, Martin, a lifelong entrepreneur, and his team have plans to put the pedal to the metal. "First we need to consolidate our business in Miami, since this is a new concept here, unlike in Europe where it is very popular. When we are ready, we would like to expand our franchise into other cities like Las Vegas, Los Angeles and San Francisco."
Quick Facts
He knows his way around the kitchen. "I love to cook! It's a great pleasure to enjoy a nice meal with good company."
He's fast on foot. "Running marathons helps me to relax my mind and keeps me in good shape."
If he weren't at his businesses: "It's hard to say what I'd be doing — life changes and we need to always be ready to adapt to new situations!"
He quotes Rocky Balboa: "Nobody is gonna hit as hard as life. But it ain't how hard you hit; it's about how hard you can get hit, and keep moving forward."
Text by Luisana Suegart; Photo by Antonio Eli
Javier Martin is Managing Partner of Miami Drive Club; 1200 Brickell Bay Dr. #106; 305.702.0017; MiamiDriveClub.com.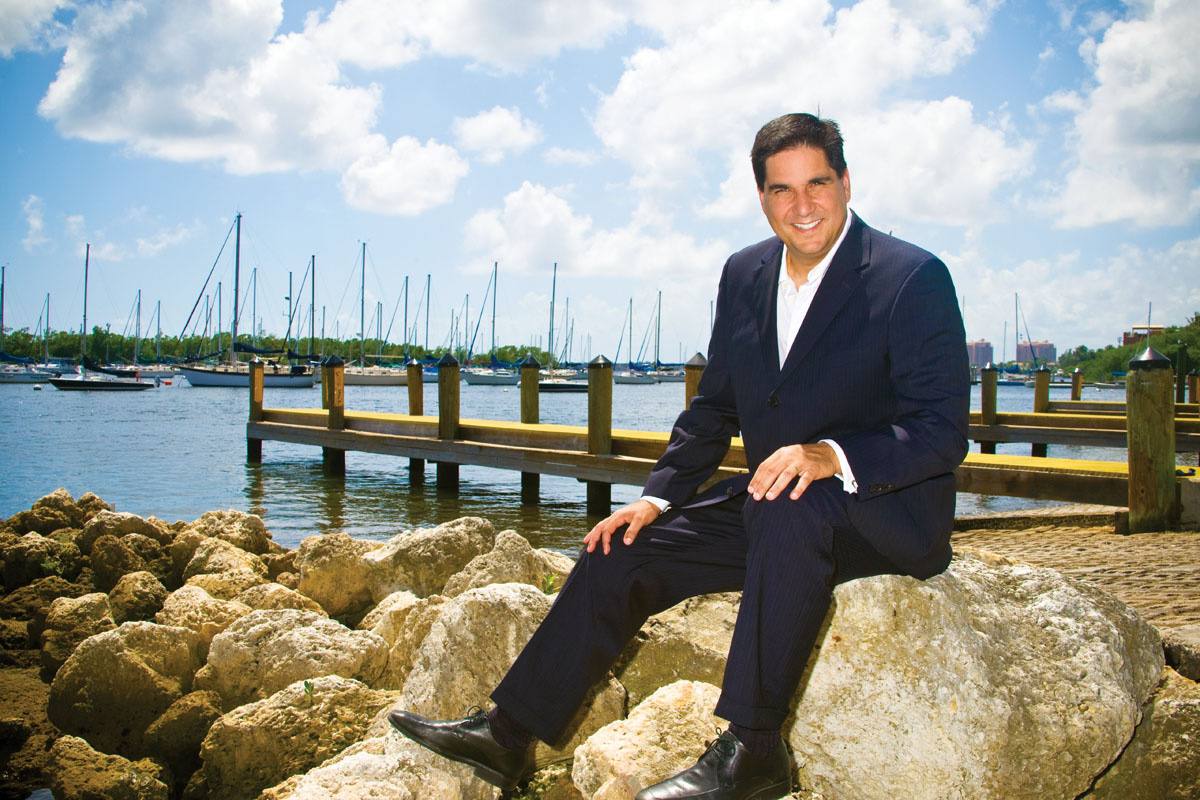 Totally Devoted
"Don't stop asking questions. If you do, something is wrong, because you're not that smart."
"I'm persistent, perhaps even relentless when I need to be," admits real estate developer Ernie Cambo, who's never discouraged from chasing a dream. "I was cut from a development program for the NFL and needed to give up my dream of playing professional football. I've always tried to not waste time and quickly find the win-win proposition." Right now, Cambo's focus is on the AVE Aviation & Commerce Center at Opa Locka Airport, a 2.5 million sq. ft. business park with retail, industrial buildings, and state-of-the-art corporate jet hangars. "Private aviation is starting to see a resurgence, as new websites and services are making it easy for travelers to book private jets for small parties to travel at roughly the same cost of flying first-class on commercial airlines," he says, dreaming ahead to Opa Locka Airport being one of the largest hubs for private and corporate jets in Florida.
Quick Facts:
Ernie's recipe for success: "Finishing what we started, and delivering quality properties at great locations to corporate clients."
He was struck by beginner's luck. "I closed my very first cold call!"
If he weren't developing real estate: "I'd be coaching youth sports, which I've done a lot of over the years and still do today. I'm a big sports fan."
He's a man of the water. "My first job was as a lifeguard at the Key Biscayne Beach Club. These days I love to drop a line in the water and reel in a very large fish."
Text by Luisana Suegart; Photo by Antonio Eli
Ernie Cambo is Principal of CPF Investment Group; 2977 McFarlane Road, Ste. 302, Coconut Grove; 305.460.6262; AveMiami.com.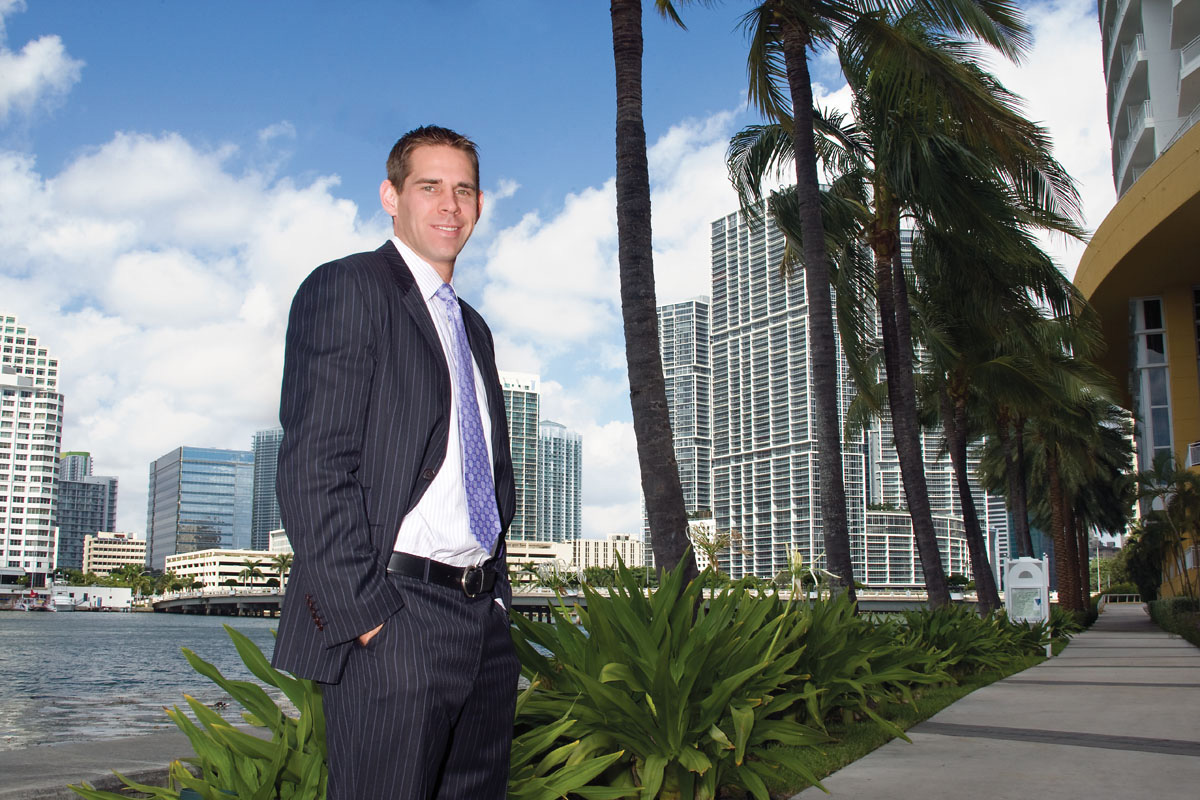 Wise Wealth
"Always live below your means — you can't go broke if you don't have any debt!''
From CEOs to professional athletes to some of South Florida's top real estate developers, Brad McMorris is no stranger to the world of high networth wealth management. It started when he was 18: "I was doing inventory on airplane parts for an air services firm. At the time I knew nothing about investing, but each night on my way out, I noticed the company's stock chart going up." With $2,000 to his name, he opened a brokerage account and bought 100 shares. The stock moved straight up and was acquired by another firm yielding him an amazing return. He was hooked. After working at UBS, McMorris joined what is now Wells Fargo Advisors, and formed the Arch & McMorris Wealth Management Group, managing over $200 million in private client assets. He attributes his success to his younger days as a professionally sponsored skateboarder. "That time gave me the street smarts and confidence that has gotten me to where I am today."
Quick Facts
He has since given up skateboarding for racquetball, and is currently one of the top-ranked professionally sponsored open players in the state.
He's always wagering dinners at Prime One Twelve with his clients over a game of racquetball. The first one to reach 15 wins, but even giving them a 14-point head start, he assures, "I have yet to buy a single dinner!"
He's still great on a skateboard. "I love when I run into kids skateboarding around Brickell; I usually grab their skateboards and pop 360 flips in my suit — they all freak out!"
Text by Luisana Suegart; Photo by Antonio Eli
Brad W. McMorris is VP-Investments at Wells Fargo Advisors, LLC; 1111 Brickell Ave., Ste.1800; Miami, FL 33131; 305.995.6240; ArchMcMorris.com. Wells Fargo Advisors, LLC, Member SIPC.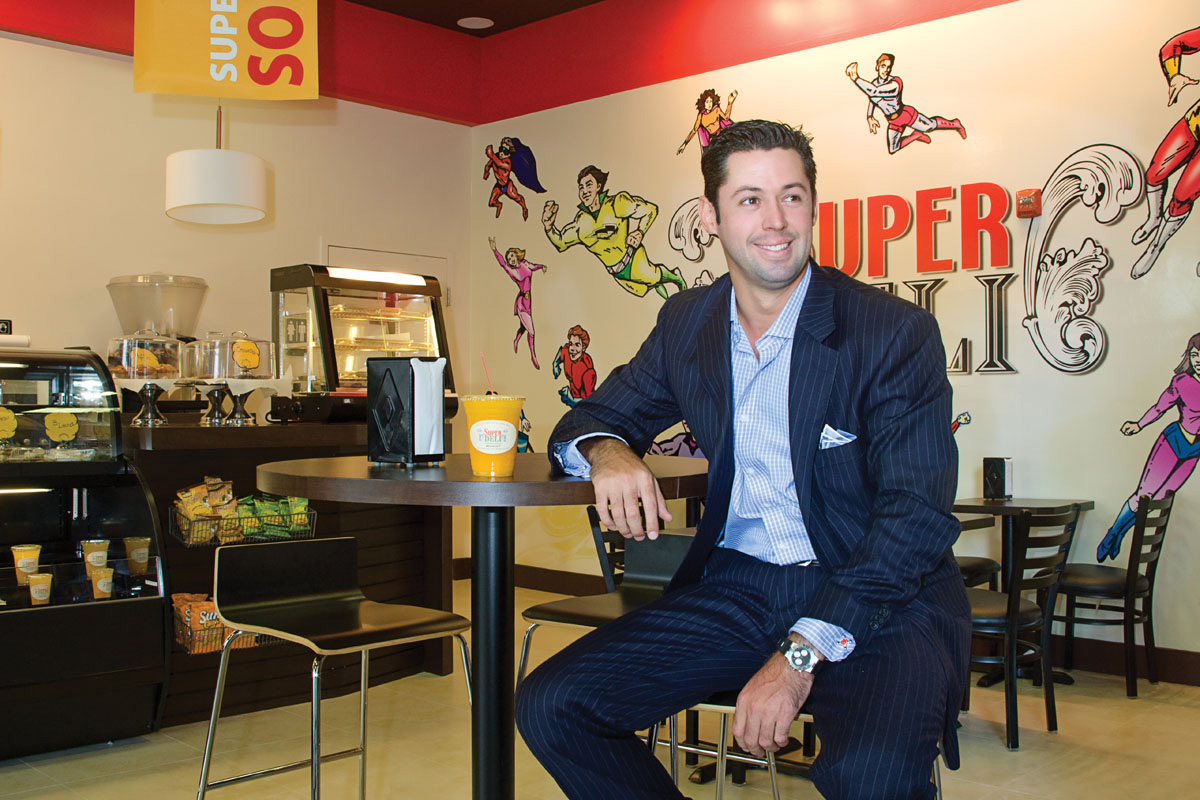 Super Biz
"Seeing one idea become a reality gives me great satisfaction. Everything begins with one idea."
Jeronimo Hirschfeld might as well have coined the phrase, "Work hard, play hard," as he combines his business savvy and sense of adventure to bring creative concepts into fruition. Case and point, Super Deli, a new concept of restaurants offering delicious, healthy lunch options at an affordable price. With two locations currently running — one in Coral Gables and another in Downtown — Hirschfeld looks forward to opening a third before year's end. "I've always been someone who loves to create and innovate. I like challenges, and I take many risks," he says. "My dad taught me that in business you need responsibility, attitude and perseverance." It's those traits and his savoire-faire that keep his projects moving forward. Also on the horizon are two bar lounges dubbed JERONIMO's, which are scheduled to open in South Beach and Brickell in the coming months.
Quick Facts:
He's one of six boys. "I love sports. Especially having six brothers, it has made me very competitive. I always hated to lose!"
He's a real character. "I love acting and I've played several roles in short films. Some day I will produce and play the main lead role in my own movie."
Tricks aren't just for kids. "I recently bought a wave board, which is like a skateboard but with two wheels instead of four. The salesperson couldn't stop laughing when I told her I was buying it for me!"
Text by Luisana Suegart; Photo by Antonio Eli
Jeronimo Hirschfeld is President of One Real Estate Investment, Inc. and Super Deli; 786.777.0060; SuperDeli.com.