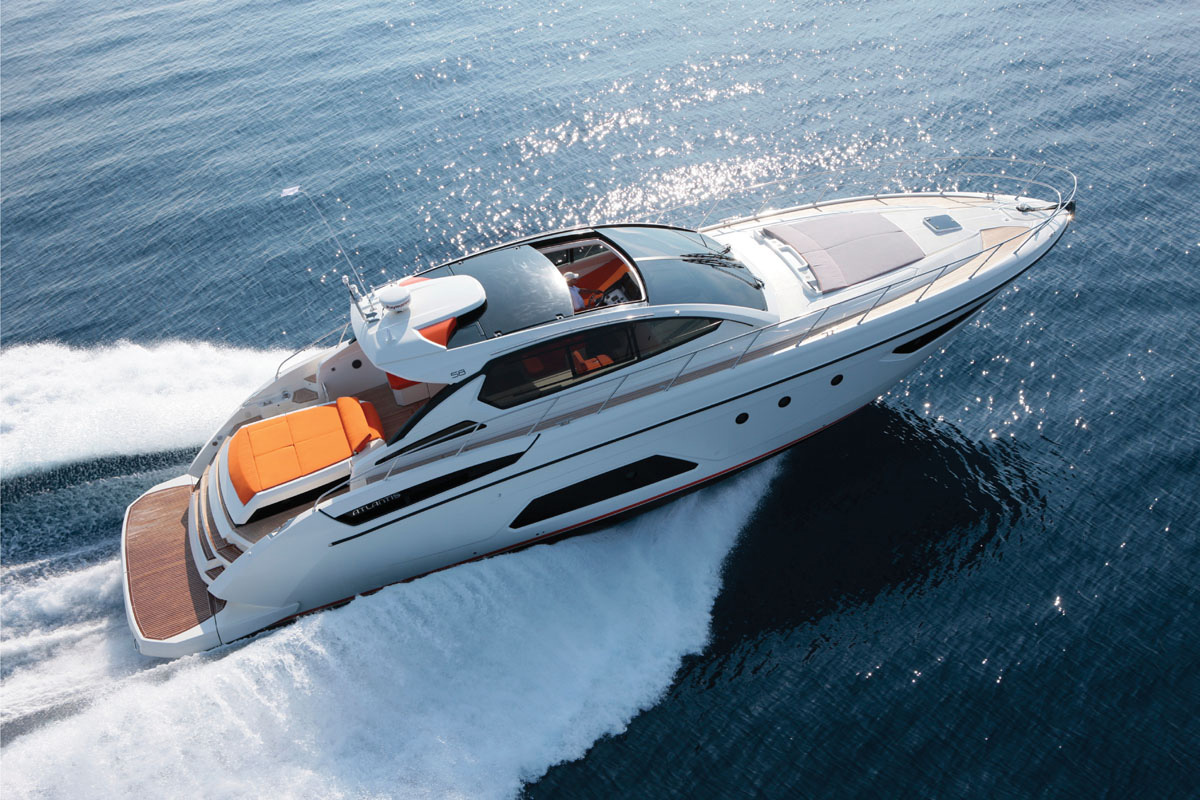 Atlantis 58
Yacht Under 100'
Price: $1.495, with standard 1000 hp MAN engines
Where to get it: YachtBrasil: Miami; 300 Alton Rd., Ste. 108, Miami Beach; John Gluck; John.Gluck@YachtBrasil.com; 305.722.7200; YachtBrasil.com
The third yacht to come out of the innovative NeoDesign team of Salvetti & Biaggi, the new flagship Atlantis 58 lives up to the team's growing reputation for exceptionally open sport yachts packed with unique features. The most notable and visible of these are the fully opening side windows that literally bring the outdoors in with fresh air and plenty of light, as well as a significantly oversized dining table that seats 12. Options are another of the team's strengths, such as the choice of having an aft crew cabin or a massive tender garage for large water-toys. The 3-cabin layout encompasses a full-beam midship master stateroom, with the VIP forward. The third cabin is offered in different layouts to act as a TV/playroom with a plush sofabed, an office or onboard gym. With the optional MAN 1200 hp engines, the Atlantis 58 attains a generous top speed of 40+ knots.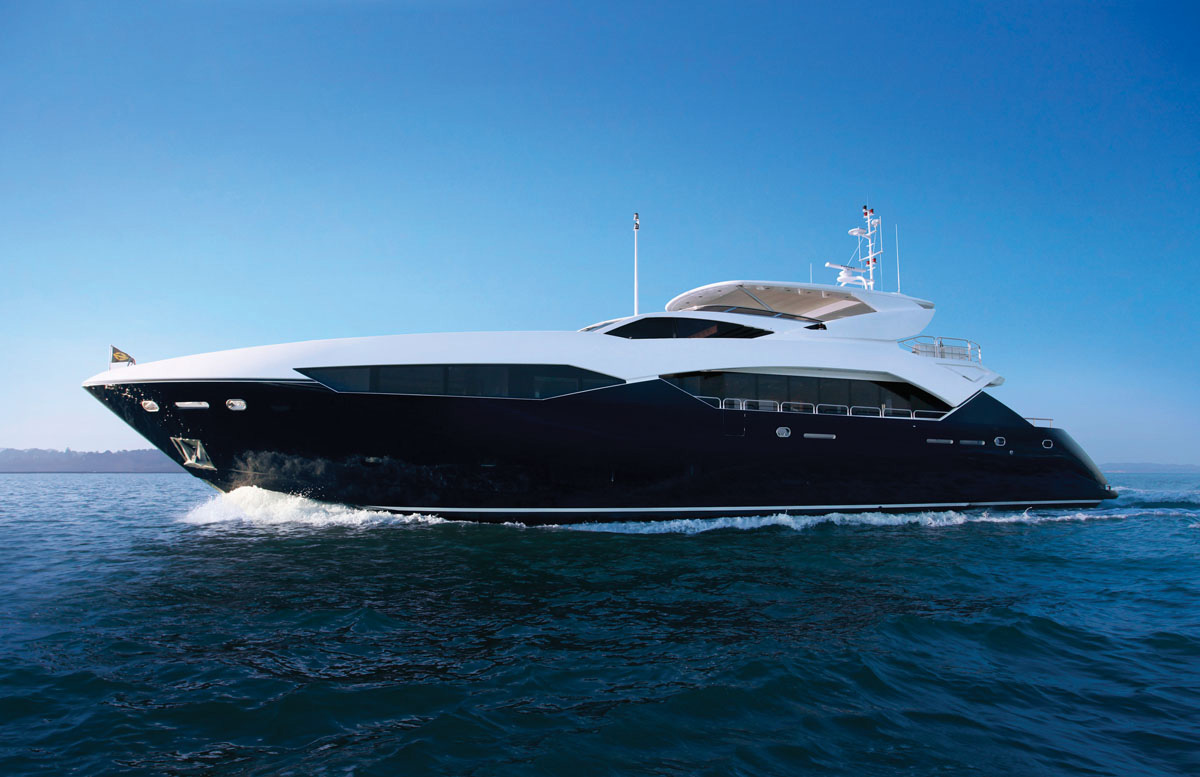 Predator 115
Yacht Over 100'
Price: £8.3 million
Where to get it: Sunseeker Nautikos Florida; 2550 S. Bayshore Dr., Ste. 204-A, Coconut Grove; Paul Burgess; PBurgess@SunseekerFla.com; 305.856.4050; SunSeekerFla.com
The first thing one notices about Sunseeker's Predator 115 is the stunning lines of this thoroughbred luxury yacht. The design is pure Sunseeker, from its unstinting level of onboard luxury to the spacious areas normally seen on much larger motor yachts in her class. In fact, this vessel was inspired by her larger sibling, the highly-successful Predator 130. The expansive exterior areas include a generous, plush aft cockpit, sport flybridge with spa and wetbar, and foredeck social area to enjoy the best of al fresco living in the utmost sophisticated style. The saloon is offered in both a long and short layout, to allow for the owner's preference for additional interior or exterior space, including optional balconies on either side of the main deck saloon, furthering the indoor/outdoor connection. The Predator 115 boasts 5 ensuite cabins to accommodate up to 12, highlighted by the full-beam master stateroom, another feature more often found on larger yachts.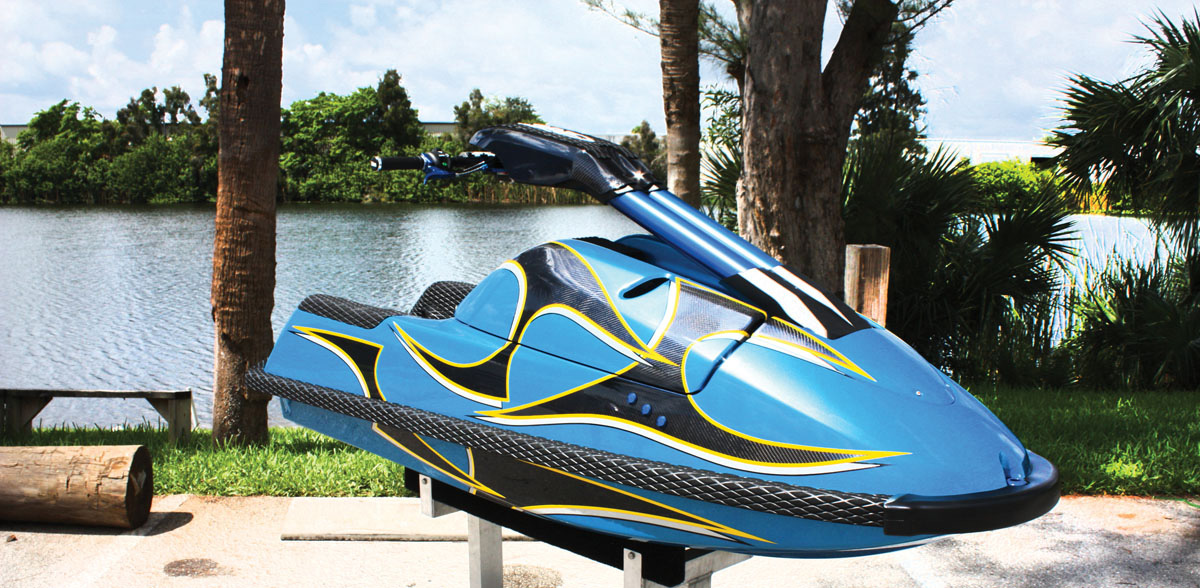 Blue Thunder
Personal Watercraft
Price: $48,000
Where to get it: Wamiltons Customs; 3825 Investment Lane, Ste. 2; West Palm Beach; CustomerService@Wamiltons.com; 561.881.2164; Wamiltons.com
Blue Thunder is the latest innovative personal watercraft to come out of the creative mind of Wamilton "Wammer" Teixera. Now on an undisclosed yacht in Russia, Blue Thunder puts out over 160 hp with an engine that has over 1,000cc more than a small car. It's an exceptional craft that pushes the limits in both performance and styling, with its brawny powerplant and futuristic lines. Wamiltons thrives on fulfilling customer requests from hand-built custom hulls to complete motor builds. They specialize in creating personal watercraft to match a buyer's custom yacht and are equally adept at producing freestyle watercraft for the general recreational rider as well as professionals such as noted jetski freerider Mark Gomez. The company has been building custom watercraft since 1990 for sportsmen worldwide from Russia to Dubai, with one of their watercraft, they estimate, in just about every country.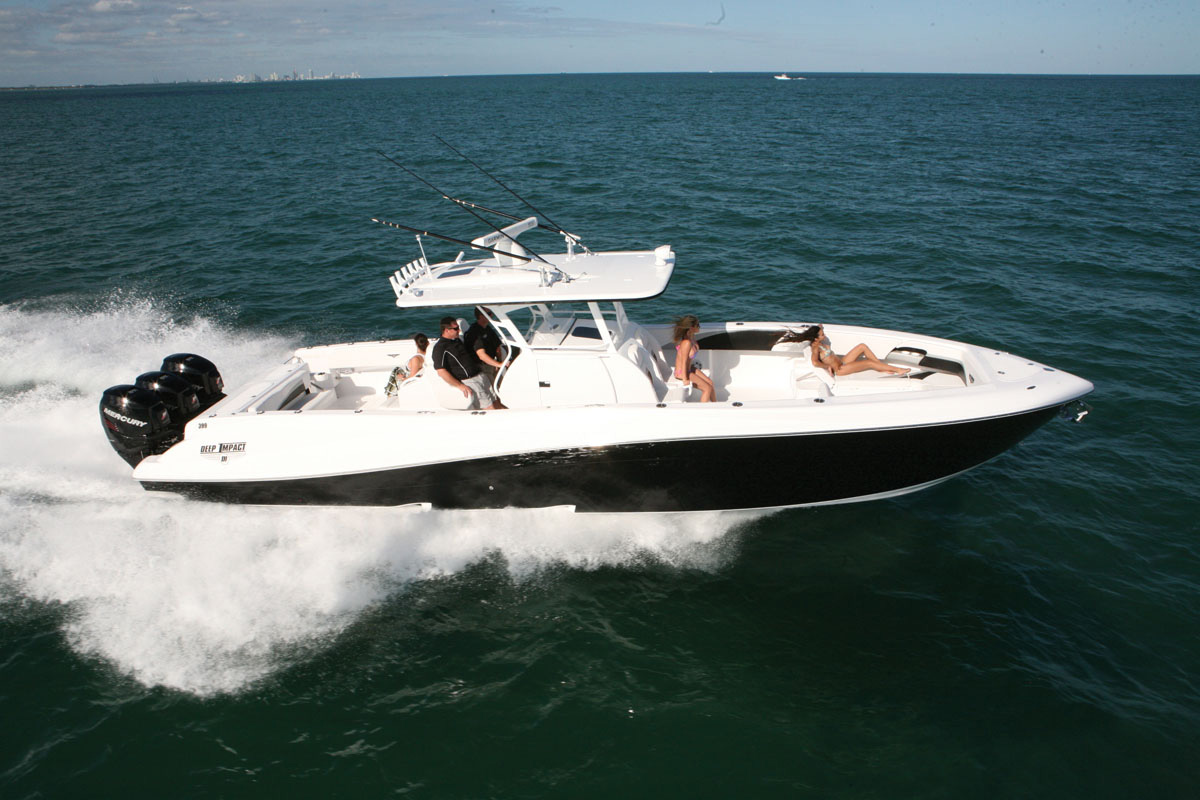 Deep Impact
399 FE DI
Sport Fishing Boat
Price: $369,955 w/Triple 300 hp Mercury Verados
Where to get it: Deep Impact Boats; 355 NE 185 St., Miami; Tim Gallagher; Tim@DeepImpactBoats.com; 305.627.9394; DeepImpactBoats.com
The new 399 FE DI from Deep Impact Boats will be a top choice of both recreational and professional fishing teams with its remarkable top speed of 72.3 mph. Though it has both its serious and practical side, this versatile center console is also comfortable, which leads to its appeal for poker-runs and general cruising. The strict attention to detail starts at the helm with its clear view of the bow for maximized maneuvering, especially in tight spaces. Forward is a U-shaped seating area perfect for socializing and relaxing. The aft section of the cushions can be raised to form an oversized lounge chair with a drink holder at hand. Additionally, inside the generous center console is a porcelain head, stainless steel sink and shower. This latest offering from Deep Impact shows their true understanding and mastery of the Sport Utility Vessel market.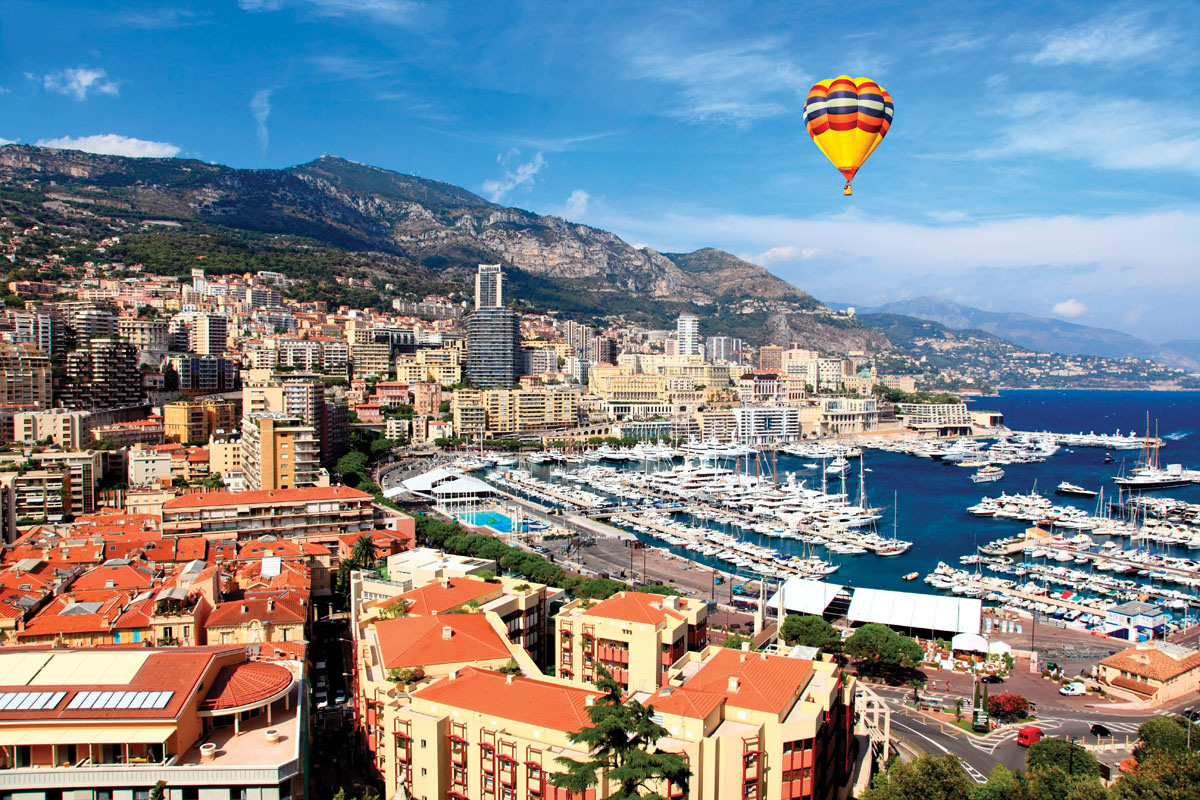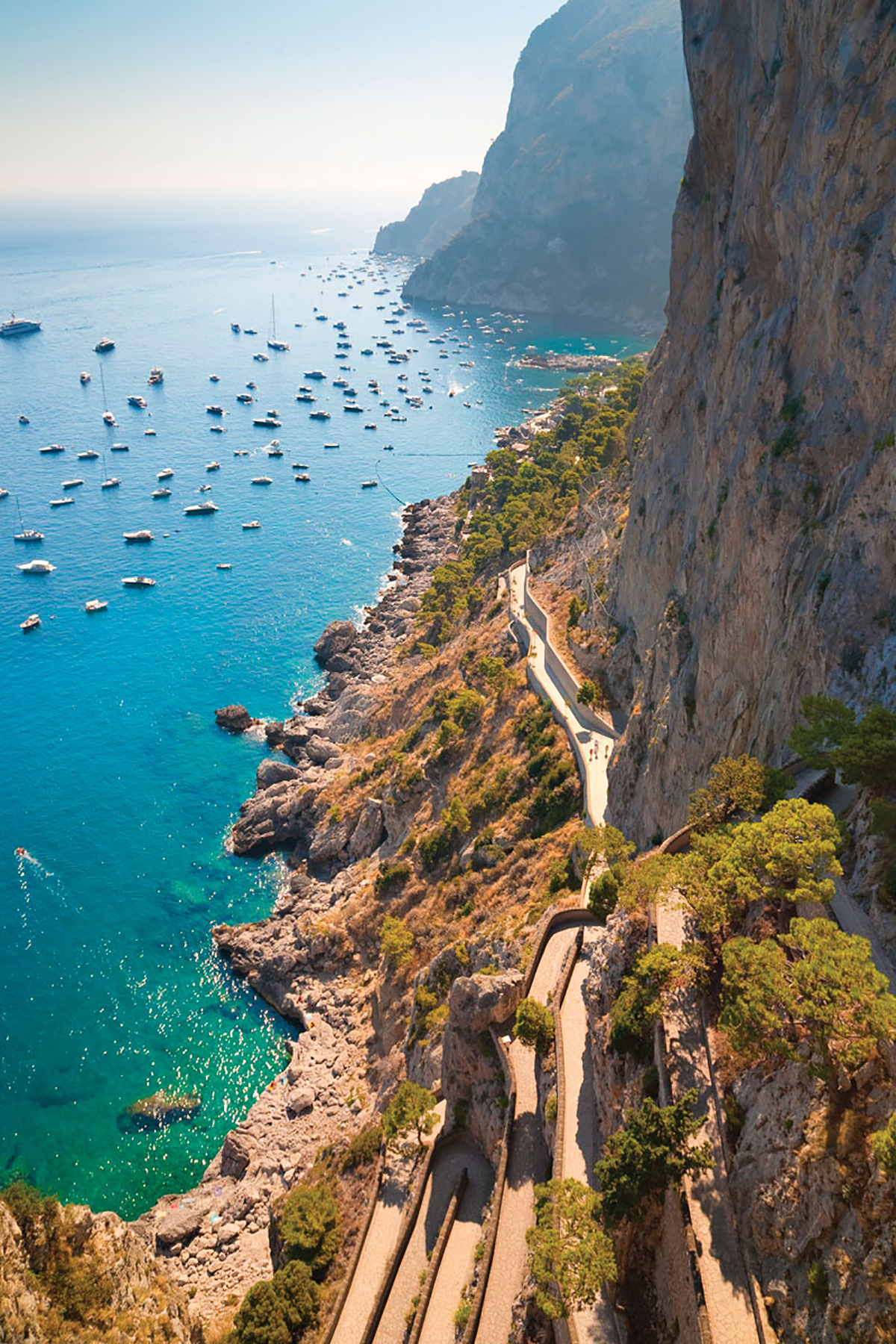 Never Say Never
Charter Yacht
Price: $15,000/daily
Where to get it: Yachting Experts; 2550 S. Bayshore Dr., Ste. 205, Coconut Grove; Aly Ramos; Charter@YachtingExperts.com; 786.228.8928; YachtingExperts.com
What stories this yacht could tell! Never Say Never, a dazzling 122' Oceanfast, is the charter choice of celebrities such as Jennifer Lopez, who celebrated her birthday on it, and T-Pain, who filmed his iconic music video "I'm On A Boat" aboard. Up to 12 daily guests or 8 multi-night guests are accommodated in 4 sumptuous staterooms rich with lavish woodwork and warm fabrics, including an exceptional full-beam master suite and light and airy VIP accommodations. The elegant contemporary salon is the social center of the boat with a central living space with high-tech entertainment center and circular seating in the dining area conducive to large groups as well as cozy tête-à-têtes. The sleek exterior lines incorporate oversized circular windows that frame the passing seascape like a living movie. The sky deck features a hottub, bar, BBQ grille and lounges, plus there's also a healthy selection of water-toys aboard!